Tropical Storm Andrea Makes Landfall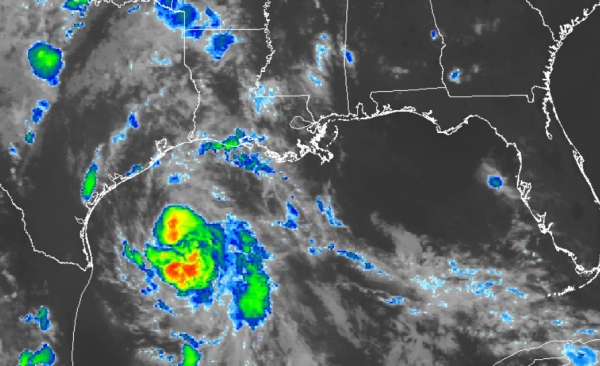 Here's the latest information on Andrea:
* Still a tropical storm with 60 mph sustained winds, capable of roof damage and bringing down small trees and tree limbs – scattered power outages reported over northern Florida, but nothing widespread.
* Coastal storm surge over 3 feet at Clearwater Beach, Florida; a 1-3 foot surge is expected from Savannah and Hilton Head to Charleston, Wilmington and the Outer Banks Friday and Virginia Tidewater at the height of the storm Friday afternoon.
* Tornadoes and waterspouts have been reported around the Tampa metro, with mostly minor to moderate damage. At least one tornado was reported northwest of Ft. Lauderdale. A Tornado Watch remains in effect statewide, friction and severe shear from Andrea capable of spinning up a few (smaller/weaker) tornadoes from Miami to Jacksonville as the storm sloshes ashore.
* Inland flooding remains the biggest risk: potential for some 2-6″ amounts in a relatively short period of time, meaning a significant risk of urban and small stream flooding into Saturday all up and down the east coast.
* Andrea is accelerating northeast at 17 mph, and this rapid forward motion should prevent the system from stalling and creating a historic rainfall amount. Tropical rains, very long commutes and rail/air delays are likely over the Carolinas this evening and tonight, spreading up the I-95 corridor late tonight. D.C., Baltimore, Philadelphia and New York should wake up to heavy rain Friday morning. Across much of the Northeast Friday may be the wettest day since October 29, when Sandy came ashore.
Peak Winds This Afternoon:
TRRVR – – gust 58 mph at 11:16 a.m. EDT – – Tampa Bay Watch, St. Petersburg, FL
 (near Sunshine Skyway Bridge)
KPGD – – gust 58 mph at 1:01 p.m. EDT – – Punta Gorda Airport in Punta Gorda, Florida, USA
STPTT – – gust 51 mph at 11:25 a.m. EDT – – Tropicana Field in St. Petersburg, FL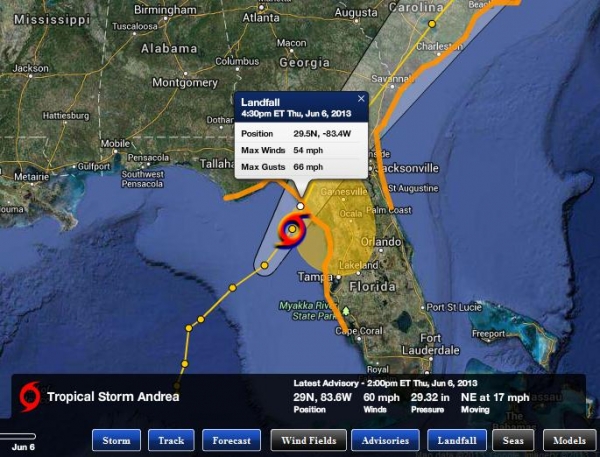 Coming Ashore. Tropical storm force winds are likely in the yellow-shaded area, from Tampa to Lakeland, Orlando, Ocala, Gainesville and Tallahassee/Jacksonville. The storm will begin to lose some of its warm-core characteristics after reaching land this evening, but the threat of inland flooding and tornadoes will continue from tonight into Friday. Details from NOAA:
A TROPICAL STORM WARNING IS IN EFFECT FOR...
* THE WEST COAST OF FLORIDA FROM BOCA GRANDE TO INDIAN PASS
* FLAGLER BEACH FLORIDA TO CAPE CHARLES LIGHT VIRGINIA
* PAMLICO AND ALBEMARLE SOUNDS
* LOWER CHESAPEAKE BAY SOUTH OF NEW POINT COMFORT
AT 200 PM EDT...1800 UTC...THE CENTER OF TROPICAL STORM ANDREA WAS
LOCATED NEAR LATITUDE 29.0 NORTH...LONGITUDE 83.6 WEST.  ANDREA IS
MOVING TOWARD THE NORTHEAST NEAR 17 MPH...28 KM/H.  A NORTHEASTWARD
ACCELERATION IS EXPECTED DURING THE NEXT 48 HOURS.  ON THE FORECAST
TRACK...THE CENTER OF ANDREA WILL REACH THE COAST OF THE BIG BEND
AREA OF FLORIDA IN THE NEXT FEW HOURS.  ANDREA WILL THEN MOVE
NORTHEASTWARD NEAR THE EAST COAST OF THE UNITED STATES THROUGH
SATURDAY.

MAXIMUM SUSTAINED WINDS ARE NEAR 60 MPH...95 KM/H...WITH HIGHER
GUSTS.  LITTLE CHANGE IN STRENGTH IS EXPECTED BEFORE THE CENTER
REACHES THE COAST.  SOME WEAKENING IS FORECAST TONIGHT AND EARLY
FRIDAY WHILE THE CENTER OF ANDREA MOVES OVER LAND.  ANDREA SHOULD
LOSE TROPICAL CHARACTERISTICS IN ABOUT 36 TO 48 HOURS.

TROPICAL STORM FORCE WINDS EXTEND OUTWARD UP TO 140 MILES...220 KM
FROM THE CENTER.  A WIND GUST OF 58 MPH...93 KM/H WAS RECENTLY
REPORTED AT PUNTA GORDA FLORIDA.

THE ESTIMATED MINIMUM CENTRAL PRESSURE IS 994 MB...29.35 INCHES...
BASED ON DATA FROM A NOAA BUOY LOCATED IN THE NORTHEASTERN GULF OF
MEXICO.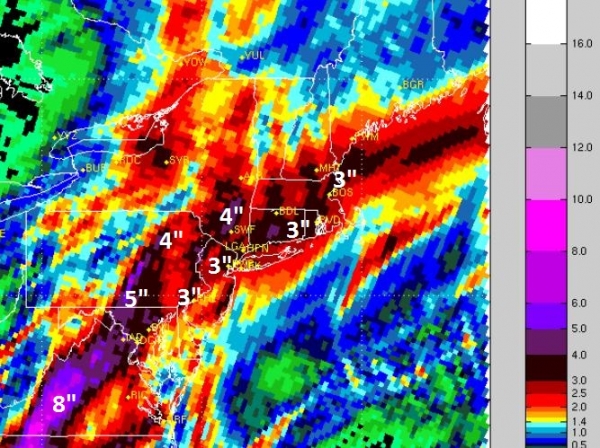 Flash Flood Potential. The models are all aligning on a common theme, although this high-res forecast shows heavier amounts than the ECWMF (European) simulation, as much as 6-8″ for western Virginia (Roanoke and Lynchburg), with some 4-5″ amounts into the western (Virginia) suburbs of Washington D.C., Hagerstown, Chambersburg and even State College and Sunbury, PA. As much as 3″ or more may soak Philadelphia, New York, Hartford, Providence and the Boston area. That's about 3 weeks worth of rain falling in 12-18 hours. I do expect urban and small stream flooding; a few rivers may go out of their banks by Saturday, after the heaviest rains have passed out to sea.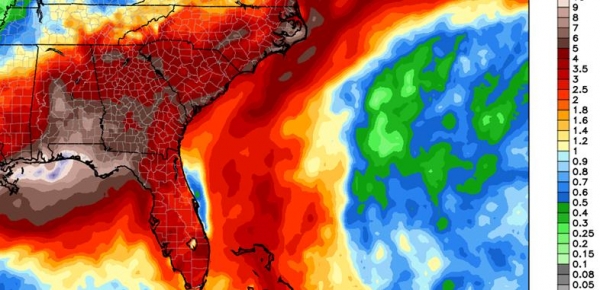 Projected Rainfall Amounts. The heaviest rains hug the Gulf Coast of Florida, some 4-5″ amounts from Marco Island and Naples to Fort Myers and Cape Coral, with another surge of 4-6″ rains near Florida's Big Bend. The risk of flooding in metro Atlanta has come down a bit, the most concentrated bands of heavy rain expected from Valdosta and Waycross to Augusta, Georgia, Columbia, South Carolina, into the Charlotte, Winston-Salem metro area, where some 4-5″ amounts will trigger flash flooding, ponding of urban areas, and many wet basements.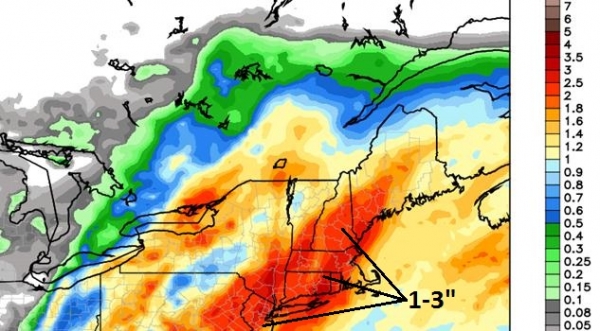 Mid Atlantic Friday Soaker. Friday might be a comp day in the making, a very rough day to get around by land, rail or air, especially Virginias into Maryland, the Delaware Valley and metro New York City, where a tropical rain will fall very hard from midday into the early nighttime hours, with some 2-3″ amounts likely. Andrea is no Sandy, but the first system of the season often catches people off-guard. I do expect 3-4X normal commute times, and some air delays and cancellations from Charlotte to D.C, Philadelphia and New York. The height of the storm in New York City comes afternoon and evening hours, when rain may be falling horizontally, with 20-35 mph winds.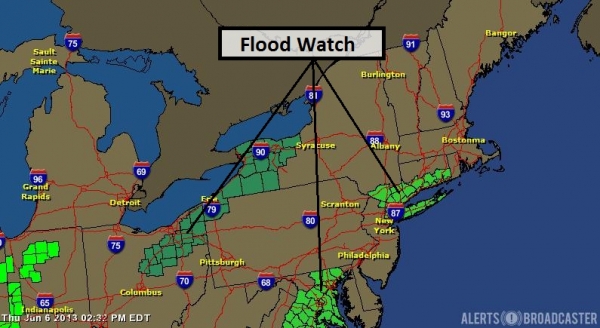 Flood Watches Expand Into Northeast. NOAA has issued Flood Watches for New York City and suburbs, Baltimore and Washington D.C. and a swath from Cleveland to Erie, Buffalo and Rochester, New York. I expect additional watches to be issued, upgraded to Flood and Flash Flood Warningstomorrow as flooding is reported.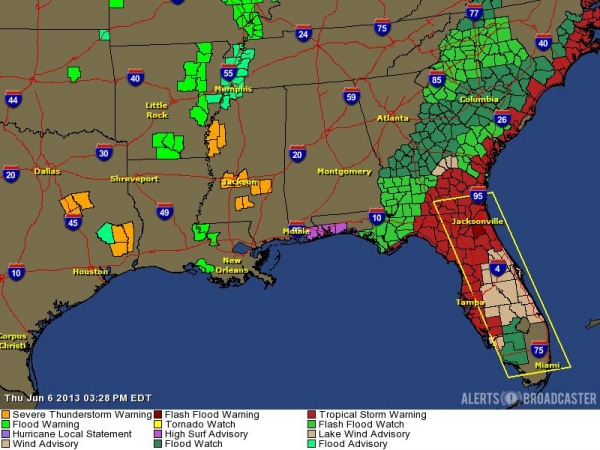 Tropical Storm Warnings. NHC has extended Tropical Storm Warnings from much of central and northern Florida on up the east coast, including Savannah, Charleston, the Outer Banks and Virginia's Tidewater, including Newport News and Norfolk, for high surf and a Friday storm surge (under 3 feet), capable of minor inundation and coastal flooding. Flood Watches are posted well inland, away from the coast, Andrea putting down a 300 mile wide plume of excessive rains from now into Friday night.
Paul Douglas/Senior Meteorlogist
Alerts Broadcaster provides severe weather and natural hazard intelligence to businesses worldwide through Alerts, Briefings, and Business Continuity Consultation.  Alerts Broadcaster meteorologists are working 24×7 to provide analysis and perspective that is crucial to your company's severe weather response.
Contact us to learn how Alerts Broadcaster can help protect your organization, staff and patrons: http://www.alertsbroadcaster.com/contact/