A Regular Snowfest for the Weekend
A Regular "Snowfest" On The Horizon
Let's talk some snow.  By now you've likely heard about the possible/likely Nor'easter that is brewing for the Northeast.  It's looking fairly massive in both scope, and snowfall tallies.  Models still have yet to show consistency on just where the bullseye of snowfall will take place, but what they *are* showing is a consistent dose of very heavy snow.
Let's get down to business…
Look closely at those shaded areas.  A couple pop out.  Near the Great Lakes you're talking about some snowfall, so the shaded areas are literally just precipitation – not showing forecast snow.  That little batch of energy that causes that precipitation to fall then latches onto the region of moisture in the South… the one showing bright reds and deep reds – indicative of 2-4″ of rainfall.
As those systems combine together and build eastward, we're seeing a significant deepening of the overall low pressure center as it loops up along the eastern seaboard.  Look at this image below, showing some winds forecasted by the RPM model: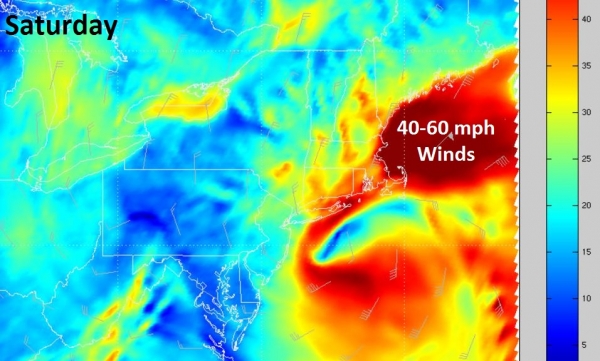 Winds with this intense Nor'easter may reach 40-60 mph (sustained) just offshore; as high as 30-40 mph from coastal New Jersey into New York, Long Island, Martha's Vineyard and Nantucket and the Cape Cod. In addition to creating near-blizzard conditions, winds this strong, for a period of 18-24 hours, may produce coastal flooding and beach erosion, and increase the potential for power disruptions and outages.
You can see the tightening of the isobards (lines of constant pressure) in the map below.  The closer those lines are to each other, the windier the conditions will be.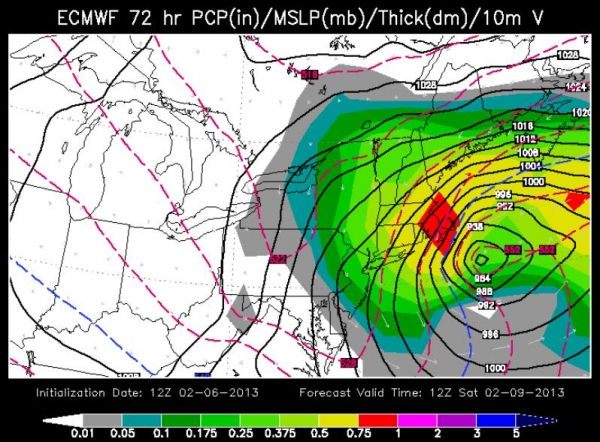 The ECMWF weather model, valid 7 am Saturday, shows an intense storm southeast of Cape Cod, with moisture wrapping entirely around the cyclone.  That scenario would end up dropping potentially heavy wet snow from New York into much of New England. A sharp contrast in air pressure with this system may produce (sustained) winds of 30-40 mph, with higher gusts along the coast.
Storm surge could even be a possibility!  Look at this forecast for surge Friday into Saturday for Sandy Hook, NJ.  Incredible!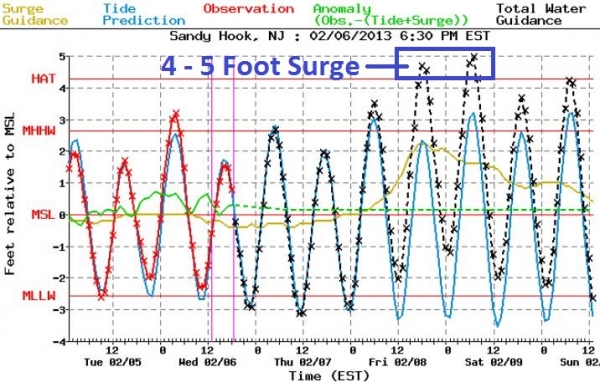 NOAA storm surge models show a 3-4 foot surge from Friday into Saturday morning, as the winds of the Nor'easter push water up and onto the coast. It won't be as bad of flooding as a hurricane or major storm (see Sandy last year), but low-lying areas prone to surge flooding may see problems Friday and Saturday.
The Snowfall Potential
We still haven't even talked snowfall totals.  Check out some of these maps, using different forecast models.  We'll start first with the WSI RPM model.  It is a fairly high resolution model and shows some interesting tallies.
We left the color table to the right of this map.  See the yellow shades?  Now, don't take those as "gospel," but you could be seeing anywhere from a foot to upwards of two feet or *more* of snowfall for, and this is the key word: somebody.  Models are shifting the bullseye all over the place, and shifting the quantity of moisture as well.
One model, the short-term American NAM WRF, shows nearly 50, yes FIFTY, inches of snow for some folks in that region.  That will likely be tempered with additional runs, but certainly bears watching.  We are at the 35 year anniversary of Boston getting slammed with 2 Nor'easters in about a 2 week span (1978, if you remember), so it's really kind of interesting.
We'll be watching this pretty closely – and advise you to do so as well.
Make sure you stay safe!
WeatherNation Meteorologist Aaron Shaffer @ashafferWNTV