About To Get Snowquestered (heavy snow risk increases for New York and New England)
White-Knuckle March Commute
Nature rarely moves in a straight line. Spring in Minnesota is usually one step forward, two steps back. March is a troubled month, capable of blizzards, floods, even tornadoes. Snow on the ground keeps northern cities chilly, while a rising sun angle heats up the Deep South. The result: huge north-south temperature extremes, capable of spinning up memorable storms.
It's unusual to pick up so much snow from an Alberta Clipper, but this one is tracking slower than usual, compensating for a lack of Gulf moisture. Snow should taper by afternoon. By then a cool 6-9 inches of new snow should be on the ground, probably the second heaviest snowfall of winter so far, behind the 10.5 inches that fell December 9.
Yes, we've been spoiled. Dr. Mark Seeley reports February was only the 2nd cooler than average month since June, 2011. My gut is telling me March will be cooler than average too; a far cry from last year's 70s, early ice-outs and flowers in full bloom in late March.
On the blog below: Washington D.C. is about to get "snow-questered"; 6-12 inches possible tomorrow.
Some melting is likely here later this week with upper 30s. That said, spring will come only reluctantly this year.
* Storm is showing signs of hooking farther north, spreading heavy wet snow into Philadelphia, New York, and far western suburbs of Boston.
* Heaviest amounts west of I-95, where some 12″+ snowfall amounts are possible Wednesday night into Thursday.
* 4-8″ still expected downtown D.C. Wednesday, over 12″ northern/western suburbs of Virginia and western Maryland (west of I-270).
* High water content (1-2″ liquid) may mean an enhanced risk of downed tree limbs and power outages.
* This won't be the scope or intensity of the blizzard in early February, but facilities may be significantly impacted later this week.
* 6-9″ snow next 24-36 hours Twin Cities to Chicago; the same system that will redevelop into a coastal storm impacting the Northeast.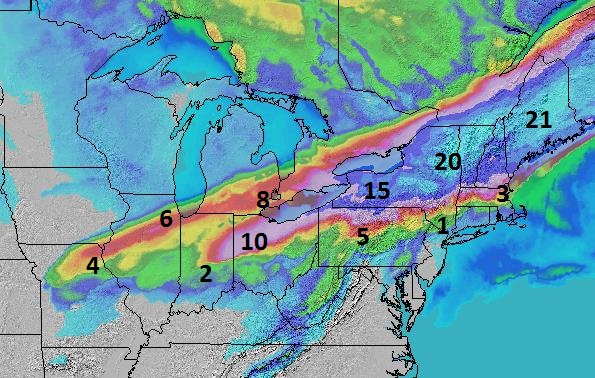 Northeast Snow Potential Increases. The same clipper putting down a 250-mile wide carpet of 6-10″ snow will spin up a major coastal storm Wednesday night into early Friday; rain right along the coast, but potentially heavy, wet snow just inland. Winds will reach 30 mph, just shy of blizzard criteria, but high water content may increase the potential for power outages, especially west of I-95.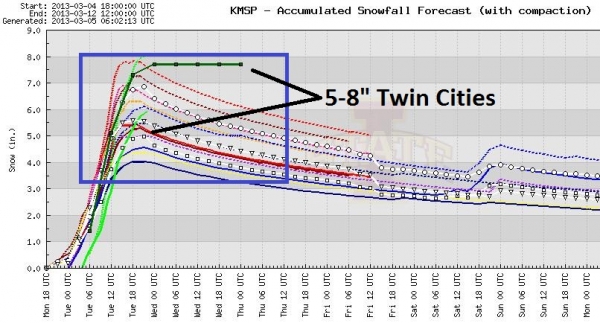 Twin Cities Totals. Minneapolis/St. Paul will be digging out from 5-9″ of snow by Tuesday afternoon, enough to shovel, plow and create white-knuckle commutes this morning.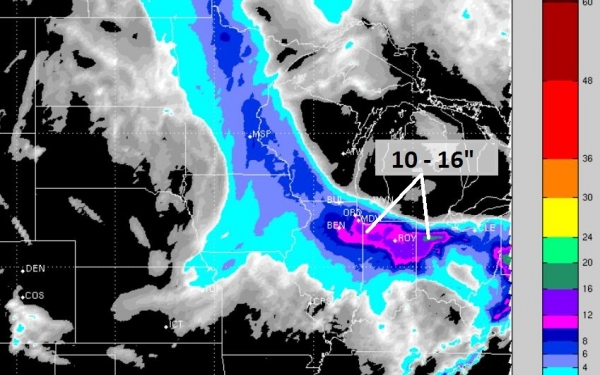 Chicago Gridlock. Expect travel delays today in Chicago, where 6-10″ of snow is likely, sparking delays and cancellations at O'Hare and Midway.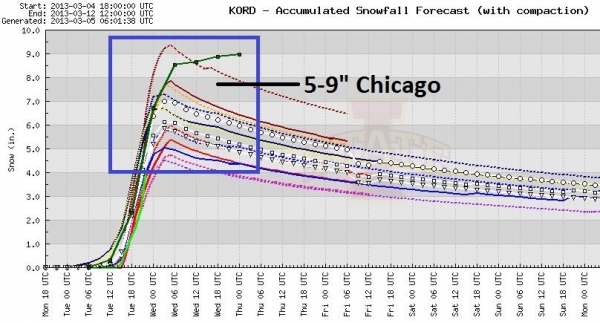 Windy City Mess. Models are converging on a solution of 6-9″ in Chicago during the day Tuesday. Conditions on land and in the air should rapidly improve Wednesday.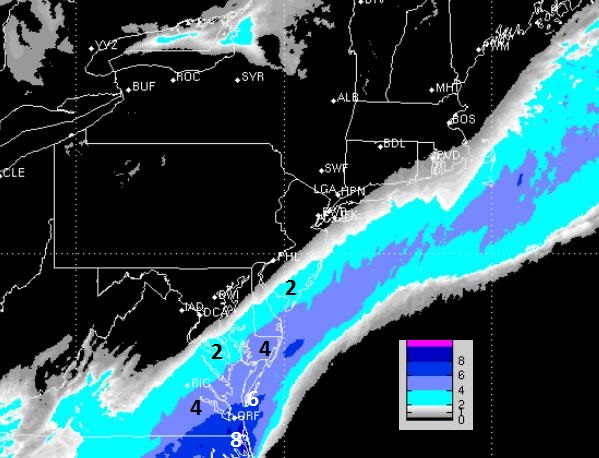 A Major Northward Jog. The Midwestern clipper will energize a storm over Virginia, forecast to veer farther northeast than earlier thought, pushing a shield of heavy rain and wet snow across Pennsylvania into New York and interior New England. The heaviest snowfall amounts will fall just inland, a mix of rain and snow for coastal New Jersey and much of Long Island, but heavy wet snow from New York into the suburbs of north Jersey and western Connecticut.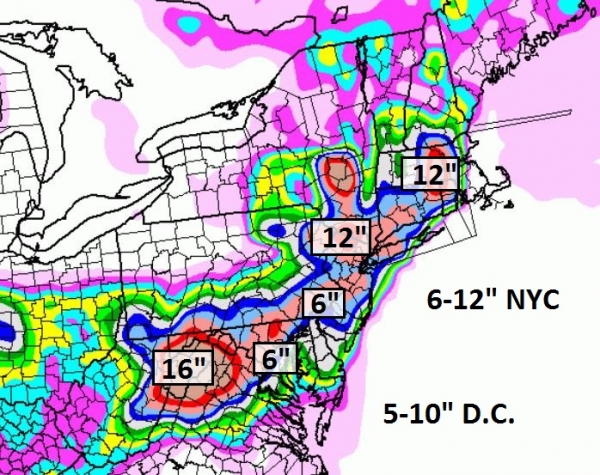 Snow Inflation. Confidence levels are still low for 12″+ amounts over the far northern/western suburbs of New York; the situation should crystallize during the day Tuesday as new data arrives. I still expect heavy wet snow for Washington D.C., and the potential for a sloppy snowfall is increasing over time for New York and New England.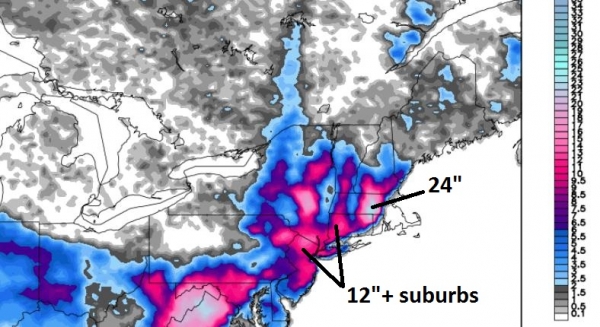 Clues Pointing to a Potentially Major Shift. We look for continuity between all models, and from run to run (there are 4 new model runs every day). The trend is for the storm to hug the coast and recurve northeastward, threatening much of interior New England with a mix of heavy rain and wet snow, the best chance of plowable snowfall amounts just inland.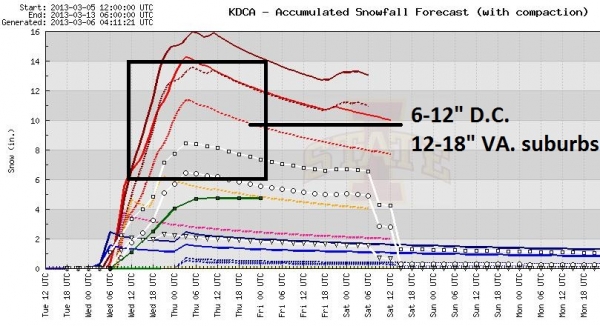 Snowquestered. Washington D.C. is still facing the biggest snowfall in nearly 3 years Wednesday and Wednesday night. 4-8″ of slushy, wet snow is expected in D.C. – closer to 4″ for Annapolis and Baltimore, but over 12″ may pile up from Frederick into Loudon and Fairfax counties in Virginia, with some 16″+ amounts over far northern Virginia.

Delaware Valley Slop-Storm. The latest models print out about 5-6″ for Philadelphia; more possible in Bucks county. Coastal New Jersey may see mostly rain, with some 5-10″ amounts over northern and western New Jersey; again the greatest focus for heavy wet snow is west of I-95.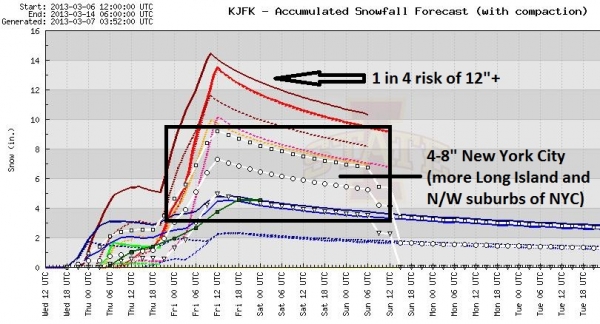 New York Numbers. Confidence levels are still low; the morning model run on Tuesday should confirm whether NYC will pick up another major snowfall on Thursday. Models print out nearly 2″ liquid, rain and heavy wet snow. Factoring in 30-35 mph winds Thursday the potential for power outages for the city and suburbs has increased in the last 12 hours.
Summary: The Confidence Level for at least 4-8″ of wet snow in Washington D.C. is a 7, on a scale of 1-10; but only a 5 in Philadelphia and 4 in metro New York. It looks like mainly rain in Boston, but over a foot of snow is possible well inland, over central Massachusetts.
Do We Laugh Or Do We Cringe? Gallery Of Lower Thirds
. The text at screen bottom on your favorite news show, that gives the name of the person on-screen and some compelling information, you know, the bane of television news, and one (big) reason why we all have ADHD. Here's an excerpt of a very funny story at 
TVSpy.com
: "Who doesn't need a chuckle to start the week? The folks at 
Buzzfeed have put together a hall of shame/fame of lower thirds
 aimed at the gleeful 13-year-old living inside all of us. While we all make mistakes, some of the lower thirds are funny because they've been taken out of context and some are just plain goofy. We've chosen a couple you can see after the jump. But don't ask 
Norman Fineman
 to laugh. He's seen it all. You can view the gallery by 
clicking here
…"
Climate Stories….
The Most Important Figure About The Oil Sands
. Here's an excerpt from Simon Donner at 
Maribo
: "
Are the oil sands a "carbon bomb"? Will the construction of new pipelines unleash this "bomb" on the climate? There's lots of confusion about these questions. On Friday, the U.S. State Department's 
released
 an assessment that stated the Keystone XL pipeline would have a negligible climate impact, essentially because a market analysis suggested that other options will arise for transporting additional carbon from the oil sands. Environmentalists are crying foul, energy and industry experts are arguing both sides, and pundits are wondering why the report was released on a Friday afternoon, when few people follow the news. It's hard to know who to trust. The figure (above), based on one figure made by Keith Stewart from Greenpeace and shown to me by Mark Jaccard in the fall, suggests the answer to both questions could be considered "yes", but not in the way people normally suggest
…"
Graphic credit
 above: "
The first column is existing, planned and announced oil sands projects; the orange bars are oil sands production in the IEA future scenarios. Production is assumed to be 80% of capacity, following the IEA methods
."
Greg Hunt's Unusually Cool U.S. Winter That Wasn't. A harsh winter for the USA in terms of temperatures? Nope. Here's an excerpt from readfearn.com: "…Even in a warming world, you'll still get record cold events – it's just that the hot ones are outnumbering the cold ones. In Australia, for example, for every record cold temperature there's three record hot ones. In the US, a 2009 study found record high temperatures were outstripping record colds by two to one. I had a quick look at this unusually cold US winter which Greg Hunt alludes to. The government's National Oceanic Atmospheric Administration has all the figures. Incidentally, January 2013 is the 335th consecutive month where global average temperatures have been above average. Final rankings for the US winter are not expected to be out for a week or so yet but, so far, the chilly winter turns out not to have been that chilly after all. In fact, the period November 2012 to January 2013 ranks 109th warmest in a record going back 118 years…"
ABOUT ME
Minneapolis, Minnesota, United States
Every day I sift through hundreds of stories, maps, graphics and meteorological web sites, trying to capture some of the most interesting weather nuggets, the stories behind the forecast. I'll link to stories and share some of the web sites I use. I'm still passionate about the weather, have been ever since Tropical Storm Agnes flooded my home in Lancaster, PA in 1972. I've started 5 weather-related companies. "EarthWatch" created the world's first 3-D weather graphics for TV stations – Steven Spielberg used our software in "Jurassic Park" and "Twister". My last company, "Digital Cyclone", personalized weather for cell phones. "My-Cast" was launched in 2001 and is still going strong on iPhone, Android and Blackberry. I sold DCI to Garmin in 2007 so I could focus on my latest venture: WeatherNation.
Twitter name: @pdouglasweather