Severe T-storm Risk Plains to Ohio Valley – Another Big Snowstorm Upper Midwest

Alerts Broadcaster Briefing: Issued Tuesday night, April 1, 2014.
* Slight severe risk Wednesday (especially PM hours) from near Kansas City and Little Rock to Tulsa, Dallas and Shreveport – a few tornadoes are likely, and I expect Tornado Watches to be issued by NOAA SPC by early afternoon.
* Severe risk shifts east on Thursday, with a potential for tornadic supercell T-storms from St. Louis and Little Rock to Evansville, Bowling Green, Kentucky and Memphis, Tennessee. A few large, violent tornadoes can't be ruled out, especially Middle Mississippi River Valley Thursday afternoon and evening, with a squall line containing hail and damaging straight line winds pushing into the Ohio Valley by Thursday night.
* It sounds like a cruel April Fool's joke, but the weather maps look more like early March than early April across the Upper Midwest. Significant, plowable snows are possible from northern Iowa and the southeastern half of Minnesota into much of Wisconsin late Thursday into Friday. Significant travel delays are expected from Des Moines, Rochester and the Twin Cities to Eau Claire, La Crosse and Wausau, Wisconsin, with Friday being the worst travel day.
---

Tracking The Severe Storm Risk. Our proprietary TPI (Tornado Potential Index) model shows a significant risk of damaging winds and hail from near Tulsa and Oklahoma City to Dallas and Shreveport Wednesday afternoon; the risk expanding north and east on Thursday into the Middle Mississippi Valley, from Cairo, Illinois to near Louisville, Bowling Green, Memphis and Nashville. Right now this doesn't look like a devastating, widespread tornado outbreak, but as many as 5-10 EF1-EF3 tornadoes are possible; a few may approach large urban areas with the greatest risk of isolated tornadoes around the dinner hour, from 4 PM to 8 PM local time. Be alert for Tornado Watches issued by early afternoon; Tornado Warnings will be issued for specific portions of counties by local National Weather Service offices. If a large tornado approaches a major metro area a Tornado Emergency will be issued. The risk is small, but not zero. Graphics: Ham Weather.
---
On the cold side of the storm winter is still very much alive and well: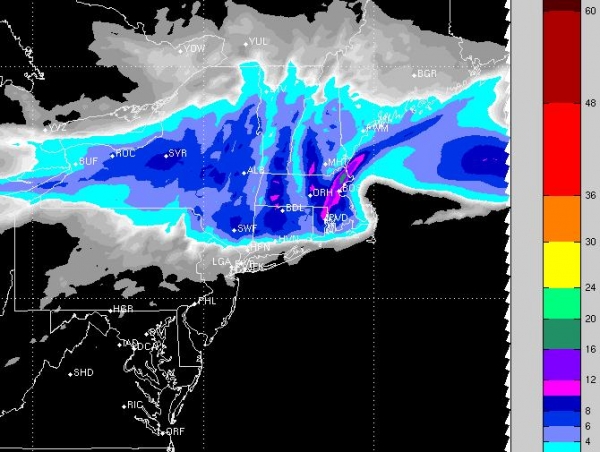 Very Plowable. Although early April snows are much different than January snowfalls (they tend to be heavy and wet with higher moisture content) travel impacts are likely Thursday into Friday across the Upper Midwest and Upper Mississippi Valley, with the greatest amounts projected from near Des Moines, Waterloo, La Crosse and Rochester to Eau Claire and the U.P. of Michigan, where some 6-12″ snowfall totals are possible by Friday night. Chicago should be spared any snowy headaches this time around – the Twin Cities may not be so lucky. Map: Alerts Broadcaster.
---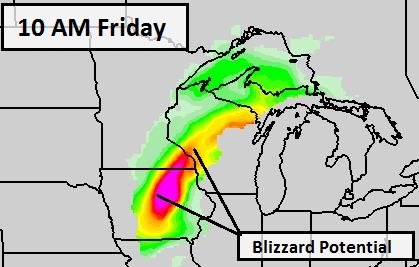 Blizzard Potential. Our internal, proprietary BPI (Blizzard Potential Index) shows a high probability of low visibility and strong, sustained winds over 30 mph creating blizzard or near-blizzard conditions Friday morning from central Iowa into southeastern Minnesota, spreading across western and central Wisconsin Friday afternoon. Graphic: Ham Weather.
---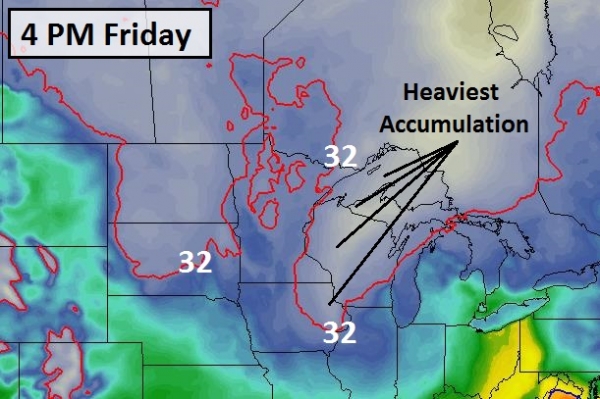 Cold Enough To Stick. Although temperatures may rise just above 32F across portions of Minnesota by Friday afternoon, readings in the lowest mile of the atmosphere are forecast to stay well below freezing from northeast Iowa into southeast Minnesota and much of western/central Wisconsin during the day Friday, allowing snow to accumulate at the rate of 1-2″/hour at times, creating very difficult travel conditions. Map: Ham Weather.
* The heavy, wet nature of this upcoming snowfall may increase the risk of sporadic power outages late Friday night into Saturday. Some ice will be mixed in with the snow, especially Thursday, changing to mostly snow on Friday as colder air wraps around the storm.
---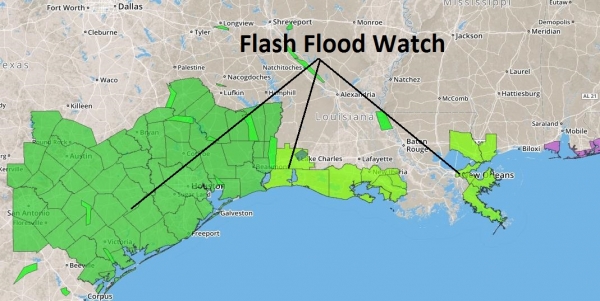 Winter Storm Watch. NOAA has already placed much of central and southern Minnesota and west central Wisconsin under a Winter Storm Watch, meaning a potential for 6″ or more of snow in a 24 hour period. I suspect the heaviest snow band may set up south and east of the Twin Cities, but it's going to be a very close call. Right now the axis of heaviest snow appears to be setting up from Waterloo, La Crosse and Rochester to Eau Claire and Rhinelander, but it's still early, and that heavy snow zone may shift 50-100 miles east or west in the coming 48 hours.
Summary: I'm already seeing some (very early) evidence of a brewing El Nino warming phase in the Pacific, which tends to strengthen the southern branch of the jet stream, invigorating storms over the central and southern USA. I suspect this trend will continue into early summer, with cooler weather over the northern states, and rapid warming in the south setting the stage for more tornadoes and severe weather in general than we experienced in 2013. Severe thunderstorms capable of isolated tornadoes are likely Wednesday afternoon into Thursday night from the central and southern Plains into the Mississippi and Ohio River Valleys. Staff should be alert for potentially violent storms capable of large hail, damaging straight line winds in excess of 70 mph, and a few tornadoes capable of more widespread and significant damage. On the cold side of the storm another major snow event is brewing from Iowa and Minnesota into Wisconsin from Thursday PM into Friday. If it's any consolation (doubtful) long-range model guidance shows 50s and 60s returning for this same region for the latter half of next week. A rapid thaw may increase the potential for mostly minor river flooding, but the slow melt of recent weeks has helped to ease the overall risk, especially in the Red River Valley, where the threat was greatest. We'll continue to monitor conditions.
---
Upper Midwest Blizzard Not Increasing Flood Fears. Unless we pick up a few more major snowstorms or blizzards, followed by rapid warming (and heavy rain) we may yet dodge a flooding bullet. Here's an excerpt from The Star Tribune: " A spring blizzard that dumped up to 20 inches of snow in parts of the Upper Midwest isn't increasing fears of spring flooding. There wasn't much of a flood threat going into Monday's storm, and the snow that fell was light and without much moisture, according to National Weather Service officials in North Dakota. "What we're expecting right now is really not much," meteorologist Tom Grafenauer in Grand Forks said. "The snow had an inch to maybe 2 inches of liquid equivalent in it. The flood threat was very minimal before the snow, and an inch or two of water isn't going to raise the flood threat significantly…"
File Photo credit: "The Red River out of its banks just south of Moorhead in 2009." Photo: Marlin Levison, Star Tribune.
---
Higher Probability Of El Nino By Summer of 2014. The threshold is .5C, and we should reach that in the Pacific as early as May or June. For a little light reading and more than you ever wanted to know about a brewing El Nino and ENSO in general, check out this 29 page PDF from NOAA NCEP.
---
Parallel Parking In The Arctic Circle. If you missed Thomas Friedman's latest Op-Ed in The New York Times it's definitely worth a read – with a son in the Navy I found this especially fascinating. Here's an excerpt: "…More important, you learn how crucial acoustics are when operating deep under ice with no vision and no GPS satellite to guide you. Or, as the New Mexico's captain, Todd Moore, 40, put it: It's like every day "engaging in a knife fight in a dark room: the only thing you can do is go after what you hear." You can't see the adversary. You can't see the ice keels, but you can hear enemy subs, surface ships, whales, calving icebergs, schools of fish and bounce sound waves off them with sonar to measure distances…"
Photo credit above: " Credit Joshua Davies Communication Specialist 2nd Class/U.S. Navy Photo.
Don't Look Now: The Digital Ad Economy Is Heading For A Correction. Because who wants to be spammed with irrelevant ads on their smart phones and tablets? Advertising Age has the story; here's a clip: "…Michael Wolff recently opined that the evolution of TV is resulting in fewer people watching fewer ads. But the evolution of mobile (the medium poised to eclipse TV in the not-too-distant future) may be an even bigger issue. The classic application of advertising within mobile content and apps is fairly unnatural. Social media usage has dominated the smaller, vertically oriented screens of mobile devices, so what people are actually consuming is inherently different…"
---
People Can Predict The IQ Of Men, But Not Women, By Looking At Their Face. Deep down you always knew this, right? Here's an excerpt from psypost.org: "New research published in PLoS One has found that a man's facial characteristics contain some clues about his intelligence. Surprisingly, the same can't be said for women's facial traits. And the particular male facial characteristics linked with intelligence are a mystery…"
---
The Depressing Truth Behind Michael Lewis' "Flash Boys": Even The World's Top Investors Don't Understand Today's Markets. Is the stock market game rigged? Probably. And a new book from Michael Lewis (author of "Liars Poker" among others) seems to confirm what many of us have suspected for a long time. Here's an excerpt of a story/review from Quartz: "The ideas aren't new. Unsavory elements of high-speed computerized trading have been a concern since at least May 2010, when the so-called "flash crash" struck US exchanges. (Die-hard market geeks were concerned long before that.)  But Michael Lewis's new book Flash Boys, on the perils of high-speed computerized markets, could still be important if only because it cuts through the dense webbing of jargon and complexity that has proven dangerous to the US financial system and the economy as a whole…"
---

16 Airline Secrets That Will Change How You Feel About Flying. Great. Some things I wanted to remain blissfully ignorant about, but this story at Huffington Post changed all that; here's an excerpt: "…We've added a few of our own world-rocking facts to the list, and we've gotta tip our hat to Viral Quake for posting some of the Reddit thread's most startling secrets. We should also mention the validity of individual Reddit comments can't be completely confirmed.That being said, we're already thinking about flying from a whole new perspective.
Dim lights are meant to prepare you for evacuation, not sleep.
"When a plane is landing at night, they dim the interior lights incase you need to evacuate upon landing… your eyes are already adjusted to the darkness so you'll be able to see better once outside the plane." –@bonestamp
---
Here's How Much It Costs To Propose At Every Major League Baseball Park. $209 at Target Field? What a bargain! And yes, the proceeds go to charity. Here's an excerpt of real news you can use from Swimmingly: "Today is Major League Baseball's Opening Day, the start of the 2014 season. That means it's also the time of year for America's second-favorite pastime: the scoreboard marriage proposal. To step up your engagement game, we reached out to all 30 MLB teams to find out the cost of putting a ring (World Series or otherwise) on it at each stadium…"
---
Best April Fool's Day Jokes of 2014. Time Magazine has a rundown on some of the more unusual pranks yesterday, including this one from Sir Richard Branson on one of his Virgin America flights. I wish we could do this for Minnesota's weather: "Virgin America partnering with Nest to create a personalized climate control feature on planes, in which passengers can create their own climate at 35,000 feet, from "Chicago Polar Vortex" to "Standard Day in Los Angeles." (Virgin America)"
____________________________________________________
Welcome to the WeatherNation blog. Every day I sift through hundreds of stories, maps, graphics and meteorological web sites, trying to capture some of the most interesting weather nuggets, the stories behind the forecast. I'll link to stories and share some of the web sites I use. I'm still passionate about the weather, have been ever since Tropical Storm Agnes flooded my home in Lancaster, PA in 1972. I've started 5 weather-related companies. "EarthWatch" created the world's first 3-D weather graphics for TV stations – Steven Spielberg used our software in "Jurassic Park" and "Twister". My last company, "Digital Cyclone", personalized weather for cell phones. "My-Cast" was launched in 2001 and is still going strong on iPhone, Android and Blackberry. I sold DCI to Garmin in 2007 so I could focus on my latest venture: WeatherNation. I also write a daily weather column for The Star Tribune startribune.com/weather And if you're on Twitter, you'll find me @pdouglasweather.