Another Major Storm Brewing: Heavy Denver Snow, Flood Risk Rises, Significant Tornado Risk By Wednesday
Eye-Opening Numbers
I can't remember an April this mentally taxing since 1983, when nearly 22″ of snow delighted Twin Cities residents. I had just arrived from Stamford, Connecticut, and I remember having a rare "what have I done?" moment.
Weather enthusiast John Kappler forwarded a few interesting nuggets: 3 days in the 50s so far in 2013 (warmest: 56F). Last year we had already seen 28 days warmer than 56F. We should have seen at least one 70-degree day so far. Since 1890 there have been only 6 years where we've failed to warm above 56F by now. More details from John below.
I've gone on record predicting a cooler, stormier summer for Minnesota – a gradual easing of drought conditions (but probably more quality time in the basement, with an uptick in severe storms, as powerful jet stream winds howl overhead). We'll see.
The next storm arrives with a cold rain Wednesday, maybe ending as an inch or two of slush Thursday & early Friday. Whatever falls should melt by Friday afternoon. I pray.
Long-range model guidance is pretty consistent: 50s return next week, maybe 60F by the end of next week? A "warm front"
Birds will chirp. Church bells will ring. The sirens may sound.
No, I'll never take spring for granted again.
Cold Weather Factoids. It probably won't make you feel any better, but yes, this is highly unusual. The following weather nuggets are from weather enthusiast John Kappler (father of WeatherNation TV meteorologist Gretchen Mishek).
From this data, here are some interesting facts I've gleaned about the weather this year:
•  We've just had 3 days in the 50's so far this year (as of April 14).
•  Our highest temperature so far this year has been 56F.
•  Over the years (since 1890) we have an average of 8.1 days over 56F by now.
•  Last year, we'd had 28 days higher than 56F by now.
•  Normally we've had a high of 70F degrees by now (average 70.13F, median 70F)
•  Since 1890, there have been only 6 years when we've failed to get over 56F by now.  Here are the years and the highest temperature reached by April 14:  1904, 55 degrees; 1950, 52 degrees; 1951, 54 degrees; 1962, 48 degrees; 1965, 54 degrees; 1975, 51 degrees.  So, we have had some years like this before, but not for almost 4 decades.
•  The most interesting of those years was 1962 when our year-to-date high was 48 degrees.  The high temperatures that year for the 12 days beginning on April 14, were 34, 44, 48, 64, 62, 59, 60, 72, 63, 63, 84, and 91.
•  In all of those 6 years and in all years since 1890, we managed to hit 60 by April 26.  If we don't hit 60 within the next 11 days, it will be the record for the longest we've gone into the year without hitting 60 degrees.
Thanks John!
Ah, Spring In Bismarck
. The recent snow blitz in North Dakota is very impressive. Here are a few bullet points from NOAA:
17.3″
 snow on April 14 (broke old record of 5″ on April 14, 1986)
17.3″
 snow: record for most snow on any calendar day of the year in Bismarck, and it happened on April 14, 2013.
15.2″
 previous record for any day in April in Bismarck (set on April 5, 1997)
21.5″ 
snow so far in April (previous record was 18.7″ in 1984)* remarkable for mid-April, the city of Bismarck has declared a Snow Emergency. Details from the 
Bismarck Tribune
.** photo above courtesy of Will Kincaid, 
Bismarck Tribune
.
Slush Potential. The heaviest snows over the next 72 hours will fall from Colorado (6-10″ for the Denver area) into Wyoming and the Black Hills of South Dakota. I expect mostly rain for the Twin Cities, possibly ending as an inch or two of slush Thursday night and early Friday – heavier amounts of snow over far northern Wisconsin and the U.P. of Michigan.
5-Day Rainfall. NOAA is predicting some 3-4″ rainfall amounts from Iowa and Misssouri to Chicago and Lower Michigan, more than a month's worth of rain falling in less than 48 hours. This will accelerate river and stream flooding across the Midwest and Great Lakes.
This Week's Storm Track. You can see the model spread, the predicted location of the center of the storm on each day from today into Thursday, when the center of low pressure is forecast to be near Madison, Wisconsin. Slow movement will (once again) prolong rain, allowing the storm to tap moisture from the Gulf of Mexico.
Another Atmospheric Tug-of-War. A storm tracking northeast across the Plains will pull Gulf moisture north. That wet air, rising up and over colder air over the Midwest, will cool, water vapor condensing into visible water droplets, which will fall to Earth as rain (and some wet snow over the Northern and Central Plains and Rockies). Animation: NOAA.
More Tentative Signs Of A Slowly Easing Drought. The ground is still frozen, so  most of this moisture (rain and melted snow) won't soak into topsoil, where it's needed. But the trends are encouraging; it's a radically different weather map from last year at this time. Models predict anywhere from .4 to 1.2″ precipitation by Thursday night – the NWS is predicted .8″ by midday Thursday.
Another Potential Soaker. The atmosphere should be warm enough for (mostly) rain, from Wednesday into much of Thursday, possibly ending as a rain-snow mix late Thursday into Friday morning. ECMWF guidance prints out .98″ over 3 days with slowly moderating temperatures next week. The NAM is suggesting only a third of that amount, closer to .30″.
A Light At The End Of Our Cold, Slushy Tunnel? The GFS isn't quite as mild as yesterday's run, but we're still seeing evidence of 50-degree highs by the end of next week, maybe a shot at 60F a couple of days. Yes, that would be nice.
What A Difference A Year Makes
. 
NOAA's climate division
 has a good explanation on how the weather could be so radically different from 2012 to 2013. An accompanying video explains the dramatic difference in the AO, the Arctic Oscillation, from year to year. Here's an excerpt: "…
Most of the eastern United States was cooler than average during March 2013, with the exception of New England. Eleven states in the Ohio Valley, along the Gulf Coast, and in the Southeast had March temperatures that were among their ten coolest. In fact, Alabama, Florida, Georgia, North Carolina, and South Carolina had March 2013 temperatures that were even cooler than those of 
January 2013
. Despite the cool temperatures that covered most of country in March 2013, temperatures were above average for parts of the West. Arizona, California, and Nevada each had March temperatures ranking among their ten warmest. Above-average temperatures were also observed in Washington, Oregon, Idaho, Utah, and New Mexico. Overall, however, the nationwide picture couldn't be more different than that of March 2012
…"
ENSO-Neutral Conditions Forecast To Persist. La Nina (cooling of Pacific water) has eased; no signs of plunging into an El Nino warming event, which could linger into the winter months. Here's the latest PPT from NOAA showing why they expect ENSO-neutral conditions (no La Nina or El Nino) to linger into at least the fall of 2013.
Midday Monday Update from 
Alerts Broadcaster
:Another week – another major storm brewing for much of the USA with potential impacts on facilities and travel plans. In an effort to set expectations:
* 
April-uary
. The maps still look like late February for much of the Rockies, Northern Plains and Upper Mississippi River Valley with more accumulating snow (less than 10 weeks from the Summer Solstice).
* 
Moderate risk
 of severe storms and large, violent tornadoes over the Southern Plains by Wednesday.
* 
River flooding
 is increasing east of the Mississippi, and the models are suggesting a very wet pattern for the eastern two-thirds of America into next week.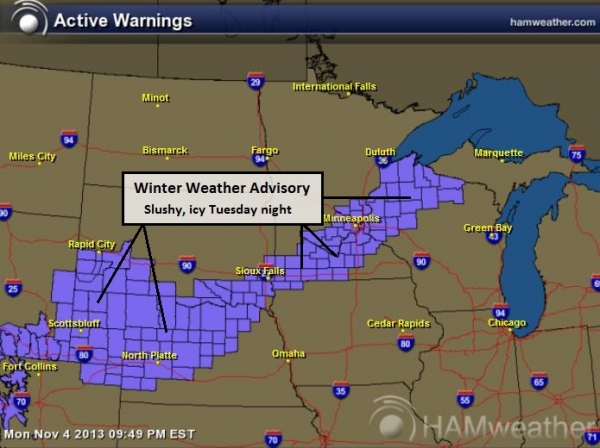 Latest Warnings. Snow will taper over the Red River Valley – the cold and recent snow pushing back peak crest dates on the Red River in Fargo another 1-2 weeks, but flooding may be worse than earlier anticipated, with all the water that's locked up in the snow pack. A Winter Storm Watch is posted from near Denver into South Dakota for the next storm pushing across the Plains this week, potentially plowable amounts possible (again). All the green counties are under Flood Warnings, recent heavy rains leading to many streams and rivers out of their banks.
Snowfall Potential. Northern Colorado and central and southeast Wyoming is looking at well over a foot of snow from this next system; some 20″+ amounts near Vail. By Wednesday night 1-3″ slush may brush the Twin Cities, with some 6″+ amounts for northern Wisconsin. The rest of the Midwest should avoid significant snow this week. I can't believe we're having this conversation on April 15.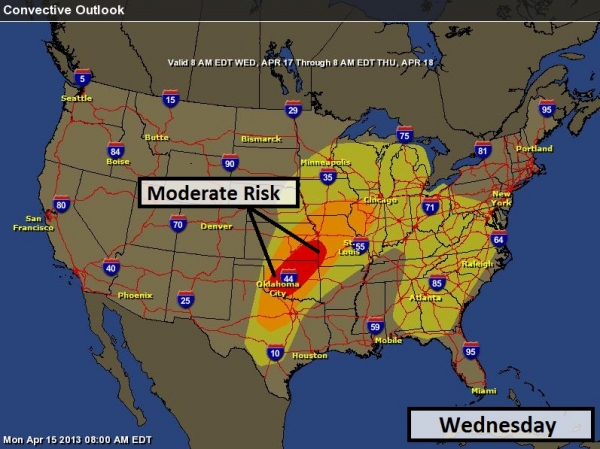 Looking Ripe. NOAA SPC has issued a "moderate risk" of severe storms and tornadoes for Wednesday, which is a trip-wire for me – suggesting a potential for large, long-track, violent (EF2+) tornadoes capable of significant damage from Oklahoma into Kansas and southwest Missouri. Map: Alerts Broadcaster, NOAA SPC.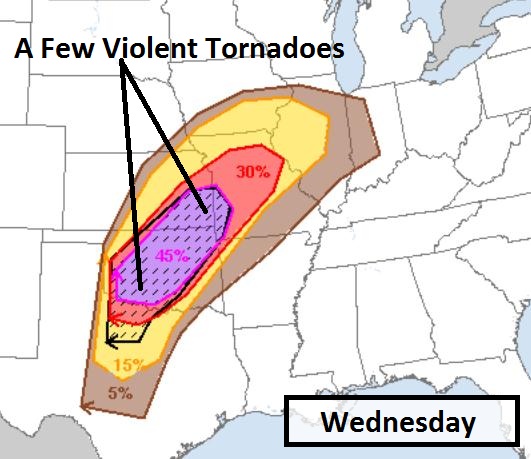 Isolating The Threat. This graphic shows the statistical probability of severe weather within 25 miles of any point Wednesday. The hatched area means at least a 10% or greater threat of significant severe weather within 25 miles of any location. Cities in the enhanced risk area include Wichita Falls, Oklahoma City, Tulsa, Wichita, Joplin and the far southern suburbs of Kansas City. Map above: NOAA SPC.
A Very Wet Pattern. The drought is fading rapidly across the Midwest and Ohio Valley; some of these communities will experience a case of weather whiplash, going from drought to flood in the coming weeks. GFS model data suggests some 3-4+" rainfall amounts from Kansas City, St. Louis, Chicago and Detroit by next Monday. Map: WeatherBell.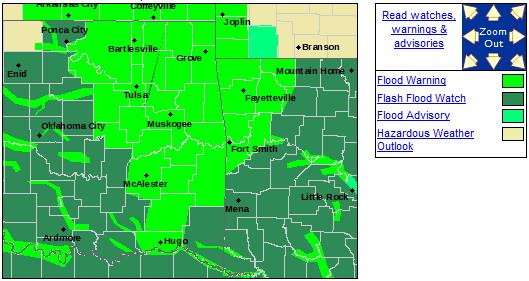 Flooding Underway. NOAA is already reporting major flooding in North Dakota (Devils Lake area), with minor to moderate flooding from near La Crosse, Madison and Milwaukee into the suburbs of Chicago and St. Louis, Indianapolis and Detroit. Flooding will be on the increase over the next 1-2 weeks. Map courtesy of NOAA.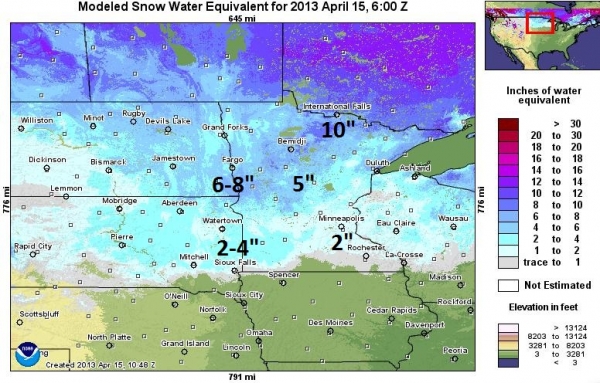 Growing Flood Potential. The maps still look like early March across the Dakotas and much of Minnesota and Wisconsin, with as much as 6-8″ of liquid water trapped in the snow pack. Any sudden warming (coupled with rain) would accelerate snow melt, increasing the potential for severe flooding on the Red River in Fargo/Moorhead. River flooding has been delayed by an unseasonably cold, snowy April – but it's still coming, probably peaking the last week of April and first week of May. Map above: NOAA.
Summary: Heavy snow will impact facilities and travel plans from Colorado and Wyoming into the Dakotas this week – the Twin Cities may pick up 1-2″ slushy snow Wednesday night, but whatever falls should melt by Thursday afternoon. River flooding will increase east of the Mississippi – more heavy rain in the forecast from the Midwest to the East Coast will accelerate urban/river flooding in the coming weeks. A  moderate risk of severe storms over the Southern Plains means an enhanced risk of damaging winds and large, violent tornadoes from Oklahoma City to Kansas City Wednesday. We'll keep an eye on this volatile pattern and offer more updates to Alerts Broadcaster clients and prospects, as needed.
Minnesota Tornadoes: A Brief History
. I'm still expecting an active tornado season across Minnesota and the Upper Midwest. Here's a 
YouTube video clip
 from the Minnesota Historical Society answering common tornado-related questions: "
Where and when was the first recorded tornado in Minnesota history? Take a brief tour through some of the state's worst weather and learn a safe place to "experience" a tornado
."
National Weather Service Employees To Be Furloughed 4 Days This Summer. A source sent me the following e-mail from NOAA, confiming 4 furlough days for every NWS employee this summer. What happens when these furloughs impact the tracking and dissemination of severe storms. I can see that day coming. Here is the e-mail that went out from NOAA yesterday:
"
For months, many across NOAA have been diligently working to mitigate impacts of the fiscal challenges of sequestration on our employees and our overall mission.  As I mentioned in previous communications, NOAA received funding for some critical NOAA mission areas, programs and systems – but we were still left with significant fiscal challenges due to the mandatory across-the-board spending cuts.
Last week, I wrote to you about an initial step we took in addressing our budgetary constraints.  While the hiring freeze, which went into effect March 27, was needed, it has become clear that with the implementation of the sequester cuts, it's not enough to address our overall fiscal constraints.Therefore, I wanted to let you know that today we are entering into national consultations with the labor unions that represent some of the NOAA workforce regarding implementation of up to four days of furlough for each NOAA employee before September 30, 2013.  Our current proposal includes plans to close a majority of our offices entirely on four specific days as other agencies facing similar challenges have chosen to do. The proposal is intended to extend federal holiday weekends, when possible, which provides additional utilities and other facility cost savings.  The four specific days currently in our proposal are: July 5, July 19, August 5, and August 30.For NOAA employees who are engaged in 24/7 operations such as those who work in our Weather Forecast Offices, those working on shipboard platforms that are not at home port, law enforcement officers, and satellite operators, days will be carefully determined to ensure continuity of mission.
We will continue to provide you with information and updates as we can.
In the constrained budget environment in which we find ourselves, there are no easy or painless options available. This plan represents NOAA's best effort to ensure that critical public services are protected and employee impacts are minimized, within the financial resources we have been given.
All of us know that this decision will affect you and your families and we urge you to speak with your managers about any concerns or suggestions you have.  We are working to ensure that mission-critical or life-saving products and services are still provided.
NOAA's employees are the backbone of our operation and the work you do day in and day out is critical to our overall mission and to overall understanding of our planet and environment.  While I realize this news is difficult, we are all in this together, and I want to thank you for your dedication to this organization and our mission
."
Following is the response of the NWSEO General Counsel, Richard Hirn:
FLASH- less than an hour ago we received notice that NOAA will furlough all employees for four days! This totally contradicts what Secretary Blank previously told Appropriations Committee Chair Barbara Mikulski. The Washington Post has just asked us for a comment and here is what I provided:"NOAA's plans to furlough operational employees at the National Weather Service as we enter the severe storm and hurricane season is unnecessary and places the public at great risk. As late as last Thursday, the House Appropriations Committee asked Acting Commerce Secretary Blank to submit a reprogramming request so that this and other cutbacks at the NWS could be avoided. The NWS has already reduced staffing at forecast offices and national forecast centers nationwide over the past two years and frozen hiring. Last month, Congress added an extra $17 million to the NWS budget this fiscal year to mitigate sequestration impacts on personnel. Most of the NWS employees being furloughed are designated "emergency essential" who, because of their public safety responsibilities, would normally be required to work during any government-wide shut-down. Why they are being furloughed when Congress has indicated it is willing to approve a reprogramming request is mind-boggling stupid."
A Maserati Armchair? For people with more money than sense, you'll need a few of these in your family room; here's an excerpt from Gizmag.com: "Maserati has partnered with Italian furniture manufacturer Zanotta to create a limited-edition armchair which premiered this week during Milan Design Week. The Maserati by Zanotta lounge chair was created by designers Ludovica and Roberto Palomba, founders of Palomba Serafini Associates, Milan, in homage to the new Maserati Quattroporte…"
Photo credit above: "Maserati has partnered with Italian furniture manufacturer Zanotta, to create a limited-edition line of armchairs." (photo: Edoardo Campanale/Gizmag)
** "Fire and Ice" image above courtesy of Steve Burns.
Climate Stories….
Flooding, Fires And Food: Climate Change Is Costing Taxpayers Plenty. Yes, it's no longer a theory, but a reality, and we're already paying for a more volatile, unpredictable climate. Here's an excerpt of an Op-Ed at Forbes: "Crop losses. Floods.  Wildfires. Climate change and extreme weather are fundamentally changing the United States, and American taxpayers are paying a huge – and growing – cost. The U.S. Government Accountability Office warned in February that climate change is a "significant financial risk to the federal government." It threatens everything – not just federal lands and buildings, but food, flood and crop insurance and disaster relief. And who pays for all this? We do – the American taxpayers. So a threat to the government's wallet is a threat to our own bottom line. Here are some examples of the escalating costs Americans are already bearing:
FOOD 
Taxpayers subsidize the federal crop insurance program that was created during the 1930s Dust Bowl to protect farmers against crop losses. Today, we're experiencing another devastating drought, and federal crop insurance losses have tripled in the past three years to $16 billion in payouts for 2012…"
Summer Ice Melt On Antarctic Is Now Nonlinear, Fastest In Over 1,000 Years. Think Progress has the story; here's an excerpt: "…A new study finds "a nearly tenfold increase in melt intensity" on the Antarctic Peninsula in the last few hundreds years. Here's the most worrisome news from this 1000-year reconstruction of "ice-melt intensity and mean temperature" published in Nature Geoscience:

The warming has occurred in progressive phases since about AD 1460, butintensification of melt is nonlinear, and has largely occurred since the mid-twentieth century. Summer melting is now at a level that is unprecedented over the past 1,000 years. We conclude that ice on the Antarctic Peninsula is now particularly susceptible to rapid increases in melting and loss in response to relatively small increases in mean temperature…"
Photo credit above: British Antarctic Survey
Recent Antarctic Climate, Glacier Changes At The "Upper Bound" Of Normal. Here's an excerpt from The University of Washington: "In the last few decades, glaciers at the edge of the icy continent of Antarctica have been thinning, and research has shown the rate of thinning has accelerated and contributed significantly to sea level rise. New ice core research suggests that, while the changes are dramatic, they cannot be attributed with confidence to human-caused global warming, said Eric Steig, a University of Washington professor of Earth and space sciences. Previous work by Steig has shown that rapid thinning of Antarctic glaciers was accompanied by rapid warming and changes in atmospheric circulation near the coast. His research with Qinghua Ding, a UW research associate, showed that the majority of Antarctic warming came during the 1990s in response to El Niño conditions in the tropical Pacific Ocean…"
Photo credit
 above: Heidi Roop. "
This photo from December 2010 shows a one-meter long section of the West Antarctic Ice Sheet Divide core, with a dark layer of volcanic ash visible
."
Scientists Find Antarctic Ice Is Melting Faster. Reuters has the story; here's an excerpt: "The summer ice melt in parts of Antarctica is at its highest level in 1,000 years, Australian and British researchers reported on Monday, adding new evidence of the impact of global warming on sensitive Antarctic glaciers and ice shelves. Researchers from the Australian National University and the British Antarctic Survey found data taken from an ice core also shows the summer ice melt has been 10 times more intense over the past 50 years compared with 600 years ago. "It's definitely evidence that the climate and the environment is changing in this part of Antarctica," lead researcher Nerilie Abram said…"
"Global Warming Most Definitely Not A Hoax". A Scientist's Rebuttal. Here is an excerpt of a response to a recent climate denier Op-Ed, from local St. Thomas climate scientist Dr. John Abraham at Catholic Online: "… Dr. Hendrickson believes, erroneously, that climate science is like economics.  Here he is wrong.  Climate science is governed by physical laws (conservation of energy, conservation of mass, gravity, etc.) which have no corollary in economics.  It is naïve to confuse economics and physical science disciplines. But what about his claims?  Are they correct?  Not hardly.  In his interview, Dr. Hendrickson was asked to explain temperature changes that have already been observed.  He responded by belittling computer models.  His answer obviously confused past temperature measurements with future predictions of temperatures; they are not the same.  The evidence from measurements clearly shows that temperatures have increased significantly over the past 150 years (here and here for example) and temperatures are currently higher than the past few thousand years (here and here for examples).  These are but a few of the many studies that show the temperatures we are seeing now are out of the natural range that is expected. He claimed that satellites have shown no warming in the last two or three decades.  This is also false.  In fact, even data from two of the most prominent climate skeptics (Dr. John Christy and Dr. Roy Spencer) show temperatures are clearly rising…"
Is 70% Renewable Power Possible? Portugal Just Did It For 3 Months. Think Progress has details: "Portugal's electricity network operator announced that renewable energy supplied 70 percent of total consumption in the first quarter of this year. This increase was largely due to favorable weather conditions resulting in increased wind and water flow, as well as lower demand. Portuguese citizens are using less energy and using sources that never run out for the vast majority of what they do use.

Hydropower supplied most: Hydroelectric power supplied 37 percent of total electricity — a 312 percent increase compared to last year.
Wind turbines broke a record: Wind energy represented 27 percent of the total share, which is 60 percent higher than last year. This is 37 percent above average and good for the highest amount generated by wind in Portugal, ever…"
Photo credit above: "Alto Lindoso." (Image credit: Energias de Portugal).
_____________________________________________________
ABOUT ME
Welcome to the WeatherNation blog. Every day I sift through hundreds of stories, maps, graphics and meteorological web sites, trying to capture some of the most interesting weather nuggets, the stories behind the forecast. I'll link to stories and share some of the web sites I use. I'm still passionate about the weather, have been ever since Tropical Storm Agnes flooded my home in Lancaster, PA in 1972. I've started 5 weather-related companies. "EarthWatch" created the world's first 3-D weather graphics for TV stations – Steven Spielberg used our software in "Jurassic Park" and "Twister". My last company, "Digital Cyclone", personalized weather for cell phones. "My-Cast" was launched in 2001 and is still going strong on iPhone, Android and Blackberry. I sold DCI to Garmin in 2007 so I could focus on my latest venture: WeatherNation. I also write a daily weather column for The Star Tribune startribune.com/weather And if you're on Twitter, you'll find me @pdouglasweather