April Mega-Storm: Potential For Tornadoes, Flooding, 1-2 Foot Snowfall Amounts by Thursday
Just the Messenger
May I be excused, please?
This might be a good time to drive south to a slightly warmer, more meteorologically hospitable spot, like Dubuque.
A friend of mine, Tim, reports local fast-ball softball teams are driving as far south as Illinois and Kansas City to find (thawed) ball fields to play on. Our stunted spring has many of us in a funk, and things are about to get even more "interesting".
A slow moving storm tracking across the Plains will spray a fire-hose of Gulf moisture northward – flooding rains for the Midwest & heavy wet snow from the Upper Mississippi Valley into the Dakotas, where some 20-30 inch amounts are predicted. Good grief. A cold rain today mixes with ice tonight and Wednesday, a plowable (4-8″+) pile of slush may reach the metro area from Wednesday into Thursday; heaviest amounts on lawns, fields and dazed robins.
Thursday may be the most challenging travel day.
Note to self: I shouldn't have taken off my snow tires – but at least I left my driveway stakes in.
It's baffling: the maps look like something out of early March. The most snow from an April storm? 13.6″ on April 14, 1983. If we pick up 6.7″ (possible) it would be the most April snow since 2002.
Biggest Single Day April Snowfalls In The Twin Cities? I was really hoping not to have to include this data from the Minnesota State Climatology Office:
Rank  Value  Ending Date
  1    13.6″  4/14/1983
  2     8.9″  4/7/1923
  3     8.8″  4/14/1949
  4     8.5″  4/13/1928, 4/27/1907, 4/20/1893
  7     7.2″  4/4/1957
  8     7.1″  4/27/1908
  9     6.6″  4/21/2002, 4/29/1984
Something For Everyone. Everything except sunshine and 70s. Flood watches & warnings for Wisconsin, a Winter Storm Watch for the Twin Cities, and Winter Storm Warnings west of St. Cloud. Details on the Winter Storm Watch from the Twin Cities NWS:
...WINTER STORM WATCH REMAINS IN EFFECT FROM TUESDAY EVENING
THROUGH THURSDAY AFTERNOON...

A WINTER STORM WATCH REMAINS IN EFFECT FROM TUESDAY EVENING
THROUGH THURSDAY AFTERNOON.

* TIMING: LIGHT RAIN WILL TRANSITION TO A WINTRY MIX OF
  PRECIPITATION ON TUESDAY EVENING AND CHANGE OVER TO SNOW LATE
  WEDNESDAY.

* MAIN IMPACT: SNOW ACCUMULATIONS OF 6 INCHES OR GREATER...
  MAINLY BETWEEN WEDNESDAY EVENING AND MID DAY THURSDAY.

* OTHER IMPACTS: SMALL ICE ACCUMULATIONS DUE TO SLEET AND
  LIGHT FREEZING RAIN ON TUESDAY EVENING AND WEDNESDAY.

PRECAUTIONARY/PREPAREDNESS ACTIONS...

A WINTER STORM WATCH MEANS THERE IS A POTENTIAL FOR SIGNIFICANT
SNOW...SLEET...OR ICE ACCUMULATIONS THAT MAY IMPACT TRAVEL.
CONTINUE TO MONITOR THE LATEST FORECASTS.
Hey…It'll Melt. Last night I complained about the snow to my wife of 28 years. She told me to shut up. "It'll melt", she said. True enough. The GFS is still going nuts, showing some 12-16″ amounts, which could happen, if there is no wintry mix (sleet and freezing rain); if precipitation falls as ALL SNOW. This could happen, but I still expect some rain, sleet (ice pellets) and freezing rain to mix in, especially today and the first half of Wednesday, which will keep amounts down in the far more reasonable range of 5-8″, maybe 10″ far northern suburbs. But hey, it'll melt.
I Can't Quite Believe It Either. I want to dismiss this as utter nonsense. It's the second week of April! As far as the atmosphere is concerned it's the first week of March. There's enough cold air in place for some 1-2 foot snowfall amounts from eastern Wyoming into South Dakota; maybe 18″ for west central Minnesota and a cool foot for St. Cloud. 
The NAM is hinting at 4-8″ for the immediate MSP metro by Friday morning, with the heaviest amounts north and west of town (on lawns and fields). I feel the sudden urge to drive (run?) south – as fast as I can.
Potential For Glaze Ice Tonight. I expect a cold rain today, but surface temperatures should dip just below 32F later tonight, allowing rain to freeze into glaze in time for rush hour Wednesday morning. Plan on leaving a lot more time to get around Wednesday and Thursday.
WSI RPM Model. WSI's high-resolution 12km. RPM model is in pretty good alignment with the NAM, suggesting 8-10″ across the MSP metro, most of that coming Wednesday PM into Thursday, when temperatures in the lowest mile of the atmosphere bottom out. Some 24″+ snowfall amounts are forecast west of Sioux Falls. What month is this again?
One Of The Biggest Snowfalls of Winter – Coming in "Spring". No, the irony isn't lost on me. The 00z NAM shows a major storm spinning up over the Plains, moving slowly to the east-northeast, tapping moisture from the Gulf of Mexico, taking a track favorable for heavy wet snow from South Dakota into Minnesota and Wisconsin.
Storm Track. NOAA models show a track well south of Minnesota, ensuring a steady supply of cold air at the height of the storm, Wednesday into Thursday. The slow forward motion of the storm will help to contribute to excessive precipitation amounts: rain and heavy wet snow.
Plenty Of Moisture. I was hoping for rain (to alleviate the drought), but we'll wind up with more snow than rain this week. Models suggest 1.5 to 2.5″ liquid by Friday morning, more (rain) Sunday of next week. The good news? I feel more confident than ever that, based on the cool, wet pattern we're stuck in, the drought will ease over much of Minnesota by June.
Euro-Trash. Sadly, I think the ECMWF (European) model is probably on track to verify; hinting at 1.25″ liquid Wednesday and Thursday, much of that moisture falling as heavy, wet snow.
With high water content in the snow I wouldn't be surprised to hear reports of downed tree limbs, even some power outages at the height of the storm. It should be warm enough for rain showers Sunday, readings reach the 50s to near 60 by the middle of next week. Right.
Tracking A Freak April Storm
. Here's a 
YouTube video
 that delves into the reasons for this week's March-like storm, and why rainfall and snowfall amounts may be very significant, some of the highest of the winter season:
"Calendar says April 8th, but the weather maps are much more in line with what you would see in early March. 20-30″ snowfall amounts possible along with the potential for a few large violent tornadoes. Millions of people will be impacted this week. Are you one of them? Watch what Meteorologist Paul Douglas has to say about this freak April storm."
Here is an excerpt of an 
Alerts Broadcaster
 briefing late Monday, which we provide to weather-sensitive companies around the world:
"I'm sitting here, in a Monday funk, mourning the apparent death of spring, at least over the Plains and Upper Midwest. The calendar insists that its April 8, but as far as the atmosphere is concerned it's March 1, give or take. An unusually intense storm (for the second week of April) will impact the central USA with heavy wet snow, heavy rain capable of urban and river flooding, and deeper into the warm, humid air, a significant severe storm outbreak, with a potential for a few large, violent tornadoes: central Plains today and Tuesday, pushing into the Mississippi Valley and Mid South by Wednesday and Thursday."
Highlights:
* Near-blizzard conditions are possible in the Denver area Tuesday; where as much as 5-9″ of snow will fall. Expect delays and cancellations at KDEN, especially tomorrow.
* Models print out some 20-30″ amounts across South Dakota, with plowable snows pushing across Minnesota into Wisconsin Wednesday and Thursday.
* Chicago may pick up 3″ of rain by Thursday, complicating stream and river flood forecasts – I expect some level of urban flooding as well.
* A few large, violent, long-track tornadoes are possible tomorrow from Austin and Dallas to Kansas City. By Wednesday the threat shifts to Shreveport, Little Rock, Memphis, St. Louis and Louisville. Details: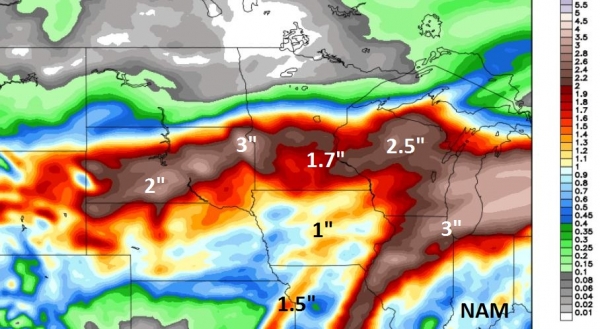 3-5 Week's Worth of Rain by Thursday. The NAM model prints out very heavy rainfall amounts for the Upper Midwest and Great Lakes, as much as 2-3″ or more of liquid water. Most of that water will fall as heavy wet snow over the Plains and portions of the Upper Midwest.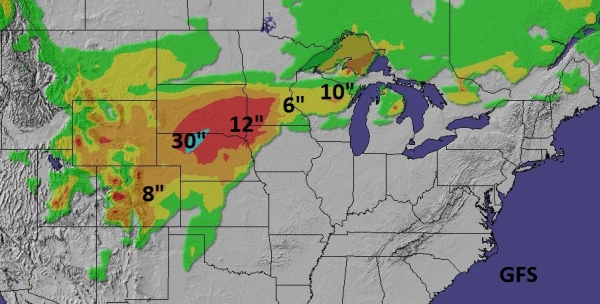 Confirmation. The models are coming into alignment, showing the heaviest snowfall amounts from Nebraska into South Dakota and southwestern Minnesota, where some 12″+ amounts seem imminent. This could still be a plowable snowfall for the Twin Cities by Wednesday and Thursday, with some 5-10″ amounts extending toward Wausau, Appleton and the Green Bay, Wisconsin markets.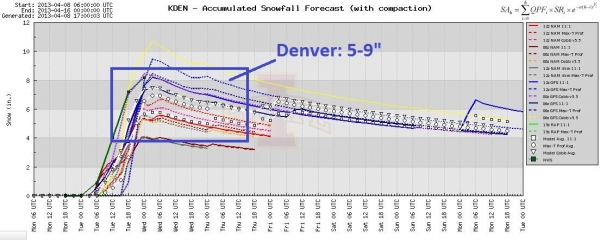 Mile High Mess. Snow arrives tonight in Denver, peaking tomorrow, when an increase in wind speed may trigger near-blizzard conditions. I'm comfortable (wrong word) predicting 5-9″ for the Denver area by the time snow tapers Wednesday.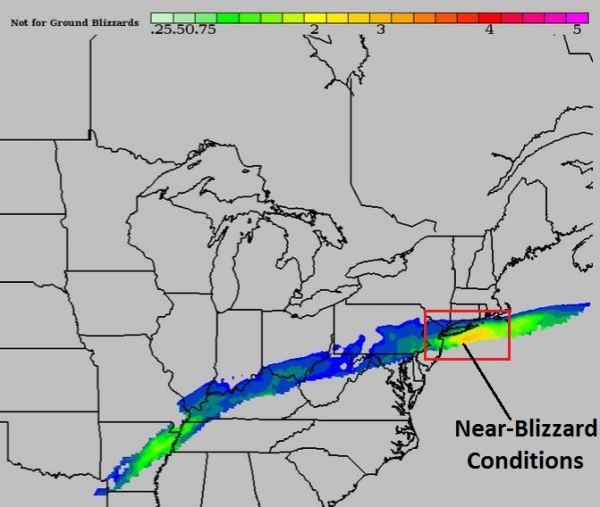 Blizzard Potential Index. One of the many value-added models we run here at Alerts Broadcaster is the BPI, the Blizzard Potential Index, factoring in snowfall rates, wind speeds and predicted visibilities. The worst of the storm along Colorado's Front Range is forecast to come Tuesday afternoon.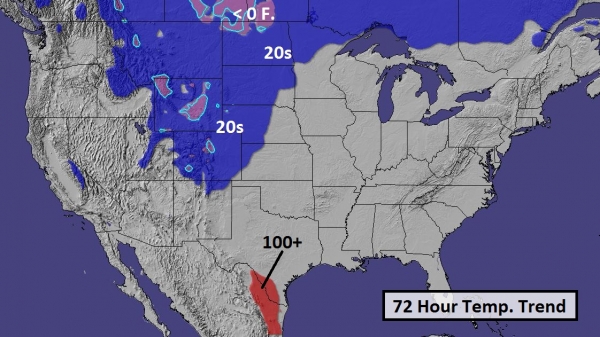 Remarkable Extremes. I don't think I've ever seen this. Alerts Broadcaster models predict highs topping 100F over southern Texas, while holding in the 20s over Colorado and New Mexico over the next 72 hours. The resulting temperature gradient will help to spin up an unusually intense storm over the Plains states.

On Track For A Significant Severe Storm Outbreak. Although not as expected to be as violent as outbreaks in 2011, the stage is set for supercell thunderstorms capable of large, long-lasting tornadoes capable of significant destruction. The risk is greatest tomorrow from Dallas to Oklahoma City and Wichita – the threat shifts into the Mississippi Valley by Wednesday.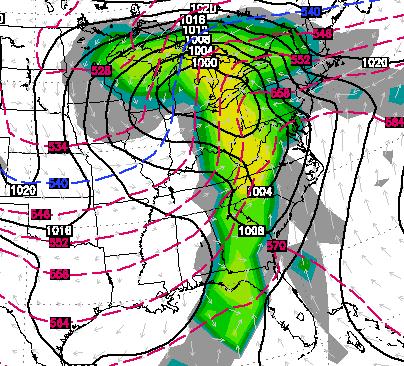 Friday Storm Potential. A few severe thunderstorms are likely in the Atlanta area late Thursday, possibly pushing into D.C., the Delaware Valley and New York City by Friday afternoon. Although the potential for tornadoes will be small, some storms may produce large hail and damaging straight-line winds. Friday's PM commute may be a real mess across the Northeast.
Summary: I've seen a lot of things in 40 years of meteorology, but I can't remember the last time I saw 20-30″ snowfall amounts during the second week of April. Portions of the High Plains may be temporarily shut down, starting tomorrow, spilling over into Thursday. Disruptions to travel and the power grid may be considerable, especially from Denver into Nebraska and South Dakota. Ice changing to snow will create poor to treacherous travel conditions over Minnesota and Wisconsin. The worst conditions at KMSP (Twin Cities) and KMKE (Milwaukee) will probably come Thursday. The slow forward motion of the storm will prolong rainfall across the Midwest, accelerating run-off and stream/river flooding, especially southern Wisconsin into the Chicago and Indianapolis area by midweek.
Ask Paul. Weather-related Q&A:
Paul,
Is there an easy place to get searchable records for actual snowfall totals by location and date? Looking to compare each month of the 2012-2013 Winter season in my neck of the woods (or stretch of the prairie – I'm on the edge)
I stumbled around NOAA for awhile and ended up chasing my tail.
Kelly Larson
Bagley, Minnesota
I asked climate guru Pete Boulay at the Minnesota Climatology Working Group for his advice – here was his answer:
"You can find the closest snow data to your location by going here:

It appears as though the closest place with at least partial data is site 210643 (Bemidji Airport)."
Pete
Lightning Hits The Seattle Space Needle
. At first I thought this photo was Photoshopped, but that is apparently not the case – this amazing image courtesy of
Smithsonian.com
: "
Photo of the Day: March 15, 2013. An Editors' Pick from our 2012 Photo Contest.  Photo and caption by Clane Gessel (Seattle, WA); Photographed August 01, 2010, Seattle, WA
."
Climate Change And Turbulence Link?
 Warmer Air Could Mean A Bumpier Airplane Ride. Great. This is just what I want to read before getting onto a flight. I'd like a seat in the Black Box please. Here's an excerpt from 
Huffington Post
: "
Transatlantic airline passengers might expect to stay seated with their seatbelts securely fastened more often in the future, according to new research that finds climate change could lead to more airplane turbulence. By the middle of the century, 
turbulence strength
 over the North Atlantic flight corridor could increase between 10 percent and 40 percent, and turbulence frequency could jump between 40 percent and 170 percent, according to the new study published online today (April 8) in the journal Nature Climate Change. The increase could have major implications for the airline industry, as approximately 600 flights a day make the North Atlantic transit from Europe to North America and back. The study researchers focused on 
clear-air turbulence
, the sort of bumps that occur even in the absence of clouds or mountains (which can also give airplane passengers a rocky ride). Clear-air turbulence occurs when masses of air moving at different speeds collide in the atmosphere, making it invisible to the naked eye and nearly impossible to detect using radar or satellite
…"
Here's an abstract of the research referenced in the article above, from 
Nature
.
How Aereo And The Dish Hopper Could "Dramatically Reshape" The Television Industry.
 I'm interested in new technologies that are disruptive. Aereo (and the Dish Hopper, which allows consumers to automatically skip all commercials on the 4 main networks) fits that definition. Here's an excerpt of a story at 
TVspy
: "
A pair of articles in Reuters and The New York Times take a look at the shifting television landscape. Reuters 
looks at
 Aereo and the Dish Hopper, "two fledgling technologies could dramatically reshape the $60 billion-a-year television broadcast industry":
A favorable outcome for Aereo and the Hopper in court would push TV operators to dramatically reshape themselves. It could even force them to trade in their broadcast towers and become cable channels alongside networks such as Bravo, AMC and ESPN, says Garth Ancier, who has been the top TV programmer at Fox, NBC and the WB networks.
"They won't have a choice," Ancier said. "When someone attacks your business, sometimes you do something radical..."
Climate Stories…

Breaking News (Literally). NOAA Confirms Early Break-Up. Here's a video and excerpt of a story at Climate Denial Crock of the Week: "…A series of intense storms in the Arctic has caused fracturing of the sea ice around the Beaufort Sea along the northern coasts of Alaska and Canada. High-resolution imagery from the Suomi NPP satellite shows the evolution of the cracks forming in the ice, called leads, from February 17 — March 18 2013. The general circulation of the area is seen moving the ice westward along the Alaskan coast "Intense storms" are not an unheard of thing in the arctic. What's new is that the ice is so fragile that normal storm activity is breaking it up much earlier than has  been seen in the past…"
Simpler, Cheaper Way To Make Methanol Fuel Using CO2 and Sunlight. Find a revenue-neutral way to price carbon pollution (one that doesn't make government bigger) then step back and let the markets do what they do best: innovate. Here's an excerpt of a fascinating story at gizmag.com: "Most previous methods of producing methanol from carbon dioxide have involved lots of electricity, high pressures and high temperatures, and used toxic chemicals or rare earth elements like cadmium or tellurium. A team of researchers at the University of Texas at Arlington (UTA) has developed a new method they claim is safer, less expensive, and simpler than current approaches and can be scaled up to an industrial scale to allow some of the CO2 emitted from electrical power plants to be captured and converted into a useful fuel…"
Photo credit above: "Researchers at University of Texas at Arlington have developed a novel means of creating methanol from sunlight and CO2." (Photo: Shutterstock)
Oceans May Explain Slow-Down In Climate Change. 90-93% of warming is going into the world's oceans, the balance warming the atmosphere and melting ice. Here's an excerpt from Yahoo News: "Climate change could get worse quickly if huge amounts of extra heat absorbed by the oceans are released back into the air, scientists said after unveiling new research showing that oceans have helped mitigate the effects of warming since 2000. Heat-trapping gases are being emitted into the atmosphere faster than ever, and the 10 hottest years since records began have all taken place since 1998. But the rate at which the earth's surface is heating up has slowed somewhat since 2000, causing scientists to search for an explanation for the pause. Experts in France and Spain said on Sunday that the oceans took up more warmth from the air around 2000. That would help explain the slowdown in surface warming but would also suggest that the pause may be only temporary and brief…"
Photo credit above: "The tide comes in as the sun sets on the seafront in Scarborough, northern England February 26, 2013." REUTERS/Dylan Martinez.
Climate Change Will Threaten Wine Production, Study Shows
. Coffee, chocolate, now wine? Say it isn't so. Here's an excerpt from 
The Guardian
: "
Bid adieu to Bordeaux, but also, quite possibly, a hello to Chateau Yellowstone. Researchers predict a two-thirds fall in production in the world's premier 
wine
 regions because of 
climate change
. The study forecasts sharp declines in wine production from Bordeaux and Rhone regions in France, Tuscany in Italy and Napa Valley in California and Chile by 2050, as a warming climate makes it harder to grow grapes in traditional wine country. But also anticipate a big push into areas once considered unsuitable. That could mean more grape varieties from northern Europe, including Britain, the US north-west and the hills of central 
China
…"
Photo credit
 above: "
A study has found sharp declines in wine production from Bordeaux, Rhone and Tuscany, as well as California's Napa Valley and Chile by 2050, as a warming climate makes it harder to raise grapes in traditional wine country
." Photograph: Cephas Picture Library / Alamy
Why We Support A Revenue-Neutral Carbon Tax. Here are two prominent Republicans, George Schultz and Gary Becker, proposing to tax a known pollutant, but in a way that encourages economic growth and innovation in the marketplace. The Wall Street Journalhas the story; here's an excerpt: "Americans like to compete on a level playing field. All the players should have an equal opportunity to win based on their competitive merits, not on some artificial imbalance that gives someone or some group a special advantage. We think this idea should be applied to energy producers. They all should bear the full costs of the use of the energy they provide. Most of these costs are included in what it takes to produce the energy in the first place, but they vary greatly in the price imposed on society by the pollution they emit and its impact on human health and well-being, the air we breathe and the climate we create. We should identify these costs and see that they are attributed to the form of energy that causes them. At the same time, we should seek out the many forms of subsidy that run through the entire energy enterprise and eliminate them. In their place we propose a measure that could go a long way toward leveling the playing field: a revenue-neutral tax on carbon, a major pollutant…"
Study: "Working Together" Won't Fix Climate Change
. It's in our DNA to collaborate on big challenges, right? Not so much, argues this article at 
Salon
; here's an excerpt: "
When it comes to climate change, we're all in this dilemma together, and forcefully addressing it will require collaboration and cooperation. A stirring sentiment, but if you're looking to spur white Americans to action, 
it's actually counterproductive
. That's the conclusion of a Stanford University research team, which found invoking the idea of interdependence undermined the motivation of European-American students to take a course in environmental sustainability. The researchers, led by 
MarYam Hamedani
 of Stanford's Center for Comparative Studies in Race and Ethnicity, argue that in mainstream European-American culture, independence functions as a "foundational schema" — that is, an underlying design or blueprint that guides behavior.
.."
Photo credit
 above: AP/Ian Joughin.
Schwarzenegger: California's Silent Disaster
. Here's an excerpt of an Op-Ed in the
L.A. Times
 from the former governor of California: "
I will always remember the day I woke to the news that more than 2,000 fires were burning in California. I thought I must not have heard correctly. Two thousand fires? How could that be? In the end, the state's brave firefighters, joined by contingents from out of state, won the battle. But not before 11 emergency declarations were issued and more than 400,000 acres burned. Countless lives and livelihoods were ruined. Today, there's a new disaster looming, and although it's not as riveting or dramatic as walls of flames and billowing black smoke, it needs our immediate attention. The draft National Climate Assessment, now being circulated for comment and scheduled for release this year by the U.S. Global Change Research Program, presents a sobering vision of the world that awaits us if we don't act
…" (image: NASA).
_____________________________________________________
ABOUT ME
Welcome to the WeatherNation blog. Every day I sift through hundreds of stories, maps, graphics and meteorological web sites, trying to capture some of the most interesting weather nuggets, the stories behind the forecast. I'll link to stories and share some of the web sites I use. I'm still passionate about the weather, have been ever since Tropical Storm Agnes flooded my home in Lancaster, PA in 1972. I've started 5 weather-related companies. "EarthWatch" created the world's first 3-D weather graphics for TV stations – Steven Spielberg used our software in "Jurassic Park" and "Twister". My last company, "Digital Cyclone", personalized weather for cell phones. "My-Cast" was launched in 2001 and is still going strong on iPhone, Android and Blackberry. I sold DCI to Garmin in 2007 so I could focus on my latest venture: WeatherNation. I also write a daily weather column for The Star Tribune startribune.com/weather And if you're on Twitter, you'll find me @pdouglasweather