Biggest Travel Week of the Year: What Can Go Wrong? Plenty
Dallas will pick up some ice tonight; that same storm will spread flooding rains and mountain snows into the east by Tuesday & Wednesday. If you're flying east before Thanksgiving may I suggest deep breathing exercises & Ambien. Expect delays.
SPC has updated the "filtered" number of tornado reports from last Sunday's historic, late-season tornado outbreak to 106. Hard to wrap my brain around that number. Following the outbreak I wrote about the benefits of a safe room. For the price of a family vacation to Disney World you can reinforce a closet with steel & concrete.
A 2008 tornado threw Tom Cook's family hundreds of feet from their home. After installing a steel shelter they walked away from a big 2011 twister.
He told me "The difference between a shelter and no shelter is $100,000 in hospital bills and a funeral."
---
Jaw-Dropping Numbers. The latest (filtered) SPC count for tornado reports a week ago (November 17) is now 106 in 6 states, as far north as northern Michigan.
Misery Loves Company. What's the word. Shadenfreude? Taking delight in other's misfortunes, meteorological and otherwise. Look how far the freezing line is forecast to be at high noon today, a deep chill east of the Rockies, downright numbing from the Great Lakes into New England. Map: NOAA and Ham Weather.
---
Old Man Winter Shows His Teeth. The bad news is that this wintry fling is coming from north Texas into Oklahoma and Arkansas, where you can count the number of plows on two hands. The same storm that will spark a period of sleet and freezing rain around Dallas later today will push heavy rain across the Gulf Coast and right up the East Coast by Tuesday and Wednesday. 4km NAM Future Radar product courtesy of NOAA and Ham Weather.
---
A Volatile Pattern Southern and Eastern USA. The timing stinks, but we're just messengers, right? The GFS model solution above keeps the brunt of the rain offshore early next week, hinting at high winds and possible coastal flooding for the Outer Banks by Tuesday and Wednesday. The European model shows a shield of heavy rain spreading right up the east coast late Tuesday into midday Wednesday. If your travels take you east, especially Tuesday night or early Wednesday, you'll want to stay up on the latest forecast and possible delays at the airport. Loop: NOAA and Ham Weather.
---
Colder Than Average Northern States – Storm Track Shifts South. Winds aloft (500 mb, about 18,000 feet above the ground) show a very slight shift to a more west/northwest flow for the northern states, a split flow guiding the biggest storms across the far south. New England and the Great Lakes will remain very cold, but the rest of the USA should see some slight moderation into early December. Map: NOAA.
---
Alerts Broadcaster Briefing: Issued midday Saturday, November 23, 2013.
* Dallas/Fort Worth Metroplex under a Winter Storm Warning for a mix of wintry precipitation. I still expect a period of sleet and freezing rain (glaze ice) Sunday night into Monday morning. Monday may be a commuting mess in Dallas, and across much of northern, central and western Texas. Power outages due to ice build-up on trees and power lines is most likely from the northern/western suburbs of Fort Worth to Abilene, San Angelo and Wichita Falls.
* Winter Storm Watches issued as far east as Shreveport, Louisiana and Hot Springs, Arkansas.
* Potential for flooding rains across much of East Coast Tuesday and Wednesday with a growing risk of urban flooding. ECMWF (European) guidance is hinting at heavy snowfall amounts for the Appalachians and Shenandoah Valley, with a slushy coating possible into Washington D.C., Baltimore, Philadelphia and New York's western/northern suburbs, generally west of I-95. I still believe we're looking at a mostly (heavy) rain event for major eastern urban centers Tuesday and Wednesday – drying out in time for Thanksgiving Day, with no post-Thanksgiving weather complications.
---

Lingering Ice Potential Dallas to Abilene. Lubbock, Midland and Wichita Falls will see heavy snow, mixed with ice at times. The atmosphere should be just warm enough aloft for rain, sleet (ice pellets) and a period of freezing rain (glaze ice) for Dallas, with the worst travel conditions coming north and west of Fort Worth. Winter Storm Warnings are now posted for the Dallas-Fort Worth area, with the greatest potential for icing and sporadic power outages Sunday night into Monday morning. Map above: WSI.
---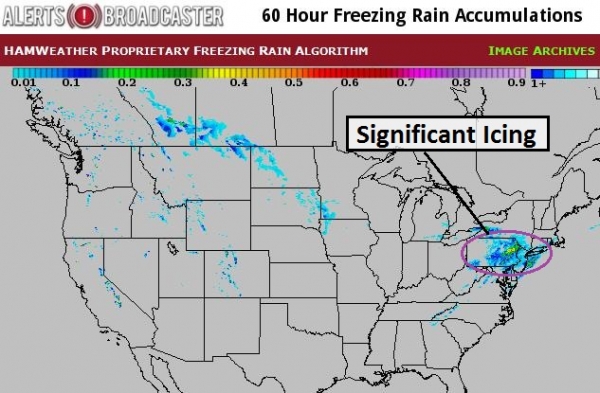 Significant Ice Accumulations. This is a special ice product, showing the greatest probability of a dangerous build-up of ice on surfaces, including highways and power lines. Central Texas will see the worst icing, but metro Dallas will experience a 6-12 hour mix of rain, sleet and glaze ice, with the northern/western suburbs seeing the most ice-related problems. Map: NOAA.
---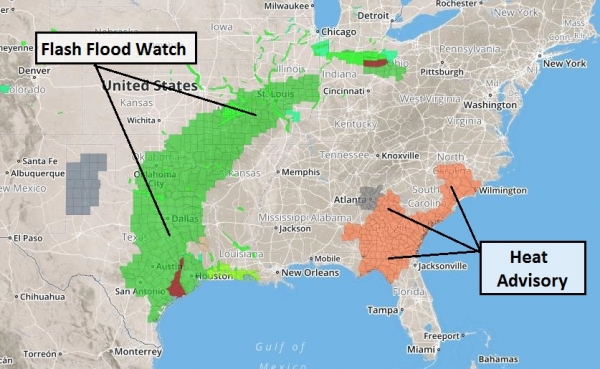 Latest Warnings. NOAA has expanded the region covered by Winter Storm Warnings, now extending from Del Rio and San Angelo to Abiline and metro Dallas. This means that treacherous, potentially dangerous wintry weather is imminent. Map: Ham Weather.
---
East Coast Soaker. NOAA's 5-Day Rainfall QPF prints out a swath of 1-3″ of (liquid) precipitation the first half of next week; most of that falling as a soaking rain east of the Appalachians Tuesday into Wednesday. I could see some issues with urban flooding and serious travel delays late Tuesday into Wednesday from Charlotte to Washington D.C. Philadelphia, New York, Hartford and Boston. I know, lousy timing. Confidence level for heavy rain is fairly high: a 7 out of 10.
---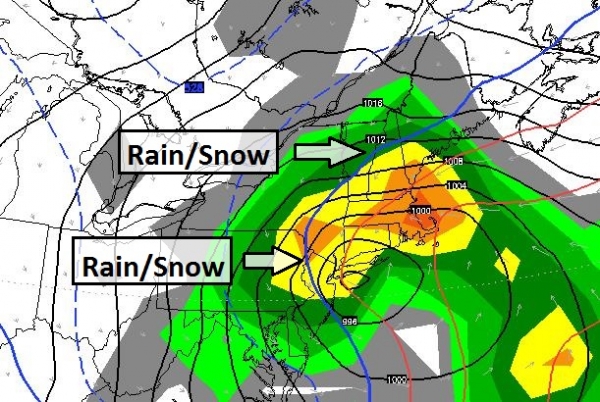 Storm Peaks Tuesday Night into Wednesday Morning. All the guidance suggests that the heaviest rains (and inland snows), along with strongest winds will come Tuesday night into early Wednesday. The computer model above is valid midnight Tuesday night, when heavy rain (and a few T-storms) may push from Raleigh into D.C. and Philadelphia. The worst commute and greatest impact on facilities will probably come Wednesday morning. ECMWF guidance valid midnight Tuesday courtesy of WSI.
---
Snowfall Potential. Don't take the gasp-worthy map above at face value, at least not yet. I'm not convinced the hills of West Virginia and Shenandoah Valley of Virgina will pick up 10-20″ snowfall amounts. There will be a changeover to wet snow from west to east on Wednesday, and much of the Appalachians may indeed pick up a plowable snowfall. Right now I expect mainly rain for major cities along and east of the I-95 corridor. My confidence level for the snowfall amounts out east actually verifying is quite low: a 3 on a scale of 1 to 10. Map: NOAA and Ham Weather.
---
Wildfire Risk Seen As High or Extreme At 4.5 Million U.S. Homes. Bloomberg and The Chicago Tribune have the article; here's the introduction: "More than 4.5 million U.S. homes are at high or extreme risk from wildfires, led by properties in California, according to Verisk Analytics, the supplier of actuarial data to insurers and banks. California has 2 million properties meeting those risk designations, followed by Texas with 1.3 million and Colorado with almost 374,000, Verisk Insurance Solutions said today in a report. Higher temperatures and increased development near forested areas have increased costs from U.S. wildfires. This year 19 firefighters known as the Granite Mountain Hotshots died battling a blaze in Arizona. Colorado wildfires have cost insurers more than $1 billion since 2010, including the Black Forest fire this year, Verisk said…" (File image: U.S. Forestry Service).
---
Why The Philippines Shouldn't Rebuild Storm-Ravaged Tacloban
. I fear we'll be having similar discussions for other coastal communities in the years ahead, as rising sea levels combine with increasingly severe typhoons, hurricanes and nor'easters. When do you just throw up your hands and admit that it doesn't make dollars and sense to keep rebuilding in the same vulnerable areas? Here's an excerpt from
Quartz
: "…
Rebuilding "needs to be done urgently and differently for the Philippines," Vinod Thomas, director general for independent evaluation at the Asian Development Bank, told Quartz. "There is clearly a big lesson to be learned in not relocating in a highly vulnerable area," he said. "Tacloban is like a poster child. You can't imagine a more vulnerable area than Tacloban."  All of the Philippines is vulnerable to rising seas and intense storms caused by climate change, but Tacloban—situated at the mouth of a bay and with major portions of the city well below sea level—is in a uniquely precarious position.
.."
Photo credit above: "Locals clean up debris on a street in Tacloban, Philippines, Nov. 22, 2013. Typhoon Haiyan, which cut a destructive path across the Philippines, is believed by some climatologists to be the strongest storm to make landfall in recorded history, with some 13 million people affected by the storm." (Jes Aznar/The New York Times).
---
Why Americans And Europeans May Soon Start Dying Of Infections Like It's 1905 Again
. Antibiotics aren't keeping up with the new "super-bugs" out there. As long as you don't get an infection or have to spend time in a hospital you should be just fine.
Quartz
has the story – here's an excerpt: "
Antibiotics aren't doing what they're supposed to do anymore. You know, kill infections. Since Alexander Fleming invented penicillin 75 years ago, nearly all bacteria have mutated into strains impervious to antibiotics. Those souped up bacteria now kill hundreds of thousands of people, at a minimum, each year. And according to a new issue of medical journal The Lancet focused on antibiotic-resistant bacteria, things could soon get a whole lot scarier.
"Rarely has modern medicine faced such a grave threat. Without antibiotics, treatments for minor surgery to major transplants could become impossible…
"
Photo credit above: "
---
Michael Jordan's North Shore Mansion Goes Under The Auction
. The auction took place yesterday, but I thought some of you might want to see the details of Air Jordan's pad, which is pretty amazing, in a wretched-excess sort of way. Here's an excerpt from
The Chicago Tribune
: "Michael Jordan's 56,000-square-foot mansion in Highland Park — complete with an NBA regulation-size basketball court — will be put up for sale during a live auction Friday. No minimum bid has been set for the basketball superstar's 7.4-acre estate at 2700 Point Lane, but prospective buyers are required to put down a $250,000 deposit just to participate in the bidding, said Laura Brady, president of New York-based Concierge Auctions…"
Photo credit above: "The living room inside Michael Jordan's 56,000-square foot Highland Park estate." (John S. Eckert Photography, John S. Eckert).
---
Local TV Anchor Leaves Small Screen For Second Screen. This shows some true initiative and creativity; here's a clip from Lost Remote: "Jenni Hogan was a local TV anchor in Seattle, Portland, and Idaho for 10 years, but she recently left the small screen for the second screen, developing an app that curates viewer tweets and puts them on-air live during broadcasts. TVinteract is Hogan's creation for iPad's that allows TV personalities the ability to pick their favorite fan tweets, and air them live on TV. How it works is a TV personality can look at their @mentions on the left side of the app screen, and drag the tweets they like over to the right and hit live. This automatically flags the tweet to the show's director, who can then bring the tweet live to air through airplay or HDMI cable…"
---
The Lowest Moment In This Dog's Life
. Cruel and unusual? Possibly. This dog earned his treat. It's one of 31 animated GIF's – I'd wager a stale bagel at least one of these clips at
Buzzfeed
will make you laugh.
---
* photo above courtesy of Steve Burns.
---
Climate Stories….
Americans Are Convinced Climate Change Is Connected To Stronger Storms, Poll Says. Here's an excerpt from a story at Huffington Post: "Most Americans think climate change, and more frequent and severe natural disasters are linked, according to a new HuffPost/YouGov poll that also finds most think human activity is at least partially responsible for the changing climate. According to the new poll, conducted after Typhoon Haiyan devastated the Philippines earlier this month, 55 percent of Americans think climate change is related to more frequent and severe natural disasters, while only 23 percent do not…"
---
Sea Level Experts Concerned About "High-End" Scenarios. Andrew Freedman has the story at Climate Central; here's the introduction: "A survey of nearly 100 experts on sea level rise reveals that scientists think there is a good chance the global average sea level rise can be limited to less than 3.3 feet by 2100 if stringent reductions in planet-warming greenhouse gases are rapidly instituted. However, the survey, which is the largest such study of the views of the most active sea level researchers ever conducted, found that if manmade global warming were to be on the high end of the scale — 8°F by 2100 — the global average sea level is likely to jump by between 2.3 and 3.9 feet by the end of this century…"
Graphic credit above: "Projections of global mean sea level rise over the 21st century relative to 1986–2005 from the combination of the computer models with process-based models, for greenhouse gas concentration scenarios. The assessed likely range is shown as a shaded band." Credit: IPCC Working Group I.
---
A Warm Over Solar Power Is Raging Within The GOP.
New Republic
has the story of what's happening in Arizona, disruptive technology that has many homeowners enthused, but utilities nervous, and that's creating friction. Here's an excerpt: "… "
Republicans who oppose solar in the next election, they are going to be wiped out across the board." "Solar power is philosophically consistent with the Republican Party," Rose added. "If you're going to be for healthcare choice and school choice, how can you not be for energy choice? Conservatives, overwhelmingly, get that. If the Republican Party stops standing for the empowerment of the individual, what does it stand for?
"  (Image: Mike Baker, Creative Commons).
---
The Onion Nails It. This is in response to the recent "90 companies blamed for 2/3rd's of greenhouse gas emissions" story. These companies are just giving us what we want and need, right? Graphic: The Onion.
---
Pentagon Releases Strategy For Arctic
. A rapidly melting arctic ice cap is pretty hard to ignore (or deny), yet many of the same professional climate deniers are happy to point out the advantages of less ice and more water – more economical shipping, and more exploration for oil and gas. Of course it's all that burning of oil and gas that's melting the polar ice cap in the first place. Oh, the irony. Here's a clip from
The New York Times
: "…
While "climate change does not directly cause conflict," Mr. Hagel said, it may "significantly add to the challenges of global instability, hunger, poverty and conflict." He cited "food and water shortages, pandemic disease, disputes over refugees and resources, and more severe natural disasters." The Pentagon's Arctic strategy places a priority on preparations to detect, deter, prevent and defeat threats to the United States even as the nation "will continue to exercise U.S. sovereignty in and around Alaska," Mr. Hagel said.
.."
---
Climate Change Forces New Pentagon Plan. Picking up on Secretary of Defense Hagel's comments, here's an excerpt of a slightly different perspective from U.S. News and World Report: "The Arctic is covered with pure driven snow. The Department of Defense hopes to keep it that way with a new policy that for the first time addresses how the U.S. will respond to the effects of climate change, which have opened up a veritable treasure trove around the North Pole that until recently was inaccessible. Defense Secretary Chuck Hagel unveiled the military's new Arctic Strategy Friday afternoon during his trip to Canada. The plan seeks to head off potential tensions in the crowded Arctic neighborhood among its residents — most notably Russia, but all eager for access to massive oil reserves and newly thawed passages for shipping, fishing and tourism…" (Photo credit: NOAA).
---
U.N. Climate Talks Near End, With Money At Issue. Here's an excerpt from a summary at The New York Times: "The United Nations climate conference ambled toward a conclusion on Friday, with delegates saying that the meeting would produce no more than a modest set of measures toward a new international agreement two years from now. As usual, the biggest dispute was over money. The talks, the 19th annual meeting of parties to the United Nations Framework Convention on Climate Change, opened nearly two weeks ago in the shadow of a devastating typhoon in the Philippines. The disaster added momentum to a proposal by poorer nations for the creation of a new mechanism to compensate developing countries for damage from climate-related disasters…"
---
As U.N. Climate Change Talks Go Nowhere, Ontario Bans Coal. This made me do a double-take; here's a clip from a story at The Atlantic: "While delegates to the United Nations Climate Change Conference in Warsaw continued fiddling while Rome burns, the government of Ontario, Canada, today moved to permanently ban coal-fired power plants. "Our work on eliminating coal and investing in renewables is the strongest action being taken in North America to fight climate change," Kathleen Wynne, the premier of Ontario, said in a statement. Wynne's government next week will introduce the Ending Coal for Cleaner Air Act in Parliament. Unlike most such legislation, the Act will ratify what the government has already done – close down the coal-fired power plants that once supplied a quarter of the province's electricity..." (Image credit: Reuters).
---
Why America's Major Sports Leagues Are Talking About Climate Change. Ice hockey is already being impacted (shorter seasons on America's ponds and lakes). Here's a clip from a story at ThinkProgress: "…But those kids are starting to run into a major problem: the frozen ponds they play on are less and less likely to form each winter, as a changing climate makes winter warmer and open ice more scarce. That isn't just bad news for kids who want to play the game. It's also worrisome for the National Hockey League, a league already a distant fourth among America's top four professional sports that depends on those pickup games and frozen ponds to help build new generations of fans and players. And the NHL isn't alone. The NFL, NBA, Major League Baseball, and WNBA are all worried about the effects of environmental changes on their sports and the people who play them, which is why representatives from those five leagues plus the U.S. Olympic Committee joined Sen. Sheldon Whitehouse (D-RI) and Rep. Henry Waxman (D-CA) on Capitol Hill today to discuss their efforts to reduce energy usage and address climate change — and the efforts the federal government could take to do the same…" (File photo credit: Star Tribune).
---
This Entire Country Is About To Be Wiped Out By Climate Change. It Won't Be The Last. Here's an excerpt from a sobering story at Bloomberg BusinessWeek: "…Kiribati is a flyspeck of a United Nations member state, a collection of 33 islands necklaced across the central Pacific. Thirty-two of the islands are low-lying atolls; the 33rd, called Banaba, is a raised coral island that long ago was strip-mined for its seabird-guano-derived phosphates. If scientists are correct, the ocean will swallow most of Kiribati before the end of the century, and perhaps much sooner than that. Water expands as it warms, and the oceans have lately received colossal quantities of melted ice. A recent study found that the oceans are absorbing heat 15 times faster than they have at any point during the past 10,000 years. Before the rising Pacific drowns these atolls, though, it will infiltrate, and irreversibly poison, their already inadequate supply of fresh water…"
Photograph by Claire Martin for Bloomberg Businessweek.
---
Achbishop Urges Steps To Address "Ethical Challenge" Of Climate Change. The Catholic Sentinel in Portland, Oregon has the story – here's the introduction: "Climate change represents an "ethical challenge to civilization," said the Vatican's lead representative to an international conference discussing the worldwide impact of climate change. Archbishop Celestino Migliore told attendees at a church-run conference that the Vatican would help "form consciences and ethical perspectives" on climate change in line with Catholic social teaching and encourage "fairness, impartiality and mutual responsibility" when it came to action to address the environmental threat…"
Photo credit above: Catholic News Service photo. "A view of a glacial lake is seen in Juascaran National Park in Peru in late September."
_____________________________________________________________________________________
ABOUT ME
Welcome to the WeatherNation blog. Every day I sift through hundreds of stories, maps, graphics and meteorological web sites, trying to capture some of the most interesting weather nuggets, the stories behind the forecast. I'll link to stories and share some of the web sites I use. I'm still passionate about the weather, have been ever since Tropical Storm Agnes flooded my home in Lancaster, PA in 1972. I've started 5 weather-related companies. "EarthWatch" created the world's first 3-D weather graphics for TV stations – Steven Spielberg used our software in "Jurassic Park" and "Twister". My last company, "Digital Cyclone", personalized weather for cell phones. "My-Cast" was launched in 2001 and is still going strong on iPhone, Android and Blackberry. I sold DCI to Garmin in 2007 so I could focus on my latest venture: WeatherNation. I also write a daily weather column for The Star Tribune startribune.com/weather And if you're on Twitter, you'll find me @pdouglasweather.