Chicago Braces for Blast of Winter Weather
Chicago Braces for Blast of Winter Weather
A stalled out front is expected to stir up several inches of snow and freezing rain across much of the central US. The snow will begin Friday overnight and continue to fall until Saturday evening. Around 6 inches is expected in Chicago, but some areas may see over 12 inches as the system moves to the Northeast.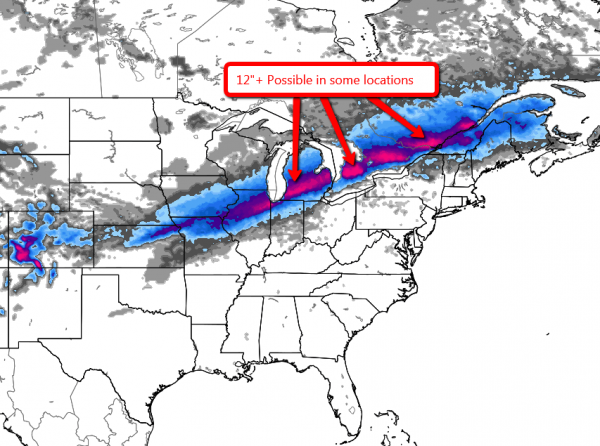 – Above is the projected snowfall totals with this event. A line of snow is expected to begin in western Missouri and Iowa and intensify overnight as it reaches the downtown Chicago area. The flakes are expected to fly all day Saturday through most of the lower peninsula of Michigan and then into Ontario. The difficulty with this forecast is where the cutoff from freezing rain to snow will occur. Most weather models are in strong agreement that the snow will convert to rain just south of Chicago.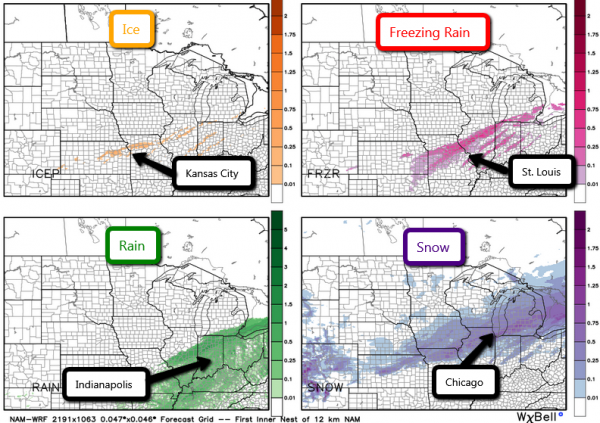 Above shows the different precipitation types that can be expected. Snow is expected from Chicago up into Wisconsin and SE Minnesota. Another line from Chicago to just north of St. Louis can expected heavy snow and some freezing rain. This is the largest area of concern, where the mixed in rain along with heavy snow totals will make travel conditions difficult.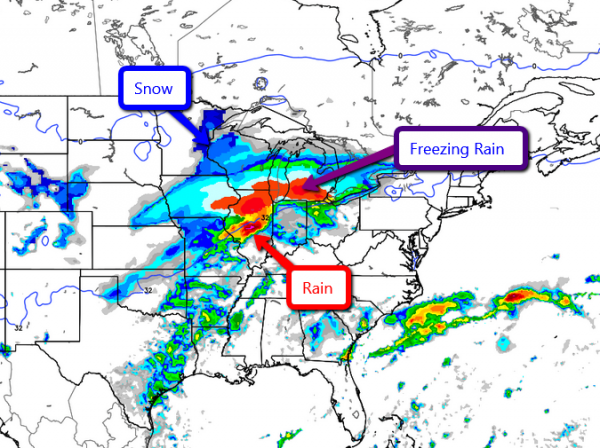 – Here is a look at the forecasted reflectivity early Saturday morning. As temperatures fluctuate throughout the day the precipitation may change several times between snow and rain.
– Travel conditions will start to become difficult early in the morning Saturday and through the evening. Roads may be difficult to maneuver even into Sunday as snow plows catch up. Airport travel delays should also be expected as rain and snow will make for icy runways. Give extra attention and time when trying to travel this weekend.
Winter Storm Warnings in effect for the Chicago Area:
Summary:
– Expect snow begin to fall later today and overnight starting in Missouri and Iowa and then extending into Chicago by morning. As temperatures begin to warm back up in the morning, a switch over to rain is possible. However, I am expected mostly snow for Chicago for this event. The snow will continue to fall through the day Saturday until it passes through Michigan and up into Canada overnight Saturday.
-Meteorologist Andy Mair