Dangerous Cold Conditions Coming for Northern Tier States
Coldest In 4 Years? During January of 2009 there were 3 subzero daytime highs in the Twin Cities. This time around we'll see one, possibly two consecutive days below zero (Monday and possibly Tuesday). We should finally climb above zero Wednesday – 20s by Thursday will feel like a Godsend. Graphic: Iowa State.
Serious Wind Chill. NOAA is predicting a wind chill of -29 F. in the Twin Cities by 7 am Monday, as cold as -40 at Duluth and a -44 wind chill in Fargo/Moorhead. To say the risk of frostbite and hypothermia will be high would be an understatement. So I won't say it. Time to dig out a few extra layers. Take the chill seriously.
Ground Blizzard Potential. The problem won't be so much falling snow, but sustained high winds whipping up the snow already on the ground over the Red River Valley. A Winter Weather Advisory is posted for Detroit Lakes and Fargo, Blizzard Warning in effect for Hallock, Grand Forks and Devils Lake. If you're driving into the Red River Valley Saturday plan on near-zero visibility with blowing snow; winds gusting to 50 mph producing treacherous travel, and a wind chill dipping to -40 F. by Sunday morning. Details from the Grand Forks NWS.
Absence Of Below Zero F. High Temperatures. In this week's Weathertalk Newsletter Dr. Mark Seeley has a good summary of the streak of above zero daytime highs here in the Twin Cities, but the warm bias is even showing up in the city famous for (among other things) testing car batteries, International Falls: "…For Twin Cities residents we may be seeing a remarkable record weather streak come to an end by Martin Luther King Day (Monday, Jan 21st). The Twin Cities have not reported a daytime high temperature below 0 F since January 15, 2009 (high of -6 F). By Monday, this streak will be 1466 days long, the longest such streak in the Twin Cities climate record back to 1873. In addition the National Weather Service reports a remarkable absence of below 0 F minimum temperatures for the Twin Cities in recent winters as well, with only 3 such days last winter, and 1 so far this winter. This trend, but to a lesser extent is obvious in the recent data for International Falls as well. There the average number of days when the high temperature remains below 0 F is about 10 per winter. Over the past three winters it has just been 3 days. In addition, overnight minimum temperatures at International Falls fall below 0 F slightly 60-61 days per winter on average. Last winter brought only 35 such days, and there have been only 26 such days so far this winter, well below average…
File photo above: AP. The local NWS office has more on our streak of days with daytime highs above zero here.
Primetime Wintertime. It's a bit strange to be getting intense cold – without the snow. If you're looking for serious snowfall amounts fly to London, or Paris, or the south of France. Details on the latest installment video of Climate Matters: "As the Midwest prepares for an arctic blast, snow is crippling travel in other parts of the world. Meteorologist Paul Douglas looks at some of the global temperature extremes and winter conditions around the globe."
72 Hour Snowfall Prediction. Here are the results of WSI's (remarkably good) 12km. RPM model, showing some lake effect snows as the coldest air of winter (so far) plows south of the border. As much as 4″ may pile up over the Minnesota Arrowhead, with some 10-12″ lake effect snows over the U.P. of Michigan. Graphic: WSI.
Equation Of Time Solves Problem Of Gray Mornings. As of today sunset is 30 minutes later than it was on December 21, yet sunrise is only 3 minutes earlier. Why isn't it equal? This is a question I get often, and (sadly) there is no easy answer, but this New York Times article does the best job I've ever seen explaining the disconnect; here's an excerpt: "…Earth's tilt means that every day during the fall, the angle at which we view the Sun changes. It appears farther south and travels a shorter arc across the sky, affecting sunrise and sunset equally, and making the day shorter. The changes in the solar time follow a different cycle. In the early 1600s, Kepler discovered that planets move faster at the part of their orbit that is closest to the sun, the perihelion. For Earth, perihelion comes a little after the winter solstice, so from November on, Earth is accelerating. That increased speed means we reach the Sun's maximum a little earlier each day, which pushes solar noon backward against clock time. That shift is amplified because the Sun is traveling a little south each day, while clocks only count its east to west traverse. Add it all together and you get sunrise and sunset times that are not symmetrical…"
Snowfall Amounts From Recent Storm:
Beech Mountain, NC      11.2 inches
Sparta, NC                           9.5 inches
Boone, NC                          7.5 inches
Greensboro, NC               3.0 inches
Raleigh, NC                         2.0 inches
Pearisburg, VA                  9.0 inches
Blacksburg, VA                  7.5 inches
Rocky Mount, VA             5.5 inches
Covington, VA                   3.0 inches
Newport News, VA         2.5 inches
Ronceverte, WV               8.2 inches
Washburn, TN                   5.6 inches
Greenville, TN                   3.6 inches
Bishopville, MD                 1.5 inches
Selbyville, DE                     1.0 inch
* Thanks to Julie Gaddy at Earth Networks for sharing these snowfall amounts. Image of Lynchburg, Virginia above courtesy of Javan Shashaty and
Twitter
.
Series of Major Storms Impacting Europe. Here is an excerpt of a Friday briefing sent to our Alerts Broadcaster clients:
* series of significant snow and wind storms on tap for Europe; 2-5″ snow expected London and Paris, French Riviera may pick up a foot of snow by Tuesday – winds up to 60 mph for Portugal and Spain tonight and early Saturday.
* coldest air of winter pushes into northern tier states from Saturday PM into the middle of next week; subzero highs – wind chills dip to -25F.
* extreme heat continues across Australia and central Africa, more 100-degree highs likely.
What You Should Know: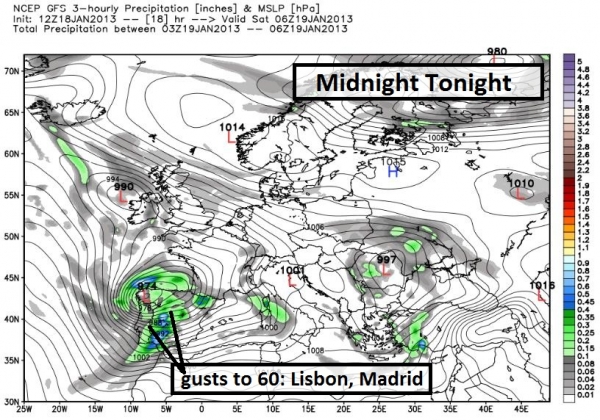 Family of Major Storms Impacting European Operations. This is marginal for London and Paris, but a "plowable" snowfall of 2-5″ should be enough to shovel and plow. Parts of Ireland and Wales may pick up closer to 6-12″ snow. The first in a series of storms will blow into Portugal and Spain later today and Saturday with heavy rain/snow and winds gusting as high as 60 mph, capable of downing trees and power lines.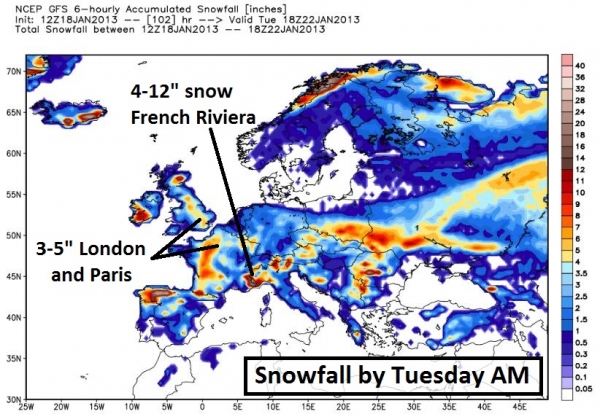 Snowfall Potential. The map above shows snow totals by Tuesday morning, anywhere from 2-5″ for metro London and Paris, but closer to 8-12″ for Limerick, Ireland, as much as 12-16″ for northern Spain and 6-12″ for the French Riviera, from Nice and Monaco to Genoa, where some roads may become impassable from this weekend into early next week.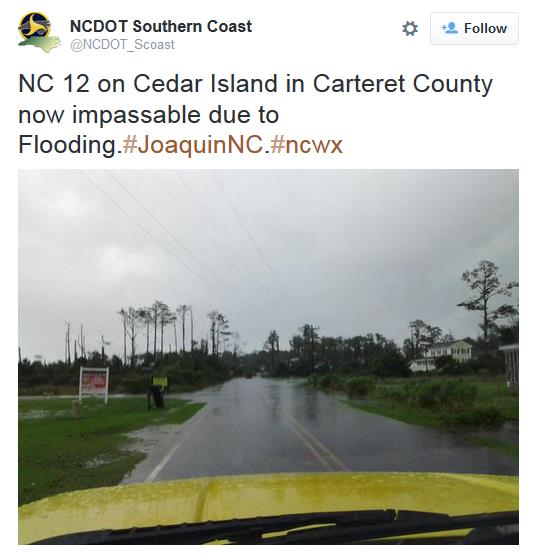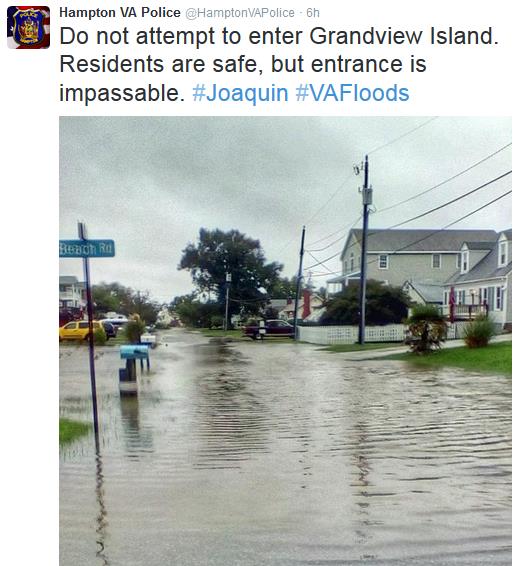 Predicted Snowfall Amounts. Alerts Broadcaster models are predicting as much as 6-7″ snow for Paris, 3-4″ in Moscow, 3-4″ in Frankfurt and Geneva, and 2-3″ for central London.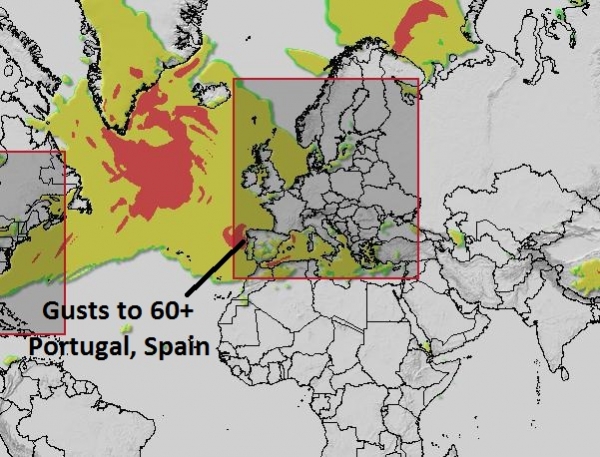 High Wind Potential. Our models show a potential for 50-65 mph. wind gusts for coastal Portugal and Spain over the next 36 hours, as a family of intense storms pushes into Europe.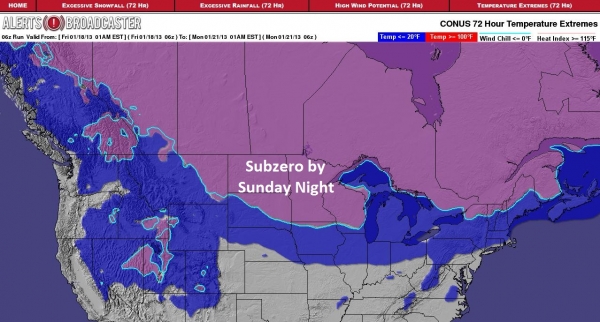 Coldest Air of Winter For Northern USA. The bitter air we've been tracking for 2 weeks is poised to surge into the northern USA from Saturday into the middle of next week. The map above shows the cities forecast to experience subzero temperatures by Sunday night, from the Dakotas, the Twin Cities to Madison, Milwaukee and Green Bay. Wind chills will drop to -25 F. by Monday morning in many of these major metro areas.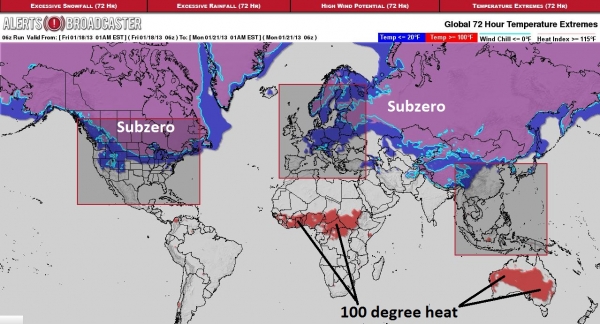 Remarkable Extremes. While much of Asia, Scandanavia and North America experiences the coldest air of winter in the coming 5-10 days, extreme heat continues to bake central Africa. Historic heat gripping Australia in recent weeks has weakened slightly over coastal areas, like Sydney and Melbourne, but the heat wave continues to generate a variety of water-related problems, and the brushfire risk remains very high.
What's Causing Australia's Heat Wave? Here's an excerpt of a fascinating article at Australia's The Conversation, focusing on the factors converging to create historic heat across the country: "…And it's not like these sorts of days occur that often. The records set last week sit between two and three standard deviations above the long-term January mean of 35°C. Perhaps more unusually, the Australian mean temperature (representing the average of the daytime maximum and night-time minimum) set record high values on both days at 32.22 (January 7) and 32.32°C (January 8), that were well above the previous high of 31.86°C, set in 1972. However, it is really the duration of this extreme heat wave that makes it so unusual, and so significant in terms of impacts…"
Graphic credit above: "Highest daily maximum temperature during the first two weeks of January." Australian Bureau of Meteorology.
Keeping The Boats Moving Along A Mississippi Dwindled By Drought. Things look a little better for navigation on the Mississippi, but officials are still concerned about 2013 conditions, with drought conditions upstream. The New York Times has the story; here's an excerpt" "…The fact that the river has remained open for business along the critical "Middle Miss" — the 200 miles between the Mississippi's last dam-and-locks structure, above St. Louis, down to Cairo, Ill., where the plentiful Ohio River flows in — stems from a remarkable feat of engineering that involved months of nonstop dredging, blasting and scraping away of rock obstructions along the riverbed, effectively lowering the bottom of the channel by two feet. It has also involved exacting use of reservoirs along the vast river system that were initially designed by engineers using slide rules nearly 100 years ago to try to manage both flood and drought, as well as rock structures placed in recent years along the bank to direct water and speed it up, a bit like a thumb over the end of a garden hose…"
Photo credit above: "Barges work on dredging the Mississippi River near Thebes, Ill., Jan. 8, 2013. Despite withering drought that has caused record-breaking low water levels that threaten to shut down traffic on the Mississippi River, it remains open for business thanks to an engineering feat that lowered the bottom of the channel by two feet." (Tyler Bissmeyer/The New York Times)
"Hurricane Hunters" Kept Relentless Watch On 2012 Storms. Did you know that the Air Force flies their planes into (major) winter storms, to gather more accurate data for NOAA's computer models? Here's an excerpt of an article from the U.S. Air Force: "As the nation rebounds from 19 named storms and 11 major hurricanes in 2012, a small but hardy military organization keeps relentless watch to track and prepare for such disasters. Located at Keesler Air Force Base, Miss., the 53rd Weather Reconnaissance Squadron, dubbed the "Hurricane Hunters" of the Air Force Reserve, is the Defense Department's sole organization dedicated to flying into tropical storms and hurricanes. The unit has performed the mission since 1944. In a "DOD Live" bloggers roundtable today, Lt. Col. Jon Talbot, 53rd WRS chief meteorologist, and Capt. John Brady, a meteorologist with the squadron, said collecting winter storm, hurricane and tropical cyclone data for the National Weather Service is critical in mitigating loss of life and property. Typically, a winter storm mission begins only if the weather system will have a large, societal impact somewhere in the United States, Talbot explained. "Winter storms kill more people than hurricanes do," Talbot said, noting his team's specialty in analyzing data over water, where information is sparse. "If the National Weather Service is seeing a lot of uncertainty in their [data], they'll contact our liaison team."
Climate Stories….
Watch 62 Years Of Global Warming In 13 Seconds
. Climate Central has the remarkable
YouTube video clip
, courtesy of NASA.
Global Warming Brings Earlier Spring Flowers. Here's an excerpt of a story at Discovery.com: "…They found that as temperatures warmed over the last 161 years, the date of first blooms of the season crept forward, too — about 10 days earlier than when Thoreau first visited the site. During the record-breaking years of 2010 and 2012, flowering happened a full 20 to 21 days earlier. The average spring temperature at Walden Pond has increased about 6 degrees Fahrenheit (3.4 degrees Celsius) since Thoreau's time…"
Photo credit above: "In incredibly detailed notebooks, Thoreau documented the flowering times of species such as the wild columbine." TBoard | Flickr.com.
How Climate Change Is Damaging The Great Lakes, With Implications For The Environment And The Economy. The Center for American Progress and Think Progress have the story; here's an excerpt: "Great Lakes Michigan and Huron set a new record low water level for the month of December, and in the coming weeks they could experience their lowest water levels ever. It's becoming certain that, like the rest of the country, the Great Lakes are feeling the effects of climate change. Last year was officially the warmest year on record for the lower-48 states. The hot summer air has been causing the surface water of the Great Lakes to increase in temperature. One might think this causes more precipitation around the lakes, but the warmer winter air is causing a shorter duration of ice cover. In fact, the amount of ice covering the lakes has declined about 71 percent over the past 40 years. Last year, only 5 percent of the lakes froze over –- compared to 1979 when ice coverage was as much as 94 percent…."
_________________________________________________________
ABOUT ME
Welcome to the WeatherNation blog. Every day I sift through hundreds of stories, maps, graphics and meteorological web sites, trying to capture some of the most interesting weather nuggets, the stories behind the forecast. I'll link to stories and share some of the web sites I use. I'm still passionate about the weather, have been ever since Tropical Storm Agnes flooded my home in Lancaster, PA in 1972. I've started 5 weather-related companies. "EarthWatch" created the world's first 3-D weather graphics for TV stations – Steven Spielberg used our software in "Jurassic Park" and "Twister". My last company, "Digital Cyclone", personalized weather for cell phones. "My-Cast" was launched in 2001 and is still going strong on iPhone, Android and Blackberry. I sold DCI to Garmin in 2007 so I could focus on my latest venture: WeatherNation. I also write a daily weather column for The Star Tribune startribune.com/weather And if you're on Twitter, you'll find me @pdouglasweather