Details on Major, Travel-Snarling Storm Pushing Up East Coast

Cold and Quiet

"Too cold to snow?" Not exactly, but when temperatures are in the teens it often means the storm track, the main superhighway for heavy rain, ice and snow, has been pushed further south.
A well-advertised nor'easter will spread heavy rain and snow right up the east coast today and Wednesday, complicating travel plans. I expect 2-3 inch rains east of I-95, with local flooding. Well inland over the Appalachians some 1-2 foot snows are possible.

Lake effect snows kick in downwind of the Great Lakes but I expect a brown Thanksgiving across the Midwest. Dry weather spills over into next weekend with slowly moderating temperatures; low 30s returning by the weekend.

Big storms will continue to detour well south into early December, but at some point steering winds will buckle, and we'll see just the right mixture of cold air and moisture for snow.

I'm still betting on a very white Christmas.
---
Stormier Pattern For Central USA? Just about the time I was ready to totally dismiss the 45 day trend, I got a look at 500 mb winds averaged between December 1 and 5, showing a developing trough of low pressure over the Rockies and Plains, a "storm incubator". With enough cold air in place and moisture bubbling out of the Gulf of Mexico, the planets might just align for a better chance of accumulating snow within 2 weeks.
---
Major Storm Brewing For The Busiest Travel Day Of The Year. Great timing huh? An estimated 80-100 million Americans will feel the effects of this storm, the same system that spanked the Deep South with snow, ice and rain, now spreading a shield of heavy rain up the East Coast. Today's Climate Matters is focused on what is top-of-mind: will I be able to reach my Thanksgiving destination? "WeatherNationTV Chief Meteorologist Paul Douglas shows the possibility of a major storm to affect the busiest travel day of the year. And just what has Thanksgiving had in store for major cities across the US?"
---
Northeast Warnings. NOAA has issued a High Wind Watch from metro New York City and Long Island to Hartford and Boston, for winds gusting in excess of 40 mph at times. Winter Storm Warnings include Rochester, Buffalo and Pittsburgh, where a healthy coating of white is likely by Wednesday night. A Winter Storm Watch is posted for the western suburbs of D.C. and Baltimore for a few inches of slush. No significant snow is expected east of I-95. For the latest warnings and advisories from Ham Weather click here.
---
Mid Atlantic Warnings. As of late last night Ice Storm Warnings were posted near Asheville, North Carolina, a Winter Storm Watch for the hills of northern Georgia, and from the western Carolinas into much of the Virginias and western Maryland. Latest warnings from NOAA and Ham Weather here.
---
Soaking, Potentially Flooding Rains. Models have been consistent in printing out excessive amounts of water with this storm, fueled with moisture from the Gulf of Mexico and the Atlantic. I still see a swath of 2-4″ rains from Atlanta and Charlotte to Washington D.C., Philadephia and New York City, most of that falling late Tuesday into Wednesday morning. NOAA guidance (above) is even hinting at some 5″ amounts from the hills of northern Georgia to the suburbs of New York City – capable of initiating street and small stream flooding.
---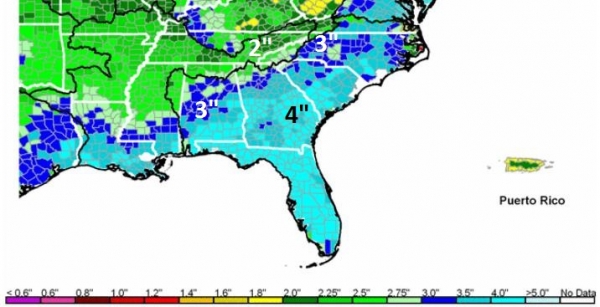 Flash Flood Thresholds. The map above shows how much rain has to fall to initiate flash flooding; some 3-4″ for much of the southeast, but closer to 2-3″ for the Carolinas. This is why we're concerned about the risk of urban and small stream flooding. Flash flood guidance courtesy of NOAA.
---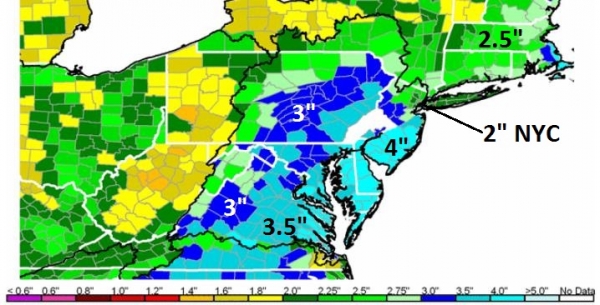 Lower Flash Flood Thresholds Northeast. Because the ground is partially frozen much of the rain that falls will run off into streets and streams late Tuesday into Wednesday, increasing the potential for flash flooding, especially D.C. and Baltimore into New York City. In New York the threshold for flash flooding is closer to 2″; models print out close to 4″ of rain for the Big Apple.
---
Heavy Snow Potential. A light (nuisance) accumulation of slush is possible generally west of I-95, most of that coming at the tail-end of the storm Wednesday into Wednesday night. West of I-81 amounts will be more significant, probably "plowable". Some 12-20″ amounts are predicted from Virginia's Shenandoah into central and western Pennsylvania and New York. NAM snowfall totals above: NOAA and Ham Weather.
---
Summary: The timing isn't great, coming during the most-traveled week of the year for for the USA. The same storm system that has been tormenting the southern Rockies and southern Plains with snow and ice will track up the east coast Tuesday and Wednesday, providing a 1-2 punch of heavy rain and mountain snows. The good news (which is hard to find this morning): right now I don't see any widespread severe storm outbreak or enhanced risk of tornadoes in the warm sector of this storm – and beach erosion from the Outer Banks to Long Island and Cape Cod should be minor to moderate. Tuesday looks like the worst day for the Southeast; Wednesday will be the peak-trouble day for the Mid Atlantic and New England region with significant impact on travel by air and land. Expect delays and impacts to facilities, staff and customers.
---
Future Radar. NOAA's 4km NAM model shows precipitation starting out as a wintry mix, then quickly changing to (heavy) rain for the eastern seaboard, with a changeover back to snow (from west to east) across the Appalachians Wednesday as colder air pushes in on the backside of today's intense coastal storm. The storm will push out to sea in time for Thanksgiving. Animation: Ham Weather.
---
TV Is Dying, And Here Are The Stats The Prove It. We're all hard-wired to want to watch narratives with interesting storylines and compelling characters (that applies to sports as well). But will we be watching "TV" or videos on our mobile devices, streaming them to our monitors when we're home? I'm a little skeptical of pundits predicting the end (of anything). Newspapers were supposed to die 10-15 years ago, and yet most have found ways to innovate and reinvent. The same thing may happen with traditional TV, although cable providers have their work cut out for them, as outlined in this comprehensive story at Business Insider. Here's an excerpt: "…We're at the beginning of a major historical shift from watching TV to watching video — including TV shows and movies — on the internet or on mobile devices. This is going to hurt cable TV providers. Nearly 5 million cable TV subscribers have gone elsewhere in the last five years. The number of cable TV-only subscribers remaining could sink below 40 million later this year, according to this data from ISI Group, an equity research firm (at right).…" (Graphic: Business Insider).
---
8 Basic Life-Saving Skills Everyone Should Know. Here's a clip from a must-read article at Lifehacker: "We've featured a ton of survival and MacGyver tips over the years that could help you out of a fix, but what if you're next to someone else who's having an emergency? Don't just stand there as the person chokes or faints! Know what to do in these life-or-death situations…These things in mind, you don't need to be an Emergency Medical Technician or other health pro to possibly save someone's life one day. Here are a few things to know…."
Climate Stories…
New Widget Counts Global Warming – Happening At 4 Hiroshima Atomic Bombs Per Second. Here's a clip from a story at The Guardian: "Global warming is accumulating in the Earth's climate system at a rate equivalent to about 4 Hiroshima atomic bomb detonations, 2 Hurricane Sandys, or 4 magnitude 6.0 earthquakes per second. The amount of energy building up on Earth due to human-caused global warming can be difficult to picture. 250 trillion Joules per second sounds like a lot, but what does that mean in terms people can more easily visualize? This widget, created by Bob Lacatena at Skeptical Science, tries to do just that. The widget can be installed on most blogs and is customizable, allowing users to choose the color, size, button style, and starting year. For example, since 1998, the Earth's climate has accumulated over 2 billion Hiroshima atomic bombs worth of energy…"
---
Warsaw Climate Change Talks End On A Blurry Note. Let's kick the can down the road a few more years. Here's a summary of what happened (and did not happen) at the latest international climate change talks in Warsaw, courtesy of Politico: "After tense eleventh-hour negotiations, delegates at international climate talks in Warsaw, Poland, could agree to only a broad set of terms aimed at setting world nations on a path toward a 2015 global warming accord while avoiding the troublesome specifics for now. The U.S. and other countries agreed Saturday that, by early 2015, they will put forward their individual plans for lowering emissions, a move that gives nations less than a year to review the plans before key December 2015 talks in Paris. But negotiators in Warsaw failed to agree on key details, such as what the plans should include and how they should be evaluated…"

Photo credit: "Delegates attend the closing session of the 19th conference of the United Nations Framework Convention on Climate Change in Warsaw, Poland, on Friday, Nov. 22, 2013. The talks intended to lay foundations for the new climate deal in 2015 were scheduled to end Friday, but it became apparent during the day that the fine tuning would go well into Saturday." (AP Photo/Czarek Sokolowski).
---
Analysis: U.S. Air Pollution Authority Faces Supreme Court Tests. Here's an excerpt from a good summary of what's at stake from Reuters: "The U.S. government's authority to regulate air pollution nationwide, often against the wishes of Republican-leaning states, could face new curbs when the Supreme Court takes on two high-stakes cases in coming months. The cases focus on the broad-ranging power wielded by the Environmental Protection Agency (EPA) under the landmark Clean Air Act, first enacted in 1970. The law was envisioned as a cooperative effort between the federal government and states in which the EPA sets standards but states have to set plans to comply. That flexibility has allowed states which favor looser regulations, like Texas and Kansas, to resist – with the support of industry groups like the U.S. Chamber of Commerce and the National Association of Manufacturers – when the agency wants to impose more stringent standards..."


Photo credit above: "The skyline of downtown Los Angeles through a layer of smog is seen in the distance from a rooftop in Hollywood, California, May 31, 2006." Credit: Reuters/Fred Prouser/Files.
---
Tired Of Negativity? Here's a clip from an Op-Ed at Huffington Post that resonated: "…Large-scale solutions to large-scale problems: the key to optimism, hope and resilience. That's what I'm going to carry in my heart over the next year as I write to you about air pollution and our changing climate. Optimism comes from health leaders, creative thinkers and innovative leaders in the business, technology and engineering community. And from political leaders willing to speak the truth in dark times. Optimism comes from our own thoughtful friends and neighbors who are mindful of resources, living by some pretty old-fashioned values: stewardship; respect. Optimism comes from those whose moral compass is pointing true north — where a love of the world resides."
_____________________________________________________________________________________
ABOUT ME
Welcome to the WeatherNation blog. Every day I sift through hundreds of stories, maps, graphics and meteorological web sites, trying to capture some of the most interesting weather nuggets, the stories behind the forecast. I'll link to stories and share some of the web sites I use. I'm still passionate about the weather, have been ever since Tropical Storm Agnes flooded my home in Lancaster, PA in 1972. I've started 5 weather-related companies. "EarthWatch" created the world's first 3-D weather graphics for TV stations – Steven Spielberg used our software in "Jurassic Park" and "Twister". My last company, "Digital Cyclone", personalized weather for cell phones. "My-Cast" was launched in 2001 and is still going strong on iPhone, Android and Blackberry. I sold DCI to Garmin in 2007 so I could focus on my latest venture: WeatherNation. I also write a daily weather column for The Star Tribune startribune.com/weather And if you're on Twitter, you'll find me @pdouglasweather.