Fire and Ice: More crazy extremes across the USA & Growing Risk of Significant X-class Solar Flares
Jackets and Shorts
There is a natural pace to the weather; cold and warm air advancing and retreating, like ocean waves on the beach.
Lately those tsunami-like waves have been breaking faster & harder: 145 Minnesota tornadoes in 2010, record heat/drought in 2012, 18 inch April snows & icy Fishing Openers in 2013? It feels like Mother Nature is swerving down the highway, careening from one extreme to the next.
Case in point: this week. We go from frost up north Sunday to Fire Weather Watches today to 90F Tuesday. A Fire Watch means low humidity and 40 mph winds may fan fast-moving wildfires, especially Tuesday afternoon. T-storms may pop up here later today; a sudden surge of heat & moisture may spark a few severe T-storms tomorrow over Wisconsin.
Highs approach 90F tomorrow before cooling off later this week. It's still a wet pattern; showers return late week with potentially heavy rain next weekend – especially Sunday.
The pattern still looks like something out of April. Sustained hot weather has been delayed – I still expect a cooler, wetter, stormier summer than 2012.
Sick of "Sprinter" (an unholy marriage of spring & winter?) A chilly bias means we're spending less time hiding in basements. No MN tornadoes as of May 13.
Fire And Ice. What a mixed-up weather map. Frost Advisories and Freeze Warnings far southeastern Minnesota and Wisconsin, while a Fire Weather Watch is posted for Tuesday, when 90F. temperatures and low humidity may combine with strong 20-40 mph southwest winds to increase the potential for rapidly moving brushfires. Details from the Twin Cities National Weather Service:
...FIRE WEATHER WATCH FOR MUCH OF CENTRAL INTO SOUTH CENTRAL MINNESOTA
TUESDAY AFTERNOON INTO TUESDAY EVENING...

.HOT WEATHER CONDITIONS WILL ARRIVE TUESDAY...WITH TEMPERATURES
EXPECTED TO REACH THE MID 80S TO MID 90S. RED FLAG CONDITIONS
APPEAR LIKELY FROM WEST CENTRAL INTO SOUTH CENTRAL MINNESOTA
TUESDAY AFTERNOON AS MINIMUM RELATIVE HUMIDITY NEARS 25 PERCENT
AND COMBINES WITH SOUTH TO SOUTHWEST WINDS AROUND 20 MPH.
DEWPOINTS ARE EXPECTED TO BE INCREASING ON TUESDAY AFTERNOON...BUT
THERE REMAINS UNCERTAINTY ON HOW HIGH. IF DEWPOINTS CAN INCREASE
HIGHER THAN THE LOWER TO MID 50S THAT ARE CURRENTLY ANTICIPATED ON
TUESDAY AFTERNOON...THE FIRE DANGER COULD BE LESSENED SOMEWHAT.
ISOLATED SHOWERS AND THUNDERSTORMS ARE ALSO POSSIBLE TUESDAY
EVENING...MAINLY FROM SOUTH CENTRAL MINNESOTA INTO WEST CENTRAL
WISCONSIN.

...FIRE WEATHER WATCH IN EFFECT FROM TUESDAY AFTERNOON THROUGH
TUESDAY EVENING FOR WIND AND LOW RELATIVE HUMIDITY FOR MUCH OF CENTRAL
INTO SOUTH CENTRAL MINNESOTA...

THE NATIONAL WEATHER SERVICE IN TWIN CITIES/CHANHASSEN HAS ISSUED
A FIRE WEATHER WATCH FOR WIND AND LOW RELATIVE HUMIDITY...WHICH
IS IN EFFECT FROM TUESDAY AFTERNOON THROUGH TUESDAY EVENING.

* WINDS...STRONG SOUTH TO SOUTHWEST WINDS BECOMING WEST 15 TO 25
  MPH WITH GUSTS UP TO 40 MPH.

* RELATIVE HUMIDITY...AS LOW AS 22 PERCENT.

* IMPACTS...WILDFIRES COULD BECOME FAST MOVING IN A SHORT PERIOD
  OF TIME DUE TO THE STRONG WINDS...LOW HUMIDITY AND DRY FUELS.

PRECAUTIONARY/PREPAREDNESS ACTIONS...

A FIRE WEATHER WATCH MEANS THAT CRITICAL FIRE WEATHER CONDITIONS
ARE FORECAST TO OCCUR. LISTEN FOR LATER FORECASTS AND POSSIBLE
RED FLAG WARNINGS. 
Heat Spike. All the models show 90-degree-plus highs Tuesday afternoon. The only thing that could cool us off would be convection: scattered T-storms, which are most likely tomorrow over Wisconsin. Temperatures cool back down closer to average the latter half of this week. Graphic: Iowa State.
From 
Alerts Broadcaster
 (issued Sunday):
* Potential for tropical storm or hurricane development impacting the USA in the next 2 weeks has diminished. Long-range guidance hints at possible tropical development and very heavy rain for Cancun and Mexico's Yucatan Peninsula, but the risk has dropped for the Caribbean and Gulf of Mexico. We're watching it carefuly.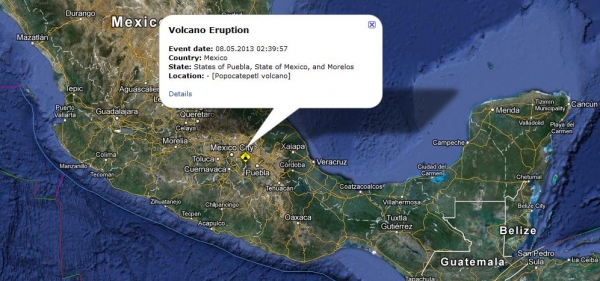 Volcanic Indications Near Mexico City. Mexican authorities raised the alert level for the Popocatepetl volcano near Mexico City on Sunday morning after observing an increased level of explosive activity. The lava dome of Popocatepetl, some 50 miles to the southeast of the capital, may expand and unleash increasingly powerful explosions of ash and lava, Mexico's National Center for Disaster Prevention said in a statement. The alert level for the towering volcano was raised to yellow phase three from yellow phase two, on orders from the country's Interior Ministry. It is the third-highest warning on the center's seven-step scale. This change in activity in the 5,450-meter (17,900-foot) volcano could provoke big explosions capable of sending incandescent fragments out over considerable distances, the center added. Source: RSOE EDIS.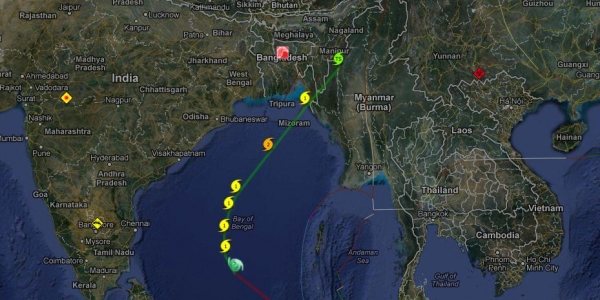 Cyclone Mahasen Aimed At Myanmar, Bangladesh. Cyclone "Mahasen" is expected to become a Category 2 storm before weakening as it approaches coastal Myanmar (Rakhine State) and Bangladesh, with potential landfall late Monday night or Tuesday morning, local time.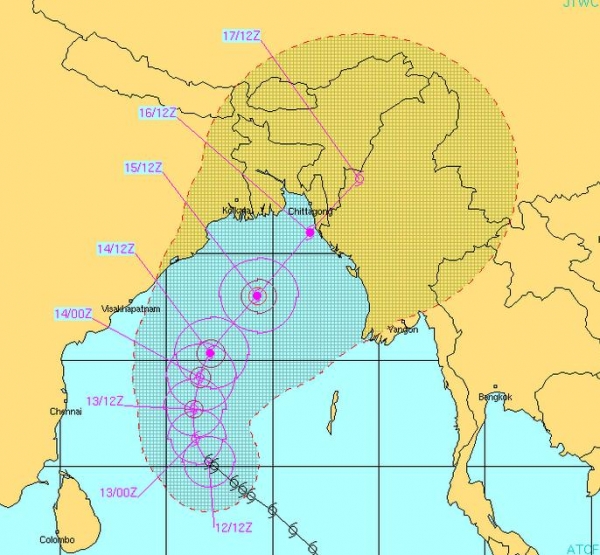 Storm Surge Potential. Although Mahasan is not forecast to become a major cyclone (hurricane) a 5-8 foot storm surge may come ashore over coastal Myanmar; closer to 2-5 feet for Bangladesh, still capable of considerable coastal inundation. The greatest threat is to tens of thousands of people in Myanmar refugee camps. Source: Navy Joint Typhoon Warning Center.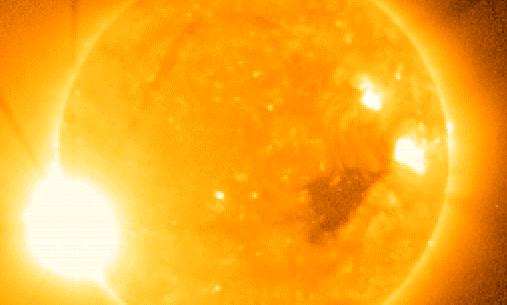 Solar Cycle Peaks Later This Year – Are You Prepared for Possible Disruptions to Power and Communications? A potentially disruptive and damaging solar flare is reported on Earth roughly once a decade. The Earth's rotation around the sun will place it in a more vulnerable position later in 2013, directly exposed to the most active portion of the sun and sunspots capable of sparking major solar flares, including potentially damaging X-Flares, which can disrupt communications, GPS signals, even the power grid. NASA has a good overview ("A Super Solar Flare") detailing the last time the USA experienced a devastating X-Flare, the "Carrington Event" in 1859. The odds of a similar event are small, but not zero, and continuity managers should keep the peaking solar cycle very much top of mind in the coming months. More details:
Dialect Map Of U.S. Shows How Americans Speak By Region (Image). This is pretty amazing and worth a closer look; here's an excerpt from Huffington Post: "…Aschmann's research taught him some hilarious and fascinating things. For example, did you know that in parts of New Jersey, the word "had" doesn't rhyme with "bad?" (We're not quite sure how that's possible, but hey, to each his own.) Among Aschmann's other findings:

The map isn't exactly new — it's been around since at least 2010 — but Aschmann has been steadily adding to it as people from all over the U.S. 
send him audio samples of themselves speaking
…"* A close-up of the USA dialect map and detailed information on the impressive research that went into this is 
here
.
Climate Stories…
What's In A Number? New Carbon Dioxide Level Unseen In Human History. Here's an excerpt from ABC News: "…What worries scientists in 2013 is not only the amount of CO2 in the atmosphere, but how fast it continues to build up without showing any sign of slowing or even stabilizing. Today's rate of carbon dioxide increase is more than 100 times faster than the increase that occurred when the last ice age ended, NOAA said today. At this rate, even 400 ppm will soon vanish in the rearview mirror. Unless emissions are slowed, scientists tell us that babies being born today will enter their thirties as the CO2 level reaches 450 ppm…" (Image credit here).
Climate Sensitivity Stunner: Last Time CO2 Levels Hit 400 Parts Per Million The Arctic Was 14F Warmer. Here's an excerpt from Think Progress: "…At the same time, a major new Science study of paleoclimate temperatures — based on "the longest sediment core ever collected on land in the Arctic" – revealed what happened the last time we had similar CO2 levels: 

"One of our major findings is that the Arctic was very warm in the Pliocene [~ 5.3 to 2.6 million years ago] when others have suggested atmospheric CO2 was very much like levels we see today. This could tell us where we are going in the near future. In other words, the Earth system response to small changes in carbon dioxide is bigger than suggested by earlier models," the authors state.
….How sensitive is the climate to increases in CO2, according to this "absolutely new knowledge" of paleoclimate temperatures?

Another significant finding to emerge from this first continuous, high-resolution record of the Middle Pliocene is documentation of sustained warmth with summer temperatures of about 59 to 61 degrees F [15 to 16 degrees C], about 8 degrees C [14 F] warmer than today…"
Graphic credit above: "Arctic sea ice is melting much, much faster than even the best climate models had projected (actual observations in red). The reason is most likely unmodeled amplifying feedbacks. The image (from Climate Crocks via Arctic Sea Ice Blog) comes from a 2007 GRL research paper by Stroeve et al."
Terrible News About Carbon And Climate Change. Let's hope the markets respond (when a price is finally put on carbon pollution, like any other form of pollution). Then wait for the climate change-equivalent of Apple, Google or Tesla. Here's an excerpt of a post at The New Yorker: "…We've failed collectively. As Ryan Lizza explained in miserable detail in 2010, the United States government couldn't pass a tepid, eviscerated law. Activists have failed. We've all failed morally: a problem created by the world's rich will now crush the world's poor. In a grand sense it's also a failure of the creators, and deniers, of climate change: the Exxon-Mobils, say, or the Wall Street Journal editorial page. A victory isn't worth much if your children and grandchildren will one day think of you with anger and shame. How do we get out of this mess? The political system seems hopeless. Yes, government regulation has done much to relieve us of acid rain and smog. But global warming combines two intractable problems. Reducing emissions mainly benefits people who aren't born and don't vote. And it requires international coördination, which is hopeless, and international law, which is toothless. We should do things like build more public transportation, which helps people here and now. We should design our cities for a future with terrible weather. But solving the problem of climate change through the U.N. is like a small man with olive oil on his hands trying to pull a whale from the water…."
The True Cost Of Climate Change? Here's a look at home changing climate and weather patterns (and availability of fresh water) may impact species and biodiversity, from Birdwatch: "Accelerating world climate change will radically decrease two thirds of common plants and half the animals, says new research from the University of East Anglia (UEA). Research published today in the journal Nature Climate Change look at 50,000 globally widespread and common species, and found that two thirds of the plants and half of the animals will lose more than half of their climatic range by 2080, if nothing is done to reduce the amount of global warming and slow it down. This means that geographical ranges of common plants and animals will shrink globally, and biodiversity will decline almost everywhere. Almost two thirds of common plants and half the animals could see a dramatic decline this century due to climate change…"
China "Moving To Lead On Climate Change", Says Report. Wait, this is the same country that's been launching roughly one new coal-fired power plant every week; a country where, at times, you can't breathe the air, drink the water or eat the food? The Chinese realize they have a serious environmental problem, and renewable energy provides the only way out. Here's an excerpt from Climate Central: "…The report says China and the U.S., the world's two largest economies which together produce about 37 percent of world emissions, are both on track to meet their international commitments on climate change, something they said in this month's "historic agreement" they would tackle together. "Today the energy giants are undoubtedly on the move, which will fuel global momentum." China earns praise for several reasons. It is reducing its emissions growth, and in 2012 cut the carbon intensity of its economy more than expected. After years of strong growth in coal use, the rate of growth has declined substantially. It is also "the world's renewable energy powerhouse." Professor Flannery says: "China has halved its growth in electricity demand… [and] is quickly moving to the top of the leader board on climate change…"
Graphic credit above: "Global progress on renewable energy graphic." Credit: Climate Commission.
___________________________________________________
Welcome to the WeatherNation blog. Every day I sift through hundreds of stories, maps, graphics and meteorological web sites, trying to capture some of the most interesting weather nuggets, the stories behind the forecast. I'll link to stories and share some of the web sites I use. I'm still passionate about the weather, have been ever since Tropical Storm Agnes flooded my home in Lancaster, PA in 1972. I've started 5 weather-related companies. "EarthWatch" created the world's first 3-D weather graphics for TV stations – Steven Spielberg used our software in "Jurassic Park" and "Twister". My last company, "Digital Cyclone", personalized weather for cell phones. "My-Cast" was launched in 2001 and is still going strong on iPhone, Android and Blackberry. I sold DCI to Garmin in 2007 so I could focus on my latest venture: WeatherNation. I also write a daily weather column for The Star Tribune startribune.com/weather And if you're on Twitter, you'll find me @pdouglasweather