Fire Threat Eases For California – Flood Potential Southeast USA
Our Fleeting Spring
On KARE-11 Julie Nelson called it a "clingy winter", which sounds right. Like an annoying ex who posts inappropriate comments on your Facebook page. Depressed? My mom reminded us to "memorize the bad moments, because it makes the good times even sweeter."
Weather, like life, is cyclical.
One theory: 2012's record melting of Arctic ice knocked the jet stream out of alignment, displacing cold air south. Weather usually tracks west to east, but in recent months we've seen a sweeping north-south flow. Steering winds have buckled – pulling Gulf moisture north, erasing drought – while March-like air spills south, setting the stage for freak blizzards and May snowfall records.
Drier air pushing in from Wisconsin brightens skies today, with highs near 60F. Moods lighten Monday as highs nudge 70F, in fact lukewarm weather lingers all next week.
Dear diary: we're about to experience a May warm front.
Showers & T-storms sprout Wednesday into Thursday. Minnesota's Fishing Opener is next weekend; a cooler front sparks a few showers late Saturday & Sunday.
The ECMWF hints at an airmass cold enough for flurries one week from tomorrow, further delaying heat, tornadoes, bugs & humidity.
Insert gasp here.
Cold Air Just Doesn't Want To Let Go. The Euro brings another shot of almost March-like air south of the border a week from tomorrow; highs stuck in the 40s, maybe some 30s up north with a freeze? Good grief. Any cold spell will be fleeting with a rapid warming into the third week of May, but it's remarkable how persistent the pattern is. ECMWF forecast map valid next Monday evening courtesy of WSI.
A Volatile Jet Stream. The 250 mb analysis Saturday evening shows a split flow; a cut-off low temporarily stalled near Memphis creating a holding pattern over the USA. The northern branch of the jet stream keeps buckling, plunging Marchlike air south of the border. We've seen huge north-south sweeps in the steering winds in recent weeks, pulling unseasonably (unreasonably) cold air south, while pumping Gulf moisture northward, easing the drought east of the Mississippi River.
8th Biggest May Snowfall On Record For MSP. The half inch of slush that fell Friday morning (mainly eastern metro) makes it the 8th most snow ever reported at KMSP in May. Details from the Twin Cities National Weather Service: "On May 3rd a total of .5″ of snowfall was recorded at Minneapolis St. Paul International Airport. This amount breaks the previous record for the Twin Cities, which was .2″ on May 3rd, 1954. This is also the 8th highest daily snowfall total on record for the month of May in the Twin Cities. To put this event into perspective, the last time measurable snow was recorded at Minneapolis St. Paul International Airport during the month of May was in 1991. In addition, it has been 37 years since a half inch or more of snow has accumulated in May (last occurrence was May 2, 1976)."
Rare May Snowstorm Annihilates Records In Midwest. Here's an excerpt from meteorologist Andrew Freedman at Climate Central: "…According to the Minnesota Climate Working Group, the state daily May snowfall record had stood at 12 inches, which was most recently set on May 3, 1954. The Working Group said that the snowstorm was extremely rare for southern parts of the state.  "While May snowfalls are not uncommon in northern Minnesota, heavy May snowfall in southern Minnesota is rare. A quick scan of all historical Minnesota May daily snowfall totals greater than or equal to 3 inches indicates that May 1938 may have been the last time any southern Minnesota observer reported snowfall totals of similar magnitude," the Working Group said on its website…" (photo credit: AP).
"Mother Nature Needs To Be Medicated: An All Or Nothing May". The extremes are truly breathtaking – records for latest snows on record from Minnesota to Oklahoma and Arkansas, frost for Texas, while wildfires rage across California. Here's today's edition of WeatherNation TV Climate Matters: "Head shaking weather East of the Rockies. Snow reports as far south as Oklahoma and Arkansas in May? Meantime, to the West, they would be thrilled to see a little bit of that moisture. Meteorologist Paul Douglas has more on the history and conditions leading up to today's meteorological may-hem. If you'd like to check out the Cal Fire wildfire tips go to http://readyforwildfire.org."
Sun Emits Mid-Level Flare. Here's an update from NASA on Friday's M-Class flare: "The sun emitted a mid-level solar flare, peaking at 1:32 pm EDT on May 3, 2013. Solar flares are powerful bursts of radiation. Harmful radiation from a flare cannot pass through Earth's atmosphere to physically affect humans on the ground, however — when intense enough — they can disturb the atmosphere in the layer where GPS and communications signals travel. This disrupts the radio signals for as long as the flare is ongoing, and the radio blackout for this flare has already subsided."
Image credit above: "A burst of solar material leaps off the left side of the sun in what's known as a prominence eruption. This image combines three images from NASA's Solar Dynamics Observatory captured on May 3, 2013, at 1:45 pm EDT, just as an M-class solar flare from the same region was subsiding. The images include light from the 131-, 171- and 304-angstrom wavelengths." Credit: NASA/SDO/AIA.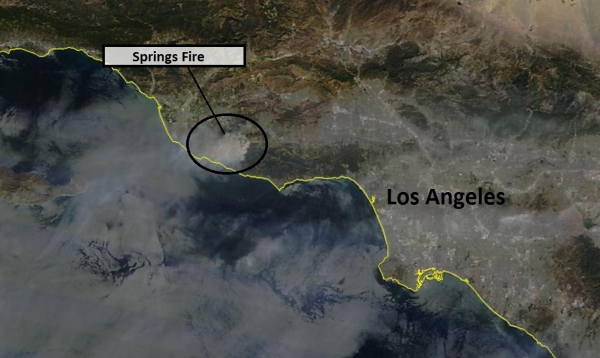 Springs Fire. The blaze threatening thousands of homes north/west of Malibu is now 30% contained; nearly 2,000 firefighters on the scene. The smoke plume shows up on high-res NASA satellite imagery.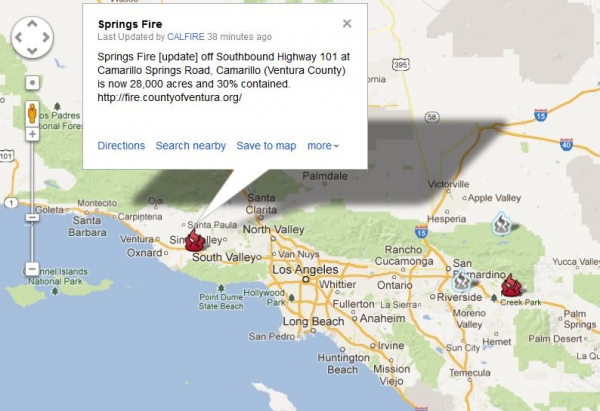 High-Risk Fire Areas. CAL FIRE shows the location of the most serious wildfires in southern California, including the Springs Fire and smaller blazes in the Inland Empire, between Riverside and Palm Springs.
Springs Fire Details
. Mandatory evacuations are still underway, thousands have been temporarily displaced by the major fire underway in Ventura County. 
Details here
.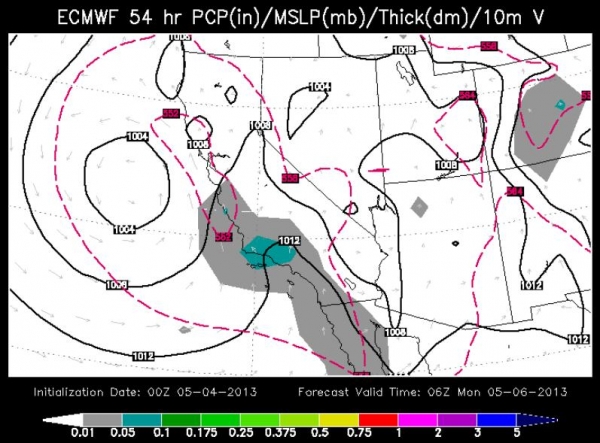 Temporary Relief. This will be a long, dry, potentially devastating fire season for California and much of the west (coming after the 4th driest winter season on record). Major fires in early May are a bad omen, considering fire season peaks between August and October. But short-term relief is likely as early as Sunday as humidity levels increase, hot dry Santa Ana winds shift and flow off the Pacific; light rain likely to give firefighters the upper hand by late Sunday and Monday.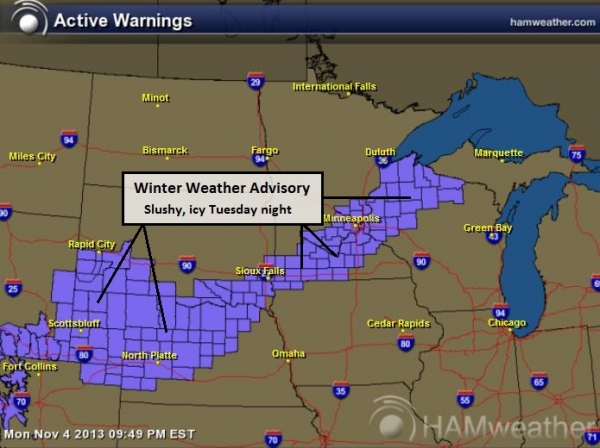 Flash Flood Potential. The same storm that has been traumatizing much of the central USA (18″ snows in southeastern Minnesota Thursday, a coating of white as far south at Tulsa and Eureka Springs, Arkansas) is pulling Gulf moisture north. The storm is "cut-off", temporarily stalled, which will increase the potential for sustained rains and embedded T-storms capable of river/stream/urban flooding from Atlanta to Nashville and Chattanooga.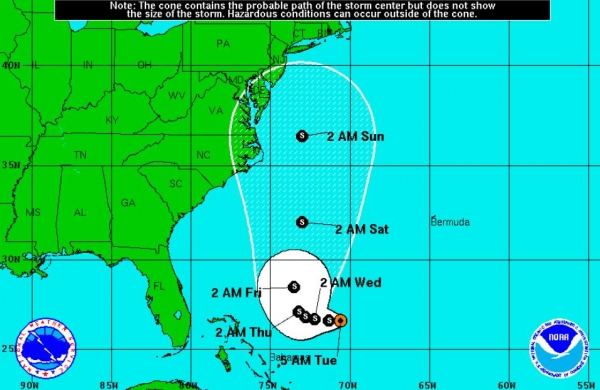 Soaking Rains. Portions of the southeast may pick up 1 to 1 1/2 month's worth of rain over the next 72 hours; the greatest potential for flooding problems from Atlanta to Nashville.
California Wildfires From Space. Here's a post from NOAA's Environmental Visualization Laboratory: "A series of wildfires in Ventura County, California (northwest of Los Angeles) have burned over 6,500 as of May 3rd, according to the U.S. Forest Service. The Suomi NPP satellite passed over the blaze on May 2, 2013 around 21:30 Z, capturing this high resolution imagery with its visible and infrared energy sensors. A stream of smoke is clearly visible moving west over the ocean, as are the heat signatures from the active fires areas. The fires are expected to be contained by May 4th, and fire weather conditions in the region seem to be improving, according to the NOAA Storm Prediction Center."
Dry Winter, Warming Trend Foretell Fire Danger. West of the Rockies it was a Top 5 driest winter season on record – the fact that we're tracking major blazes in early May is a bad omen. It will be a long, hot, dry and fiery season for the west in 2013. Here's an excerpt from thehour.com: "…We're looking at a combination of a low-moisture winter and a warming and drying pattern in the West that will increase the fire potential," said Ed Delgado, predictive services manager. If that sounds familiar to the region's residents, it should. In 2012, record-setting fires raged in New Mexico and Oregon, while destructive Colorado blazes torched hundreds of homes amid one of the state's worst seasons in years. Just like last year, Colorado experienced some of its first 2013 wildfires in March.…"
Photo credit above: "Smoke billows from a fire burring in Point Mugu State Park during a wildfire that burned several thousand acres, Thursday, May 2, 2013, in Ventura County, Calif." (AP Photo/Mark J. Terrill)
Are You Ready For Wildfires? CAL FIRE has a great interactive tool with information for homeowners to help them lower the risk of wildfire damage and destruction.
Furloughs And Hiring Freeze To The National Weather Service Threaten Forecast Accuracy. The first time lives are put at risk by these planned furloughts there will be a public outcry. Wait for it. Here's an excerpt of a press release from The National Weather Service Employees Organization: "National Weather Service employees say that four furlough days added to the current hiring freeze stretches already short-staffed offices to a breaking point, puts thhe American public at risk, and jeopardizes the agency's mission of saving lives and property. Most of the NWS employees being furloughed are designated "emergency essential", because of their public safety responsibilities and are required to work, even during catastrophic conditions. Commerce, air travel, and most daily events hinge on accurate forecasts. The forecasts become life savers in the summer when floods, tornadoes, hurricanes, heat waves, wildfires and thunderstorms are most prevalent. "Furloughts to the National Weather Service, in conjunction with the furloughs to the other agencies the nation depends on for emergency services, is like playing chicken with the American public," said NWSEO President Dan Sobien. "One missed event would realistically cost millions. NOAA is risking everything and has nothing to gain. It's not a sound decision…."
Fracking Won't Get The U.S. Out Of The Persian Gulf. Here's an except of an interesting perspective on "energy independence" from Steve LeVine at Quartz: "…The US seems likely to produce a lot more oil, perhaps even a volume nearing or meeting self-sufficiency, Levi says. If so, it will be thanks to a boom in volumes from two sources—the deepwater Gulf of Mexico, and shale in places like North Dakota. But an age of plenty will trigger corresponding steps by other nations to neutralize perceived adverse impacts on themselves. Geopolitically–in terms of the financial burden of patrolling the world's sea lanes, for instance—Americans are likely to be right back where they started, meaning footing the bill for a global Navy. The Pacific is the same—the US is highly unlikely to pull back from its robust security presence despite China's wish that it stop…."
Photo credit above: "Never done." AP Photo/Hassan Ammar.
So You Think "Fracking" Is Safe? Watch This Movie. I've been trying to keep an open mind about hydraulic fracturing, or "fracking", pumping huge amounts of water, and nearly 600 chemicals, deep into the ground to release natural gas from rocks and sediment. The idea of "energy independence" resonates, especially with a son in the Navy. But after watching "Gasland" I'm not so sure, in fact I'm suddenly grateful there's no natural gas or oil underneath Minnesota. I realize North Dakota is undergoing an economic boom, and good for them. But if drinking water becomes contaminated, streams fouled, health of nearby residents negatively impacted, at what cost are we chasing the pipedream of energy independence. Better yet, put up a few solar panels and a wind turbine. Not sure if it's on Netflix yet (I watched via DirecTV), but this is one documentary you should put on your to-do list.
No, Google Glass Is Not A Segway For Your Face. My favorite headline of the week; here's an excerpt from pandodaily.com: "Google Glass is so futuristic it's like wearing a Segway on your face."– Tweet by Matt Novak
"That Tweet likely articulates Google's biggest fear for Glass, its wearable computer. What if the cool crowd doesn't accept it? What if, like the Segway, it becomes an emblem of the awkwardly nerdy? What if consumers reject the technology because, even though it's amazing, there's too much social stigma to being seen in public with it?…"
History Of The High-Five. I did not know that – think of the fun you'll have with friends at your next sporting event. Here's an excerpt of a fascinating article at ESPN: "WHEN I FIRST PHONED Lamont Sleets this spring, I knew only the following: He is a middle-aged man living in the small town of Eminence, Ky.; he played college basketball for Murray State University between 1979 and 1984; and he reportedly created one of the most contagious, transcendently ecstatic gestures in sports — and maybe, for that matter, American life. I was calling Sleets because I wanted to talk to the man who invented the high five. I'd first read about him in 2007 in a press release from National High Five Day, a group that was trying to establish a holiday for convivial palm-slapping on the third Thursday in April. Apparently, Sleets had been reluctantly put in touch with the holiday's founders, and he explained that his father, Lamont Sleets Sr., served in Vietnam in the 1st Battalion, 5th Infantry — a unit nicknamed The Five…"
Image credit above: Illustrations by Bruce Hutchison for ESPN The Magazine. "The origin of the high five is as mysterious as it is timeless."
I'm Mowing The Damn Lawn! This YouTube clip provided a badly-needed chuckle yesterday. Details from kcci.com: "A Story County man was not about to let a little May snow keep him from his yard work. Roger Fritz shared this video on YouTube.  He put on shorts and T-shirt for the effort. Fritz said, "It was May 2, and I decided the grass needed cut." Share your fun snow photos and video through u local."
Climate Stories…

The Last Time CO2 Was This High Humans Didn't Exist. Climate Central has the story; here's an excerpt: "The last time there was this much carbon dioxide (CO2) in the Earth's atmosphere, modern humans didn't exist. Megatoothed sharks prowled the oceans, the world's seas were up to 100 feet higher than they are today, and the global average surface temperature was up to 11°F warmer than it is now. As we near the record for the highest CO2 concentration in human history — 400 parts per million — climate scientists worry about where we were then, and where we're rapidly headed now. According to data gathered at the Mauna Loa Observatory in Hawaii, the 400 ppm mark may briefly be exceeded this month, when CO2 typically hits a seasonal peak in the Northern Hemisphere, although it is more likely to take a couple more years until it stays above that threshold, according to Ralph Keeling, a researcher at the Scripps Institute of Oceanography..."
Graphic credit above: "CO2 levels are far higher now than they have been for anything during the past 800,000 years." Scripps Institution of Oceanography.
NASA Study Projects Warming-Driven Changes In Global Rainfall. Here's an excerpt from a NASA press release: "A NASA-led modeling study provides new evidence that global warming may increase the risk for extreme rainfall and drought. The study shows for the first time how rising carbon dioxide concentrations could affect the entire range of rainfall types on Earth. Analysis of computer simulations from 14 climate models indicates wet regions of the world, such as the equatorial Pacific Ocean and Asian monsoon regions, will see increases in heavy precipitation because of warming resulting from projected increases in carbon dioxide levels. Arid land areas outside the tropics and many regions with moderate rainfall could become drier. The analysis provides a new assessment of global warming's impacts on precipitation patterns around the world. The study was accepted for publication in the American Geophysical Union journal Geophysical Research Letters…"
Carbon Tax Is Best Way To Minimize Disastrous Climate Change: Opinion. Here's an excerpt of an Op-Ed from a Senior Engineer at JPL, The Jet Propulsion Laboratory, at the Los Angeles Daily News: "…This is indeed the situation on Earth today. Earth's climate is changing rapidly and there is grave concern about the potentially adverse effects of these changes for life on the planet. Fossil fuels have brought us breath-taking prosperity, but over the long term this wealth is illusory because full-cost accounting hasn't been practiced "" for example the high cost on the biosphere of burning coal, oil and gas. Most of us are cost-conscious in making decisions, yet these business-as-usual "cheap" energy sources will contribute to multiple extinctions in the near future, leaving our children with only limited and very expensive options. The problem is not so much today's climate. As noticeable and frightening as the changes are to date, they're just the tip of the iceberg and can be accommodated, barely. The alarming, existential threat is the continuance of business-as-usual leading to unprecedented heating. We have to be smart enough to anticipate this heating trajectory and take steps to avoid it…" (Photo: Reuters).


"…Last year was the 27th consecutive year with an above average global temperature and the ninth warmest year on record. The years between 2001 and 2012 were among the top 13 warmest on record." – The Telegraph
Climate Change Creates Maddening Weather Whiplash. Yep, that pretty much sums it up – from one extreme to the next. Here's an excerpt of a story from Discovery News and NBC News: "…The term "weather whiplash" was first invoked to describe this effect by science writer Andrew Freedman in 2009. But now climate scientists are using the term, and pointing to the current floods, in the Midwest as the classic case. "I'm using it now to describe the longer term kind of flooding-drying cycles," said meteorologist Jeff Masters, co-founder and director meteorology at the Weather Underground. "It's pretty amazing. It used to be only one in three years were flood years. Now it's almost every year." The whiplash has become especially painful in river towns where just a few months ago dredging was needed to keep goods afloat and keep communities alive. Now sandbags are the only thing holding back the rivers from flooding the very same towns…"
Photo credit: Office of Missouri Gov. Jay Nixon via Reuters. "Flooding is seen along the Mississippi River near LaGrange, Missouri, in this April 21, handout photo courtesy of the Missouri Governor's Office."
Record Low In Arctic Sea Ice Caused By Global Warming, UN Says. Here's an excerpt from an update at The Telegraph: …"Despite the cooling influence of à La Niña episode early in the year, 2012 joined the 10 previous years as one of the warmest – at ninth place – on record," he said. "Although the rate of warming varies from year to year due to natural variability caused by the El Niño/La Niña cycle, volcanic eruptions and other phenomena, the sustained warming of the lower atmosphere is a worrisome sign. "The continued upward trend in atmospheric concentrations of greenhouse gases and the consequent increase in radiative forcing of the Earth's atmosphere confirm that the warming will continue…"
Graphic credit above: "January–December global land and ocean surface temperature anomalies (relative to 1961–1990) for the period 1950–2012."
U.N. Report Highlights Disturbing Signs Of Climate Change. Following up on the story above, here's another perspective on the U.N. report from redOrbit.com: "The United Nations' official weather agency, the World Meteorological Organization, has announced that last year saw record-low levels of Arctic sea ice – yet another troubling sign of changing global climate patterns. The WMO also found that 2012 was the ninth-warmest year since official records started in the 1850s, according to a report released by the organization on Thursday. It also stated that every year from 2001 to 2012 was among the top 13 warmest on record, with the hottest being 2010. WMO Secretary General Michel Jarraud called the findings a "disturbing sign of climate change…"
Photo credit: Photos.com.
___________________________________________________
ABOUT ME
Welcome to the WeatherNation blog. Every day I sift through hundreds of stories, maps, graphics and meteorological web sites, trying to capture some of the most interesting weather nuggets, the stories behind the forecast. I'll link to stories and share some of the web sites I use. I'm still passionate about the weather, have been ever since Tropical Storm Agnes flooded my home in Lancaster, PA in 1972. I've started 5 weather-related companies. "EarthWatch" created the world's first 3-D weather graphics for TV stations – Steven Spielberg used our software in "Jurassic Park" and "Twister". My last company, "Digital Cyclone", personalized weather for cell phones. "My-Cast" was launched in 2001 and is still going strong on iPhone, Android and Blackberry. I sold DCI to Garmin in 2007 so I could focus on my latest venture: WeatherNation. I also write a daily weather column for The Star Tribune startribune.com/weather And if you're on Twitter, you'll find me @pdouglasweather