Flossie in the Pacific; Dorian Again in the Atlantic?
Amazing to see Hawaii being directly impacted by a tropical storm.  I had been loosely following Flossie over the course of the weekend, only to find it in a direct path to place it over Hawaii heading into the early section of this week.
Since 1950, we've seen roughly 31 instances where Hawaii has had significant impacts from a hurricane (even though only a few actually made landfall).
Flossie will likely make landfall as a tropical storm, which is much more rare.
That is the map from 5AM HST.
Crazy, huh?
Diving into the stats, I found a couple of different hurricanes/tropical systems that impacted Hawaii of late.  One came in 2007 – and was Hurricane Flossie (yes, SAME name!).
I was shocked to find that out earlier today.
Flossie took a similar path, even, to Flossie (2013 variety).  Although that path brought quite a bit more "oomph" to the region.  At its peak, Flossie was a category 4 hurricane with sustained winds up to 140mph.
Look at this:
A nice looking eyewall with that storm, and here were the stats to go with it:
Pretty impressive, huh?
What *isn't that impressive… at least YET?  Dorian, or the remnants thereof.
Last week Dorian looked to limp as a mid-level tropical storm through basically the entirety of the Atlantic Basin, before turning northward before Florida.  Its circulation fell apart and caused it to be reduced to an unnamed tropical wave.
Well, now it looks like it might be back again:
This morning's looped satellite over the Caribbean was showing a bit of re-developement, but what we're really watching for is a center of circulation to return.
A 40% chance of that taking place was being discussed as of earlier today.
Check out this image below: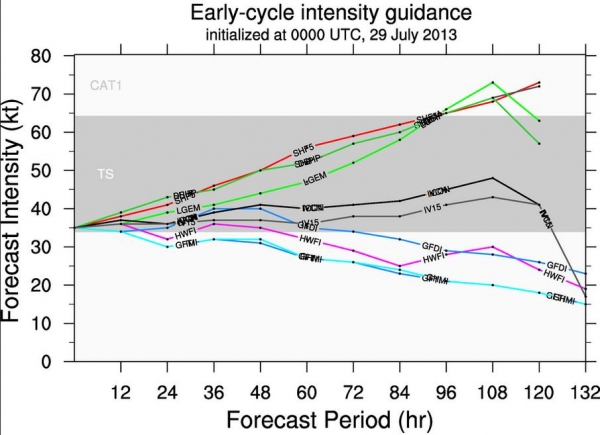 That shows the forecast wind intensity.  Look at the gray shaded area: Tropical storm level winds.  That is the most likely future for Dorian – with a smaller chance for hurricane level winds to form.
The forecast path has it moving more westward, as well: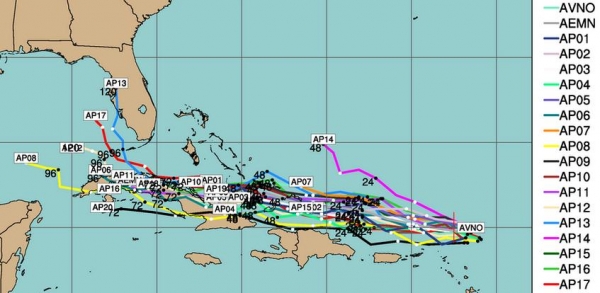 Definitely something worth watching.  It's amazing how much a forecast can change over a few days!
Stay tuned!
WeatherNation Meteorologist Aaron Shaffer @ashafferWNTV