GFS Prints Out Big Snow for Mid Atlantic Next Week (Category 5 "Haiyan" heading toward Philippines)
Current Weather Watches, Warnings & Advisories. If you're doing any traveling in the coming weeks leading up to Thanksgiving click here to see the latest national and regional advisories, courtesy of Ham Weather.
---
Historical Thanksgiving Day Weather – And The GFS Says What? Late November can bring everything from blizzards to tornado outbreaks. In today's edition of Climate Matters we recap memorable storms, and take a look at an eye-popping GFS snow forecast for the Mid Atlantic Region. I have my doubts: "WeatherNationTV Chief Meteorologist Paul Douglas is already thinking about Thanksgiving. Turkey dinners, family, football, and tornadoes? It's possible. Significant weather events on Thanksgiving range from blizzards to howling winds to tornado outbreaks. Also, the GFS is letting lose with a deluge of snow for the Mid-Atlantic. Take it with a grain of salt."
---
A Storm To Rival "Pablo"? Pablo devasted portions of the Philippines in December, 2012, sparking over 1,000 deaths and extensive damage. "Haiyan" is a comparable storm, forecast to impact the central Philippines Friday (local Manila time). Here's an excerpt of an Alerts Broadcaster briefing that went out yesterday:
* Super Typhoon Haiyan estimated to have reached Category 5 strength, with sustained winds of 160 mph, gusts to 190 mph.
* Slight weakening is possible before Haiyan comes ashore over the central Philippines Friday (local Manila time), but this will probably be the most destructive typhoon of the year for the Philippines, possibly the strongest in several years. Extreme damage and significant loss of life is possible with this storm, mainly over the central Philippines, the eastern coast of southern Luzon and the Samar Islands. The island nation of Palau may take a direct and devasting hit from Haiyan.
* The core of strongest winds, heaviest rains and highest storm surge will pass south of Manila during the day Friday and Friday night, local time, with only minor to moderate impacts for the capital city.
---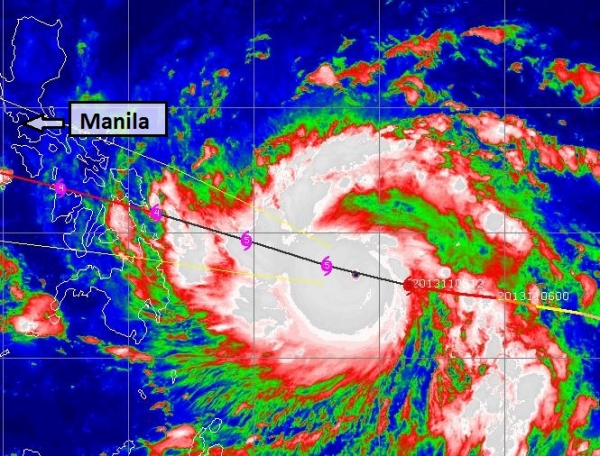 Super-Storm. "Haiyan" is the strongest storm I've seen yet this year in the western Pacific, factoring wind speed and the size of the wind field. Sustained winds are 160 mph with gusts to 190; this powerful Category 5 typhoon (same thing as a hurricane) whipping up 48 foot seas as it tracks to the west-northwest.
---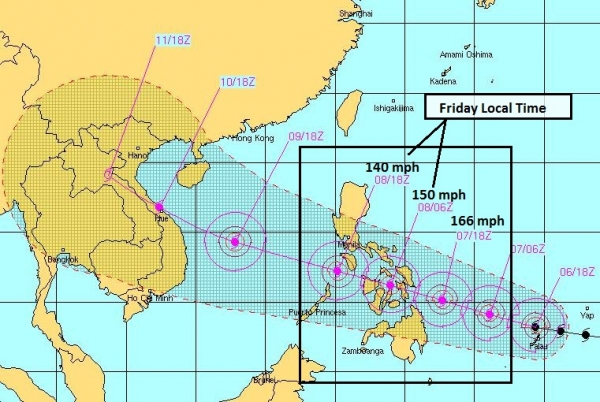 Timing Haiyan. The Navy's JTWC, or Joint Typhoon Warning Center, has Haiyan reaching the central Philippines during the day Friday (local time) as a severe Category 4-5 storm, capable of an extreme 20-25 foot storm surge, sustained winds over 150 mph, and as much as 15″ rain, capable of extensive flooding and mudslides. The core of the storm passes 150-200 miles southwest of Manila late Friday and Friday night, Manila time, brushing the capital with winds gusting to 50-60 mph and minor to moderate flooding as the outer bands of this system pass just south.
---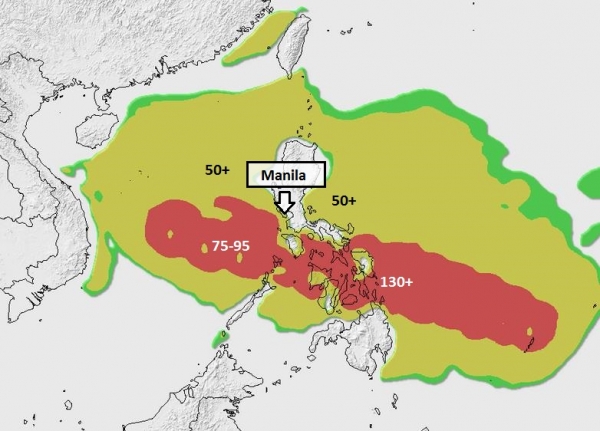 Predicted Wind Swath. Our internal models show the most damaging winds with Super Typhoon Haiyan tracking (just) south of Manila Friday PM hours (local time). Winds may top 140 mph in the central Philippines, but I expect gusts no higher than 50-60 mph in downtown Manila at the height of the storm Friday PM hours.
---
Rainfall Estimates. Right now the GFS model keeps the band of heaviest (10-15″) rains just south of Manila. Severe river and flash flooding and mudslides are likely over the central Philippines, but on it's current trajectory I expect only minor to moderate urban flooding in Manila. Keep in mind soils are already saturated across much of the Philippines from recent heavy rains. Haiyan will add insult to injury.
---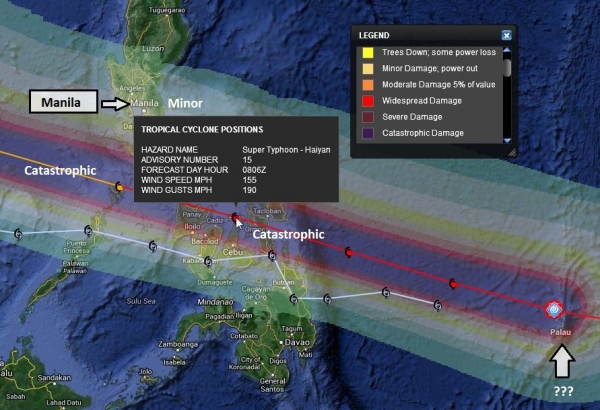 Damage Path. Potentially catastrophic wind damage is possible over the central Philippines, from Tacloban to Roxas and Kalibo. Latest models show winds close to 145-155 mph at landfall Friday morning, local time. I'm very concerned about Palau, which will see a direct strike from Haiyan. Much of the island is close to sea level, and storm surge damage may be extensive, possibly extreme.
---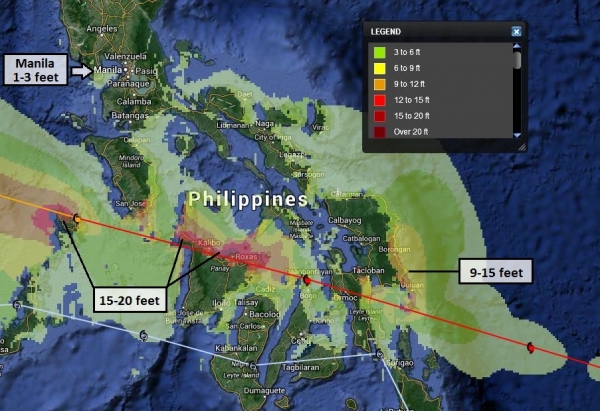 Predicted Storm Surge. The good news: only a 1-3 foot storm surge is projected for Manila Bay on Friday (local time). But the central Philippines will see Haiyan's full fury, with a potential for a 15-20 foot surge from Roxas City to San Jose and Coron. Any slight northward jog in the storm track could bring a significant storm surge into Manila Bay – something we need to watch carefully over the next 24 hours.
Summary: an especially dangerous typhoon is bearing down on the central Philippines, capable of extreme damage and potential loss of life. The greatest concern is storm surge, the sudden rise in sea level as the eye of the storm passes nearby, as much as 15-20+ feet for some coastal communities well south of Manila. A secondary concern is damaging winds, strongest on the coast at landfall, near Guiuan and Borongan City early Friday, local time. 10-15″ rains will trigger extensive inland flooding and mudslides – widespread power outages are likely. I'm concerned about aftermath; a significant risk of disease and even civil unrest, in the wake of what will probably be the most destructive typhoon to hit the Philippines in many years. We'll keep you posted.

---
NOAA View Data Imagery Portal (beta). Here's a new tool for visualizing data, worldwide. Thanks to Capital Weather Gang for bringing this to my attention: "NOAA View provides access to maps of NOAA data from a variety of satellite, model, and other analysis sources. NOAA View is intended as an education and outreach tool, and is not an official source of NOAA data for decision support or scientific purposes."
---
Snowy Swath. Yesterday's visible satellite loop from NOAA showed the band of snow from Tuesday night's fast-moving wave of low pressure – amounts heaviest over southwest Minnesota, where some 3-8″ amounts were reported. Note the melting by early afternoon, especially over the Twin Cities metro, where the urban heat island accelerated warming.
---
Smog Blamed As Girl, 8, Becomes Youngest Lung Cancer Patient. Good grief – remind me not to visit China without a state-of-the-art gas mask. Here's an excerpt from a sobering article at The South China Morning Post: "An eight-year-old girl has become the mainland's youngest lung cancer patient, with her illness blamed directly on environment factors. The girl from Jiangsu lived by a busy road where she inhaled all kinds of dust and particles, China News Service cited Dr Feng Dongjie of Jiangsu Cancer Hospital as saying. These included superfine PM2.5 particles, less than 2.5 microns wide, that are considered the most dangerous component of smog, Feng said. The country's breakneck urbanisation and industrialisation has created some of the world's worst urban pollution, which is blamed for soaring rates of cancer and respiratory diseases…"
Photo credit above: "China's breakneck urbanisation and industrialisation has created some of the world's worst urban pollution." Photo: AP.
---
It's A Sad, Sad, Sad, Sad World. Depression And Global Disability. Yes, it could be worse, you could be living in Afghanistan. The Los Angeles Times has the story – here's an excerpt: "Clinical depression is now the second-leading cause of global disability, according to new research, with the highest rates of incidence affecting working-age adults and women more than men. In a paper published Tuesday in the journal Plos Medicine, researchers found that depressive disorders were second only to lower respiratory infections when it came to inflicting the most years of disability on people throughout the world. Rates of depression were highest in Afghanistan and lowest in Japan, while the condition ranked as the top cause of disability in Central America and Central and Southeast Asia…"
Map credit above: "A new study reports that depression is the second-leading cause of global disability. This map shows nations with a statistically lower rate of depression disability in blue, middle-ranking rates in yellow and high rates in orange. Rankings are relative to global mean rate of years lived with disability." (Plos Medicine / November 5, 2013).
---
How The Way We Walk Can Increase Risk Of Being Mugged. Here's a clip from The BBC: "How you move gives a lot away. Maybe too much, if the wrong person is watching. We think, for instance, that the way people walk can influence the likelihood of an attack by a stranger. But we also think that their walking style can be altered to reduce the chances of being targeted. A small number of criminals commit most of the crimes, and the crimes they commit are spread unevenly over the population: some unfortunate individuals seem to be picked out repeatedly by those intent on violent assault…"
Photo credit above: "Man walking in tunnel." (Stig Nygaard/Flickr).
---
The Science Of Why You Hate Your Daughter's Boyfriend. The things you learn on this-here-interweb-thingy. Here's a clip from a story at NewStatesman: "…Two scientists have come up with an evolutionary argument. In a study published in the journal of Evolution and Human Behaviour, Franjo Weissing and Bram Buunk argue that it all stems from children trying to get money out of their parents. To show this, they built a computer model detailing a vast fictional population. The men had different abilities to provide for future children, and women had varying strengths of preference for this trait…"
---
Toyota's Hyper-Radical FV2 Concept Pushes Personal Transportation Boundaries. A robotic, fully-enclosed motorcycl? It defies simple description – details from Gizmag: "Toyota's already bold pursuit of new vistas in the realm of personal transportation took another quantum leap forward today, when the Japanese giant released details of the FV2, a concept car more closely related to the Kirobo humanoid communication robot than any vehicle currently on public roads…"
---
---
Climate Stories….
Greenhouse Gas Emissions Reached New High In 2012, World Meteorological Organization Says. CO2 emissions actually came down in the USA, but increased significantly in China and India. Here's an excerpt from Reuters and Huffington Post: "Atmospheric volumes of greenhouse gases blamed for climate change hit a new record in 2012, the World Meteorological Organisation (WMO) said on Wednesday. "For all these major greenhouse gases the concentrations are reaching once again record levels," WMO Secretary-General Michel Jarraud told a news conference in Geneva at which he presented the U.N. climate agency's annual Greenhouse Gas Bulletin. Jarraud said the accelerating trend was driving climate change, making it harder to keep global warming to within 2 degrees Celsius, a target agreed at a Copenhagen summit in 2009…"
---
New York, London and Mumbai: Major Cities Face Risk From Sea Level Rises. Too alarmist? We'll see, but here's the thing: this isn't about climate models projecting out 50 years into the future. Sea level rise is a documented reality. Since 1750 the water in New York Harbor has risen about 15″. The only question is how much higher, and how quickly. Here's a clip from The Guardian: "…Strauss' analysis only looks at the likelihood coastal cities will be under water. Strauss forecasts the impact of rising seas without storms. He doesn't forecast the likelihood that calamitous weather events like Hurricane Sandy will cause far greater damage when the oceans have risen closer to the level of the cities, overwhelming roads, sewers, underground trains, and water systems. We can now imagine a day when storms do not merely damage coastal cities but destroy them. He contends that by 2100, more than 25% of Boston, Miami, New Orleans, and Atlantic City could be under water. The same forecast (23 ft or 7m by 2100) can be plugged into a global map of elevations and sea levels here. Such a calculation is even more alarming. Most of the globe's economic activity is funneled through cities that will be fighting to stay above water. Imagine a world without Shanghai, Mumbai and Boston, a world in which London and New York are risky settings for markets…"
Photo credit above: "Ben Strauss, Climate Central predicts that by 2100, more than 25% of Boston, Miami, New Orleans, and Atlantic City could be under water." Photograph: Alex Brandon/AP.
---
If All The Ice Melted. Not likely to happen anytime soon, but you will see increasing pressure along the world's coastlines in the years to come. Here's an excerpt from an eye-opening interactive map from National Geographic: "The maps here show the world as it is now, with only one difference: All the ice on land has melted and drained into the sea, raising it 216 feet and creating new shorelines for our continents and inland seas. There are more than five million cubic miles of ice on Earth, and some scientists say it would take more than 5,000 years to melt it all. If we continue adding carbon to the atmosphere, we'll very likely create an ice-free planet, with an average temperature of perhaps 80 degrees Fahrenheit instead of the current 58."
Interactive map credit above: Jason Treat, Matthew Twombly, Web Barr, Maggie Smith, NGM staff. Art: Kees Veenenbos. Sources: Pilippe Huybrechts, Vrije Unversiteit Brussel, Richard S. Williams, Jr. Woods Hole Research Center, James C. Zachos, Universoty of California, Santa Cruz, USGS, NOAA, ETOP01 Bedrock, 1 arc-minute global relief model copyright September 2013 National Geographic Society.
---
Why Even California Can't Stop Catastrophic Climate Change
.
Quartz
has the story – here's the introduction: "
For climate change optimists, California is indeed the golden state when it comes to aggressive policies designed to avoid catastrophic climate change. But as a new report makes depressingly clear, even Ecotopia will fall far short of hitting a target of reducing greenhouse gas emissions 80% by 2050 without the invention of new technologies and imposition of more draconian green mandates. 
That's the number scientists believe must be met to keep climate change in check. And if California can't meet such a mandate, what nation can, given the inability of governments to even to agree to take the most tentative steps to reduce greenhouse gas emissions?…"
Photo credit above: "If even the Golden State can't pull off needed carbon cutting, expect more scenes like this." AP Photo/Mark Schiefelbein.
---
Can Attacking Scientists Be A Political Liability? Michael Halpern has the article (and possible implications of the Virginia governor's race) at The Union of Concerned Scientists; here's the intro: "Politicians attack scientists to score points with voters and their backers, whether it's members of Congress attacking individual government grantees or belittling scientists whose research undermines their legislative priorities.  It got so bad that UCS put out a guide for scientists who find their work under an unusual amount of scrutiny (still a good idea to take a look before you're in that situation).  But yesterday's election in Virginia may showcase how these sorts of attacks can backfire, making a candidate look extreme and out of touch. For those who haven't followed the case, a recap: former University of Virginia scientist Michael Mann is responsible for pioneering climate change research that has since been reaffirmed by scores of researchers and scientific bodies. Virginia Attorney General Ken Cuccinelli thought he knew better. He made headlines around the world by issuing subpoenas to UVa under the Virginia Fraud Against Taxpayers Act for Mann's personal emails and other documents (The scientist subsequently wrote a book about being raked over the coals by Cuccinelli and other politicians)…"
---
Virginia Governor's Race Shows Global Warming Science Denial Is A Losing Political Stance. Here's an excerpt from a Guardian article posted by St. Thomas professor and climate scientist John Abraham: "…Ken Cuccinelli has a history of not only discounting scientists but spending taxpayers' money to actively attack them. In 2010, he began a witch hunt and accused climate scientist Dr. Michael Mann of fraud. In the end, Cuccinelli's crusade wasted hundreds of thousands of hard-earned taxpayer dollars – waste that Virginia voters did not forget. As Dr. Mann himself, who campaigned for Terry McAuliffe, says, "As discussed in some detail in my recent book The Hockey Stick and the Climate Wars, Ken Cuccinelli, as a newly minted Attorney General of Virginia, back in early 2010, engaged in what The Washington Post called a "witch hunt" against me and the University of Virginia. He sought to abuse his authority as attorney general by demanding all of my personal emails from the six years I was a faculty member at the University of Virginia…"
Photo credit above: "Terry McAuliffe made climate realism a big part of his campaign, and won yesterday's election to become Virginia's new governor." Photograph: Reuters.
---
Climate Change Puts 5 Million Israelis At Risk Of Severe Flooding Events. Here's a clip from a story at The Jerusalem Post: "Rising temperatures and climbing sea levels due to climate change could be putting more than five million Israelis at severe risk, a special Environmental Protection Ministry report has indicated. The rise of the Mediterranean Sea's levels as well as the flooding of rivers could gravely impact five million Israelis as water barrels into their communities, the study warned. In addition to the flooding dangers, the conditions could also result in outbreaks of transmissible diseases from pests such as mosquitoes, the report explained. Escalating temperatures combined with population growth will also undoubtedly lead to an increased demand for water from decreasing aquifer supplies, it said…"
Photo credit above: "A storm touches down on water off Atlit coast." Photo: Baz Ratner / Reuters
---
No, We Are NOT In A Climate "Pause". Slate has the video and article; here's an excerpt: "…One argument Hank brings up (at the 1:44 mark), and one I've hammered on a few times as well, is this idea that we're in some sort of global warming pause. This is a claim that gets some traction, because when you look at land surface temperatures over the past few years, they haven't gone up as quickly as they have in the past. However, using this measurement to claim that global warming has stopped, or even just paused, is wrong. The good folks at NASA Goddard recently posted a video interview with climate scientist Josh Willis to put this claim to rest…"
Is It Too Late To Prepare For Climate Change? Here's an excerpt from an Elizabeth Kolbert article at The New Yorker: "…Promoting "preparedness" is doubtless a good idea. As the executive order notes, climate impacts—which include, but are not limited to, heat waves, heavier downpours, and an increase in the number and intensity of wildfires—are "already affecting communities, natural resources, ecosystems, economies, and public health across the Nation." However, one of the dangers of this enterprise is that it tends to presuppose, in a Boy Scout-ish sort of way, that "preparedness" is possible. As we merrily roll along, radically altering the planet, we are, as the leaked I.P.C.C. report makes clear, increasingly in danger of committing ourselves to outcomes that will simply overwhelm societies' ability to adapt…"
__________________________________________________________________
ABOUT ME
Welcome to the WeatherNation blog. Every day I sift through hundreds of stories, maps, graphics and meteorological web sites, trying to capture some of the most interesting weather nuggets, the stories behind the forecast. I'll link to stories and share some of the web sites I use. I'm still passionate about the weather, have been ever since Tropical Storm Agnes flooded my home in Lancaster, PA in 1972. I've started 5 weather-related companies. "EarthWatch" created the world's first 3-D weather graphics for TV stations – Steven Spielberg used our software in "Jurassic Park" and "Twister". My last company, "Digital Cyclone", personalized weather for cell phones. "My-Cast" was launched in 2001 and is still going strong on iPhone, Android and Blackberry. I sold DCI to Garmin in 2007 so I could focus on my latest venture: WeatherNation. I also write a daily weather column for The Star Tribune startribune.com/weather And if you're on Twitter, you'll find me @pdouglasweather.