Heavy Snow, Ice, Flooding Rains, Record Warmth & Moderate Tornado Risk
Remarkable Extremes. Highs approach 70F. in Washington D.C. at the same time subzero air drills into the Dakotas, chill factors dropping to -30F. The result: an impressive snow, ice and rain storm, capable of whipping up tornadoes over the Lower Mississippi Valley. 84 hour 2-meter temperature prediction courtesy of NOAA and Ham Weather.
---
Welcome Winter Solstice. Paradoxically, the Earth is actually closer to the sun in the winter than it is in summer, but that won't help much in the coming weeks. As you muddle through a cold, dark Saturday realize we pick up 3 minutes of additional daylight by the end of December. Can spring be far behind? Yep.
Graphic credit: Tampa office of the National Weather Service.
Winter Weather Terminology. Here's an excerpt of a great summary of winter precipitation types and terminology from the Des Moines office of the National Weather Service:
Blizzard: Blowing and/or falling snow with winds of 35 mph or greater, reducing visibilities to a quarter of a mile or less for at least three hours. Winds lofting the current snow pack and reducing visibilities without any falling snow is called a ground blizzard.
Freezing Rain: Caused by rain falling on surfaces with a temperature below freezing. The rain freezes upon contact with the ground. Large build-ups of ice can down trees and power lines and coat roads.
Sleet: Rain/melted snow that has begun refreezing when it reaches the ground. Sleet tends to be softer than hail and is easily compacted. Sleet can make roads slippery very quickly.
Wind Chill: The apparent temperature the body feels when wind is factored into the equation. See the Wind Chill page for more information.
---

What Is The Sperry-Piltz Ice Accumulation Index? Thanks to Des Moines uber-meteorologist Jason Parkin for passing this along, a scale that measure impacts from glaze ice on a scale from 1 to 5, much like hurricanes. Here's more information: "The Sperry–Piltz Ice Accumulation Index, or SPIA Index, is a forward-looking, ice accumulation and ice damage prediction index that uses an algorithm of researched parameters that, when combined with National Weather Service forecast data, predicts the projected footprint, total ice accumulation, and resulting potential damage from approaching ice storms. It is a tool to be used for risk management and/or winter weather preparedness. The SPIA Index is to ice storms what the Enhanced Fujita Scale is to tornadoes, and what the Saffir–Simpson Scale is to hurricanes. Previous to this hazard scale development, no such 'forward-looking' ice accumulation and ice damage index had ever been utilized to predict – days in advance – the potential damage to overhead utility systems, along with outage duration possibilities, from freezing rain and/or ice storm events."
---
Alerts Broadcaster: Issued Friday evening by Alerts Broadcaster.
* Risk grows of a major tornado outbreak Saturday; best chance PM hours – possibly well after dark in Mississippi.
* Ice Storm Warnings posted for much of Oklahoma for a significant accumulation of glaze ice capable of paralyzing travel and power outages.
* Chicago may pick up a couple inches of slushy snow, but the heaviest snow bands are forecast to stay north and west of KORD.
---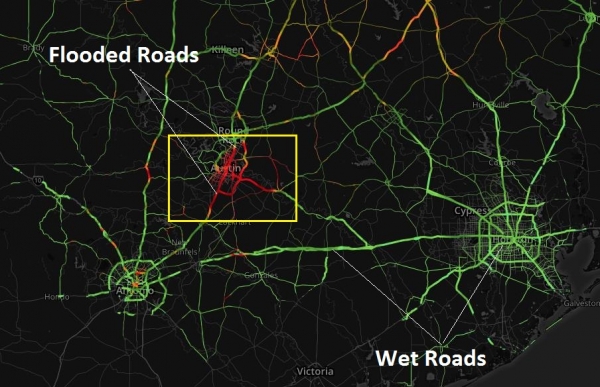 TPI: Cause For Concern. Our Tornado Prediction Index did a very good job with the November 17 tornado outbreak, pinpointing central Illinois 24 hours in advance. The same algorithms show a significant risk of large, supercell thunderstorms capable of EF2-EF4 tornadoes over southeastern Arkansas by mid afternoon Saturday, but the greatest risk comes over Mississippi during the late evening hours, well after dark. This could make tracking and verifying any tornadoes even more difficult, heightening the risk to the public. I expect a few large, violent, potentially deadly tornadoes across the Lower Mississippi River Valley during the PM hours Saturday.

Moderate Risk. We'll see if NOAA SPC elevates any of this region to a "high risk" by tomorrow, but a moderate risk implies an enhanced risk of (large, violent) tornadoes. There is a 45% risk of severe weather within 25 miles of any location in the purple-shaded region; a 10% or higher chance of significant severe weather within the hatched area. Facilities and staff from Louisiana and Arkansas into western Tennessee and Mississippi should be prepared.
---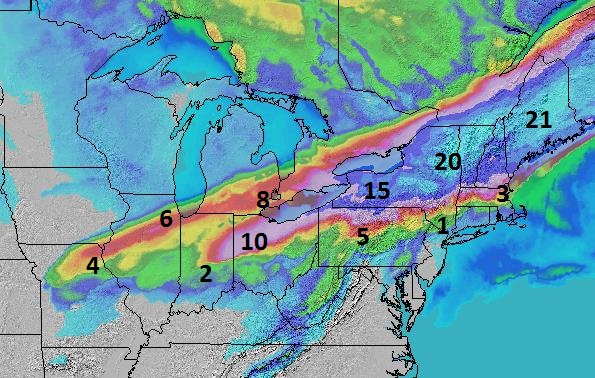 Updated Snowfall Projections. Chicago may pick up a couple inches of slushy snow at the tail-end of the storm, precipitation falling as rain (mixed with a little ice) at the height of the storm Sunday. The heaviest snow band sets up from near Tulsa and Wichita to Springfield, the Quad Cities, Peoria, Rockford, Madison, Milwaukee and Green Bay Sunday as the storm pushes northeast. The Twin Cities may see a 2-3″ snowfall Sunday.
---

Ice Storm Risk. Ice Storm Warnings are posted for Oklahoma, and for good reason. As much as a half inch of glaze ice may build up on highways and powerlines, especially north and west of Oklahoma City, a quarter inch for the Tulsa area capable of significant power outages. Ice is likely over central Missouri, but St. Louis should be spared any major icy headaches. A light glaze icing is possible into northern Illinois and southern Wisconsin, reaching Lower Michigan by Sunday afternoon/evening. A very light coating of ice is possible over northern New England as well.
---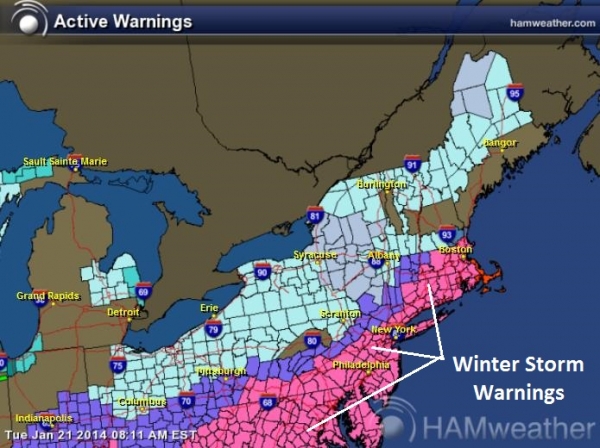 Looks Like A Holiday. The warning map is lit up with watches, warnings and advisories, Winter Storm Warnings from central Oklahoma to southern Wisconsin, Flash Flood Watches from Arkansas into Indiana, Ohioa and even western New York State. As much as 3-4″ rain falling on frozen ground will result in almost immediate run-off and flooding of not only urban areas but some small streams as well. The very latest warnings are here.
---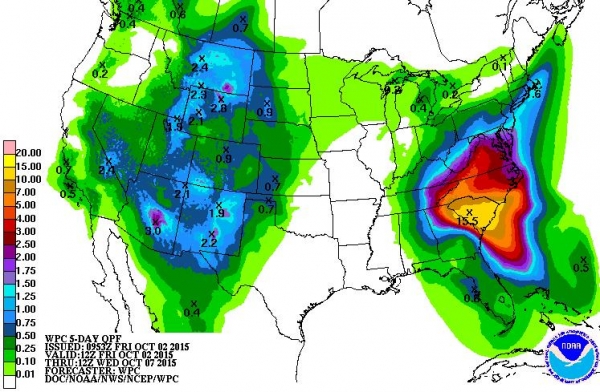 Flash Flood Potential. Gulf moisture surging northward to fuel the weekend storm, and the result will be some 3-5″ rains, almost 1-2 month's worth of rain falling in less than 36 hours. Areas that normally flood, poor drainage areas and small streams, may experience overflows this weekend from near Little Rock to Evansville, Indianapolis and Columbus.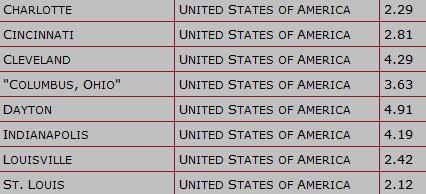 Projected Rainfall Amounts. Our internal models show numerous 2-4″ rainfall amounts from St. Louis and Louisville – as far north and east as Cleveland this weekend.
---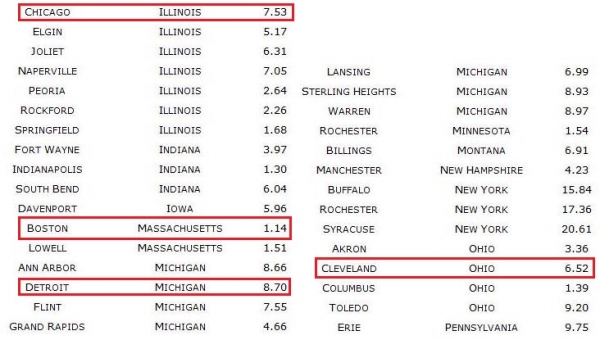 Snowfall Forecasts. The models may still be over-doing snow amounts for Chicago, but closer to Rockford I expect significant amounts, in excess of 6-7″. The heaviest amounts may fall from Davenport and Moline to Madison and Milwaukee, where the atmosphere is cold enough for all-snow.
---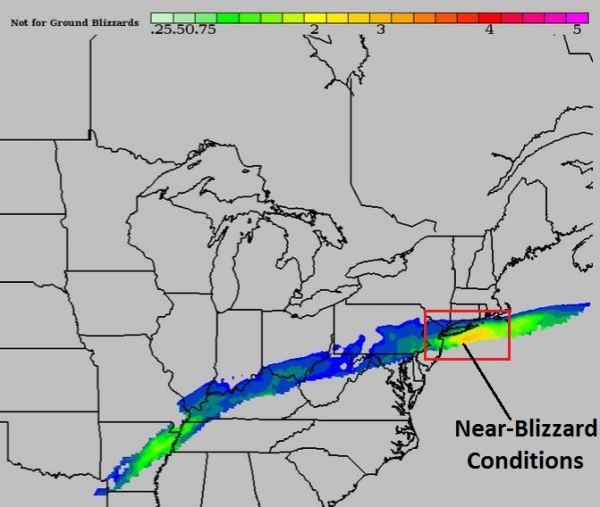 Near-Blizzard Conditions. Our internal BPI (Blizzard Potential Index) shows the greatest risk of low visibility and strong winds creating near-blizzard criteria from northeastern Missouri and far western Illinois into southeastern Wisconsin.
---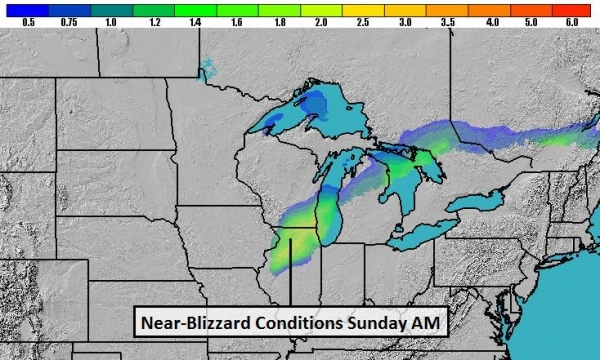 Maximum Hassle Factor at ORD and MDW. Taking a closer look at the projected BPI Sunday morning may bring the heaviest burst of snow and lowest visibilities with this storm, capable of disrupting travel by land and air. Conditions slowly improve Sunday afternoon with conditions pretty much back to normal (whatever that is) by Monday.
Summary: The risk of a major severe storm outbreak, including a few large, violent tornadoes, has increased since Friday morning. It's impossible to determine, this far in advance, whether major metropolitan areas of the Lower Mississippi Valley will be impacted, but we can't rule out that possibility. Facilities from Lake Charles and New Orleans to Jackson and Memphis should monitor weather conditions very closely over the next 24 hours and be prepared to take steps to enhance safety. Severe icing is likely from Oklahoma into central Missouri, a stripe of plowable snow from Kansas City to Madison and Milwaukee, flooding rains over much of the Midwest and Ohio Valley. Meanwhile record highs are possible out ahead of the storm, readings in the mid to upper 60s in Washington D.C., 70s across the Carolinas. It's one crazy weather map.
Paul Douglas – Senior Meteorologist – Alerts Broadcaster
---
Drones Could Revolutionize Agriculture, Farmers Say. Here's an excerpt from a story at Huffington Post: "…While Americans are abuzz about Amazon's plans to use self-guided drones to deliver packages, most future unmanned aircraft may operate far from the nation's large population centers. Experts point to agriculture as the most promising commercial market for drones because the technology is a perfect fit for large-scale farms and vast rural areas where privacy and safety issues are less of a concern. Already, farmers, researchers and companies are developing unmanned aircraft systems equipped with cameras and other sensors to survey crops, monitor for disease or precision-spray pesticides and fertilizers…"
2013: The Year "The Stream" Crested. Are we all taking a plunge into a never-ending information river, where "nowness" trumps perspective? Perhaps. Witness the rise of Twitter and Google Reader. Is there a place for updated summaries of information, web sites and blogs? Here's an excerpt from a thought-provoking story at The Atlantic: "…There are great reasons for why The Stream triumphed. In a world of infinite variety, it's difficult to categorize or even find, especially before a thing has been linked. So time, newness, began to stand in for many other things. And now the Internet's media landscape is like a never-ending store, where everything is free. No matter how hard you sprint for the horizon, it keeps receding. There is always something more.  Nowness also transmits this sense of presence, of other people, that you get in a city when you go to a highway overpass and look down at all the cars at any time of the day or night. Things are happening. I am not alone. Look at all this…"
---
Air-Powered Lego Car Hits The Street. I'm feeling more inept than usual with my (previous) Lego creations. Check this out, courtesy of Gizmag: "The perfect do-it-yourself gift for budding designers and architects during the holiday season has to be Lego. The small blocks of plastic with millions of design outcomes have entertained many a child since the early 1950s. Now an ambitious duo has snapped together 500,000 pieces of the stuff to create the world's first air-powered Lego roadster..."
---
ABOUT ME
Welcome to the WeatherNation blog. Every day I sift through hundreds of stories, maps, graphics and meteorological web sites, trying to capture some of the most interesting weather nuggets, the stories behind the forecast. I'll link to stories and share some of the web sites I use. I'm still passionate about the weather, have been ever since Tropical Storm Agnes flooded my home in Lancaster, PA in 1972. I've started 5 weather-related companies. "EarthWatch" created the world's first 3-D weather graphics for TV stations – Steven Spielberg used our software in "Jurassic Park" and "Twister". My last company, "Digital Cyclone", personalized weather for cell phones. "My-Cast" was launched in 2001 and is still going strong on iPhone, Android and Blackberry. I sold DCI to Garmin in 2007 so I could focus on my latest venture: WeatherNation. I also write a daily weather column for The Star Tribune startribune.com/weather And if you're on Twitter, you'll find me @pdouglasweather.