Kansas Flash Flooding, Colorado Hail Storms
Head For Higher Ground. These little racoons weren't the only ones trying to stay dry Sunday morning – heavy rain was responsible for flash flooding all across the High Plains.
Turn Around, Don't Drown. Cars were floating this morning in Hutchinson, KS after torrential rain late Saturday night/early Sunday morning.
Here's an excerpt from KAKE-TV in the area: "In Hutchinson, where nearly 6 inches of rain has fallen, a nursing home at 23rd and Severance was evacuated early this morning because of high water. Numerous roads and stalled cars were also reported in Hutchinson. Nickerson has received just over 7 inches of rain." Read more: http://www.kake.com/news/headlines/Overnight-Flooding-Brings-Road-Closures–Evacuations-218275941.html
A Good Soaking. Check out our (continually growing) 24 hour rain tallies from around Kansas. Hutchinson is certainly in the worst of it, but Great Bend isn't far behind with nearly 4″ of rain so far. I'd expect these to grow a bit before the day is through.
Rainfall Next 24 Hours. The bulk of the rain is concentrated over southeastern Kansas, creating flooding concerns. The ground has already been saturated, so the additional rainfall will likely cause some problems. (Via Weather Prediction Center)
Hazardous Travel. Keep an eye out for rising water in these areas today if you are travelling through. Flash flooding can sweep away a vehicle with ease, so don't drive through the water! (Advisories map courtesy Hamweather.com)
Rainfall Next 7 Days. Rain will continue this week across the Central Plains and the Ohio Valley, pushing into the Mid Atlantic as the days go by. Some areas of Kentucky could see 3″+ by this time next week. (Via Weather Prediction Center)
Storm Chasing at 14,000 ft? Nice shot from Instagrammer caelebi of the storms coming across the mountains.
Chilling Out. Pikes Peak actually received snow on Saturday, and it was still intact Sunday morning! Now that's frosty.
Another Wintry Scene. This might look like snow, but it's actually small hail that came down in sheets. Powerful storms kicked up a ton of these ice pellets and left people with almost enough to shovel!
Impressive Hail Reports. Saturday's winner was Broadus, MT, where they had hail as large as grapefruits. There were also reports of tornadic activity, but they were just brief touchdowns in open fields and rural areas with minimal damage (if any). That's always good news!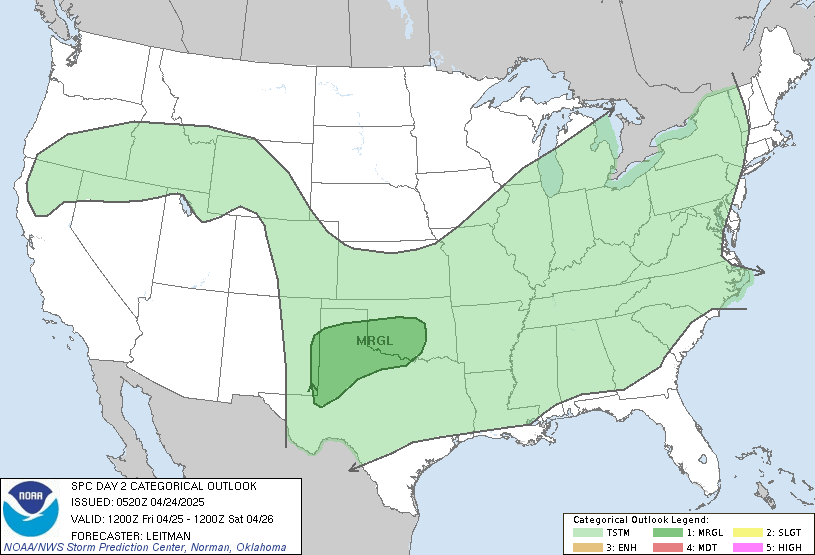 Severe Weather Scenarios. Here's the next three days ahead — expect a bundle of energy across the Dakotas to slide southeast slowly. Main threats here will be wind and hail with a possibility of an isolated tornado.
 Check back in to WeatherNation for more updates on the storm threat and your local forecast on the 5's! Have a great week ahead. -Meteorologist Miranda Hilgers