Karen Weakens Further – Landfall Later Sunday As Potent Rain-Maker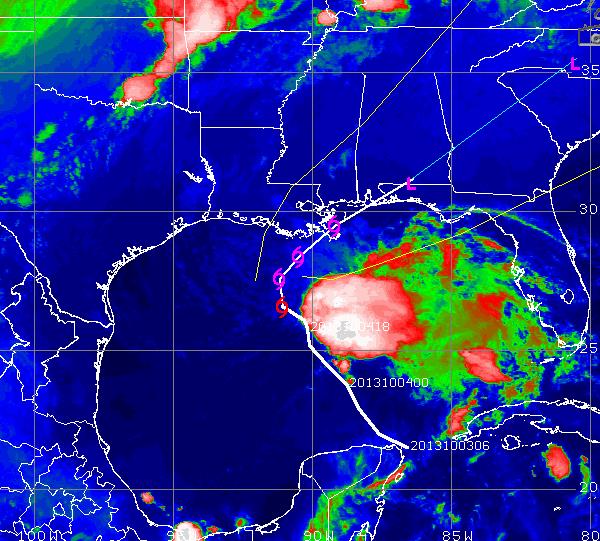 Here is what has changed overnight:
* Karen is a minimal Tropical Storm with 40 mph sustained winds. The weakening phase we witnessed Friday has continued, due to persistent wind shear and dry air being entrained into the core of this sputtering storm. Central pressure has risen, underscoring a continued weakening phase.
* Karen is making the predicted turn to the north, but most of the convection (heavy T-storms) with the heaviest rains and strongest winds 80 miles east of the storm center, evidence of a storm in distress.
* Some slight strengthening can't be ruled out, but it increasingly looks like Karen will brush the Gulf Coast as a tropical storm or even a strong tropical depression with the main risk being locally heavy rain and flash flooding, especially near Mobile and Pensacola.
* Karen is moving slower – first landfall near the mouth of the Mississippi has been pushed back a few hours, to 10:45 AM ET Sunday, with a second landfall along the coast of Alabama or Florida Panhandle Sunday night.
* Storm surge concerns have eased a bit, but a 2-3 foot surge is still possible, with a 4 foot surge at Chandeleur Sound just east of New Orleans late tonight. The main risk from Karen will be heavy inland rains falling on wet topsoil and a few isolated tornadoes as the storm comes ashore.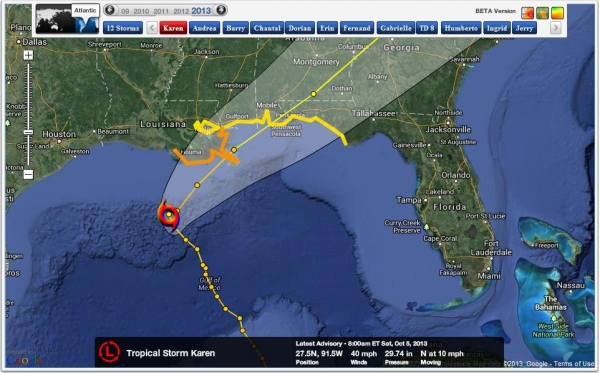 Latest Coordinates. Karen is 185 miles southwest of the mouth of the Mississippi, pushing north at 10 mph. A turn to the northwest is expected later today and tonight as Karen interacts with an approaching cold front capable of nudging the storm toward Mobile and Pensacola Sunday.
A TROPICAL STORM WARNING IS IN EFFECT FOR...
* MORGAN CITY LOUISIANA TO THE MOUTH OF THE PEARL RIVER

A TROPICAL STORM WATCH IS IN EFFECT FOR...
* METROPOLITAN NEW ORLEANS
* LAKE MAUREPAS
* LAKE PONTCHARTRAIN
* EAST OF THE MOUTH OF THE PEARL RIVER TO INDIAN PASS FLORIDA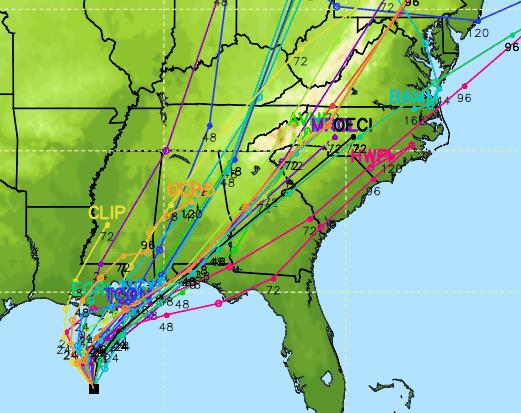 Less Uncertainty Over Track. The track fan or cone is still fairly wide, considering landfall is 36 hours away. Keep in mind that most of the heavy rain associated with Karen's (sloppy) circulation is well east of the storm center, so it's best to focus on an area to the right (east) of where Karen finally comes ashore.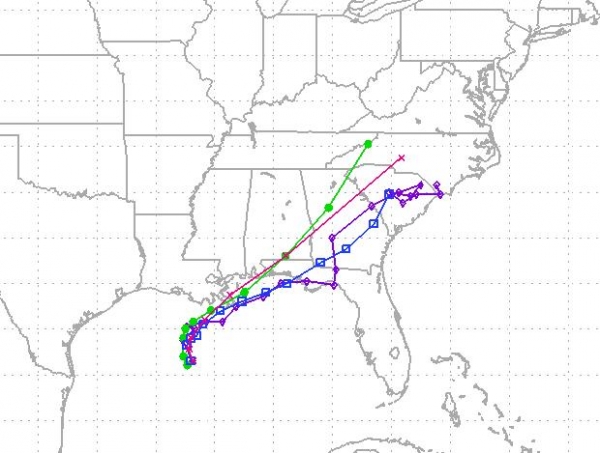 Weak Storm – But Longer Runway. Although Karen still looks unimpressive, and will impact the Gulf Coast as a weak tropical storm or strong tropical depression, a turn to the northeast or east-northeast will prolong the impacts (specificially heavy rain). The greatest potential for 3-6″ rains tonight into Sunday night and early Monday come from Mobile to Pensacola and Panama City, where a moderate risk of flash flooding remains.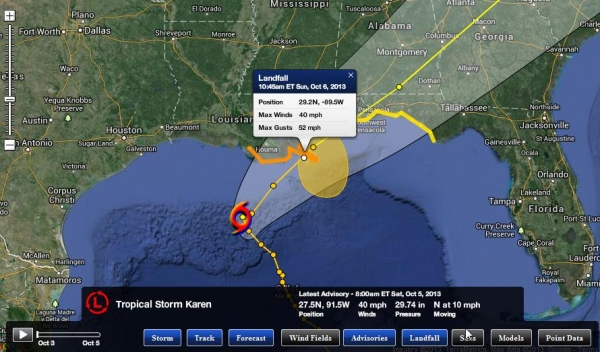 Revised Landfall. Internal models show a (first) landfall of a minimal tropical storm near the mouth of the Mississippi after 10 AM ET Sunday, with sustained winds of 40 mph, gusts over 50 mph, capable of minor wind damage and a 2-4 foot storm surge east of New Orleans, closer to a 1-3 foot surge at high tide from Gulfport to Pensacola Sunday night.
Summary: Karen is symbolic of the Atlantic hurricane season, to date: a fizzle. I'm not totally discounting this storm. There should be impacts from heavy rain and isolated tornadoes, mainly east of where Karen finally comes ashore Sunday into early Monday. Some level of urban and small stream flooding is likely, and sporadic power outages can't be ruled out. But the situation is considerably less dangerous than it was 2 days ago. Karen may wind up being more of a messy inconvenience than a storm.
Paul Douglas/Senior Meteorologist- Alerts Broadcaster
Alerts Broadcaster provides severe weather and natural hazard intelligence to businesses worldwide through Alerts, Briefings, and Business Continuity Consultation.  Alerts Broadcaster meteorologists are working  24×7  to provide analysis and perspective that is crucial to your company's severe weather response. Contact us to learn how Alerts Broadcaster can help protect your organization, staff and patrons: http://www.alertsbroadcaster.com/contact/