Latest Details on Major Storm Impacting Thanksgiving Travel (unconventional ways to stay warm in the coming months)

Half a November

It's a little odd shivering through the chill without any snow on the ground. Perpetually-frustrated snow lovers are starting to feel cheated again.

A paltry inch of wet snow has dribbled on the Twin Cities this month. We should have picked up over 7 inches by now. Adding insult to injury much of north Texas and the hills of Georgia have picked up more snow than MSP this month.

Another upside-down weather map.

If you listen carefully you can almost hear the gnashing of teeth and shrieks of frustration from travelers out east. A coastal storm soaks D.C., New York & Boston with 2-3 inches of rain; heavy snow cakes the Appalachians on the busiest travel day of the year. Proving that Old Man Winter has a wicked sense of humor.

A scrawny clipper brushes the Arrowhead with 1 inch of snow today; otherwise plan on dry skies (and roads) into the weekend with slowly moderating temperatures. Mid 30s return the first half of next week with a little snow or mixed precipitation.

I still don't see The Big One.

Temperature may fall off a cliff in 8 days: single digits & low teens with subzero lows after December 4? But major storms detour well south and east of Minnesota into mid-December.
---
Thanksgiving Highs. With a low sun angle and short duration of daylight maximum temperatures take place early in the afternoon. The map above shows 3 PM temperatures on Thursday, courtesy of NOAA's 12km NAM and Ham Weather.
---
Thanksgiving Weather Details. We lucked out here in the Upper Midwest, but folks out east are not taking quiet weather for granted, not today. The most traveled day of the year is a rainy, windy, icy, snowy mess. A surge of cold air on the backside of this powerful coastal storm will push the freezing line to the Gulf Coast and Florida Panhandle – highs in the 50s over south Florida Thanksgiving Day. Brrr. Hey, we grill at that temperature here in Minnesota, but everything is relative. More travel weather details, and late November tornado climatology in today's edition of Climate Matters.
---
Snowfall Totals. The heaviest snow bands are forecast to set up from northwestern Pennsylvania into upstate New York and northern New England. Lake Effect snows will drop some 5-10″+ amounts over the U.P. of Michigan and northern Indiana. NAM 84-hour snowfall courtesy of NOAA and Ham Weather.
---
Exit Stage Right. Today will test your patience if you're traveling anywhere from the Great Lakes and New England to the Mid Atlantic states; heavy rain pushing up the east coast, changing to heavy snow over the Appalachians. The good news: this storm will be well out to sea by Thanksgiving Day. 4km NAM Future Radar courtesy of NOAA and Ham Weather.
---
Everything You Know About Getting Warm Is Wrong. Huffington Post has a timely article about methods for staying warm in the coming months; what works, and what just makes the situation even worse. Here's an excerpt: "…Drinking alcohol lowers your core body temperature, increases your risk for hypothermia and prevents your body from naturally shivering to keep warm. The reason why you feel warm while drinking alcohol is that your blood vessels dilate and send warm blood away from your core and towards your skin. This effect is only temporary and in the end significantly decreases your body's ability to fight the cold…"
---
Growing Signs Of El Nino In 2014. The graphic above is from NOAA's latest ENSO update; after years of a perpetual La Nina cooling phase of the equatorial Pacific there are growing signs of a possible El Nino warming phase developing by early 2014; which may, in turn, favor milder than normal temperatures, and a southern storm track across the USA into the latter half of winter. It won't be declared an official El Nino event until and unless we go at least 3 consecutive months with sea surface temperatures .5C warmer than average.
---
Alerts Broadcaster Briefing: Excerpt of a summary issued Tuesday, November 26, 2013.

* The most ill-timed storm of 2013 is pushing heavy rain and snow up east coast; heavy rain still likely for eastern seaboard – plowable snows for the Appalachians, Blue Ridge Mountains and Shenandoah Valley. Heaviest snows expected over western Pennsylvania and upstate New York.
* 2-4″ rains along and east of I-95 later today, tonight and Wednesday morning will trigger sporadic urban flooding.
* Travel by land and air will continue to be disrupted; the worst of the storm along the I-95 corridor from Tuesday evening into Wednesday morning.
* Storm pushes into the Atlantic by Thanksgiving Day – no problems on Thursday.
* Typhoon Lehar forecast to strike the eastern coastline of India (Andhra Pradesh region) as a strong tropical storm or weak hurricane Thursday.
---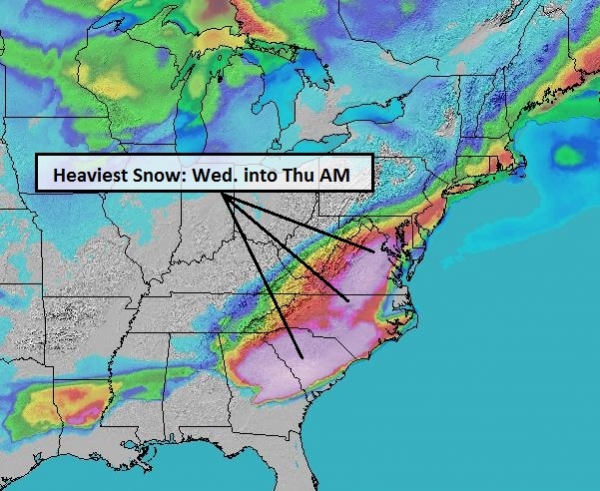 Snowfall Potential. Snowfall amounts will be tied to elevation; higher terrain of the Appalachians will nudge precipitation from rain over to snow, with enough to shovel, plow and snarl traffic from near Asheville, North Carolina into eastern Kentucky, eastern Ohio and much of central and western Pennsylvania and New York state – enough snow to cause problems generally west of I-81. NAM model: Ham Weather.
---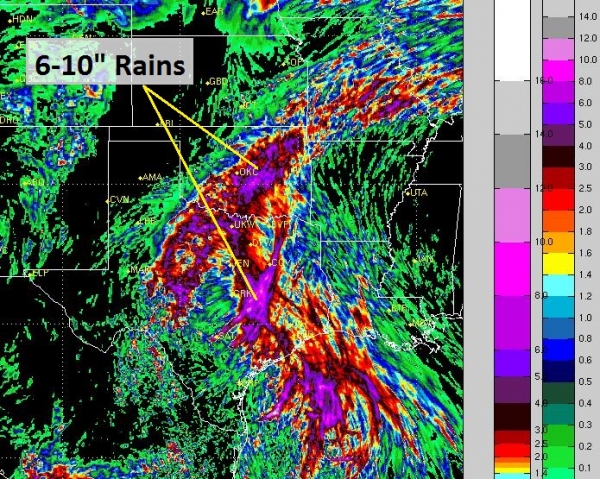 Another Solution. The RPM model isn't nearly as impressive in terms of snowfall totals, but I'm a little skeptical about this solution. It shows the axis of heaviest snow from near Youngstown, Erie and Buffalo to Rochester and Syracuse, which is realistic. Little or no snow is expected east of I-95. Map: WSI.
---
A Burst of Torrential Rain. Most eastern cities will experience a 6-10 hour period of moderate to heavy rain – as much as 2-4″ from near Charlotte to Washington D.C., New York, Hartford and Boston, triggering urban and small stream flooding (and excruciatingly slow commutes and travel times) later today into Wednesday morning. Map: NOAA.
---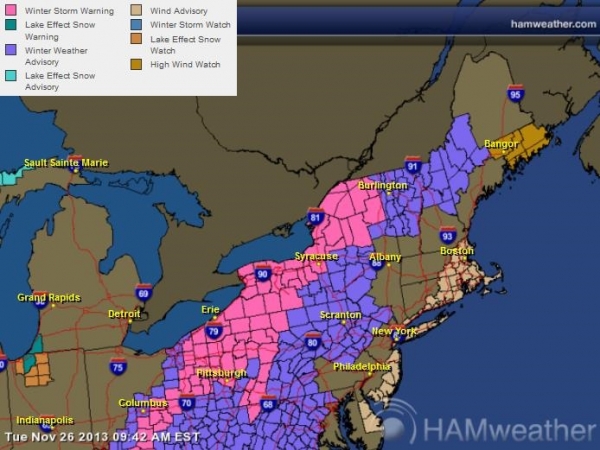 More Warnings. The heaviest swath of snow comes from south and east of Columbus to Pittsburgh, Erie, Buffalo, Rochester and Syracuse, where Winter Storm Warnings are in effect. Winds along the Atlantic coastline will gust into the 25-40 mph range tonight and early Wednesday. The latest warnings from NOAA and Ham Weather are here.
Summary: A major storm is now pushing out of the Gulf of Mexico, tracking right up the East Coast Wednesday. This will be a (heavy) rain event for most of the east coast, with heavy, wet snow over the Appalachians, some accumulating snow as far west as Lexington, Kentucky and Columbus, Ohio. The arc of heaviest snow tracks from western Pennsylvania into upstate New York, with some 10-18″ amounts possible near Syracuse and Rochester. For the major east coast city centers this will be a heavy rain event, and travel plans/commutes will be disrupted over the next 36 hours. Lousy timing, but I'm reminded of this uncanny fact: storms (given a choice) prefer to come right before major holidays.

Paul Douglas – Senior Meteorologist – Alerts Broadcaster
---
Ski Texas. Tuesday's visible satellite image clearly showed freshly fallen snow over the Texas Panhandle, extending into southwestern Oklahoma. Image courtesy of the Lubbock office of the National Weather Service.
---
---
Least Active Atlantic Hurricane Season In 30 Years. Meteorologist Andrew Freedman has a good summary of a head-scratcher of a hurricane season at Climate Central; here's an excerpt: "Defying dire outlooks issued in the spring, the 2013 Atlantic hurricane season, which officially ends Nov. 30, was the least active since 1982, and the sixth-least-active season since 1950, the National Oceanic and Atmospheric Administration (NOAA) said on Monday. There were no landfalling hurricanes in the U.S. in 2013. In fact, it has been more than 8 years since the last major hurricane of Category 3 intensity or greater struck the U.S., a record stretch. The last major hurricane strike occurred in 2005, when Hurricane Wilma hit Florida. When the start of the 2014 Atlantic hurricane season rolls around on June 1, 2014, it will have been 3,142 days since that storm made landfall, a record timespan…"

Graphic credit above: "Map of 2013 tropical storm and hurricane tracks." Credit: Wikimedia Commons. 
---
The Pioneers Of Seasonal Hurricane Forecasting Might Stop Doing It. They insist it has nothing to do with this year's poor track record, as reported by SFGate.com; here's a clip: "…Many seasonal forecasters predicted that overall activity — measured in terms of the number of storms, their intensity and their duration, would be as much as twice as high as average levels. Instead activity was only about 30 percent of typical levels, or one of the five quietest years in the last half century of Atlantic hurricane seasons. Now comes word that the dean of seasonal forecasting, William Gray and his co-author Phil Klotzbach, of Colorado State University, may be ending their forecasts. It has nothing to do with their poor forecast this year, they say…" (Image credit: NASA).
Climate Stories…


Research Suggests Future Global Warming Has Been Underestimated. UPI has the article – here's a clip: "Global warming could go on for centuries even with a complete stop of CO2 emissions and then stabilize at an even higher temperature, a Swiss scientist says. Researcher Thomas Frolicher says computer models contradict the assumption by many scientists that global warming would come to an end if, some day, humans succeed in ending the release of greenhouse gas emissions into the atmosphere. Frolicher and U.S. colleagues report they've used a model that represents physical and biogeochemical processes — such as the exchange of greenhouse gases and heat with the oceans — at a far more detailed level than many previous models…"
---
What 11 Billion People Mean For Water Scarcity. Yahoo News has the story – here's the introduction: "The water woes plaguing the Southwest foreshadow a worldwide problem to come. Already, 2.7 billion people globally face at least some water scarcity, according to a 2012 study detailed in the journal PLOS ONE. Fights over water rights are causing political conflicts and instability in such places as the Nile valley and the Indian subcontinent. As population sizes rise, those conflicts will get more intense, according to a report by the National Intelligence Council, which advises the director of national intelligence for the United States about national security issues. And the latest population models predict that 11 billion people will live on Earth by 2100, according to a United Nations report released last summer…"
_____________________________________________________________________________________
ABOUT ME
Welcome to the WeatherNation blog. Every day I sift through hundreds of stories, maps, graphics and meteorological web sites, trying to capture some of the most interesting weather nuggets, the stories behind the forecast. I'll link to stories and share some of the web sites I use. I'm still passionate about the weather, have been ever since Tropical Storm Agnes flooded my home in Lancaster, PA in 1972. I've started 5 weather-related companies. "EarthWatch" created the world's first 3-D weather graphics for TV stations – Steven Spielberg used our software in "Jurassic Park" and "Twister". My last company, "Digital Cyclone", personalized weather for cell phones. "My-Cast" was launched in 2001 and is still going strong on iPhone, Android and Blackberry. I sold DCI to Garmin in 2007 so I could focus on my latest venture: WeatherNation. I also write a daily weather column for The Star Tribune startribune.com/weather And if you're on Twitter, you'll find me @pdouglasweather.