Major Storm Central USA (tornado potential, heavy wet snow, growing flood risk)
A major storm is spinning up for the central USA, capable of impacting towns from Denver to Dallas to the Twin Cities from Monday thru Thursday of this week with a wide variety of potentially disruptive weather:

– Significant tornado outbreak possible the first half of this week. Tuesday looks like the most violent day from Dallas and Oklahoma City to Kansas City and St. Louis, with a few large, violent, long-track tornadoes expected.

– Heavy wet snow will fall from Wyoming and Colorado's Front Range across the Dakotas, potentially plowable amounts of slush into part of Minnesota, Wisconsin and Lower Michigan by Wednesday and Thursday. Yes, this is unusual for the second week of April.

– Flood risk. The ground is still frozen over most of the Upper Midwest – any heavy rain will run off into streets, streams and rivers. I expect river flooding (and urban flooding) to be on the increase over the next 72 hours. Details: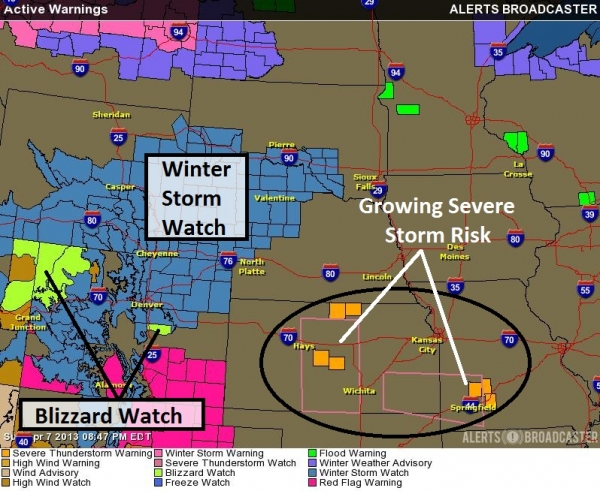 Latest Watches
. Denver may pick up as much as 5-10″ of snow from Monday night into Tuesday. Blizzard Watches are posted for portions of Colorado, a Winter Storm Watch from the Central Rockies into the Dakotas and western Nebraska. Severe thunderstorms are already popping up over the Plains; the potential for severe weather will increase into Tuesday.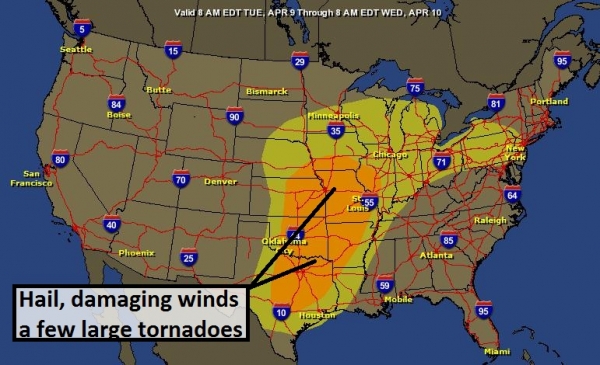 Tuesday Severe Storm Potential. Severe storms are likely over the Plains Monday into Wednesday, but I suspect Tuesday will be the busiest day as dynamics converge for a few large, potentially violent tornadoes from Austin and Dallas northward to Tulsa, Wichita, Kansas City, St. Louis, even Des Moines. The timing is right – I expect SPC to upgrade the risk to "moderate" within 24 hours.


Be On Alert
. There is a 30% probability of severe weather (58 mph+ winds and/or 1″ hail or larger) within 25 miles of metropolitan areas from Dallas and Oklahoma City to Kansas City and Topeka on Tuesday. I expect numerous Tornado Watches and Warnings, with the greatest potential for damaging winds between 3 pm and 8 pm.

Cities Potentially Impacted Tuesday. Here is a close-up of the significant severe threat area, which includes Waco, Wichita Falls, Wichita, Springfield and the suburbs of Kansas City.


Serious Slush Potential. Chicago should avoid any snowy headaches, but enough snow to shovel and plow is expected from Denver into South Dakota and western and central Minnesota. A few inches of slush may accumulate on lawns and fields in the Twin Cities Wednesday night into Thursday – most freeways should stay wet.
 
Sliding Into A Much Wetter Pattern – Growing Flood Risk
. The GFS model is printing out impressive rainfall amounts with this storm by Friday evening, as much as 4″ from near Omaha and Lincoln to Des Moines; some 2-3″ amounts near Milwaukee, Chicago and Detroit. This may complicate river flooding later this week.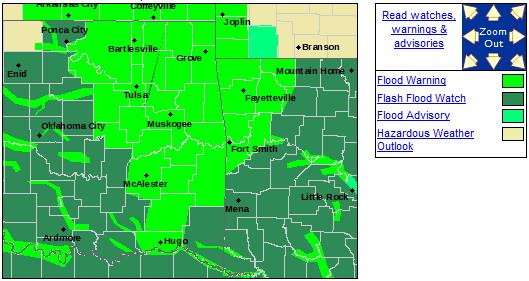 Flood Update. Major flooding is already underway near Devil's Lake, North Dakota, and along the East Fork of the Black River in Wisconsin. I expect river flooding to intensify later this week – the greatest concern is along the Red River flowing through Fargo, where a crest is still probably 1-2 weeks away. Urban flooding later this week is most likely from Des Moines into the Twin Cities, Milwaukee and possibly the greater Chicago area.

Summary: The calendar says April, but the weather maps still look like something out of early March. An unusually intense spring storm will elevate the risk of heavy wet snow (western Plains and Upper Mississippi Valley), significant river flooding from some 1-4″ rainfall amounts, and a substantial risk of severe storms, hail, damaging winds and a few large, violent tornadoes by Tuesday from Dallas to Kansas City. After peaking in the 60s earlier today Denver will see 5-10″ snow Monday night into Tuesday; I expect numerous delays and cancellations at KDEN Tuesday. We'll watch the storm unfold and provide updates as needed.
Stay tuned for more. – Paul Douglas, Senior Meteorologist, Alerts Broadcaster
_____________________________________________________
ABOUT ME
Welcome to the WeatherNation blog. Every day I sift through hundreds of stories, maps, graphics and meteorological web sites, trying to capture some of the most interesting weather nuggets, the stories behind the forecast. I'll link to stories and share some of the web sites I use. I'm still passionate about the weather, have been ever since Tropical Storm Agnes flooded my home in Lancaster, PA in 1972. I've started 5 weather-related companies. "EarthWatch" created the world's first 3-D weather graphics for TV stations – Steven Spielberg used our software in "Jurassic Park" and "Twister". My last company, "Digital Cyclone", personalized weather for cell phones. "My-Cast" was launched in 2001 and is still going strong on iPhone, Android and Blackberry. I sold DCI to Garmin in 2007 so I could focus on my latest venture: WeatherNation. I also write a daily weather column for The Star Tribune startribune.com/weather And if you're on Twitter, you'll find me @pdouglasweather