Midwestern Flooding – Still February Upper Mississippi Valley – Spring Finally Arrives Late Next Week
40% risk of a record-breaking flood in Fargo? Up from 15% threat earlier this week. Details below.

Head-shaking Weather
Can we please talk about something other than the weather? No, I guess not. Look at the bright side: a low mosquito count, delayed allergy season, and all this frozen moisture will turn your lawn a bright shade of green within 10 days, give or take. That, and as I speculated months ago, our drought is fading – trends are encouraging.
Unless you live in Fargo, where there is now a 40% threat of record flooding – the result of heavy snow pack and the specter of rapid warming the next 2 weeks. The one thing I feared was a "light-switch" spring. Going from knee-deep slush to shirtsleeves in a week or two sounds good, unless you live near a river.
Two months ago barges were grounded on the Mississippi – now flooding is predicted; Chicago bailing out form 4-7″ of rain – almost 2 month's worth in 48 hours.
Serious weather whiplash.
Snow tapers this morning – the drive home later today should inspire fewer expletives.
The sun comes out tomorrow – the atmosphere warm enough for rain showers on Sunday.
Consistent 50s arrive the latter half of next week; a shot at 60F a week from tomorrow.
Watch, we'll go from snow to floods and random tornadoes in the meteorological blink of an eye. Get ready for a volatile year.
* thanks to Nick and Shannon Olsen from Minneapolis for having a well-developed sense of humor, and having the courage to put their Christmas lights back up!
** latest snowfall totals from NOAA are here.
What April? As of yesterday 29% of the USA had snow on the ground, according to NOAA data; as much as 15-25″ on the ground from the Red River Valley into northern Wisconsin and the U.P. of Michigan.
Snow Water Equivalent. NOAA models show as much as 6-10″ of liquid water trapped in the snow pack over the Red River Valley, some 8-10″ amounts over far northern Minnesota. How fast we warm up, coupled with the potential for more rain, will determine snowmelt rates, and the potential for major, even record, flooding on the Red River.

Please God – Let This Forecast Verify. ECMWF model data (WSI) valid a week from Sunday shows a strong southwest flow at all levels of the atmosphere; highs may reach the 60s, with 70s over the Central Plains. A taste of, you know, spring. We'll see.
Fargo Girds For Flooding That Could Hit Record. I am increasingly concerned about the potential for major flooding in Fargo/Moorhead, the result of recent heavy (record) snows, a delayed spring, and the prospect of sudden warmth later next week. Here's an excerpt from The Wall Street Journal: "The flood forecast for Fargo, N.D., on the northward-flowing Red River of the North, has darkened in recent weeks after a big snowstorm last weekend and lingering cold temperatures that have brought the slowest spring melt on record. On March 21, flood forecasters set the chances of a record-breaking flood at 15%. On Wednesday, a new forecast raised that number to 40%. "This is uncharted territory," said Greg Gust, a meteorologist with the National Weather Service in Grand Forks, N.D. Despite the chances of another snowstorm and cool temperatures to the south of the city, significant melting is expected to start in that region this weekend, Mr. Gust said. The river is expected to rise rapidly at Fargo in the next two weeks, with a crest expected by the end of the month, he said…" (photo: Think Progress).
* more 2013 flood forecast details from the Grand Forks, ND office of the NWS here.


April: Snowiest Month Of The Winter Season In Fargo. Amazing but true, and that's why there's growing concern about Red River flooding – so much snow coming so late in the season. Details from NOAA. (photo: Imara Hixon).
MONTH                       MONTHLY SNOWFALL
OCTOBER 2012                3.6 INCHES
NOVEMBER 2012               4.8 INCHES
DECEMBER 2012               5.1 INCHES
JANUARY 2013                9.2 INCHES
FEBRUARY 2013               14.4 INCHES
MARCH 2013                  14.6 INCHES
APRIL 2013                  14.8 INCHES…AS OF APRIL 17TH
Weather Whiplash: Flood Potential Along Mississippi River in Missouri. Just a few months ago there was so little water in the Mississippi that barges had to be lightened before floating downstream. Now there's a very real prospect of flooding on stretches of the Mighty Mississippi. Details on this amazing change in this New York Times article.
Alerts Broadcaster Briefing: Here is an excerpt of a briefing for our corporate clients, prepared midday Thursday:

Severe Flooding In Chicago Area. Parts of Chicagoland have picked up 5-7″ rain in the last 2 days. Extensive flash flooding is being reported, impacting travel and facilities in low-lying flood-prone areas. Details below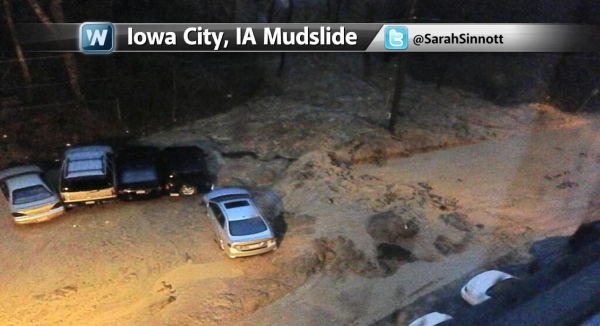 Mudslides. Heavy (5-6″+) rains falling on saturated soil have resulted in extreme run-off in the Iowa City area, near Des Moines, with reports of mudslides. Much of the Midwest has transitioned from drought to flood in the span of less than a week. Another case of weather-whiplash.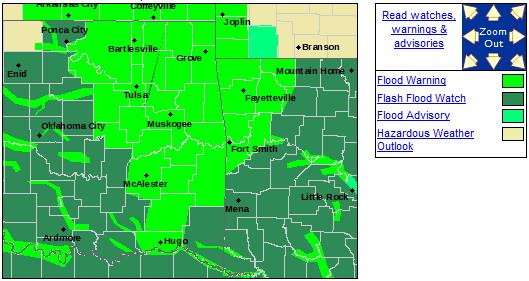 Flooding Underway. The purple dots above show major flooding currently being reported: on the East Branch of the DuPage River at Bolingbrook, and the North Branch of the Chicago River in Chicago. Flash flooding will impact travel and threaten low-lying facilities with urban and stream/river flooding into at least Saturday morning before waters begin to recede. The latest information for the Chicago area is here.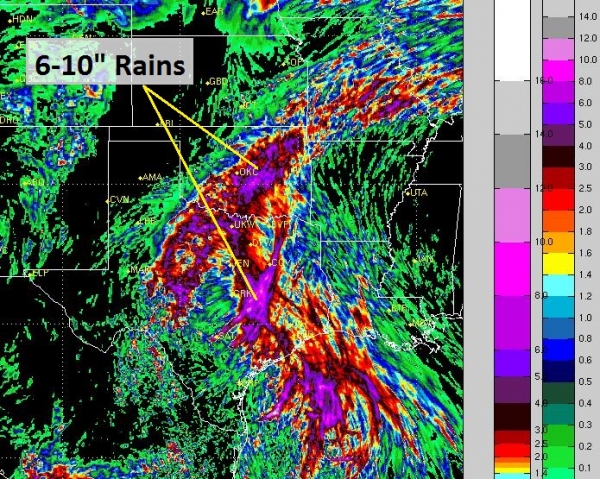 What Spring? Residents of the Upper Midwest are losing their stoic sense of weather-humor. The same storm spinning up tornadoes and flooding out parts of the Midwest will dump another plowable snowfall from northwest Iowa into much of Minnesota and the northwest third of Wisconsin. The Twin Cities is expecting some 3-6″ amounts tonight and early Friday, as much as 10-12″ from Duluth into the U.P. of Michigan. Perfectly normal…for late February.
Wisconsin Tornado Drill Later Today. Here's more information on today's drill from Todd Krause at the local Twin Cities NWS. Due to a risk of severe storms over Wisconsin Thursday the drill has been delayed until today. Details:

Wisconsin Schedule for Friday, April 19, 2013:
1:00 p.m. Test watch.  The test "Watch County Notification" (WCN) with the list of counties will be issued by all five weather offices that serve Wisconsin.  SPC will also issue a test WOU.  Weather Radios will activate with the real TOA code.
1:45 p.m.  Test Tornado Warning (TOR) issued by all weather offices that serve Wisconsin. Weather Radios will activate with the real TOR code.
2:00 p.m.  Test Severe Weather Statement (SVS) issued to announce the end of the test warning. No alarm on weather radio.
High-Tech Clear Channel Billboards Will Deliver Tornado Warnings. Here's a press release from Dan Luna, Meteorologist In Charge of the Twin Cities National Weather Service, that caught my eye yesterday:
"Today I had the pleasure of participating in a press release with Hennepin and Ramsey County EM's, Hennepin County Board Chair, MN State Highway patrol, and the President of Clear Channel Outdoor Communications. "Tornado warnings on ClearChannel Signs Debut During Severe Weather Awareness Week"
The EMs in Ramsey and Hennepin Counties partnered with Clear Channel to display our tornado warnings on electronic billboards, assuming the warning polygon falls in the siren zones. In other words, if we issue a tor for western Hennepin (not Minneapolis) the billboards in Minneapolis will display their typical advertising. if the polygon/siren zone falls within downtown Minneapolis, the warnings will displace the advertisement. There are 47 billboards that can display the warning, most in the west and south areas of Hennepin County.
In addition, Hennepin County has 6 other electronic signs with will display similar information. 

Future endeavors include the MNDOT signs on the freeway system, and electronic signs on Lake Minnetonka warning of not only "No Wake" zones, but severe weather too. The Hennepin County EM and I have been working on this for the last several months. Hennepin County purchased about 13 weather sensors recently and we should get that data in the near future. Wright County is looking at purchasing a few sensors as well.
Attached (photo above) is a photo of our Hennepin County EM (Eric Waage) at this mornings press release, with "test" Tornado Warning on 3 different billboards in downtown Minneapolis."
* This is a promising development. As I've been saying for years, the more sources of critical, time-sensitive information, especially tornado warnings, the greater the odds you'll get the potentially life-saving nugget of information in time to do something about it. That means NOAA Weather Radio, local TV and radio, sirens, apps on smart phones, Internet e-mail alerts, and now "smart billboards".
East Coast Rebuilding, But Vulnerable To Future Sandy's. Here's a clip from Live Science: "In the aftermath of Superstorm Sandy, local governments are rethinking how to best protect the U.S. coastline from storms and flooding, which appear likely to exert a larger toll as the result of sea level rise and climate change. The coast is now much less protected for the next storm, because Sandy's storm surge and winds destroyed dunes, flood walls and other barriers, said Joe Vietri, director of coastal and storm risk management for the U.S. Army Corps of Engineers, at a news conference here today (April 17)…"
Photo credit above: "Coastal damage caused by Hurricane Sandy". U.S. Geological Society.
Celestial Magic. I've seen a lot of great photos (and I want to thank everyone who has taken the time and effort to forward me a photo or video – I take nothing for granted). But this one took my breath away, courtesy of Steve Burns, who captured the Northern Lights and the Milky Way up at Voyageur National Park last weekend. He earned this photo, camping out in subzero weather to get the money shot: "This was taken about 3 am on Sunday morning as the galactic center of the Milky Way was rising to the east and the aurora was dancing to the north. It's a 180-degree stitch of 7 vertical captures from northwest to southeast. The light pollution at the very left is International Falls and on the far right is Ely. The aurora is a little over-exposed, but I wanted 30 second exposures for each shot to maintain consistency and really bring out the stars and foreground." Mission accomplished Steve. Great work.

"If You're Afraid Of Failing…You Won't Get Very Far" The immortal words of Apple Founder Steve Jobs. Some words of wisdom for all of us in this classic video clip courtesy of Business Insider: " This YouTube video of Steve Jobs is making the rounds again and for good reason. It's less than two minutes long and it encapsulates one of the best bits of advice Steve Jobs ever offered on how to succeed. In it, he tells of the story of being a 12-year-old kid who picked up the phone and called legendary tech founder Bill Hewlett to ask him for spare parts. Hewlett wound up giving him a job and that's where Jobs became friends with Woz and the inklings of Apple were born. It's from an interview Jobs did in 1994."
What Will The World Look Like In 50 Years? It's a tough question to answer. We all hope that things will be better for our kids and grandkids. Sustainable growth, ways to grow the economy and empower (and feed) people worldwide, while respecting the environment. Tapping neural networks and crowd-sourcing to tackle emerging problems. It's in our DNA to focus on today, what's in front of us – we have a much harder time reimagining the future. Here's a video clip from ashoka.org that may just get the gears cranking: Editor's note: This is an update from Ashoka at the Skoll World Forum.  This post was originally found on Forbes and was written by Felicity McLean, the communications manager at Ashoka UK. In our world of both exponential growth and accelerating innovation, systems of repetition are "doomed to collapse." We need to make radical changes to the frameworks in which we operate. The world is now an interconnected neural network, where problems are considered shared and where solutions are crowdsourced—we're no longer living in silos. This power of connection has begun—and will continue—to reveal what we are capable of. We must work together to redefine what "growth" and "development" really mean…"
Going Green….
Hybrid Solar System Boosts Natural Gas Powerplant Efficiency By 20 Percent. Here's an interesting mash-up of power sources, with potentially promising implications, details from gizmag.com: "Solar power holds the promise of clean, limitless energy, but it currently suffers from high costs and an inherent disadvantage of not working when the sun isn't shining. The Department of Energy's Pacific Northwest National Laboratory is taking a best-of-both-worlds approach by developing a hybrid solar/gas system that increases the efficiency and reduces the carbon footprint of natural gas power plants. The PNNL system uses a parabolic mirror to focus sunlight on a four by two-foot (1.2 x 0.6-m) chemical reactor lined with narrow channels 8.1 mm (0.318 in) wide. The sunlight heats natural gas in the channels next to a catalyst that breaks down the gas molecules into a mixture of hydrogen and carbon dioxide called synthesis gas or syngas…"
"Algae-Powered" Building Opens In Germany. This one made me do a double-take, courtesy of gizmag.com: "Splitterwerk Architects and engineering firm Arup have unveiled what is thought to be the world's first building to be powered partly by algae. Officially "unveiled" at the International Building Exhibition hosted in Hamburg, the design, dubbed the BIQ, has a "bio-adaptive" facade that is claimed to be a first for using algae within its glass-paneled facades in order to generate energy, and provide shade, to a working building…"
Photo credit above: "Splitterwerk Architects and engineering firm ARUP have unveiled the worlds first algae powered building at the International Building Exhibition hosted in Hamburg." (Photo: Arup)
Climate Stories….
What Killed The New Electric Car? Here's the intro to a story at The New Yorker documenting the travails of Fisker Automotive: "Fisker Automotive, maker of the Karma, a hundred-thousand-dollar electric-gas hybrid sports car, is in deep trouble. It's laid off seventy-five per cent of its workforce, hasn't produced a single car in nine months, and may well declare bankruptcy in the next couple of weeks. And opponents of the U.S. government's attempts to invest in green energy couldn't be happier, since Fisker received nearly two hundred million dollars in loans from the Department of Energy under a program designed to foster investment in electric and hybrid vehicles. Fisker's failure (like that of the solar company Solyndra before it) is, as a result, being held up as evidence of the futility of all government investments in green technology. Lou Dobbs said, simply, "All they pick are losers." And House Republican Jim Jordan, who will be chairing a hearing next week on the government's loan to Fisker, called the company's troubles "a very timely case study of what happens when the Department of Energy plays venture capitalist with taxpayer money…"
Climate Change Deniers Strike Out – Even In Energy-Rich Kansas. Here's an excerpt from The Christian Science Monitor: "….Despite the success of these policies in creating jobs and reducing climate-altering emissions, some of the same fossil-fuel special interest groups that have worked for years to spread false doubt about climate science are now trying to do the same to clean energy. The North Carolina Solar Center, a public service center at North Carolina State University, counts more than 40 pieces of legislation or lawsuits in more than 20 states aimed at reversing progress on clean energy. But opponents of renewable energy don't have the facts on their side. And thankfully, that still matters. A bipartisan majority of state lawmakers in Kansas just voted to kill two bills aimed at weakening their state's renewable electricity standard, which requires utilities to source 20 percent of their power from renewable electricity by 2020. The bills were sponsored by legislative committees stacked with more than half a dozen members of the American Legislative Exchange Council (ALEC), a corporate-funded group that creates model legislation…"
Photo credit above: "Wind turbines of the Smoky Hill Wind Farm dot the countryside near Ellsworth, Kan. Kansas legislators rejected an effort to weaken a state policy that requires utilities to generate 20 percent of their electricity from wind and other renewable resources by 2020." Orlin Wagner/AP/File
Keystone XL Pipeline Exacerbates Climate Change. Here is an excerpt of an Op-Ed at Yahoo News written by Scientific American journalist David Biello: "…If Keystone XL is built, and an additional 830,000 barrels of tar sands oil flows south each day, the climate change impacts will be "unacceptable," said former NASA climatologist James Hansen on the conference call. "Yet, governments are not only allowing the development of any fossil fuel that can be found, but particularly unconventional oil like tar sands and shale oil." Based on an estimate of 598 kilograms of greenhouse gases per barrel of oil, Keystone's more than 300 million barrels a year would result in more pollution than that emitted by 37.7 million passenger cars…"
The "Hockey Stick" Slaps Back. Here's an excerpt of a very informative post summarizing recent papers and trends from skepticblog.org: "…STILL not convinced? Then we will go even further back in time, to the EPICA-1 ice cores in Antarctica (Siegenthaler et al., 2005), which drilled back over 680,000 years into the past. This core recovered air samples from trapped gas bubbles that gives us an isotopic and carbon dioxide record through the past 6 or 7 glacial-interglacial cycles (each lasting about 110,000 years, and due to the Milankovitch orbital eccentricity cycle that has been well known for decades). As these records show, at no time during any of the previous interglacial cycles did the atmospheric carbon dioxide level exceed 300 ppm, even at the warmest part—yet our planet is well above 350 ppm today, and shooting rapidly to 400 ppm in a few years and possibly to 600 ppm before the end of the century. THAT is not natural "climate variability" by any stretch of the imagination!…"
Global Warming Affects Seasonal Rainfall Patterns. Here's the intro to a review of a recent research paper at bizcommunity.com: "Two mechanisms have been found to complement each other and together shape the spatial distribution of seasonal rainfall in the tropics, according to the study by a group of Chinese and Hawaii scientists published in the 14 April 2013 online issue of Nature Geoscience. The one mechanism, called "wet-gets-wetter", predicts that rainfall should increase in regions that already have much rain, with a tendency for dry regions to get dryer. The second mechanism, called the "warmer-gets-wetter", predicts rainfall should increase in regions where sea surface temperature rises above the tropical average warming…"
Clean Energy Progress Too Slow To Limit Global Warming, Warns IEA. The Guardian has details: "The development of low-carbon energy is progressing too slowly to limit global warming, the International Energy Agency (IEA) said on Wednesday. With power generation still dominated by coal and governments failing to increase investment in clean energy, top climate scientists have said that the target of keeping the global temperature rise to less than 2C this century is slipping out of reach. "The drive to clean up the world's energy system has stalled," said Maria van der Hoeven, the IEA's executive director, at the launch of the agency's report on clean energy progress…"
Photo credit above: "The development of low-carbon energy is progressing too slowly to limit global warming, the International Energy Agency (IEA) said." Photograph: Murdo Macleod
Liberal Senator To Activists: Make Climate Change Like Immigration, Gay Rights. Here's an excerpt of a story at The Hill: "…I think there is a shift at the state level," he said, noting participation of some GOP governors in climate initiatives and that governors also "see the value of green energy in their states." "I think there is a latent movement within the Republican power structure," Whiethouse said. "The real question is, if you are concerned about the future of the Republican Party, do you want to have the image of that party, as this generation grows up, to be that they were the party that stopped and opposed action on what likely will be the most important issue in these kids' lives, and did so on the basis of a lot of propaganda and lies from the polluting industry. That is a narrative that can't be good for the party," Whitehouse said…"
EarthTalk: 4-Step Plan For U.S. To Ease Global Warming. Here's an excerpt from the NRDC and WestportNews: "…Step 1 is to cut global warming pollution via "strong legislation that caps carbon emissions and makes polluters pay for the global warming gases they produce." Step 2 involves investing more in green jobs and clean energy. Producing more fuel efficient cars constitutes Step 3. Creating green homes and buildings is Step 4. Step 5: Build more sustainable communities and transportation networks. Individuals need to play a role, too, by altering our behaviors to reduce our individual carbon footprints. NRDC has several suggestions along these lines as well. Walking, biking or using public transit instead of driving is one. If you must drive, make sure for best gas mileage that your car is tuned and your tires are properly inflated. If in need of a new car, look into a hybrid or electric that consumes less or no gasoline…"
Photo credit above: "Building sustainable transportation systems that would reduce scenes like traffic-clogged I-95, is one of the steps to reducing the greenhouse gases that are fueling global warming." Photo: Keelin Daly
"Climate Has Always Changed". That's a true statement, but now, for the first time, man is impacting, in a significant way, the chemistry of the atmosphere, by burning fossil fuels and releasing greenhouse gases into the atmosphere. Here is a good response to the "hey, climate has always changed!" meme, from veteran Denver TV meteorologist Mike Nelson, at The Yale Forum On Climate Change And The Media: "…It is absolutely true that the Earth's climate has cycled through great changes over the course of our geologic history. These changes are obvious in the fossil record — my home town area of Denver was once under a great shallow ocean. These changes result from a variety of causes, from volcanoes to continental drift to the shift in Earth's orbit on its journey around the Sun, to changes in the output of energy from the Sun. One of the key components to our Ice Ages has been what are called Milankovitch Cycles. These long-term changes in the shape of our orbit and the shift in the tilt of the Earth work like the complex gears of a clock, gradually switching our planet from Ice Age to warmer periods and back again. The Milankovitch Cycles are well documented and have been a primary driver of our changing climate for hundreds of thousands to millions of years. Now, for the first time in the Earth's history, there is evidence that these gears may be impacted by changes in the atmospheric chemistry — changes that are being caused by human activity…"
U.S. Needs A Better Disaster Plan. Here's an excerpt of an Op-Ed at The Los Angeles Times that resonated: "…Natural disasters have become increasingly costly to the United States, both in terms of the toll they take on American communities and in the direct costs of mounting a federal response. The federal government spent about $150 billion on relief efforts after Hurricane Katrina, and has so far committed about $60 billion for Superstorm Sandy. The best estimate going forward is that the federal government will spend in the neighborhood of $50 billion a year (in constant dollars) on natural disasters, up from less than $10 billion a decade ago. What accounts for this increase? In the words of environmental geographer Gilbert White, "Floods are acts of God, but flood losses are largely acts of man." Although climate change may be making the occurrence of major storms and floods more frequent, poor planning and bad development decisions are making disasters more expensive…"
_____________________________________________________
ABOUT ME
Welcome to the WeatherNation blog. Every day I sift through hundreds of stories, maps, graphics and meteorological web sites, trying to capture some of the most interesting weather nuggets, the stories behind the forecast. I'll link to stories and share some of the web sites I use. I'm still passionate about the weather, have been ever since Tropical Storm Agnes flooded my home in Lancaster, PA in 1972. I've started 5 weather-related companies. "EarthWatch" created the world's first 3-D weather graphics for TV stations – Steven Spielberg used our software in "Jurassic Park" and "Twister". My last company, "Digital Cyclone", personalized weather for cell phones. "My-Cast" was launched in 2001 and is still going strong on iPhone, Android and Blackberry. I sold DCI to Garmin in 2007 so I could focus on my latest venture: WeatherNation. I also write a daily weather column for The Star Tribune startribune.com/weather And if you're on Twitter, you'll find me @pdouglasweather