More Polar Pain (slushy accumulation as far south as Gulf Coast?)
---
Another Polar Plunge. Just when you thought it was safe to come out of the basement, Canada springs another enormous leak. Subzero air surges south into the Upper Midwest late Sunday and Monday, pushing across the Great Lakes into New England the first half of next week.
---
Gulf Coast Snow Event? It's one thing to be tracking a couple inches of snow for the Twin Cities, Chicago or Cleveland, but a couple inches of slush for the bayous of Louisiana, even New Orleans? That could make for quite a party on Bourbon Street. We'll see, but there's little doubt that most of America east of the Rockies will feel the chill from this latest outbreak.
---
Dangers Beyond Frostbite. Although heat claims more lives in the USA than winter cold, consistently low temperatures constrict blood vessels and increase blood pressure, increasing the potential for heart-related ailments, including heart attack. Today's edition of Climate Matters includes a look at how (and why) the pattern has been stuck for nearly 2 months, and how the same holding pattern is impacting weather from Honolulu to Sochi: "It seems like the weather, increasingly, is getting stuck." Meteorologist Paul Douglas explains this weather pattern that seems to be stuck in a rut. Swells, drought and a polar vortex! Learn how it is impacting everywhere from Hawaii/Alaska all the way to Europe. The Winter Olympics may feel more like the Summer Olympics!"
---
January School Closings May Lead To Makeup Days In June. I have a strong hunch that most Minnesota schools will close again Monday, probably Tuesday of next week. Kids should enjoy their days off now, because there won't be much celebrating in June, according to a story at The Star Tribune; here's a clip: "Can't bear the thought of another snow day? Find the scroll of school closings painful to watch? Just wait until summer arrives and Minnesota schools are still in session. Some school officials are contemplating scheduling makeup days in June as their school calendars are on the verge of being blown up by a particularly bitter winter. Teachers and parents also have found their best-laid plans badly buffeted. Most Twin Cities metro area schools have canceled classes for three days this month, and Monday's forecast of 5 below zero makes a four-peat appear possible…"
Alerts Broadcaster Super Bowl Weather Briefing: Issued Saturday, January 25, 2014.
* This is still a 204 hour forecast, the rough meteorological equivalent of predicting what the NASDAQ will be on February 3. Good luck with that. The forecast for Super Bowl weather will change as new data arrives and supercomputer predictions zero in on a reasonable solution.
* Right now I don't see any blizzards for the game itself, in fact the trend with recent computer runs is milder and drier. Temperatures may reach the 40s earlier in the day at The Meadowlands, but probably hold in the 30s for the game itself.
* The most reliable model (ECMWF) suggests dry weather most of Sunday, patchy clouds with a risk of a (rain) shower. Friday appears to be the best travel day with generally dry conditions and few delays at nearby airports. I could see a rain-snow mix on Saturday with a slight chance of a slushy coating; probably no wide-spread delays with ATC. Getting out Monday should be OK with a slow clearing/drying trend behind a cold front.
---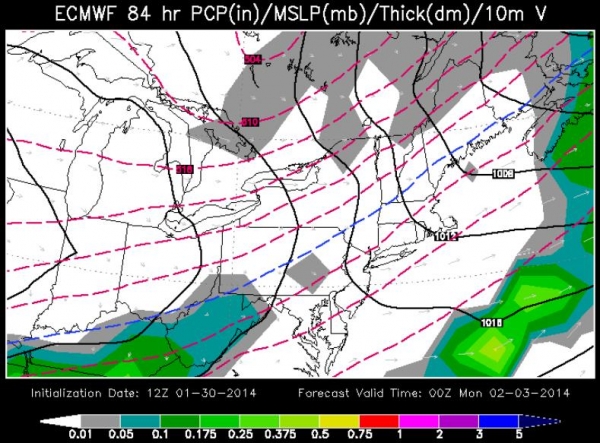 ECMWF Solution for Sunday Evening, Feb. 2, 2014. Although not gospel, this is the best guidance we have right now, suggesting a generally dry afternoon/evening in the New York City area next Sunday. Could this solution change? Absolutely. Confidence levels are still low, overall (for any solution this far out). I want to see more runs and look for consistency and continuity from run to run. Stay tuned. Graphic: WSI.
Summary: based on the best available model guidance I don't see any major weather nightmares shaping up for metro NYC for this year's Super Bowl. A nuisance rain-snow event is possible next Saturday, maybe a little slush, but with temperatures at or just above 32F I expect most (major) roads and runways in northern New Jersey to be wet vs. icy or snow-covered. The best travel days will be Friday and Monday, although getting out late Sunday night shouldn't be an issue either.
Setting Expectations: I'll provide updates each afternoon, after I've had a chance to digest the day's 12z ECMWF run to look for patterns and trends.
Broncos by 7. Trust me, I'm a weatherman.
---
Predicting Super Bowl Snow Is An Epic Forecasting Challenge. LiveScience does an admirable job tackling the complexities and impossibilities of a 2-week weather forecast (for a specific point, like The Meadowlands in New Jersey). Here's an excerpt: "…This suggests that no one should put too much stock in any single prediction two weeks out. Even the official NWS local forecasts that go out seven days need to be viewed with some caution at the far end, since their skill is little better than climatology at that point.In other words, the average high, low and precipitation amounts observed on February 2 over the last 30 years may come nearly as close to being correct as a typical weather forecast issued seven days beforehand. It's also important to distinguish between "skill" and "accuracy." One could offer a firm prediction of "no snow" a month in advance of the Super Bowl, and chances are greater than 80 percent that the forecast would be correct — but not necessarily skillful..."
Image credit above: "The variable-mesh MPAS grid can be customized to feature higher resolution where added detail is desired, as illustrated here for North America." Courtesy MPAS.
---
Biggest Storm Surge In Decades Brings Monster Waves To Hawaii And California. Details from The Sydney Morning Herald: "…Some of the biggest waves to hit Hawaii in years began slamming onto shore on Wednesday, turning beachgoers into spectators as waves up to 12 metres tall crashed into idyllic getaways. Waves up to 15 metres high were feared on the famous North Shore of Oahu and at other islands. Beaches were closed across the island chain as the surge hit on Wednesday and Thursday. Coastal roads and parking lots reportedly flooded as wind gusts up to 64 km/h whipped onlookers and tore fronds from palm trees. Officials urged surfers not to risk their lives to ride the violent surges…"
NOAA's Storm Prediction Center To Make Changes To Severe Weather Outlooks. CBS3 in Springfield has the details; here's an excerpt: "The Storm Prediction Center in Oklahoma is changing a category of their severe weather outlooks from "slight risk" to "enhanced risk." Emergency managers say the public is tuning out the word "slight," and getting caught off guard by deadly tornados that can still occur on those days. The Storms Prediction Center in Oklahoma, a branch of the National Oceanic and Atmospheric Administration, prepares severe weather outlooks for the entire country several days in advance. Their categories include slight, moderate, and high risks for severe weather..."
---
Researchers Digging Into Data On Quiet Hurricane Season. Last year's hurricane prediction was a bust – it was the quietest year in the Atlantic since 1982. What happened, and can a long-range hurricane forecast even be trusted? Here's a clip from a story at The Coloradoan: "…Gray and Klotzbach believe a significant cooling of waters in the eastern Atlantic associated with a weakening of the thermohaline circulation — or the Atlantic Multidecadal Oscillation — in the spring months was the primary reason for the inactivity. But there are significant disagreements between historical datasets about the conditions of the atmosphere during the June-November hurricane season…"
Graphic above: RMS.com.
---
Tsunami Alert. Russia's Emergency Ministry is predicting a significant earthquake/tsunami later this year off Sakhalin Island, in the far east. When did anyone start predicting quakes and tidal waves months in advance? Details from turkishweekly.net. What, you don't read this on a regular basis? And yes, I need some new hobbies…
---
Large Fault Zone Still A Threat To Central U.S. One of these days the New Madrid fault will rupture, and people will wonder why nobody was talking about the threat. Here's an excerpt of a good reminder from Discovery News: "More than a century ago in December of 1811 and January of 1812, residents in the 600,000 square kilometers around New Madrid, Mo., suffered damages from some of the most powerful earthquakes in United States history. Seismologists recently warned that the New Madrid fault didn't die and still threatens the area where Missouri, Illinois, Kentucky, Tennessee and Arkansas meet. During those 19th century New Madrid fault quakes, buildings suffered damage as far away as St. Louis and Cincinnati. As the ground fell out from underneath the Mississippi River, waves swept northward, creating the illusion that the river had reversed its course and whole islands disappeared. Closer to the epicenter of the quake, sand erupted from the ground, which dropped up to 6 meters in places…"
_____________________________________________________________________________________
ABOUT ME
Welcome to the WeatherNation blog. Every day I sift through hundreds of stories, maps, graphics and meteorological web sites, trying to capture some of the most interesting weather nuggets, the stories behind the forecast. I'll link to stories and share some of the web sites I use. I'm still passionate about the weather, have been ever since Tropical Storm Agnes flooded my home in Lancaster, PA in 1972. I've started 5 weather-related companies. "EarthWatch" created the world's first 3-D weather graphics for TV stations – Steven Spielberg used our software in "Jurassic Park" and "Twister". My last company, "Digital Cyclone", personalized weather for cell phones. "My-Cast" was launched in 2001 and is still going strong on iPhone, Android and Blackberry. I sold DCI to Garmin in 2007 so I could focus on my latest venture: WeatherNation. I also write a daily weather column for The Star Tribune startribune.com/weather And if you're on Twitter, you'll find me @pdouglasweather.