More September Than July East of Rockies (Tropical Storm Flossie to hit Hawaii; Dorian may restrengthen to tropical storm status soon)
Dog Day Siesta
I really enjoy our Minnesota summers. Both weeks. "Have you ever seen it this chilly in July?" my oldest son asked me yesterday. No, but El Nino destroyed my long-term memory, so I can't be sure of anything.
I was helping him move all his…stuff. Oh, to be 25 and living in Uptown. And a perfect day for a move, more late September than late July. At least we salvaged one nice day.
And no, this early (or late?) outbreak of sweatshirts doesn't mean an early winter, or a particularly pernicious winter is ordained. It may be my imagination but weather patterns & jet stream configurations are very odd for mid-summer. A few notable scientists suspect a link to rapid warming at far northern latitudes. The maps I'm staring at aren't even close to being "normal" – for any season.
Today will be much too nice to work hard. Leave early to enjoy 50-degree dew points & a few decorative cumulus clouds. September is a spectacular month.
Maybe we'll see 3 Septembers in a row in 2013?
Sunday Records. Both St. Cloud and Rochester set record lows Sunday morning. 43 F. in St. Cloud? I can't recall seeing temperatures this cool over central Minnesota in July. It's still July right? Map: WeatherNation TV.


Saved By Stratus. Low clouds lingered much of Saturday night, diminishing radiative cooling, preventing a rash of record lows. Officially the Twin Cities missed a record by 2 degrees Sunday morning (52 F). There were plenty of 40s, well away from the urban heat island. Map: MesoWest.


Monday Departures From Average. Most people I've talked to don't miss the sauna-like heat or humidity, but a real cool front in late July was a bit jarring for many of us. Highs today run 5-10 F. cooler than average from the Twin Cities and Des Moines to Buffalo and Pittsburgh.


Cool Bias. 250 mb. winds midday Friday show northwest winds over Minnesota and the Upper Midwest, Great Lakes and New England, swamp-like heat confined to the Central and Southern Plains. Northwesterly winds aloft may spill over into the first, even the second week of August, limiting just how hot it can get looking out 10-14 days. Map: Weather Bell.
Alerts Broadcaster Briefing
: Issued Sunday night, July 28, 2013.

Here's what we're monitoring:

* Flossie is forecast to strike the Hawaiian Island Chain late Monday into Tuesday as a tropical storm, capable of flooding rains, 7-12 foot seas, a 2-4 foot storm surge for Honolulu and Waikiki, and sporadic power outages.

* Dorian has weakened into a tropical wave, but many of the computer models show a moderate potential for strengthening; there is a 50% probability that Dorian will become a tropical storm (again), taking a westward path which will push the storm into Cuba, possibly the Gulf of Mexico within a week.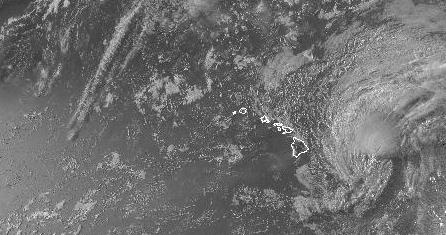 Tropical Storm Flossie. Packing 60 mph sustained winds late Sunday, Flossie is heading due west, on a course that will take the center of the storm over the Big Island and south of Oahu by Monday night and Tuesday. Some slight weakening is expected, but Flossie will hit Hawaii has a moderate tropical storm. The greatest potential for minor wind damage, flooding and power outages will come on the northern (windward) side of the Big Island Monday night. A storm surge of 2-4 feet may trigger lowland inundation and urban flooding in Honolulu and Waikiki late Monday into Tuesday morning. Details from NOAA NHC:

WIND
Tropical storm conditions are expected to reach the Big Island late tonight, Maui county Monday morning and Oahu Monday night. Tropical storm conditions are possible on Kauai and Niihau Monday night, lasting into Tuesday.

RAINFALL
Heavy rainfall is expected to begin as early as Monday morning over Hawaii county and Monday afternoon over Maui county, with heavy rain spreading to Oahu by Monday night. Flossie is expected to produce total rainfall amounts of 6 to 10 inches over the Big Island and Maui county, with isolated maximum amounts of 15 inches possible, mainly windward. Rainfall amounts of 4 to 8 inches are possible over Oahu, with isolated maximum amounts of 12 inches possible, mainly windward. This rainfall could cause life- threatening flash floods and mud slides, especially in the mountains.

SURF
Dangerously large surf will begin to impact east facing shores of the islands as early as tonight with the largest surf expected on Monday into Tuesday. Be aware that large surf can cause coastal road closures, even before the storm arrives. Please consult the latest hurricane local statement for information specific to your area.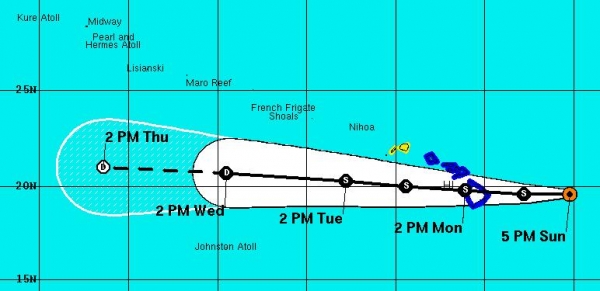 Timing Flossie. Winds and surf will gradually build during the day today, peaking Monday night and Tuesday as the center of a slowly weakening Tropical Storm Flossie passes over Hawaii. The most pervasive problem from Flossie will be torrential 4-8″+ rains, capable of significant flash flooding, especially windward side of the islands and higher terrain. Map: NHC.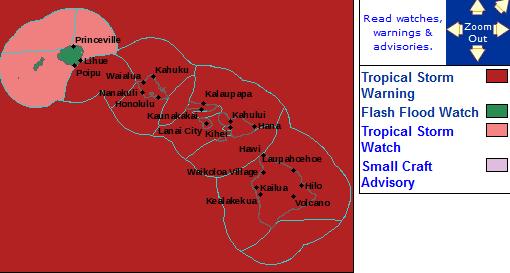 Tropical Storm Warning – Flash Flood Watch. Most of the Hawaiian Islands are under a Tropical Storm Warning, meaning 39-60 mph winds are imminent. Even higher gusts are possible over mountainous and volcanic terrain. Travel will become increasingly difficult by the PM hours Monday; the height of the storm comes Tuesday morning and midday. More details from Honolulu's National Weather Service office here.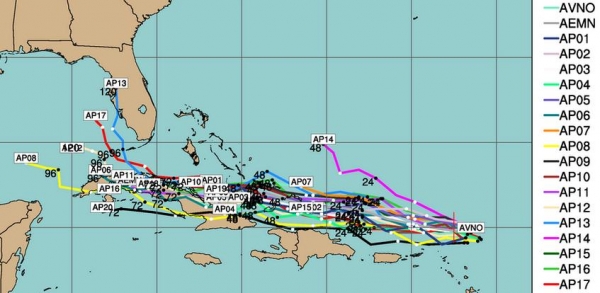 Down, But Not Out. Dorian has faded from public view for the last 36 hours, downgraded to a tropical wave as it encountered drier air and increased wind shear, literally shredding the storm's circulation. But as it moves over warmer water with (less) shear aloft conditions may favor additional intensification. Most models take the storm north of Puerto Rico, Hispaniola, impacting Cuba with potential flooding by late week or next weekend. There is a small (but not insignificant) risk that a strengthened Dorian may push into the eastern Gulf of Mexico by early next week. We have to continue to monitor the storm. Map: UCAR.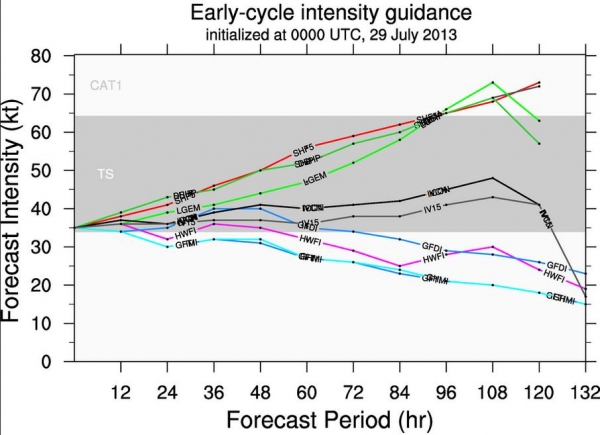 Why We Continue To Monitor Dorian. NHC places the odds of Dorian strengthening into a tropical storm again at 50% – which sounds vague, but it's a fairly strong indicator that conditions may once again favor intensification. Sure enough many of the models we study show Dorian regaining tropical storm strength within 36 hours, a few strengthen Dorian to Category 1 hurricane status within 4-5 days.

Summary: Hawaii will receive a direct strike from a moderate tropical storm later Monday into Tuesday. Facilities should be on full alert for lowland inundation from storm surge flooding. In addition 4-10″ rains may trigger considerable flash flooding; winds gusting from 40-65 mph from Hilo to Honolulu by Tuesday morning. Meanwhile Dorian shows signs of regenerating into a tropical storm, with at least a 10-20% risk of reaching hurricane intensity by late week or next weekend, posing a small risk to Florida and the Gulf of Mexico. We'll continue to monitor both storms and provide additional briefings, as warranted.


High Amplitude Pattern – 3 Sigma Deviation From Normal. The north-south sweeps of the jet stream are highly unusual for late July, over North America and Europe. According to Steve Scolnik at CapitalClimate: "What is unusual for this time year is the huge amplitude of the upper-level flow; over 3 sigma deviation from normal over North America."
European Heat Wave. Highs are forecast to soar to record levels again toda from Italy and Austria into Germany and Poland, some mid to upper 90s possible as a huge ridge of high pressure expands northward. The same high-amplitude pattern affecting the USA and Canada is also showing up on the other side of the pond. Map: meteocentre.com.
Climate Stories…
June 2013 Is Best Month Yet For Electric Car Sales. Details fromEVWORLD.com: "Almost 9,000 plug-in electric vehicles have been sold in the U.S. during June of this year, bringing the total in the last 30 months to 110,000 plug-in electriccars. If you think you've been seeing more Teslas and Nissan Leafs on the streets, it's not your imagination — there really are more of them on our roads. Just in the month of June of this year, almost 9,000 plug-in electric vehicles have been sold in the U.S. This adds to more than 110,000 plug-in electric vehicles that have been sold in this country in the last two and a half years, the Electrification Coalition reports. The Electrification Coalition is a nonprofit group composed of business leaders and industries, from battery manufacturers to automakers, and promotes the use of electric vehicles on a mass scale..."


Carbon Dioxide Power Plants: Could The Greenhouse Gas Be Used To Generate Electricity? Mother Nature Network and Huffington Post have the story; here's an excerpt: "Here's an interesting idea: What if the carbon dioxide (CO2) produced by power plants while they generate electricity could be converted into a source of additional electricity? That's the idea behind a new paper published this week in the journal Environmental Science & Technology Letters. Written by a team of researchers in the Netherlands, the paper describes how CO2 could be mixed with a fluid electrolyte, generating electrical energy in the process. A press release from the American Chemical Society, which publishes the journal, calls this a "trash-to-treasure" story, saying it could help produce billions of kilowatts of energy every year while reducing the amount ofgreenhouse gases released into the atmosphere…"


Internal EPA Report Highlights Disputes Over Fracking And Well Water.
The Los Angeles Times
 reports on internal conflicts and disagreements at the EPA over the fracking (hydraulic fracturing) and water safety; here's the intro: "
One year ago, the Environmental Protection Agency finished testing drinking water in Dimock, Pa., after years of complaints by residents who suspected that nearby natural gas production had fouled their wells. The EPA said that for nearly all the 64 homes whose wells it sampled, the water was safe to drink. Yet as the regulator moved to close its investigation, the staff at the mid-Atlantic EPA office in Philadelphia, which had been sampling the Dimock water, argued for continuing the assessment. In an internal EPA PowerPoint presentation obtained by the Tribune/Los Angeles Times Washington Bureau, staff members warned their superiors that several wells had been contaminated with methane and substances such as manganese and arsenic, most likely because of local natural gas production
…"
Photo credit
 above: "
A natural gas fracking operation on leased farmland near Dimock, Pa. The EPA says water from most wells in the area is still safe to drink, but critics and an internal EPA report suggest that the drilling method is causing methane contamination
." 
(Caroline Cole / Los Angeles Tiems / December 27, 2011).
Global Warming And The Future Of Storms. The Guardian has the story, co-authored by St. Thomas climate scientist John Abraham. Here's an excerpt: "…I asked Dr. Emanuel to summarize the present understanding of hurricanes, and he responded with the following insights:

• The incidence of high-intensity tropical cyclones (Safir-Simpson categories 3-5) should increase, and the amount of rainfall in these storms should increase, upping the potential for freshwater flooding. These changes will not necessarily occur where tropical cyclones develop and thrive today. "Indeed," wrote Emanuel, "it is likely that there will be decreasing activity in some places, and increasing activity in others; models do not agree on such regional changes."
• Though experts disagree on this point, Emanuel's work suggests that weak events (tropical storms and Cat 1-2 storms) will become more frequent.
• "Very little work has been done on the problem of storm size," wrote Emanuel, "what little research has been done suggests that storm diameters may increase with global temperature. This can have a profound influence on storm surges, which are the biggest killers in tropical cyclone disasters…"

Photo credit: 
_________________________________________________________________________
ABOUT ME
Welcome to the WeatherNation blog. Every day I sift through hundreds of stories, maps, graphics and meteorological web sites, trying to capture some of the most interesting weather nuggets, the stories behind the forecast. I'll link to stories and share some of the web sites I use. I'm still passionate about the weather, have been ever since Tropical Storm Agnes flooded my home in Lancaster, PA in 1972. I've started 5 weather-related companies. "EarthWatch" created the world's first 3-D weather graphics for TV stations – Steven Spielberg used our software in "Jurassic Park" and "Twister". My last company, "Digital Cyclone", personalized weather for cell phones. "My-Cast" was launched in 2001 and is still going strong on iPhone, Android and Blackberry. I sold DCI to Garmin in 2007 so I could focus on my latest venture: WeatherNation. I also write a daily weather column for The Star Tribune startribune.com/weather And if you're on Twitter, you'll find me @pdouglasweather