More Signs of Weather Volatility: Wednesday Blizzard Potential Chicago to Detroit
All-Time Ice Coverage Record On Lake Michigan. Here are details from CIMSS, at the University of Wisconsin: "Ice coverage on Lake Michigan set an all-time record of 93.29% on Saturday March 8th. Partial cloud cover prevented a clear view so here are two side-by-side views of the ice from March 5th and 6th acquired by the MODIS instrument on the Terra satellite. Notice how the wind shift pushed ice off-shore along the Michigan coastline on March 6th."
One Photograph That Sums It All Up. I saw the traffic jam on the beach at Fort Myers and had to laugh. It was either laugh or weep uncontrollably. Yes, it's been a tough winter, and Spring Break is going to be madness. Enough about winter – I'm as sick of snow and cold as you are right now; so let's fixate on Spring Break Weather in late March for a variety of warm weather destinations. Yes, that sounds like a good idea for today's edition of Climate Matters: "WeatherNationTV Chief Meteorologist Paul Douglas feels what much of America is feeling, that we're all sick of Winter! He reads your Facebook comments and takes a welcome trip to some warmer spots. Not all is well however as yet another winter storm takes aim at parts of the Ohio Valley and Northeast. When will it end?!"
Alerts Broadcaster Update: Issued Midnight, Monday night, March 10, 2014.

* Latest guidance more impressive for a burst of very heavy snow Wednesday morning from Chicago to Detroit. Some 8-12″ amounts are possible, and sustained winds of 30-40 mph at the height of the storm will be capable of creating blizzard or near-blizzard conditions Wednesday.
* I expect numerous airline cancellations for Chicago and Detroit area airports Wednesday; traffic gridlock is possible on area highways as temperatures drop rapidly behind the storm, falling into the teens by late afternoon with a subzero wind chill.
* Blizzard conditions may extend to Toronto and Montreal late Wednesday and Wednesday night; I still expect 10-14″ snowfall amounts for much of upstate New York and interior New England by Thursday.
* New York City will avoid heavy snow with this storm; the atmosphere warm enough for mostly rain.
---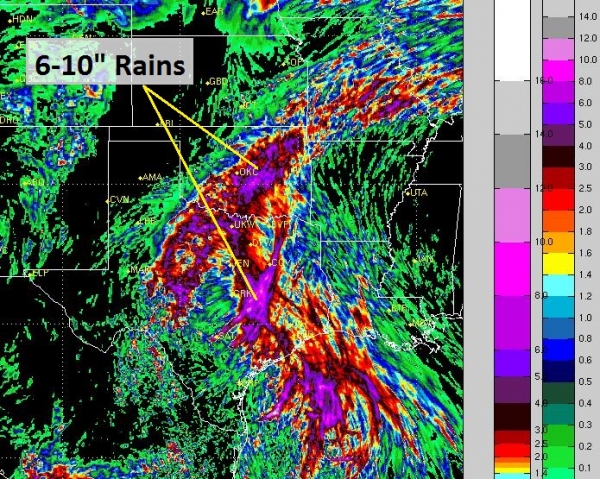 Latest Model Guidance. High-resolution model data (RPM simulation) shows considerably more snow for Chicago and Detroit, a 6-8 hour burst of heavy snow late Tuesday night into midday Wednesday, tracking rapidly from west to east across the northern Ohio Valley and Great Lakes. Near white-out conditions are possible Wednesday along the I-90 corridor. Model guidance: WSI Corporation.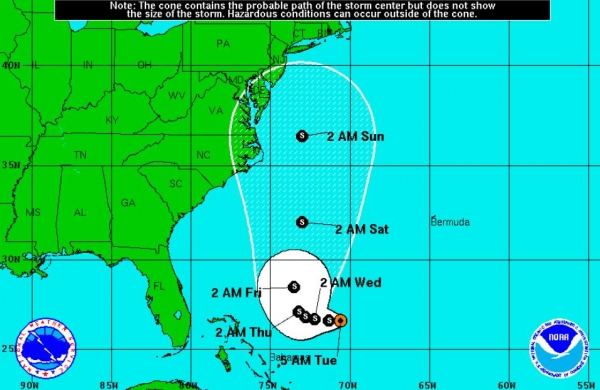 Updated BPI Solution. Our proprietary in-house BPI (Blizzard Potential Index) shows blizzard conditions pushing from Rockford and Joliet into Chicago late Tuesday night into Wednesday morning, reaching Detroit by late morning and midday Wednesday. A blizzard is defined as 35+ mph winds and visibilities under 1/4 mile in falling or blowing snow. It now looks like we will have this criteria from Chicago to Detroit late Tuesday night into Wednesday. Map sequence: Ham Weather.
---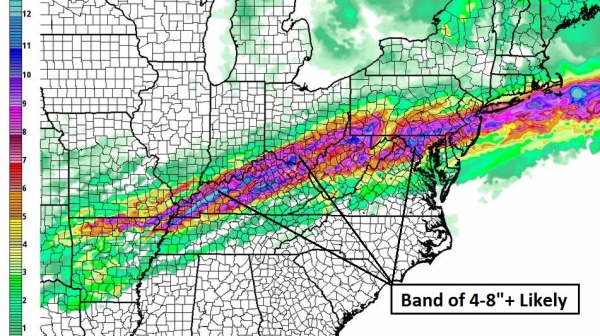 Latest Snowfall Projection. A fast-moving storm tapping ample moisture from the Gulf of Mexico will put down a carpet of plowable snow amounts from Chicago into the northern Ohio Valley and much of New England. Indianapolis and Columbus should be spared (heavy) amounts, but Detroit, Toledo, Cleveland, much of upstate New York and interior New England won't be nearly as lucky. Map: Ham Weather.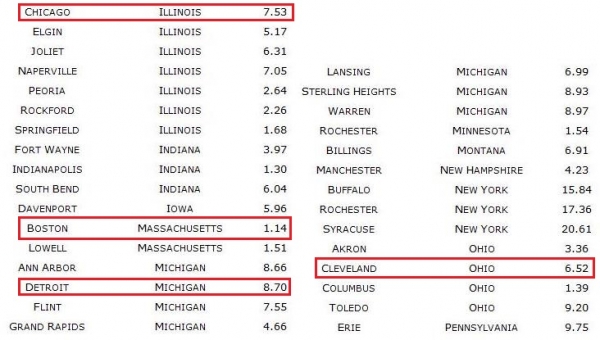 Select City Amounts. Wednesday morning will be a slushy mess in Chicago, with some 5-6″ amounts in the city; the burst of snow quickly enveloping South Bend, Detroit and Cleveland during the day Wednesday, reaching upstate New York and New England Wednesday night and Thursday morning. Boston may pick up an inch or two, but the potential for a major snowfall at BOS has diminished somewhat..

---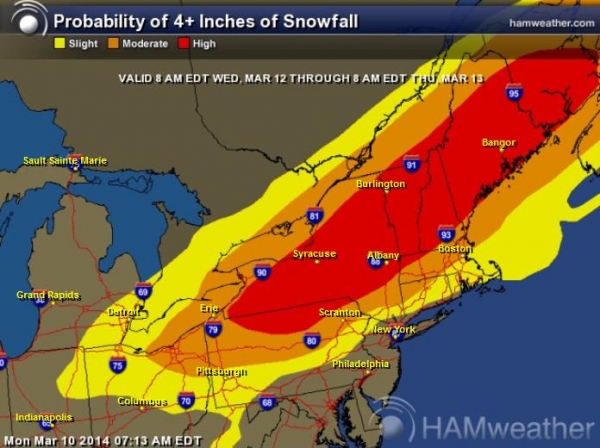 Potential For 4″ Or More. This graphic does a good job summarizing the area expecting the heaviest snows from 8 AM Wednesday through 8 AM Thursday, stretching from Erie, Buffalo and Williamsport into much of New England. Map: Ham Weather.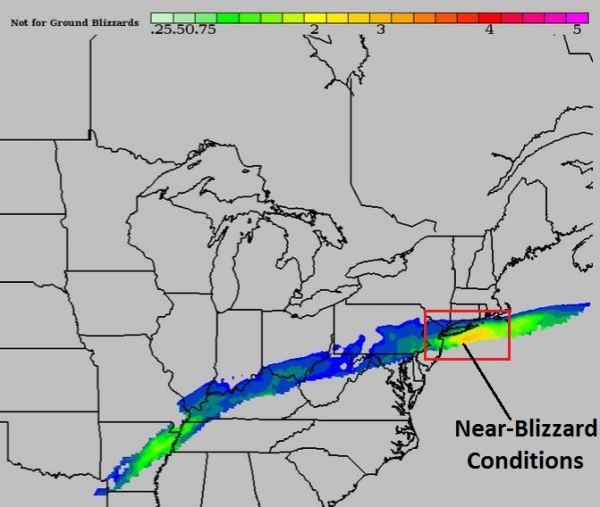 BPI: Blizzard Potential Index. We're faced with a fast-moving system Wednesday into Thursday. Our internal, proprietary BPI model shows the greatest risk of travel disruptions and potential power outages from high winds and low visibility in moderate/heavy snow from near Chicago and South Bend to Detroit, Cleveland and much of upstate New York. Graphic: Ham Weather.

Summary: Mid-March blizzards are unusual, but not unprecedented for the Great Lakes, and it looks increasingly like a major storm will temporarily shut down (most) travel by land and air. Wednesday will be the tough day, with some improvement Thursday. I would prepare staff and facilities for heavy snow, blowing and drifting and rapidly falling visibilities Wednesday with near blizzard conditions a very real possibility.

Paul Douglas – Senior Meteorologist – Alerts Broadcaster
New Ozone-Destroying Chemicals Found In Atmosphere. Scientists say these new chemicals, greenhouse gases, are 7,000 times more powerful than CO2. Here's a clip from The Guardian: "Dozens of mysterious ozone-destroying chemicals may be undermining the recovery of the giant ozone hole over Antarctica, researchers have revealed. The chemicals, which are also extremely potent greenhouse gases, may be leaking from industrial plants or being used illegally, contravening the Montreal protocol which began banning the ozone destroyers in 1987. Scientists said the finding of the chemicals circulating in the atmosphere showed "ozone depletion is not yesterday's story…"

Image credit above: "The ozone hole reached its biggest extent for the year on 26 September, 2013." Photograph: NOAA.

---
California's Drought-Prone Pattern Forcing Farmers To Adapt
. Here's an excerpt from a story at 
The San Francisco Chronicle
: "…
As California gets drier and hotter, no one is more vulnerable than farmers. And no one is likely to have to do more to adapt to what many experts fear will be a more drought prone environment. Climate change is "coming upon us, and it looks like it's coming upon us fairly quickly," said Paul Wenger, a Modesto almond and walnut grower who heads the California Farm Bureau Federation. Wenger said this year's drought has farmers asking how long they can continue. "It's going to be difficult," he said. "We're going to see a lot of farmland retired
…"
Photo credit
 above: "
Coburn Farms foreman Jose Gonzales walks along an empty field near Firebaugh (Fresno County), among many left unplanted
." Photo: Michael Macor, The Chronicle.
The Red Faces Of Solar Skeptics. Prices of photovoltaic cells continue to drop (good old Moore's Law) and at some point it won't make sense NOT to have solar panels on your roof (or windows). Because it generates free power, and there's a certain timeless allure to the word "free". The New York Times has an interesting story; here's the intro: "If the faces of renewable energy critics are not red yet, they soon will be. For years, these critics — of solar photovoltaics in particular — have called renewable energy a boutique fantasy. A recent Wall Street Journal blog post continues the trend, asserting that solar subsidies take money from the poor to benefit the rich. But solar-generated electricity is turning into a powerful environmental and economic success story. It's also threatening the balance sheets of electric utility companies that continue to rely heavily on fossil fuels and nuclear energy..."

Photo credit above: Jenn Ackerman for The New York Times. ""

---
Compound In Fruits And Vegetables Prevents Symptoms Of Alzheimer's In Mice
. Some interesting details in an article at 
Gizmag
; here's an excerpt: "
Alzheimer's disease represents the most common form of dementia, with the early stages of the disease generally characterized with short term memory loss and learning difficulties that increase in severity as the patient progresses in age. Scientists at the Salk Institute for Biological Studies, California, have discovered that with regular treatments of the antioxidant fisetin, they were able to prevent memory loss in mice with genetic mutations linked to Alzheimer's
…"
Photo credit
 above: "
A compound commonly found in fruit and vegetables, including apples, grapes and strawberries, has been found to prevent Alzheimer's disease in mice
." (Photo: 
Shutterstock
).
The Music You Love Tells Me Who You Are. Time Magazine has a very interesting article; here's a clip: "Ever been a bit judgey when you hear someone's taste in music? Of course you have. And you were right — music tells you a lot about someone's personality. Research has learned a great deal about the power of music:

Your musical taste does accurately tell me about you, including your politics.
Your musical taste is influenced by your parents.
You love your favorite song because it's associated with an intense emotional experience in your life..."
---
Welcome to the WeatherNation blog. Every day I sift through hundreds of stories, maps, graphics and meteorological web sites, trying to capture some of the most interesting weather nuggets, the stories behind the forecast. I'll link to stories and share some of the web sites I use. I'm still passionate about the weather, have been ever since Tropical Storm Agnes flooded my home in Lancaster, PA in 1972. I've started 5 weather-related companies. "EarthWatch" created the world's first 3-D weather graphics for TV stations – Steven Spielberg used our software in "Jurassic Park" and "Twister". My last company, "Digital Cyclone", personalized weather for cell phones. "My-Cast" was launched in 2001 and is still going strong on iPhone, Android and Blackberry. I sold DCI to Garmin in 2007 so I could focus on my latest venture: WeatherNation. I also write a daily weather column for The Star Tribune startribune.com/weather And if you're on Twitter, you'll find me @pdouglasweather.