Pre-Thanksgiving Weather Mayhem Deep South & East Coast

A Dry Cold

I have to laugh when friends in Arizona describe a "dry heat" in the summer. But they have a point; moisture in the air makes a big difference. It's why 100F is tolerable in Scottsdale but horrific in Ft. Myers.

When I tell people I'm from Minnesota they look at me like I'm either slightly mad, or a descendent of Sir Edmund Hillary, the first man to conquer Mt. Everest. "How do you survive out there?" The reality: our coldest fronts blow dry (sunny) Canadian air into Minnesota, making it almost tolerable.
The coldest I've ever been? Chicago and Manhattan, surrounded by water – with higher humidity levels. Damp clothes allow the chill to penetrate through layers of clothing, making it feel much colder, much faster. It's true.

Long-range guidance shows another shot of numbing air after December 5. Until then Canadian air is tempered by a faint Pacific breeze. Good news for Upper Midwest travelers: a couple of scrawny clippers this week, but no slush-potential until early next week.

An ill-timed east coast storm dumps heavy rain east of I-95 with snow for the Appalachians the day before Thanksgiving. Travel updates and details below.
---
84 Hour Snowfall. Here's a look at where heavy snow is likely Tuesday and Wednesday as a storm pushes out into the Atlantic. The Appalachians will take the brunt of this snowstorm, temperatures aloft warm enough for rain east of I-95. NAM guidance: NOAA and Ham Weather.
---
A Quiet Thanksgiving Week. It's almost supernaturally quiet out there over the northern tier states. No complaints – travelers within 300-400 miles of MSP will be thanking their good fortune. We cool down agai Tuesday and Wednesday before (slight) moderation the end of the week and weekend; a slight chance of light snow next Monday and Tuesday. Graph: Weatherspark.
---
Loaded With Moisture. The snow, ice and rain storm grinding across the south will take a turn up the east coast by tomorrow and Wednesday, spreading a shield of heavy rain and snow up the eastern seaboard. The storm should push offshore in time for Thanksgiving. NAM guidance courtesy of NOAA and Ham Weather.
---
Storm Evolution. Keep in mind the animation above shows predicted (GFS) surface pressure and wind speeds. You can see the storm pushing out the Gulf of Mexico, tracking right up the east coast, dumping heavy rain, especially east of I-95. Loop: NOAA and Ham Weather.
---
Heavy Rain Potential. Models are consistently printing out some 2-4″ rainfall amounts Tuesday into Wednesday from Atlanta to Charlotte, Richmond, Washington D.C., Philadelphia and New York into Hartford and Boston – capable of urban and small stream flooding in the days leading up to Thanksgiving. Travel by land and air will be impacted. Map above: NOAA 5-Day Precipitation Outlook.
---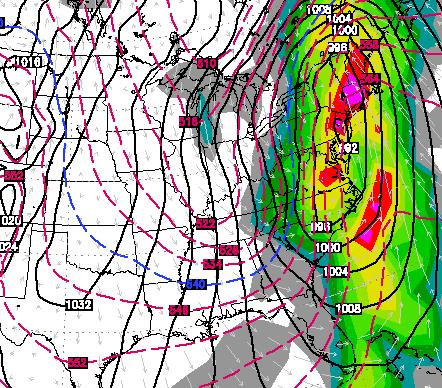 Peak Of The Storm. The same ECMWF model shows the heaviest rain (and greatest potential for embedded T-storms) late Tuesday night into midday Wednesday in the I-95 corridor from D.C. to Philly, New York and Boston. This is when the potential for localized flash flooding and travel impacts will be greatest. Map above valid noon on Wednesday. Midday Wednesday map courtesy of WSI.
---
Heavy Inland Snows. I still expect little or no accumulating snow east of I-95, but models consistently show a few inches of slush from the western suburbs of Washington D.C. and Baltimore to York, Lancaster and Allentown. The Appalachians will bear the brunt of the heaviest snow, some 1-2 foot snowfall amounts from far western Virginia and West Virginia to Altoona, State College, Syracuse and Rochester, with the worst conditions coming on Wednesday. I expect widespread delays and cancellations in this region by midweek. Map: NOAA's 12km NAM and Ham Weather.
---

Blizzard Potential Index. Our internal BPI model shows blizzard-conditions for much of upstate New York Wednesday, as lake effect kicks in on cold winds on the backside of the storm. Map: Ham Weather.
---
Summary: The storm we've been tracking and briefing on for many days now is still very much on track. Ice will impact metro Dallas and Fort Worth tonight and Monday morning, with hazardous winter travel possible over much of the Deep South Monday and early Tuesday, spreading up the Appalachians by midweek. East of I-95 precipitation will fall as (heavy) rain with a potential for urban flooding, especially Wednesday.

Plowable amounts of snow are expected from Roanoke to Leesburg, Winchester, Frederick, Hagerstown, York, Harrisburg, Lancaster, Reading and Allentown into northern New Jersey. This may be a crippling snowfall for the higher elevations from near Elkins and Charlestown, West Virginia to Pittsburgh, State College, Elmira, Syracuse and Rochester, New York.  Pre-Thanksgiving operations will be impacted all up and down the east coast with conditions rapidly improving on Thanksgiving Day. Yes, major storms prefer to come on or before major holidays – the biggest travel week is just too tempting a target, I fear. We'll keep you posted.
---
Climate Stories….
Last Minute Deal Saves Fractious U.N. Climate Talks. The BBC has the latest; here's a clip: "After 30 hours of deadlock, they approved a pathway to a new global climate treaty in Paris in 2015. The agreement was achieved after a series of last minute compromises often involving single words in draft texts. Negotiators also made progress on the contentious issue of loss and damage that developing countries are expected to suffer in a warming world. Green groups were angry about the lack of specific commitments on finance…"
---
Insurance Industry Shows Concern Over Climate Change. Extreme storms are striking with greater frequency, and rising seas are further magnifying some of these impacts. Here is a look at how the insurance industry is taking climate change very seriously; an excerpt from Insurance News Daily: "…The insurance industry has been warning of the increasing frequency of powerful natural disasters. Storms that had been considered once in 100 year events are becoming more common and there are few countries that have protection against such devastating natural disasters. Insurers have become well aware of the impact that these disasters can have….Swiss Re, one of the largest reinsurance companies in the world, recently reported that severe weather could cause some $160 billion in damage to the global economy, only $70 billion of which is actually covered by insurance protection. Exactly what can be done to mitigate the impact of powerful natural disasters is uncertain, but the insurance industry is beginning to show signs that it is taking the issue of climate change more seriously than others." (Image: NASA).
---
Oil's Biggest Problem? A New "Peak" Worry. Could our need for oil actually diminish, on a global scale, as new (less polluting) energy sources are invented? Who will be the next Google that reinvents how we use energy? Here's an interesting twist on the concept of peak oil at Canada's Globe and Mail: "…If you're an oil company or investor, it's probably dawning on you that peak oil – the point at which geology and technology dictate the maximum rate of production, after which decline sets in – will not determine future oil prices and, therefore, the value of your energy portfolio. So what will? Peak demand could, and it's a credible theory that is gaining a following. In a recent interview, John Browne, the former chief executive of BP, said, "Oil prices will be limited by peak demand, not peak supply." By that, he means the point will come when the world simply doesn't need ever-rising amounts of oil…"
---
Arctic Storms, Warming Mean More Methane Released. Scientists describe "unknown unknowns". It's what we don't know that may come back to bite us. Here's an excerpt of a Climate Central article that caught my eye: "…Shakhova has spent the past decade compiling data on the East Siberia Arctic Shelf through research cruises and flyovers of the region. She published initial results in 2010, which showed that methane has been escaping at hot spots where vents have formed from a combination of geothermal heat as well as warmer river water flowing into the region. Those results showed that 7 teragrams of methane is bubbling to the surface annually. That's roughly the equivalent of 10 percent of the methane emissions from U.S. oil and natural gas production and transmission in 2012. The new research refined those results, showing the amount of methane reaching the surface is more than double those previous estimates. In all, Shakhova and her colleagues estimate that 17 teragrams are escaping each year, though the new study says the estimates are likely on the conservative end. Shakhova said those totals are on par with emissions from the Arctic tundra…" (Photo image: World Bulletin).
---
It's Settled. Cartoon courtesy of David Horsey.
_____________________________________________________________________________________
ABOUT ME
Welcome to the WeatherNation blog. Every day I sift through hundreds of stories, maps, graphics and meteorological web sites, trying to capture some of the most interesting weather nuggets, the stories behind the forecast. I'll link to stories and share some of the web sites I use. I'm still passionate about the weather, have been ever since Tropical Storm Agnes flooded my home in Lancaster, PA in 1972. I've started 5 weather-related companies. "EarthWatch" created the world's first 3-D weather graphics for TV stations – Steven Spielberg used our software in "Jurassic Park" and "Twister". My last company, "Digital Cyclone", personalized weather for cell phones. "My-Cast" was launched in 2001 and is still going strong on iPhone, Android and Blackberry. I sold DCI to Garmin in 2007 so I could focus on my latest venture: WeatherNation. I also write a daily weather column for The Star Tribune startribune.com/weather And if you're on Twitter, you'll find me @pdouglasweather.