Severe Outbreak Likely – Blizzard Potential Upper Mississippi Valley
---
* Severe thunderstorm outbreak still expected Thursday PM hours from the Ohio Valley into the Mid South. A few isolated tornadoes are possible, but the main risk is straight-line wind gusts to 70 mph and 1-2″ diameter hail.
* Rapid snow melt coupled with rain increases the risk of urban, stream and river flooding, especially Indianapolis and South Bend to Toledo and Cleveland by late week.
* Slight severe risk for eastern USA Friday; strong to severe T-storms possible as far north as New Jersey. Some straight-line wind damage possible Carolinas to Georgia; tornado risk drops.
* Blizzard Warnings in effect for much of Iowa and southern Minnesota. Potential for significant snow, coupled with high winds and blowing/drifting late Thursday and Thursday night across the Upper Midwest.
---

Thursday TPI. Our in-house Tornado Potential Index shows an enhanced risk of (mostly small/brief) tornadoes by late afternoon Thursday from near Evansville and Bowling Green to Memphis and Nashville. A few supercell thunderstorms capable of damaging hail and tornadoes are possible during the late afternoon hours, especially Tennessee River Valley. Any supercells congeal into more of a solid squall line by evening, with 60-70 mph wind gusts and 1-2″ diameter hail the main concern from Louisville to Knoxville to Huntsville. Strong storms reach Atlanta later Thursday night, capable of pea-size hail. Source: Ham Weather.
---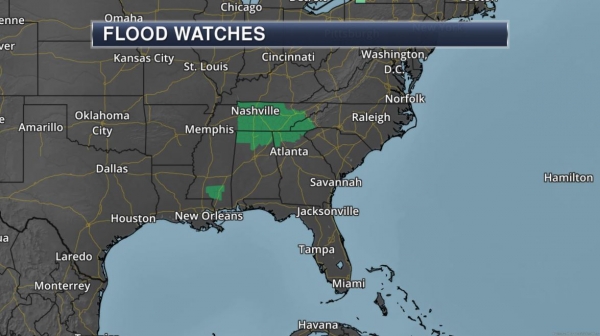 Potential For River Flooding. The combination of rapidly melting snow, frost lingering in the ground and expected rain may push a few streams and rivers out of their banks later this week across the Ohio Valley. The greatest potential for flooding runs from Champaign-Urbana to Indianapolis, Toledo and Cleveland. Some urban flooding of low-lying and poor drainage areas may also result in this zone. Be alert for flooded roads and bridges tomorrow into Saturday. Source: NOAA.
Summary: We're watching a variety of weather threats, including severe storms, damaging winds and a risk of isolated tornadoes Thursday afternoon and evening from the Ohio River southward to Nashville and Huntsville. Rapid melting coupled with a squall line of heavy rain may result in urban and river flooding from Indianapolis to Cleveland Thursday and Friday, when a line of severe thunderstorms pushes across the East Coast. Deep into the cold air blizzard conditions may impact travel from Iowa into eastern Minnesota and western Wisconsin late tomorrow into Friday morning.
The transitions form winter to spring always leaves Mother Nature in a foul mood. Today is Exhibit A.
---
Very Plowable. Models are finally converging on a similar solution, showing the heaviest snow band over eastern Minnesota and the northwestern third of Wisconsin, where some 5-10″ amounts are possible, the best chance of a cool foot from Eau Claire to Hayward and Herbster. Meanwhile St. Cloud will pick up closer to 2-4″ snow, with little or no snow from Windom to Alexandria to Wadena and Bemidji. NAM snowfall forecast courtesy of NOAA and Ham Weather.
---
Biggest Snow Of The Winter? The models have been flip-flopping back and forth, but now the NAM and RPM models are both coming in line with GFS and ECMWF, hinting at a (very) significant snowfall for much of southern and eastern Minnesota, as much as 10″ in some towns. The best chance of a cool foot: western Wisconsin. 12 km RPM model solution above courtesy of WSI.
---
BPI: 9 PM Thursday Evening. Our internal Blizzard Potential Index shows near-blizzard conditions from the Twin Cities to Rochester at 9 PM this evening, a better chance of white-out conditions from Eau Claire to Hayward, Wisconsin. Travel conditions will get worse as the day goes on, with the worst driving conditions this evening and tonight. Source: Ham Weather.
---
16 Hour Snow Burst. A light mix is possible this morning, but by midday temperatures aloft are cold enough for all snow, becoming more powdery as we head into tonight with temperature dropping thru the 20s. Snow shuts off around 6 AM Friday morning, but I have a hunch many schools will be closed tomorrow. Just a gut feel. 4 km NAM Future Radar product courtesy of NOAA and Ham Weather.
---
From Blizzards To Tornadoes. The weather menu has something for everyone today; from blizzard conditions tonight from Iowa into eastern Minnesota and western Wisconsin to a few supercell T-storms and tornadoes over the Ohio and Tennessee Valley, today's weather will not be for the faint of heart. Here's a recap of today's edition of Climate Matters: "WeathernationTV Chief Meteorologist Paul Douglas looks over the coming severe weather outbreak for Thursday. As well as some storms on the Earth's surface, we show the results of a storm from the Sun! The aurora was active on Wednesday morning and we have viewer photos! On the severe side of things, what part does melting snow and frozen ground play into it all? When and what kind of weather can we expect with this system?"
---
Fire Season Underway In Arizona, New Mexico. Stating the obvious, it's a little early to be tracking wildfires, considering this is still the (alleged) wet season for California and the southwestern USA. Here's an excerpt from AP and The Denver Post: "Recent warm weather, dry conditions and a spate of brush fires on the outskirts of major cities in Arizona and New Mexico are prompting warnings that the 2014 wildfire season is already underway. In the Albuquerque area, Lt. Michael Everett of the Bernalillo County Fire Department said fire conditions are already dangerous because there's been little rain or snow. "It is starting early, and everybody needs to be aware, just be very careful," Everett said…"
Photo credit above: "Smoke ruses from a grass fire on Flagstaff Mountain in western Boulder, Colo. on Tuesday Feb. 18, 2014. City officials say the fire, which has been contained, started Tuesday afternoon on private property." (AP Photo/The Daily Camera, Paul Aiken).
---
Why Taxpayers Will Bail Out The Rich When The Next Storm Hits
. Here's an excerpt of an investigative report from
NBC News
that made me do a double-take: "
As homeowners around the nation protest skyrocketing premiums for federal flood insurance, the Federal Emergency Management Agency has quietly moved the lines on its flood maps to benefit hundreds of oceanfront condo buildings and million-dollar homes, according to an analysis of federal records by NBC News. The changes shift the financial burden for the next destructive hurricane, tsunami or tropical storm onto the neighbors of these wealthy beach-dwellers — and ultimately onto all American taxpayers
…"
---