Severe Storm Risk Central USA

Volatile. Warm air surging north will spark severe storms from Minnesota south to Texas today; a few isolated tornadoes can't be ruled out. Locally heavy rains may trigger flash flooding in some communities; the next round of (lighter) showers pushing into Minnesota in time for Saturday's Fishing Opener. NAM Future Radar courtesy of NOAA and HAMweather.
---
* Conditions ripe for more severe thunderstorms into Thursday night from Dallas to Kansas City, Des Moines and the Twin Cities.
* "Moderate Risk" – indicating a significant higher risk of large, violent tornadoes, especially from central Minnesota to northern Iowa (area shaded in red below).
* I expect multiple Tornado Watches to be issued Thursday; upper air dynamics favorable for a few significant tornadoes capable of widespread damage and injury. If confirmed tornadoes approach metropolitan areas Tornado Emergencies may be issued.
---
Moderate Risk. A Moderate Risk of severe storms has been put in place from the Storm Prediction Center from just west of the Twin Cities down through Des Moines, IA. This is the best area of seeing a few isolated tornadoes as well as large hail later this afternoon.
---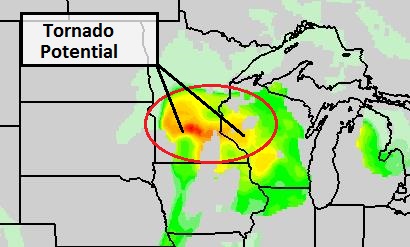 TPI: 7 PM Thursday Evening. Alerts Broadcaster's proprietary Tornado Potential Index shows the greatest risk by the dinner hour from near Willmar and St. Cloud into Minneapolis, St. Paul and western Wisconsin. Prepare staff for possible power outages due to high winds associated with Thursday's storms.
The latest frontal system has already spun up confirmed tornadoes over northeastern Colorado (well away from the Denver market), and I expect more numerous tornadoes Thursday, especially central Minnesota into central Iowa, but a few tornadoes may develop as far south as Kansas City, Little Rock and Dallas. The greatest risk (as always) is high winds and hail. Any tornadoes that do form will impact a tiny percentage of the area – but it's impossible to predict which towns and larger metro areas may be impacted until 15-30 minutes before they strike. Pay attention to all watches and warnings later today.
---
Tornado Hunter Wants To Walk Into A Twister. I hope he has a chat with his life insurance guy first. No, I would not try this at home. I suspect he's watched the movie "Twister" one too many times. Here's an excerpt from CBS St. Louis: "…Steve Green is a self described "tornado hunter." In 2004, he spent $500,000 on an armored vehicle and drove right into a tornado. Now, 10 years later, he's going to try to walk into a twister. His plan is to drive a 4×4 vehicle with a motorcycle attached out in front of the storm, jump on the bike, get in front of the winds, screw himself into the ground using corkscrews (think of what you'd tie a dog leash to) and hold on tight…"
---
_______________________________________________________________
Welcome to the WeatherNation blog. Every day I sift through hundreds of stories, maps, graphics and meteorological web sites, trying to capture some of the most interesting weather nuggets, the stories behind the forecast. I'll link to stories and share some of the web sites I use. I'm still passionate about the weather, have been ever since Tropical Storm Agnes flooded my home in Lancaster, PA in 1972. I've started 5 weather-related companies. "EarthWatch" created the world's first 3-D weather graphics for TV stations – Steven Spielberg used our software in "Jurassic Park" and "Twister". My last company, "Digital Cyclone", personalized weather for cell phones. "My-Cast" was launched in 2001 and is still going strong on iPhone, Android and Blackberry. I sold DCI to Garmin in 2007 so I could focus on my latest venture: WeatherNation. I also write a daily weather column for The Star Tribune startribune.com/weather And if you're on Twitter, you'll find me @pdouglasweather