Severe Threat Increasing This Afternoon
* Volatile, potentially violent storm pushing into Upper Midwest, capable of a widespread severe storm outbreak, including 2″ diameter hail, damaging straight-line winds, and a few large, long-track strong tornadoes capable of extensive damage and injury.
* Greatest tornado risk appears to be between 4 PM and 8 PM this evening.
Upgraded to Moderate Threat. Whenever NOAA SPC goes with a Moderate or High Risk of severe storms there's an inherent implication that we won't be tracking small, brief, garden-variety tornadoes later in the day. There's enough low-level moisture, instability and wind shear aloft to sustain long-lasting, long-track supercell thunderstorms. These are the especially damaging storms capable of baseball-size hail and large tornadoes. This is the area most ripe for the large tornadoes, and "families" of tornadoes that form in quick succession, capable of significant injury or loss of life.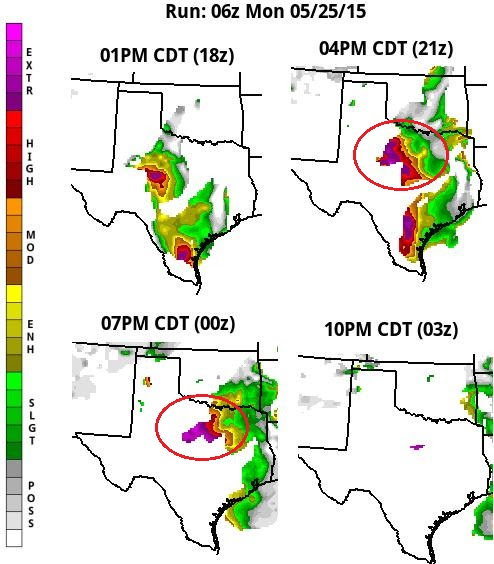 EHI: 7 PM This Evening. Our Hamweather.com models show a significant risk of violent storms over the southern third of Minnesota, where meteorological conditions may converge for a significant outbreak later today.
Tracking Potential Supercells. The WRF model guidance shows powerful storms sprouting south/west of the Twin Cities by 5 PM (upper left), a second line forming in advance of a cold front by 7 PM may also spin up tornadic thunderstorms from central Minnesota to near La Crosse, Waterloo and Des Moines (upper right).
Summary: This is prime time for severe storms and tornadoes across much of the central USA,  and today promises to be another busy day tracking potentially dangerous cells on Doppler radar. As always, the big question/concern: will they hit sparsely populated farmland or urban/suburban areas?
_______________________________________________________________
Welcome to the WeatherNation blog. Every day I sift through hundreds of stories, maps, graphics and meteorological web sites, trying to capture some of the most interesting weather nuggets, the stories behind the forecast. I'll link to stories and share some of the web sites I use. I'm still passionate about the weather, have been ever since Tropical Storm Agnes flooded my home in Lancaster, PA in 1972. I've started 5 weather-related companies. "EarthWatch" created the world's first 3-D weather graphics for TV stations – Steven Spielberg used our software in "Jurassic Park" and "Twister". My last company, "Digital Cyclone", personalized weather for cell phones. "My-Cast" was launched in 2001 and is still going strong on iPhone, Android and Blackberry. I sold DCI to Garmin in 2007 so I could focus on my latest venture: WeatherNation. I also write a daily weather column for The Star Tribune startribune.com/weather And if you're on Twitter, you'll find me @pdouglasweather