Shifting Gears: Extended Thaw Finally Arrives Northern USA
Modified Zonal Flow. Finally! The maps are finally starting to take on a more springlike appearance over the northern USA, with winds aloft forecast to blow from Seattle and Vancouver (instead of the Yukon) between April 9-13. The Big Melt is almost here. 500 mb map above: NOAA.
---
Preliminary Snowfall Totals. As expected a (very) plowable snowfall event materialized from northwest Iowa into much of Minnesota and northwest Wisconsin, as much as 10″ in the suburbs of the Twin Cities, where travel conditions will slowly improve this afternoon. For the northern USA spring is coming reluctantly again this year. Here is a list, courtesy of the local Twin Cities National Weather Service, how how much fell. As much as 10-12″ caked a few northern suburbs, but most amounts were in the 4-9″ range. Quite enough, thank you.
---
More on Monday's Rare "Blizz-nado". Dr. Mark Seeley has a unique perspective of Monday's unusual March tornado near St. Leo, touching down in a county under a Blizzard Warning at the time – along with a few nuggets I was not aware of. Here's an excerpt from this week's Minnesota Weathertalk: "Can a tornado, thunder-snow, and a blizzard converge on the same geography on the same day? Yes, apparently. Earlier this week on March 31st a strong winter storm crossed the Dakotas and Minnesota bringing a variety of weather. Ahead of the storm temperatures in southwestern Minnesota soared into the upper 50s F (61 F at Marshall), then high winds, rain, freezing rain, sleet, and snow brought blizzard warnings to many western counties, including Yellow Medicine and Lac Qui Parle. At 4:10 pm a Yellow Medicine County Sheriff confirmed a tornado touched down near St Leo causing damage to some nearby farm buildings. This tornado was rare in historical terms, just the 21st such storm reported in the month of March during the modern era (post 1950), but it was remarkably rare and perhaps the only case in state history where a tornado was confirmed in a county with an active blizzard warning! The real blizzard conditions that day ended up further north in the Red River Valley which reported its 11th blizzard of the 2013-2014 season, accompanied by thundersnow. The last March tornado reported in Minnesota was during the unusually warm spring of 2012 on March 19 near Elysian (Le Sueur County)..."
Photo courtesy of KARE-11 and Ronni V, via Facebook.
---
Alerts Broadcaster SitRep: Excerpt of a report issued Friday morning, April 4, 2014.
General reports
– 8 confirmed tornado reports yesterday, per the SPC. At least 3 in Texas, 2 in Missouri, 1 in Illinois (tough to tell on the map)
– Over 200 reports of wind/hail
– More than 37,000 without power (as of 2 AM) in Arkansas
– Nearly 3,000 without power in northern Ohio
– "Several thousand" power outages in NE Texas
– About 3,000 without power in Missouri as of late yesterday
– 7.17″ of rain in St. Ann, MO (near St. Louis), 5.87″ in Jefferson City, MO
-Over 5″ in Evansville, IN
---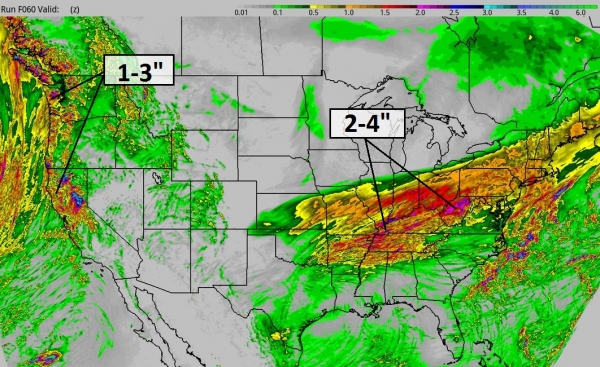 Thursday Storm Reports. Here's a map showing the location of the 8 tornado touch-downs, damaging winds, hail and flash flooding reports, courtesy of NOAA and Ham Weather.
---
| | | | | | | | |
| --- | --- | --- | --- | --- | --- | --- | --- |
| 2302 | | RICH FOUNTAIN | OSAGE | MO | 3840 | 9188 | CONFIRMED TORNADO SPOTTED BY MISSOURI TROOP F (LSX) |
| 0027 | | PRINCETON | COLLIN | TX | 3318 | 9650 | HAMS REPORTED THAT TORNADO CROSSED HWY 380 AT NORTH 6TH STREET (FWD) |
| 0107 | | 5 NE DONIPHAN | RIPLEY | MO | 3667 | 9076 | (PAH) |
| 0111 | | 5 NE FAIRDEALING | BUTLER | MO | 3671 | 9055 | (PAH) |
| 0222 | | 3 S COOPER | DELTA | TX | 3333 | 9568 | BRIEF TORNADO BETWEEN COOPER AND COOPER LAKE (FWD) |
| 0229 | | SHAWNEETOWN | GALLATIN | IL | 3771 | 8817 | UNCONFIRMED (PAH) |
| 0245 | | MOUNT VERNON | FRANKLIN | TX | 3317 | 9522 | TORNADO ON THE GROUND NORTH OF MOUNT VERNON ALONG HIGHWAY 37. (SHV) |
| 0246 | | 5 NNW MOUNT VERNON | FRANKLIN | TX | 3324 | 9525 | BARN MOVED OFF FOUNDATION AND SEVERAL TREES DOWN NEAR WHITE OAK CREEK BOTTOM (SHV) |
Tornado Reports.
* The list above is from NOAA SPC, with details on each tornado touchdown yesterday. Some of the most extensive damage was in and around Denton, Texas, just north of Dallas.
---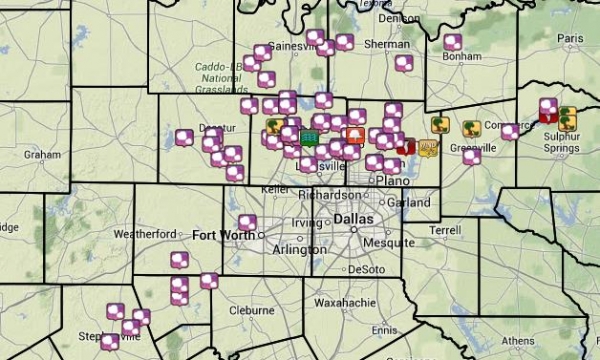 Texas Touch-Downs. The map above shows the hail swaths and tornado touchdowns from near Denton to Sulphur Springs, Texas, with the majority of the severe weather tracking just north of Dallas and Plano. A close call indeed. NOAA has more details here.
---
Hail
-1.75″ hail – Commerce, TX
-1.75″ hail – Orange Grove, TX
-1.5″ hail – near Pearsall, TX
-1″ hail – Lewisville, AR
-1″ hail – Jackson, TN
-0.88″ hail – Texarkana, AR
-0.88″ hail near Walnut Hill, IL
Winds
65 MPH wind gust in Olive Branch, MS
64 MPH wind gust in Cullman, AL
60 MPH wind gust in Robinsonville, MS
60 MPH wind gust in Dubach, LA
59 MPH wind gust near Metcalfe, IN
Snow
-12.5″ of snow in Mouth of Brule, MN
-12.5″ of snow in Oulu, WI
-12″ of snow near Redridge, MI
-12″ of snow in Hawthorne, WI
-11.3″ snow in Hutchinson, MN
-11″ snow in Winchester, WI
-10.5″ of snow two miles from downtown Minneapolis
-9.8″ of snow in Superior, WI
-8.8″ of snow near Chanhassen, MN
-4.8″ of snow near Northwood, IA
---
Tornado Technology Innovation Born From 1974 Tragedy. It's hard to believe it's been 40 years since the "Super Outbreak", 150 tornadoes in 13 states, but that swarm, a record at the time, set the stage for new technologies and innovations that have dramatically lowered the death toll from these fickle storms. Climate Central has more details; here's a clip: "…Tornado prediction has also dramatically improved. To illustrate some of those advancements, the Storm Prediction Center used observations of conditions that preceded the 1974 storm and ran computer models on Wednesday to see how well they could forecast the outbreak if it happened today. It turns out the models were able to identify conditions that were conducive for tornadoes to develop in a number of locations where twisters did touch down in 1974…"
Graphic credit above: "A hand-drawn map by Ted Fujita showing the 1974 Super Outbreak of tornadoes in the U.S." Credit: National Weather Service, Wilmington.
____________________________________________________
Welcome to the WeatherNation blog. Every day I sift through hundreds of stories, maps, graphics and meteorological web sites, trying to capture some of the most interesting weather nuggets, the stories behind the forecast. I'll link to stories and share some of the web sites I use. I'm still passionate about the weather, have been ever since Tropical Storm Agnes flooded my home in Lancaster, PA in 1972. I've started 5 weather-related companies. "EarthWatch" created the world's first 3-D weather graphics for TV stations – Steven Spielberg used our software in "Jurassic Park" and "Twister". My last company, "Digital Cyclone", personalized weather for cell phones. "My-Cast" was launched in 2001 and is still going strong on iPhone, Android and Blackberry. I sold DCI to Garmin in 2007 so I could focus on my latest venture: WeatherNation. I also write a daily weather column for The Star Tribune startribune.com/weather And if you're on Twitter, you'll find me @pdouglasweather.