Significant Severe Risk Central USA (river flood rises with more heavy rain imminent)
Flood/Slush Potential
I almost feel bad for all those snowbirds who returned to Minnesota one full month too early. My definition of an optimist: a Dairy Queen franchisee in Duluth, where 102.5 inches of snow has fallen this winter. 17″ still on the ground…on April 17. 23.9″ in April, third snowiest on record. Good grief.
The ground is frozen nearby; nearly saturated from recent rain and snow. Additional rain will quickly run off into streets & streams. That's why a Flood Watch has been issued for southeast Minnesota and much of Wisconsin, where precipitation will be heaviest.
A cold rain arrives later today, mixing with sleet, ice and wet snow tonight. An inch or two of slush can't be ruled out by Thursday, with a plowable snowfall possible north/west of the Twin Cities metro – but I don't expect quite as much weather-drama as last week.
I'm worried about a light-switch warm front accelerating snow melt and flood risk, especially Red River Valley. Long-range models show 50s next week; possibly 60s and even a few 70s within 2 weeks. I was hoping for a gradual thaw; not sure it's going to work out that way.
This is Severe Weather Awareness Week in Minnesota. Expect a test of emergency sirens tomorrow, in spite of nagging snow cover. Necessary but a bit surreal.
A Tale Of Two Seasons. A Winter Storm Watch has been posted for much of central and eastern Minnesota, including the Twin Cities, for a sleet/ice/snow mix Wednesday night into early Friday. A Flash Flood Watch is in effect for southeastern Minnesota and much of Wisconsin. Details from NOAA: "
...HEAVY RAIN EXPECTED WITH FLOODING POSSIBLE WEDNESDAY AFTERNOON
AND WEDNESDAY NIGHT...

.A LOW PRESSURE SYSTEM WILL PUSH OUT OF THE CENTRAL PLAINS
TONIGHT AND INTO WEDNESDAY SPREADING GULF MOISTURE INTO THE
CENTRAL AND NORTHERN MISSISSIPPI RIVER VALLEY. WHILE THE MAIN
CENTER OF THE LOW WILL REMAIN WELL TO THE SOUTH...THE ASSOCIATED
FRONT WILL EXTEND NORTHWARD INTO THE AREA. RAIN WITH SCATTERED
THUNDERSTORMS WILL DEVELOP ALONG AND AHEAD OF THIS FRONT
WEDNESDAY AFTERNOON AND INTO WEDNESDAY NIGHT. AN INCH TO
1.5 INCHES OF RAIN IS EXPECTED WITH LOCALIZED AMOUNTS OF UP TO
2 INCHES.

GIVEN THE RECENT RAINS AND SNOW...THE TOP LAYERS OF THE SOIL ARE
NEARLY SATURATED. IN ADDITION...MARSHES ARE STARTING TO FILL UP
EVEN FOR THOSE THAT STILL HAVE ICE LAYERS. FINALLY FOR AREAS THAT
STILL HAVE SNOW...THE RAIN WILL HELP TO MELT THIS SNOW. HENCE
THIS FLOODING OF STREAMS AND RIVER FLOODING IS POSSIBLE.

RIVERS THAT ARE OF INCREASED CONCERN INCLUDE STRAIGHT...CANNON...
ZUMBRO RIVER SYSTEMS IN MINNESOTA...THE EAU CLAIRE...RUSH...EAU
GALLE...YELLOW AND CHIPPEWA RIVER SYSTEMS IN WISCONSIN.
Not Buying It (Yet). WSI's 12km. RPM model hints at 6″ of slushy snow for the Twin Cities, most of that coming Thursday. I'm not so sure. The latest Skew-T prediction of atmospheric temperatures above the Twin Cities suggest just enough warm air for rain later today and tonight, mixing with sleet and freezing rain (glaze ice) at times. A changeover to wet snow is expected Thursday and Thursday night, with a potential for some 1-3″ amounts, especially on lawns and fields by Friday morning. I could see more than 2-4″ over the far northern/western suburbs of MSP.
From WeatherNation TV Meteorologist Kristin Clark:
"There have been 35 days when an inch or more of snow accumulated after April 14th, over the 130 year period of snowfall records (1883-present). The highest daily snowfall on record after April 14th was 8.5 inches on 4/27/1907 and 4/20/1893. The most recent 1.0 inch or more of snowfall after April 14th was on 4/20/2011 (1.3″). 2002 was also an interesting year in the Twin Cities. On 4/21/2002 6.6″ fell at Chanhassen (source of Twin Cities snowfall records that year). On 4/27/2002 another 5.5″ of snow fell in Chanhassen. That month (April 2002) 20.2" of snow was recorded."
Another Full-Latitude Trough. What a difference from last year. Pacific storms are strengthening as they cross the Rockies, tapping moisture from the Gulf of Mexico, moving slow enough to drop significant amounts of rain (and snow). The latest storm will drop the heaviest rainfall amounts on the Midwest and Great Lakes. Loop: NOAA.
Ground Frost Depth. One big complicating factor: the ground is still largely frozen just north/northwest and northeast of the Twin Cities metro, which will accelerate run-off of rainwater (and melting snow) into streets, streams and rivers. Much of central Wisconsin has 8-20″ of frost left in the ground, as much as 20-40″ of frost over northern Wisconsin. Details from NOAA: "Knowing the temperature of the soil is important for many activities including agriculture, horticulture, construction, and even grave digging. It is also important for hydrologists because in many situations a frozen soil limits infiltration of water thereby generating more runoff from rain and snowmelt than soil that is not frozen. The following maps display the temperature of the soil at multiple depths (2″, 4″, 8″, 20″, 40″, and 60″), where the ground is bare or where the ground is covered with vegetation, for many sites across the NCRFC Service Area. The data are collected by government agencies, universities, and volunteer coop observers."
Duluth Numbers. Officially it's now the third snowiest April on record for Duluth, with 23.9″ of snow so far. Overall: the 14th snowiest winter on record for KDLH. More details from the Duluth office of the National Weather Service:
At Duluth:
~  There has been at least 1″ of snow on the ground since December 9th, 2012
~  The morning low temperature of 8 degrees on April 14th 2013 tied the old daily low record
set in 1926
~  The last time Duluth recorded a temperature of at least 60 degrees was October 16th, 2012
~  The latest occurance of at least 60 F degrees was on May 11th, 1950.
~  The latest observered Snow Depth of at least 20″ was on April 15th, 1950 and 1975
~  The latest observered Snow Depth of at least 12″ was on April 18th, 1975
~  The Normal Snowfall for the Month of April is 6.9 inches.
At International Falls, MN:
~ The last time International Falls recorded a temperature of at least 60 degrees was
October 16th, 2012
~ The latest occurance of at least 60 F degrees was on May 10th, 1950.
~ The Normal Snowfall for the Month of April is 6.4 inches.
Cold Weather Factoids. It probably won't make you feel any better, but yes, this is highly unusual. The following weather nuggets are from weather enthusiast John Kappler (father of WeatherNation TV meteorologist Gretchen Mishek).
From this data, here are some interesting facts I've gleaned about the weather this year:
•  We've just had 3 days in the 50's so far this year (as of April 14).
•  Our highest temperature so far this year has been 56F.
•  Over the years (since 1890) we have an average of 8.1 days over 56F by now.
•  Last year, we'd had 28 days higher than 56F by now.
•  Normally we've had a high of 70F degrees by now (average 70.13F, median 70F)
•  Since 1890, there have been only 6 years when we've failed to get over 56F by now.  Here are the years and the highest temperature reached by April 14:  1904, 55 degrees; 1950, 52 degrees; 1951, 54 degrees; 1962, 48 degrees; 1965, 54 degrees; 1975, 51 degrees.  So, we have had some years like this before, but not for almost 4 decades.
•  The most interesting of those years was 1962 when our year-to-date high was 48 degrees.  The high temperatures that year for the 12 days beginning on April 14, were 34, 44, 48, 64, 62, 59, 60, 72, 63, 63, 84, and 91.  
•  In all of those 6 years and in all years since 1890, we managed to hit 60 by April 26.  If we don't hit 60 within the next 11 days, it will be the record for the longest we've gone into the year without hitting 60 degrees.
Thanks John!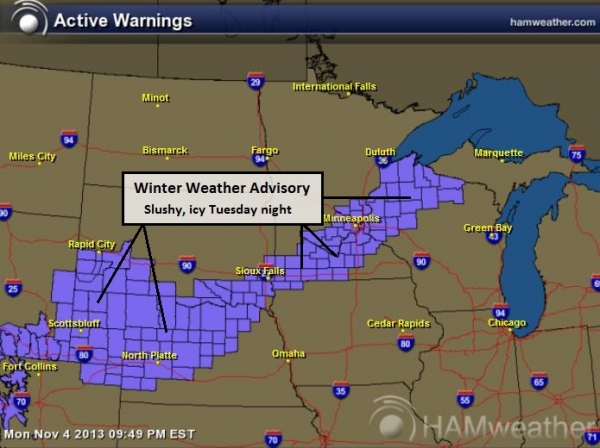 Latest Warnings. Denver will miss out on the heaviest snows this week (only 2-5″ Wednesday), but some 1-2 foot amounts are expected from Wyoming into South Dakota by Thursday. Flood Warnings are posted from Wisconsin and Lower Michigan southward to the Gulf Coast – with more heavy rain in the forecast I expect river and stream flooding to be on the increase as the week goes on.
Highlights:
* Moderate Risk of Severe Storms/Large Tornadoes Wednesday over the Southern Plains, extending into southwest Missouri by late evening. I expect a handful of large, violent, long-track, long-duration tornadoes Wednesday afternoon and evening from Oklahoma City and Tulsa into Kansas and Missouri.
* River Flooding expected to increase over the Midwest and Ohio Valley. Some models print out as much as 3-5″ rain from this week's storm. Chicago may be impacted by urban/river flooding the latter half of this week.
* Heavy Snow pushes across the Rockies into the Central and Northern Plains, some 1-2 foot amounts (again). The Twin Cities may pick up a couple inches of slush Thursday night into early Friday – not as much as last week.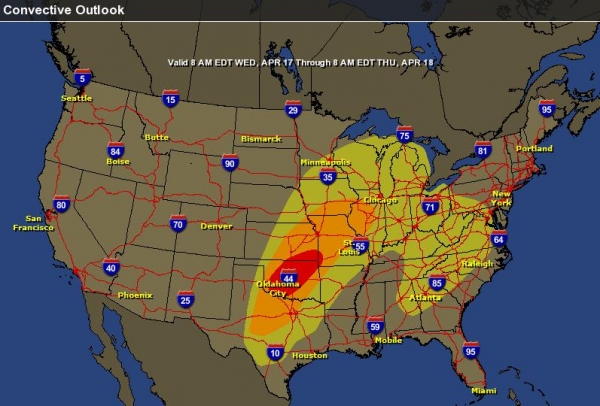 Wednesday Risk. SPC continues to show a "moderate risk" for much of Oklahoma, southeast Kansas and far southwestern Missouri tomorrow, meaning an enhanced threat of large hail (2-4″ diameter) and larger, EF-2 or stronger tornadoes, capable of considerable damage. The threat will be greatest from mid afternoon into the evening hours.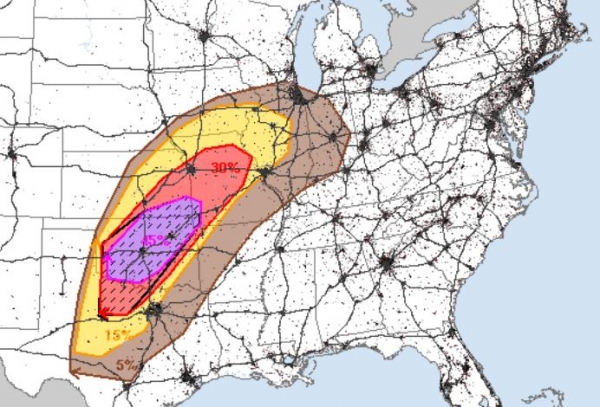 Area Of Greatest Concern. The map above shows a 45% chance of severe weather within 25 miles of any point in Oklahoma and southeast Kansas. The hatched area means at least a 10% probability of significant severe weather within 25 miles of a point. I'm most concerned about Oklahoma City and Tulsa to Wichita and Joplin, Missouri, still cleaning up from 2011's extreme EF-5 tornado.
Extreme Rains. This week's storm is moving very slowly, allowing more time for Gulf moisture to surge northward, putting down some 2-5″ rainfall amounts from near Kansas City to St. Louis, Chicago and Lower Michigan. The greatest potential for urban/street and river/stream flooding may come from Chicago and Milwaukee into Lower Michigan, where the ground is still partially frozen – rain will accelerate snow melt  and rising rivers from Grand Rapids to Flint and Ann Arbor; minor to moderate flooding possible in the Detroit area.

Flooding Current Being Reported. Here is an interactive map, showing the location of major flooding (purple) vs. moderate flooding (red markers). With heavy rain in the forecast, and the weather stuck in a very soggy rut, I expect flood conditions to get considerably worse before some improvement in early May.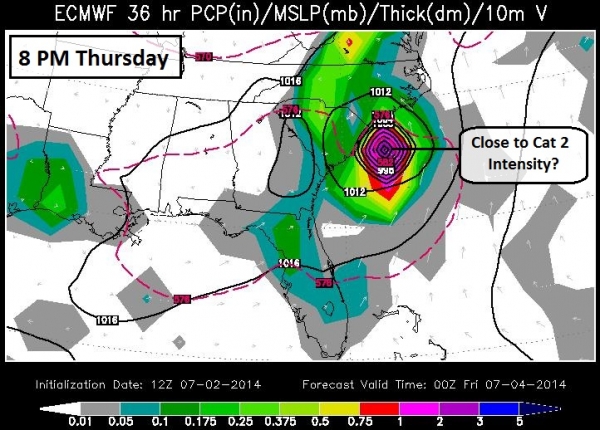 Out On A Limb: Severe Potential East Coast Late Next Week? The ECMWF model shows a powerful storm approaching the Eastern Seaboard next Thursday, a potentially ripe environment for flooding rains, hail and even a few isolated tornadoes, especially in the warm sector south of Washington D.C. It's too early for specifics, but expect volatile weather capable of impacting facilities next Thursday-Friday from Atlanta to New York and Boston.
Summary: Significant tornado threat for Oklahoma tomorrow; the threat extending into Missouri during the overnight hours. River and urban flooding may be a serious concern from St. Louis to Chicago from Wednesday thru the weekend, with as much as 4-5″ of rain predicted (more than a month's worth falling in roughly 48 hours). And heavy snow will impact facilities and travel from northern Colorado and Wyoming to the Twin Cities, Duluth and even Des Moines by Thursday night and early Friday. February doesn't want to let go.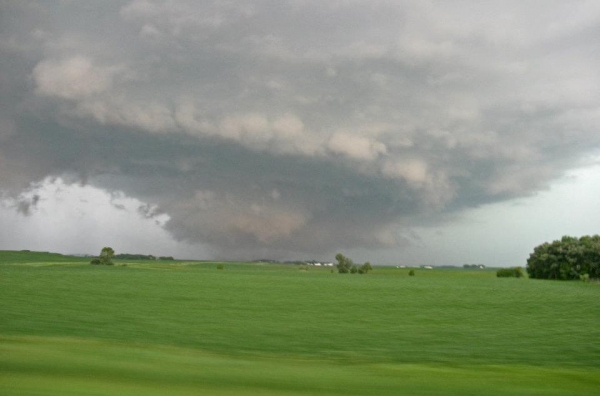 Growing Tornado Potential. I'm increasingly concerned about an unusually strong north-south temperature contrast setting up over the USA, with snow lingering over northern cities, at the same time 90s and 100s are being reported over Texas. This extreme temperature contrast will increase jet stream winds and resulting wind shear, increasing the potential for tornadic thunderstorms over the Central Plains, Midwest, and Ohio Valley as we head into late April and May. I expect a much more volatile and damaging severe/tornado year than 2012, which was freakishly hot (and dry). Expect a radically different scenario this year, possibly similar to 2010, when Minnesota saw 145 tornadoes – most in the USA. When spring does decide to arrive with sudden warmth and moisture, severe storms may be frequent and especially severe. Just a gut call. I'll keep you posted.
March Weather And Climate Highlights. More information from NOAA's Facebook site: "This morning, NOAA's National Climatic Data Center released their monthly climate stats — this time for March 2013: http://www.ncdc.noaa.gov/sotc/national/2013/3. In summary, the March average temperature for the contiguous U.S. was 40.8°F, which was 0.9°F below the 20th century average. This was in stark contrast to temperatures from one year prior when March 2012 was the warmest such month on record for the nation. We've attached the map of Significant Climate Events in March for the United States…Take a peek!"
What A Difference A Year Makes. NOAA's climate division has a good explanation on how the weather could be so radically different from 2012 to 2013. An accompanying video explains the dramatic difference in the AO, the Arctic Oscillation, from year to year. Here's an excerpt: "…Most of the eastern United States was cooler than average during March 2013, with the exception of New England. Eleven states in the Ohio Valley, along the Gulf Coast, and in the Southeast had March temperatures that were among their ten coolest. In fact, Alabama, Florida, Georgia, North Carolina, and South Carolina had March 2013 temperatures that were even cooler than those of January 2013. Despite the cool temperatures that covered most of country in March 2013, temperatures were above average for parts of the West. Arizona, California, and Nevada each had March temperatures ranking among their ten warmest. Above-average temperatures were also observed in Washington, Oregon, Idaho, Utah, and New Mexico. Overall, however, the nationwide picture couldn't be more different than that of March 2012…"
Extreme Weather Battering Insurance Firms' Bottom Line. Here's a portion of an informative article at The Toledo Blade: "…"While many are expecting catastrophe events to return to a more normalized level in 2012, it is questionable what 'normal' is. In addition, it is clear insurers should prepare for the possibility that the event frequency of 2011 may be repeated," A.M. Best Co. stated in a March briefing last year while warning about increasing extreme weather. The firm rates the financial strength of insurance companies and measures their ability to pay claims. "There is no question the number of national disasters impacting the United States is trending upward, especially over the last 35 years or so. Those are mostly storm events, flooding events. drought, even wildfires," said Robert Hartwig, president and an economist for the insurance institute…" (Photo: NOAA).
ENSO-Neutral Conditions Forecast To Persist. La Nina (cooling of Pacific water) has eased; no signs of plunging into an El Nino warming event, which could linger into the winter months. Here's the latest PPT from NOAA showing why they expect ENSO-neutral conditions (no La Nina or El Nino) to linger into at least the fall of 2013.
Going Inside The Bottom Of A Tornado With IMAX And Mobile Radar. Here's an excerpt of a fascinating article from the Washington Post's Capital Weather Gang – focused on cutting edge tornado research you have to get (the hard way): "…In brief, the researchers found that the tornado had spiraling inward and upward flows near the ground that were met by a downdraft coming down from roughly 3,000 feet high to below 300 feet but not all the way to the ground. The Center for Severe Weather Research scientists are now analyzing data from a tornado that hit their Rapid-Scan Doppler on Wheels (DOW) and a mobile-mesonet (a pickup truck with attached meteorological instruments) near Russell, Kan., on May 25, 2012 with no injuries to the three people in the DOW nor the three in the mobile mesonet, including Wurman..."
Graphic credit above: "The outer gray "shell" is the tornado's debris cloud. Red is the area of fastest winds. Yellow is an area of winds slowing to nearly calm at the center. Black arrow is the tornado's direction of movement. The curved arrows represent typical winds in three dimensions. The line the tornado is crossing is the north-south road traveled by the TIV." (Center for Severe Weather Research)
Tornado Warnings On Digital Billboards? I'm still getting up to speed on this new development, but this year, for the first time, some digital billboards will be displaying tornado warning information – which is a very good idea. Here's a post from the Minnesota Department of Public Safety and The Minnesota State Patrol, via Facebook.
Minnesota Tornadoes: A Brief History. I'm still expecting an active tornado season across Minnesota and the Upper Midwest. Here's a YouTube video clip from the Minnesota Historical Society answering common tornado-related questions: "Where and when was the first recorded tornado in Minnesota history? Take a brief tour through some of the state's worst weather and learn a safe place to "experience" a tornado."
Environmental Commission Hosting Climate Change Discussion Thursday Night. I'm looking forward to spending some time in Edina, joined by Fresh Energy Scientist J. Drake Hamilton (who will talk about solutions, and ways to save money by shrinking your carbon footprint. Details from Edina Patch: "Local Meteorologist Paul Douglas will be on hand Thursday night, April 18, as Edina's Energy & Environment Commission hosts a discussion about climate change at Edina High School. The event is scheduled to begin at 6 p.m., with a resource fair outside of EHS' Fick Auditorium. Following that, a presentation titled "What's Up with the Weather?" will run from 7-8:30 p.m. Douglas and J. Drake Hamilton, science policy director for Fresh Energy, will lead the discussion, explaining what normal weather patterns are and what science is currently indicating. "Attendees will walk away with a broader understanding of what science is telling us about climate change and what they can do to help reduce their carbon footprint," said City of Edina Environmental Engineer Ross Bintner. "There are many things we can do that can help make a difference…"
LeBron James' Instagram Photos Prompt Local Flood Warning. Under the heading of "you have to be kidding me!" Yahoo News has a story that made me do a triple-take: LeBron James, basketball superstar and amateur storm spotter: "When LeBron James announced that he was taking his talents to South Beach in 2010, he didn't say amateur meteorology was one of them. But on Saturday, James posted photos of flooded Miami streets to Instagram, prompting the National Weather Service to issue a storm report crediting the Miami Heat forward as its source. "Miami ain't always sunshine!" James wrote in an Instagram post that included a collage of photos taken while driving through what appeared to be more than a foot of water. "Mother nature ain't nothing to mess with…" (Image: Instagram).
A Tale of Bravery and Inspiration. Last night I had a chance to view a new and powerful film at the Minneapolis – St. Paul International Film Festival going on at St. Anthony Main thru April 28. Dusty was born with Duchenne Muscular Dystrophy, the most common genetic disorder, one that impacts 1 in 3,500 male births, leading to a gradual weakening of muscles over time. Dusty's mom directed the film, Andrew Fink shot and edited this moving story. Consider making a donation to coalitionduchenne.org, and click here to learn more about the film, and Dusty's brave and powerful story of hope and inspiration. Maybe you were meant to climb Mt. Kinabalu in Bornea to raise money and awareness to help eradicate Duchenne Muscular Dystrophy, once and for all.
The 27th Mile. Here's an excerpt of a powerful essay at Huffington Post: "…We can also choose to remember who we are when we go back to debating issues like tax policy and cost-of-living increases. We can remember that whenever we've had a national crisis, and understood that it was a crisis, we've responded as a community. We haven't asked the people in need whether they're Democrats or Republicans, conservative or liberal, Christian or Jewish or Muslim or atheist. We've just helped each other. Even if it means running into the smoke, we've helped each other. Yesterday the bombs exploded at Mile 26. That was the work of one person, or several people, or many people, who were in the grip of an evil darkness. But the killing ended there. The people of Boston walked the next mile, the 27th Mile. And after the smoke cleared they chose to walk it together, not alone. They looked into that handful of dust and saw hope, not fear. When we remember April 15, 2013, let's remember the 27th mile."
** photo above: Mike Hall.
Climate Stories….

"Climate Has Always Changed". That's a true statement, but now, for the first time, man is impacting, in a significant way, the chemistry of the atmosphere, by burning fossil fuels and releasing greenhouse gases into the atmosphere. Here is a good response to the "hey, climate has always changed!" meme, from veteran Denver TV meteorologist Mike Nelson, at The Yale Forum On Climate Change And The Media: "…It is absolutely true that the Earth's climate has cycled through great changes over the course of our geologic history. These changes are obvious in the fossil record — my home town area of Denver was once under a great shallow ocean. These changes result from a variety of causes, from volcanoes to continental drift to the shift in Earth's orbit on its journey around the Sun, to changes in the output of energy from the Sun. One of the key components to our Ice Ages has been what are called Milankovitch Cycles. These long-term changes in the shape of our orbit and the shift in the tilt of the Earth work like the complex gears of a clock, gradually switching our planet from Ice Age to warmer periods and back again. The Milankovitch Cycles are well documented and have been a primary driver of our changing climate for hundreds of thousands to millions of years. Now, for the first time in the Earth's history, there is evidence that these gears may be impacted by changes in the atmospheric chemistry — changes that are being caused by human activity…"
U.S. Needs A Better Disaster Plan. Here's an excerpt of an Op-Ed at The Los Angeles Times that resonated: "…Natural disasters have become increasingly costly to the United States, both in terms of the toll they take on American communities and in the direct costs of mounting a federal response. The federal government spent about $150 billion on relief efforts after Hurricane Katrina, and has so far committed about $60 billion for Superstorm Sandy. The best estimate going forward is that the federal government will spend in the neighborhood of $50 billion a year (in constant dollars) on natural disasters, up from less than $10 billion a decade ago. What accounts for this increase? In the words of environmental geographer Gilbert White, "Floods are acts of God, but flood losses are largely acts of man." Although climate change may be making the occurrence of major storms and floods more frequent, poor planning and bad development decisions are making disasters more expensive…"
Humans Responsible For Warmer Daily Highs And Lows In China, Research Suggests. Earthsky.org has the story – here's the intro: "Humans are responsible for increasingly warm daily minimum and maximum temperatures in China, new research suggests. The study is the first to directly link greenhouse gas emissions with warmer temperature extremes in a single country, rather than on a global scale, according to the paper's authors. "There is a warming in extreme temperatures over China, and this warming cannot be explained by natural variation," said Qiuzi Han Wen, an author on this paper and a researcher at the Institute of Atmospheric Physics in Beijing, China. "It can only be explained by the anthropogenic external forcings. These findings indicate very clearly that climate change is not just an abstract number for the globe; it is evident at regional scale…"
Photo credit: "A diminished water source near the village Shanqian in Yunnan-province, China." Credit: Bert van Dijk
Renewable Energy Won't Stop Global Warming If Investment Goes On At This Rate. Quartz has the story; here's a snippet: "…The price of gold isn't the only thing crashing these days. Global investment in renewable energy fell 22% in the first quarter compared to a year ago, according to a report released today by Bloomberg New Energy Finance. Even though the first quarter tends to be weak, the $40.6 billion invested in the first three months of the year is the lowest since 2009, when the global financial crisis was in full swing. Investment dropped 54% in the US and 25% in Europe in the first quarter of this year. And despite China's ambitious renewable energy targets for 2013, investment there fell 15% to $8.8 billion…"
Photo credit above: "Is it sunset in renewable energy investments already?" AP Photo/Stephan Savoia.
James Hansen Is Correct About Catastrophic Projections For U.S. Drought If We Don't Act Now. From Joe Romm at Think Progress: "The response by NOAA's Martin Hoerling to James Hansen's recent op-ed does not reflect the scientific literature. I'm traveling, so let me focus first on Hoerling's incorrect statements — posted on this blog and DotEarth — about drought. As readers know, the journal Nature asked me to write a Comment piece on the threat posed by drought after they read one of my posts examining the latest science on prolonged drought and "Dust-Bowlification." The Nature article, which is basically a review of recent drought literature, is here (subs. req'd). Most of the text is here. The research I did for that article — along with the comments of the expert reviewers I sent it to — is why I know Hoerling is quite wrong…"
We May Be Waving Goodbye To Pacific Island Nations Sooner Than We Thought. Here's an excerpt of a story from Quartz: "Rising sea levels due to climate change may inundate low-lying Pacific island nations far earlier than had previously been predicted, according to a new study. Existing computer models rely on what scientists call "passive bathtub inundation" to predict how an increase in sea levels will flood low-lying islands. In other words, the sea would slowly cover the islands, much like a bathtub filling up with water. But scientists at the US Geological Survey used a new model that takes into account how storm driven-waves and cumulative sea level rise would affect Midway Atoll and Laysan Island in the Northwestern Hawaiian Islands. That model shows 91% of Midway Atoll's Eastern Island would be inundated if the oceans rise 2 meters (6.6 feet), where the bathtub scenario says 19%. Bathtub models had predicted that low-lying islands would remain above water for another 50 to 150 years…"
Photo credit: "Enjoy the view. It might not be there much longer." AP Photo/Ronen Zilberman.
* The Guardian has a photo essay on the island nation of Kiribati, slowly sinking below the waves of the Pacific Ocean.
Apollo-Era NASA Officials Say Climate Change Research "Corrupted" By Politics And Special Interests. Heroes? Absolutely. Experts on climate science? Not so much. Here's an excerpt of a recent post from Houston Chronicle Science Correspondent Eric Berger: "…But this, again, does not make them experts in the field of climate change. They are correct to raise the issue that there are unsettled areas in climate change. It is true that there is vigorous debate in the scientific community about how significant warming will be in the coming century, but there is almost no disagreement among climate scientists that the planet is, and will continue to warm due to human emissions of greenhouse gases. A recent study of warming by previously skeptical scientists, in fact, found that the planet has continued to warm in accordance with scientific predictions. The bottom line for me is that I wouldn't ask a climate scientist to launch me into space, and I wouldn't ask a rocket scientist to program the dynamical core of a global circulation model."
Flooding, Fires And Food: Climate Change Is Costing Taxpayers Plenty. Yes, it's no longer a theory, but a reality, and we're already paying for a more volatile, unpredictable climate. Here's an excerpt of an Op-Ed at Forbes: "Crop losses. Floods.  Wildfires. Climate change and extreme weather are fundamentally changing the United States, and American taxpayers are paying a huge – and growing – cost. The U.S. Government Accountability Office warned in February that climate change is a "significant financial risk to the federal government." It threatens everything – not just federal lands and buildings, but food, flood and crop insurance and disaster relief. And who pays for all this? We do – the American taxpayers. So a threat to the government's wallet is a threat to our own bottom line. Here are some examples of the escalating costs Americans are already bearing:
FOOD
Taxpayers subsidize the federal crop insurance program that was created during the 1930s Dust Bowl to protect farmers against crop losses. Today, we're experiencing another devastating drought, and federal crop insurance losses have tripled in the past three years to $16 billion in payouts for 2012…"
Summer Ice Melt On Antarctic Is Now Nonlinear, Fastest In Over 1,000 Years. Think Progress has the story; here's an excerpt: "…A new study finds "a nearly tenfold increase in melt intensity" on the Antarctic Peninsula in the last few hundreds years. Here's the most worrisome news from this 1000-year reconstruction of "ice-melt intensity and mean temperature" published in Nature Geoscience:
The warming has occurred in progressive phases since about AD 1460, but intensification of melt is nonlinear, and has largely occurred since the mid-twentieth century. Summer melting is now at a level that is unprecedented over the past 1,000 years. We conclude that ice on the Antarctic Peninsula is now particularly susceptible to rapid increases in melting and loss in response to relatively small increases in mean temperature…"
Photo credit above: British Antarctic Survey
Recent Antarctic Climate, Glacier Changes At The "Upper Bound" Of Normal. Here's an excerpt from The University of Washington: "In the last few decades, glaciers at the edge of the icy continent of Antarctica have been thinning, and research has shown the rate of thinning has accelerated and contributed significantly to sea level rise. New ice core research suggests that, while the changes are dramatic, they cannot be attributed with confidence to human-caused global warming, said Eric Steig, a University of Washington professor of Earth and space sciences. Previous work by Steig has shown that rapid thinning of Antarctic glaciers was accompanied by rapid warming and changes in atmospheric circulation near the coast. His research with Qinghua Ding, a UW research associate, showed that the majority of Antarctic warming came during the 1990s in response to El Niño conditions in the tropical Pacific Ocean…"
Photo credit above: Heidi Roop. "This photo from December 2010 shows a one-meter long section of the West Antarctic Ice Sheet Divide core, with a dark layer of volcanic ash visible."
Scientists Find Antarctic Ice Is Melting Faster. Reuters has the story; here's an excerpt: "The summer ice melt in parts of Antarctica is at its highest level in 1,000 years, Australian and British researchers reported on Monday, adding new evidence of the impact of global warming on sensitive Antarctic glaciers and ice shelves. Researchers from the Australian National University and the British Antarctic Survey found data taken from an ice core also shows the summer ice melt has been 10 times more intense over the past 50 years compared with 600 years ago. "It's definitely evidence that the climate and the environment is changing in this part of Antarctica," lead researcher Nerilie Abram said..."
_____________________________________________________
ABOUT ME
Welcome to the WeatherNation blog. Every day I sift through hundreds of stories, maps, graphics and meteorological web sites, trying to capture some of the most interesting weather nuggets, the stories behind the forecast. I'll link to stories and share some of the web sites I use. I'm still passionate about the weather, have been ever since Tropical Storm Agnes flooded my home in Lancaster, PA in 1972. I've started 5 weather-related companies. "EarthWatch" created the world's first 3-D weather graphics for TV stations – Steven Spielberg used our software in "Jurassic Park" and "Twister". My last company, "Digital Cyclone", personalized weather for cell phones. "My-Cast" was launched in 2001 and is still going strong on iPhone, Android and Blackberry. I sold DCI to Garmin in 2007 so I could focus on my latest venture: WeatherNation. I also write a daily weather column for The Star Tribune startribune.com/weather And if you're on Twitter, you'll find me @pdouglasweather