Slow Motion Spring: Another Major Midweek Snowstorm Ohio Valley to New England
Sunday Afternoon Temperatures. Minnesotans were happy to see 40s; imagine how residents of Nebraska must have felt, basking in 70s. Click here to see current USA temperatures, courtesy of mesonet.org.
Alerts Broadcaster Briefing: Issued Sunday night, March 9, 2014.

* Another Significant snowstorm is brewing for midweek: Wednesday looks like the roughest day for travel and facility impacts from the Ohio Valley into New England.
* Evolution of model runs suggesting a plowable snowfall for Chicago (probably 4-6″), with the heaviest snow bands passing south/east of The Windy City. The heaviest amounts are likely from near Toledo and Cleveland into northern Pennsylvania, upstate New York and much of New England Wednesday night into Thursday morning. Boston may wind up with 8-12″ snow by Thursday.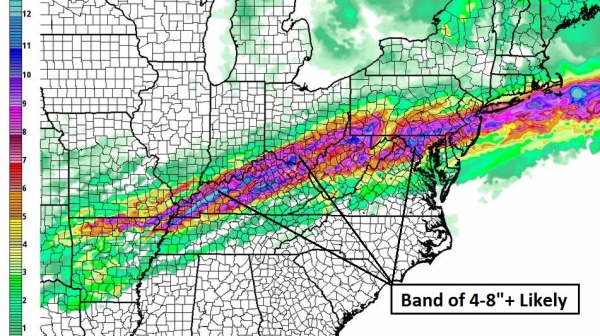 Model Trends. The maps above show NOAA's snowfall prediction (upper left) and the proprietary Alerts Broadcaster model (upper right), suggesting less snow Chicago and portions of the Ohio Valley, but heavier amounts from Cleveland into interior New England Wednesday and Wednesday night.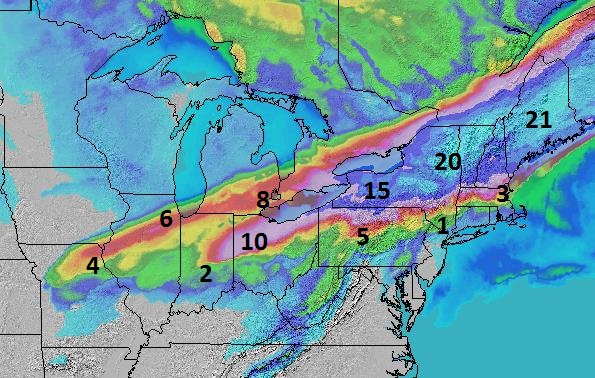 Early Snowfall Estimates. The storm is still 48-72 hours away, and any slight variation in the track will impact the final numbers, but the trends our (in-house) models were showing are showing up in the very latest model run, showing significant (plowable) snows for the Ohio Valley, but much heavier amounts east of Cleveland, with nearly a foot of snow possible from northern Pennsylvania and much of New York State into New England. With the atmosphere cold enough for all snow I expect 8-12″ for metro Boston by midday Thursday.

* New York City will see rain at the height of the storm Wednesday PM hours, ending as a few inches of slushy snow late Wednesday night and Thursday morning. Travel will be impacted for the Thursday AM commute in the Tri-State Region.
* Detroit may be close to the northern edge of the heaviest snow band; latest models suggest 4-6″ in the Motor City Wednesday.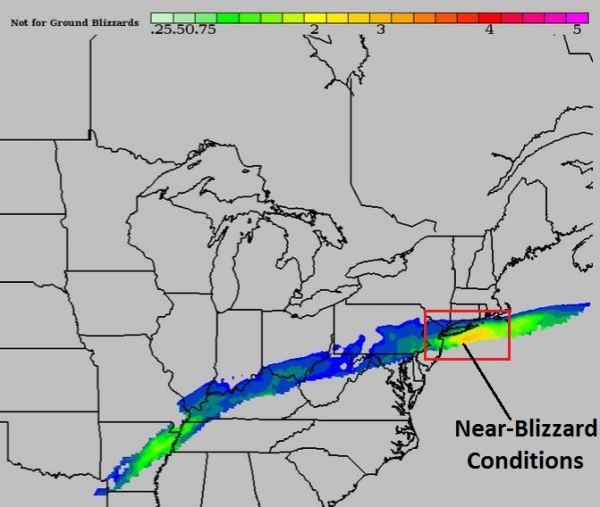 BPI Summary. The proprietary Alerts Broadcaster BPI, or Blizzard Potential Index, shows a possibility of near-blizzard conditions (sustained winds and low visibility) from near South Bend and Terre Haute to Toledo and Cleveland, with intensification near the coast sparking another area of very heavy snow from near Boston to Portland by late Wednesday night and Thursday morning. Timing the storm: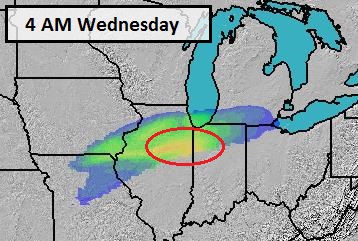 Wednesday Complications In Chicago. Although I expect the heaviest snow bands to set up south/aest of Chicago, I do expect delays and cancellations at ORD and MDW Wednesday, with latest models suggesting 3-6″ for the Chicagoland area. Closer to South Bend and Terre Haute closer to 8-9″ may fall Wednesday.
---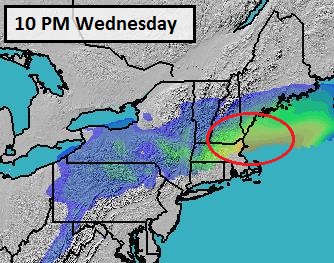 Fast-Moving System. By 10 PM Wednesday night Boston may be experiencing blizzard or near-blizzard conditions, with low visibility and high winds an issue into the morning hours Thursday.

Summary: It's still early, but enough ingredients are converging for a very significant snowfall from the Ohio Valley into portions of the Great Lakes and New England. A plowable snow is likely in Chicago, Detroit, Indianapolis, South Bend, Toledo and Cleveland, with as much as 8-12″ from east of Cleveland into Buffalo, Syracuse and Rochester by the PM hours Wednesday, spreading rapidly into the rest of New England Wednesday night and Thursday morning. Latest models suggest 8-12″ of snow for metro Boston, most of that falling Wednesday evening into midday Thursday, enough to shut down the city for 12-18 hours, if the models are on the right track (and I suspect they are).
Another update Monday as we receive more data and weigh the various model solutions. It's been the roughest winter since the late 70s and early 80s for many northern cities, and Old Man Winter isn't quite done with us yet. The pattern remains active and volatile. Stay tuned for more details as the specifics on this storm crystallize.

Paul Douglas – Senior Meteorologist – Alerts Broadcaster
Have You Checked The Batteries In Your Smoke Alarm?
 Switching to Daylight Saving Time is a good time to take stock of the smoke detectors in your home. According to 
ready.gov
 2 out of 3 home fire deaths are the result of fires in homes with no smoke alarms.
Photo credit above: "
---
Welcome to the WeatherNation blog. Every day I sift through hundreds of stories, maps, graphics and meteorological web sites, trying to capture some of the most interesting weather nuggets, the stories behind the forecast. I'll link to stories and share some of the web sites I use. I'm still passionate about the weather, have been ever since Tropical Storm Agnes flooded my home in Lancaster, PA in 1972. I've started 5 weather-related companies. "EarthWatch" created the world's first 3-D weather graphics for TV stations – Steven Spielberg used our software in "Jurassic Park" and "Twister". My last company, "Digital Cyclone", personalized weather for cell phones. "My-Cast" was launched in 2001 and is still going strong on iPhone, Android and Blackberry. I sold DCI to Garmin in 2007 so I could focus on my latest venture: WeatherNation. I also write a daily weather column for The Star Tribune startribune.com/weather And if you're on Twitter, you'll find me @pdouglasweather.