Snow, Rain, Wind and Big Range in Temps
Take a look at the national map for watches and warnings.  There is a big difference along a line from Minnesota towards Louisiana for areas towards the east. And to the west of that line, there are numerous advisories, watches and warnings and most, if not all of them, are associated with a large storm system.
The pink colors are winter storm warnings, the purple, winter weather advisories and the deep brown in the southern plains is a wind advisory.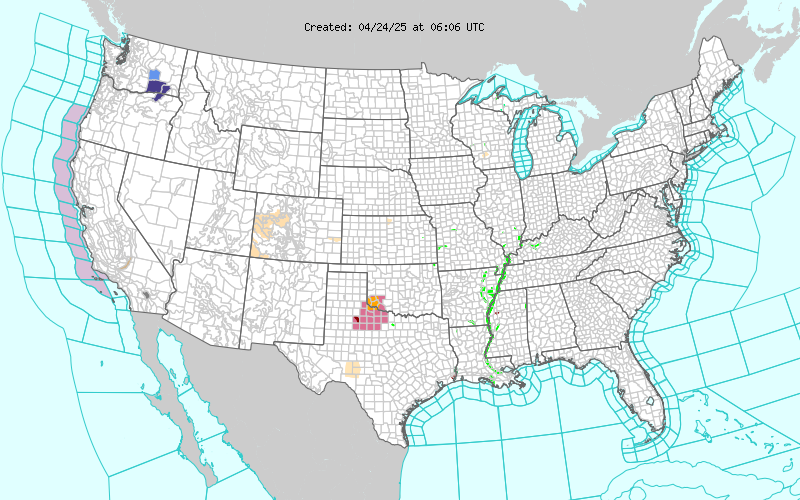 Here is the set up, a large jetstream dip is occurring on the western side of the country, allowing cold air to descend as far south as towards portions of northern Arizona.  On the eastern half, there is a large ridge where high pressure has pushed up warm, moist air up towards the Great Lakes.  Temperatures are rising into the 50s and even 80s from Minnesota towards Kansas. 
This set up is producing snowy conditions across Montana and down even into northern Arizona.  Ulm, MT has seen 4 feet of snow from this storm!  Other areas have had snowfall totals ranging from near a foot to over 2 feet. 
There have also been some powerful winds reported with this storm system.  Imagine being hit by a 111 MPH wind!  Well if you were in Meteor Crater, AZ, you were hit with a category 3 hurricane wind gusts!  Its a good thing it wasn't snowing where this gust occurred.  I can only imagine the blinding visibility, not to mention the bitter wind chill temp, associated with that scenario.
Ahead of this cold front that is going to sweep the nation today and tomorrow, is warm, moist air.  And it is the clashing of those two air masses that will spawn off severe weather.  The typical severe weather season is in late spring, into early summer, but a second season exist as well, in mid fall to early winter.
Check out the winds that have occurred already in the central plains.
A zone is already given a SLIGHT risk of severe weather occurring, from southern Minnesota towards the Texas Panhandle.  There is a 5% chance for tornado development to occur and a good chance of having to deal with gusty winds, which could range from 30-60 MPH and higher across the central plains.
Temperatures are soaring across the middle and eastern portions of the nation, but elsewhere, they are free falling!  Just look at the temperature image below. 
The high temps in Montana are getting into the single digits and teens and the wind chills are sometimes below zero.  Normally the highs in Montana should be about 30 degrees warmer than what you see in the image.  By contrast, the central plains have been soaring in the temperature department.  Highs are running nearly 10-30 degrees warmer in states like Nebraska and Kansas.   Get this, Casper, WY, has seen a HUGE 24 temperature drop.  They were at 65°at 1 PM MST yesterday, and today, have a temp at this same time of 17°.  That is a drop of 48°!  Folks there have gone from short sleeves to thick winter coats overnight.
In Omaha, NE, the temperature drop will be just as drastic.  Saturday's highs will be into the upper 70s and then drop down into the 30s on Sunday.  The normal high for the city is 52°.  Its a major shock to the system when the high temps drop a good 41° in 24 hours.  And that 37° high is misleading, because it is the afternoon high, not the real high.  The real high will be around 59° just after midnight and then temps will fall throughout the night. 
Today is the 37th anniversary of the sinking of the Edmund Fitzgerald.  It sank on November 10, 1975 in Lake Superior, taking along with the lives of its entire crew of 29 as rough waves and turbulent weather caused a series of failures to the vessel.  "The Mighty Fitz" as it was nicknamed, was the largest vessel to sink in Lake Superior.  Many theories have come around as to how the ship sank, but just about all of them blame a powerful winter storm as the primary cause of the ship's fate, where winds gusted over hurricane force in strength and the waves on Lake Superior were over 30 feet.
Here are a series of images we created here at WeatherNation about this historic event that helped change the ways the vessels in the Great Lakes ship materials, as well as creating new regulations based on recommendations.
Thank you for stopping by, I hope you have a wonderful rest of the day and a great Sunday!
Meteorologist Addison Green