Snowstorm Southern Plains – Ice Storm for Dallas – East Coast Storm Day Before Thanksgiving?
Fresh Air
I was in Las Vegas last weekend, celebrating the imminent 60th birthday of a dear friend. No, I didn't gamble. I gamble with the weather and business on a daily basis – I have no desire to do it "for fun".
We did stop at The Minus5 Ice Bar, where drinks are served in glasses made of ice, and everyone huddles around in heavy coats and boots, complaining about how cold it is. Wait… I could just fly home for the very same experience, which costs nothing to attend. It dawned on me that the temperature inside was -5 C, or about 23F.
Really?
By late January we call that a 'warm front'. If I want to enjoy 23F I can just go out and have a beer in my garage. There's no cover charge there.
As I tell new recruits ad nauseum: our coldest days are often sunny, which helps to remove some of the sting. Nothing worse that really cold AND really gray.
An ice storm is brewing for Dallas and a soaking rain storm sloshes up the east coast next Wednesday, complicating travel plans from Boston to D.C. to Atlanta.
---
An Active Southern Branch. The jet stream is increasingly exhibiting a split personality, a cold, relatively dry northern branch, and a very wet and stormy southern branch. NOAA's 4km NAM shows a slow-moving storm capable of flooding rains in Phoenix, 6-10″ of snow from Albuquerque to Amarillo and Lubbock, to glaze ice in Dallas. Note the 200-400 mile long plumes of lake effect snow extending from the U.P. of Michigan into West Virginia. Loop: Ham Weather.
---
Blizzard Potential Index. Our modeling expert has come up with a new parameter to measure the potential for blizzard conditions (35 mph+ winds and visibility under 1/4 mile with falling/blowing snow) over time. Lake effect snows will create near-blizzard conditions from the U.P. of Michigan into northern Indiana, the suburbs of Cleveland and Syracuse, while heavy, wind-whipped snow snarls traffic over the southern Rockies. Map: Ham Weather.
---
Talking Travel Turkey. Will Mother Nature cooperate next week, the biggest travel week of the year across the USA? No. It's just too tempting a target. Quiet, dry weather is likely over the Plains, Midwest and Great Lakes, but the same storm capable of generating a serious ice storm for Dallas and some 6-8″ snows for northern and western Texas will track right up the East Coast, generating heavy, windswept rains, and possibly a period of slushy snow at the tail end of the storm Wednesday and Wednesday night. Details in today's edition of Climate Matters.
---
Alerts Broadcaster Briefing: Issued midday Friday, November 22, 2013.
* Coldest air of the season so far will spin up a major snow and ice storm for the Southern Plains, capable of plowable snowfall amounts over much of northern, western and central Texas, with a potential for severe icing Sunday into Monday in the Dallas-Fort Worth area.
* Major coastal storm brewing for east coast and New England next Wednesday: mostly rain and high winds with minor coastal flooding possible at high tide. This system may impact Thanksgiving travel plans and retail operations.
* Significant storm to dump heavy snow on southern France, Switzerland and much of the Alps next 72+ hours.
---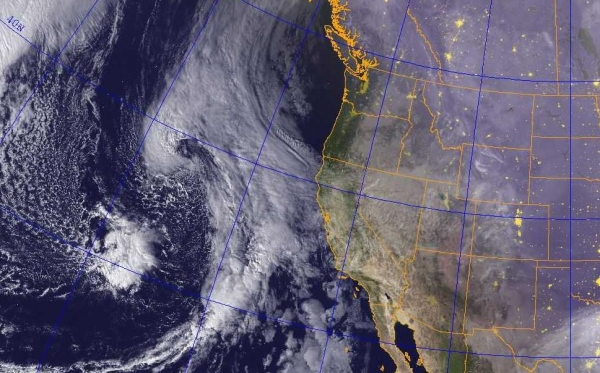 Converging Ingredients. I get nervous when a major blast of arctic air is approaching the U.S. In today's scenario the thrust of that Canadian air is pushing south, across the Plains, where it will help to spin up a storm rich in moisture from the Gulf of Mexico. The result, heavy, wet snow for much of central Texas, including Lubbock, Midland, San Angelo and Wichita Falls, extending into southern Oklahoma. Norman and Oklahoma City may experience as much as 3-5″ of snow this weekend, with hazardous travel conditions extending into Monday.
---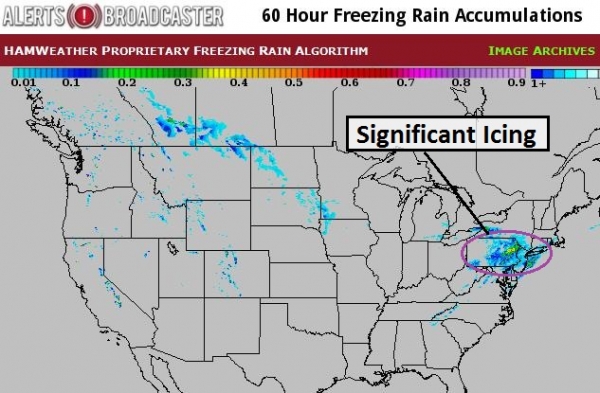 Ice Storm Potential. Snow is one thing, but glaze is an altogether larger overall risk to staff, customers and facilities. Our models print out over 1″ of liquid precipitation in the Dallas area by Monday. Although a thin layer of warm air aloft may keep precipitation falling as rain, by Sunday that rain may be freezing on contact with cold surfaces: roads, sidewalks and powerlines, creating an icy coating capable of major impacts. Snow will mix in, especially the Fort Worth suburbs, but I'm more worried about extreme ice conditions capable of shutting down travel and impacting the local power grid. Map above: NOAA.
---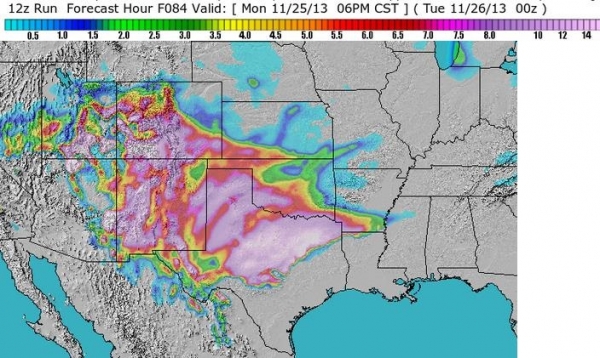 NAM Solution. NOAA's NAM model shows more snow than ice for much of northern and central Texas. I'm skeptical. Although the lowest mile of the atmosphere should be cold enough for mostly snow from Wichita Falls to Abilene, San Angelo and Lubbock, enough warm air may mix into the storm's circulation aloft for an icy mix from near Waco into Dallas – Fort Worth. A few spots in from the Texas Panhandle into northern Texas and southern Oklahoma could pick up in excess of 6-8″ of snow, mixed with sleet (ice pellets) at times. For Dallas precipitation may fall as mostly freezing rain – capable of a severe glaze icing event.
---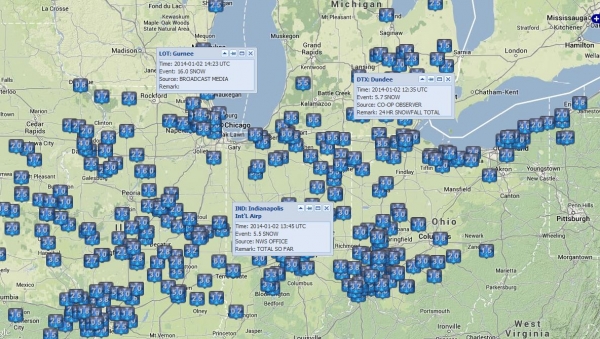 Predicted Amounts. The same icy blast will spark lake effect snows from Green Bay to near Gary and South Bend, Indiana, and the snow belts around Cleveland, Syracuse and Rochester, New York may see enough snow to shovel and plow. Check out some of the snowfall tallies for Texas, as much as 9″ for Amarillo, even 2-3″ at El Paso, on the Mexican border. Pretty amazing for late November.
---
Current Watches and Warnings. An Ice Storm Warning is already posted around Lubbock – my hunch is that this may be extended east into the Dallas area as we head into the weekend. Right now Dallas is under a Winter Storm Warning from Saturday evening into Monday morning. Expect rain today and much of Saturday; the real concern is Sunday night into Monday morning, as temperatures fall below freezing and that rain begins to freeze on contact. I could see substantial power outages across north Texas and southern/western Oklahoma late in the weekend into Monday as tree branches freeze and topple, taking powerlines with them. Albuquerque, New Mexico may pick up as much as 4-7″ of snow from this system as well. Map above: Ham Weather.
---
Thanksgiving Travel Grinch. Short term the concern is the Southern Plains with heavy snow and ice. Next week a fresh surge of Canadian air will whup up a major coastal storm. Temperatures aloft should we warm enough for (heavy) rain from Boston to New York, Philadelphia, D.C., Charlotte and Atlanta, with a period of wet snow inland at the tail end of the storm Wednesday night. The combination of heavy rain and embedded T-storms may hamper travel by land and air next Wednesday along much of the eastern seaboard. You've been warned. ECMWF map valid 6 AM EST Wednesday, November 27 via WSI.
---
On The Other Side Of The Pond. Our Alerts Broadcaster models print out some 5-8″ snowfall amounts near Toulouse, France, with plowable amounts expected from Geneva to Zurich and much of the Alps. We'll continue to monitor this storm for our clients with operations across Europe.
Summary: the greatest short-term concern is heavy snow from New Mexico and northern/western Texas into western and southern Oklahoma. Traffic will be impacted – so will facilities. I'm even more concerned about a potential for a MAJOR ice storm impacting Dallas – Fort Worth and Waco, with some half inch accumulations of glaze ice on some roads, trees and powerlines. The greatest window of concern is Sunday afternoon into midday Monday.
A major east coast storm will push heavy rain and a few T-storms from the Carolinas into New England next Wednesday. This looks like primarily a rain storm (with some coastal flooding and beach erosion possible), a brief period of wet snow possible at the tail-end of the system, but probably no major accumulation from Boston to New York to Washington D.C. We'll be watching this system very carefully in the coming days.
---
Wildfire Risk Seen As High or Extreme At 4.5 Million U.S. Homes. Bloomberg and The Chicago Tribune have the article; here's the introduction: "More than 4.5 million U.S. homes are at high or extreme risk from wildfires, led by properties in California, according to Verisk Analytics, the supplier of actuarial data to insurers and banks. California has 2 million properties meeting those risk designations, followed by Texas with 1.3 million and Colorado with almost 374,000, Verisk Insurance Solutions said today in a report. Higher temperatures and increased development near forested areas have increased costs from U.S. wildfires. This year 19 firefighters known as the Granite Mountain Hotshots died battling a blaze in Arizona. Colorado wildfires have cost insurers more than $1 billion since 2010, including the Black Forest fire this year, Verisk said…" (File image: U.S. Forestry Service).
---
Forget Concrete – The Way To Block Tsunamis Is These Spindly Trees. Using (natural) buffers, like sand dunes or even trees can slow the advance of not only earthquake-generated tsunamis, but typhoon-related storm surges. Here's a clip and animation from Quartz: "…Some of Haiyan's destruction could have been prevented. But not with seawalls or dykes—with mangrove trees. Areas near Tacloban where mangrove forests hadn't been illegally cut fared better, as a Philippines development consultant told Bloomberg. That's because mangroves provide a natural buffer that slows down inland tidal surges, absorbing 70-90% of a normal wave's impact. Here's an animated version of how mangrove forests dampen a tsunami's force…"
---
Why The Philippines Shouldn't Rebuild Storm-Ravaged Tacloban
. I fear we'll be having similar discussions for other coastal communities in the years ahead, as rising sea levels combine with increasingly severe typhoons, hurricanes and nor'easters. When do you just throw up your hands and admit that it doesn't make dollars and sense to keep rebuilding in the same vulnerable areas? Here's an excerpt from
Quartz
: "…
Rebuilding "needs to be done urgently and differently for the Philippines," Vinod Thomas, director general for independent evaluation at the Asian Development Bank, told Quartz. "There is clearly a big lesson to be learned in not relocating in a highly vulnerable area," he said. "Tacloban is like a poster child. You can't imagine a more vulnerable area than Tacloban."  All of the Philippines is vulnerable to rising seas and intense storms caused by climate change, but Tacloban—situated at the mouth of a bay and with major portions of the city well below sea level—is in a uniquely precarious position.
.."
Photo credit above: "Locals clean up debris on a street in Tacloban, Philippines, Nov. 22, 2013. Typhoon Haiyan, which cut a destructive path across the Philippines, is believed by some climatologists to be the strongest storm to make landfall in recorded history, with some 13 million people affected by the storm." (Jes Aznar/The New York Times).
---
Jimmy Breslin On JFK's Assassination: Two Classic Colum
n. I think it's hard for most of us to wrap our brains around how traumatic it must have been in this nation 50 years ago. I was 5, and I vaguely remember sitting in my kid-size rocking chair, crying, because my parents were crying. But I couldn't really comprehend what had happened. Here's an excerpt from a couple of must-read columns at
The Daily Beast
: "
In the days after President Kennedy's assassination, the legendary columnist Jimmy Breslin set the standard for literary journalism written in the wake of tragedy. His columns for the New York Herald Tribune became instant classics, precisely because he chose to cover the unexpected human stories at the heart, but on the periphery, of the breaking news.  Published here with Breslin's permission are two of his iconic columns from those tumultuous days. "A Death in Emergency Room One" chronicles Nov. 22, 1963, from the attending emergency-room surgeon in Dallas. "It's an Honor" has become a staple of journalism schools because Breslin sidestepped the media circus and covered the president's burial from the perspective of the gravedigger at Arlington National Cemetery. Taken together, these two columns are true short stories, history written in the present tense
…"
Photo credit above: "Members of the U.S. Naval Academy Men's Glee Club sing at the "The 50th: Honoring the Memory of President John F. Kennedy" event in Dallas on the 50th anniversary of the president's assassination, Friday, Nov. 22, 2013." (Rodger Mallison/Fort Worth Star-Telegram/MCT)
---
How The Japanese Tsunami Changed The U.S. Auto Industry. Here's an excerpt from an interesting story (and twist) via CBS News MoneyWatch: "As we near the first anniversary of the tragic earthquake and tsunami that hit Japan on March 11, its effects linger not only in that country but also in the American auto industry. The disaster disrupted supplies of made-in-Japan models like the Toyota Prius and Honda Fit, as well as the flow of parts for some cars assembled in the U.S. As a result, shoppers who might have bought a Toyota or Honda last year bought Chevrolets and Fords, as General Motors and Ford gained market share…"
File Photo credit: AP Photo/Wally Santana
---
Michael Jordan's North Shore Mansion Goes Under The Auction
. The auction took place yesterday, but I thought some of you might want to see the details of Air Jordan's pad, which is pretty amazing, in a wretched-excess sort of way. Here's an excerpt from
The Chicago Tribune
: "Michael Jordan's 56,000-square-foot mansion in Highland Park — complete with an NBA regulation-size basketball court — will be put up for sale during a live auction Friday. No minimum bid has been set for the basketball superstar's 7.4-acre estate at 2700 Point Lane, but prospective buyers are required to put down a $250,000 deposit just to participate in the bidding, said Laura Brady, president of New York-based Concierge Auctions…"
Photo credit above: "The living room inside Michael Jordan's 56,000-square foot Highland Park estate." (John S. Eckert Photography, John S. Eckert).
---
---
Climate Stories….
The Onion Nails It. This is in response to the recent "90 companies blamed for 2/3rd's of greenhouse gas emissions" story. These companies are just giving us what we want and need, right? Graphic: The Onion.
---
Pentagon Releases Strategy For Arctic
. A rapidly melting arctic ice cap is pretty hard to ignore (or deny), yet many of the same professional climate deniers are happy to point out the advantages of less ice and more water – more economical shipping, and more exploration for oil and gas. Of course it's all that burning of oil and gas that's melting the polar ice cap in the first place. Oh, the irony. Here's a clip from
The New York Times
: "…
While "climate change does not directly cause conflict," Mr. Hagel said, it may "significantly add to the challenges of global instability, hunger, poverty and conflict." He cited "food and water shortages, pandemic disease, disputes over refugees and resources, and more severe natural disasters." The Pentagon's Arctic strategy places a priority on preparations to detect, deter, prevent and defeat threats to the United States even as the nation "will continue to exercise U.S. sovereignty in and around Alaska," Mr. Hagel said.
.."
---
Climate Change Forces New Pentagon Plan. Picking up on Secretary of Defense Hagel's comments, here's an excerpt of a slightly different perspective from U.S. News and World Report: "The Arctic is covered with pure driven snow. The Department of Defense hopes to keep it that way with a new policy that for the first time addresses how the U.S. will respond to the effects of climate change, which have opened up a veritable treasure trove around the North Pole that until recently was inaccessible. Defense Secretary Chuck Hagel unveiled the military's new Arctic Strategy Friday afternoon during his trip to Canada. The plan seeks to head off potential tensions in the crowded Arctic neighborhood among its residents — most notably Russia, but all eager for access to massive oil reserves and newly thawed passages for shipping, fishing and tourism…" (Photo credit: NOAA).
---
U.N. Climate Talks Near End, With Money At Issue. Here's an excerpt from a summary at The New York Times: "The United Nations climate conference ambled toward a conclusion on Friday, with delegates saying that the meeting would produce no more than a modest set of measures toward a new international agreement two years from now. As usual, the biggest dispute was over money. The talks, the 19th annual meeting of parties to the United Nations Framework Convention on Climate Change, opened nearly two weeks ago in the shadow of a devastating typhoon in the Philippines. The disaster added momentum to a proposal by poorer nations for the creation of a new mechanism to compensate developing countries for damage from climate-related disasters…"
---
As U.N. Climate Change Talks Go Nowhere, Ontario Bans Coal. This made me do a double-take; here's a clip from a story at The Atlantic: "While delegates to the United Nations Climate Change Conference in Warsaw continued fiddling while Rome burns, the government of Ontario, Canada, today moved to permanently ban coal-fired power plants. "Our work on eliminating coal and investing in renewables is the strongest action being taken in North America to fight climate change," Kathleen Wynne, the premier of Ontario, said in a statement. Wynne's government next week will introduce the Ending Coal for Cleaner Air Act in Parliament. Unlike most such legislation, the Act will ratify what the government has already done – close down the coal-fired power plants that once supplied a quarter of the province's electricity..." (Image credit: Reuters).
---
Why America's Major Sports Leagues Are Talking About Climate Change. Ice hockey is already being impacted (shorter seasons on America's ponds and lakes). Here's a clip from a story at ThinkProgress: "…But those kids are starting to run into a major problem: the frozen ponds they play on are less and less likely to form each winter, as a changing climate makes winter warmer and open ice more scarce. That isn't just bad news for kids who want to play the game. It's also worrisome for the National Hockey League, a league already a distant fourth among America's top four professional sports that depends on those pickup games and frozen ponds to help build new generations of fans and players. And the NHL isn't alone. The NFL, NBA, Major League Baseball, and WNBA are all worried about the effects of environmental changes on their sports and the people who play them, which is why representatives from those five leagues plus the U.S. Olympic Committee joined Sen. Sheldon Whitehouse (D-RI) and Rep. Henry Waxman (D-CA) on Capitol Hill today to discuss their efforts to reduce energy usage and address climate change — and the efforts the federal government could take to do the same…" (File photo credit: Star Tribune).
This Entire Country Is About To Be Wiped Out By Climate Change. It Won't Be The Last. Here's an excerpt from a sobering story at Bloomberg BusinessWeek: "…Kiribati is a flyspeck of a United Nations member state, a collection of 33 islands necklaced across the central Pacific. Thirty-two of the islands are low-lying atolls; the 33rd, called Banaba, is a raised coral island that long ago was strip-mined for its seabird-guano-derived phosphates. If scientists are correct, the ocean will swallow most of Kiribati before the end of the century, and perhaps much sooner than that. Water expands as it warms, and the oceans have lately received colossal quantities of melted ice. A recent study found that the oceans are absorbing heat 15 times faster than they have at any point during the past 10,000 years. Before the rising Pacific drowns these atolls, though, it will infiltrate, and irreversibly poison, their already inadequate supply of fresh water…"
Photograph by Claire Martin for Bloomberg Businessweek.
---
Achbishop Urges Steps To Address "Ethical Challenge" Of Climate Change. The Catholic Sentinel in Portland, Oregon has the story – here's the introduction: "Climate change represents an "ethical challenge to civilization," said the Vatican's lead representative to an international conference discussing the worldwide impact of climate change. Archbishop Celestino Migliore told attendees at a church-run conference that the Vatican would help "form consciences and ethical perspectives" on climate change in line with Catholic social teaching and encourage "fairness, impartiality and mutual responsibility" when it came to action to address the environmental threat…"
Photo credit above: Catholic News Service photo. "A view of a glacial lake is seen in Juascaran National Park in Peru in late September."
---
Harvard Can Save Us From Global Warming Apocalypse. Divestment (of fossil fuel holdings) is one way to plant a flag in the ground and inspire other universities, companies and individuals, as argued in this collaboration between TomDispatch.com and Salon; here's a clip: "…Set against a landscape in which people have lost faith in the principle sectors of power, however, universities still have a certain legitimacy that grants them the potential for leverage. Divestment will make news precisely because such movements are unusual: universities biting the hands of the dogs that feed them, so to speak. We won't know how much influence that legitimacy can bring about until the attempts are made.  What we do know, from historical precedent, is that such efforts, even when they start on a small scale, tend to inspire more of the same…"
_____________________________________________________________________________________
ABOUT ME
Welcome to the WeatherNation blog. Every day I sift through hundreds of stories, maps, graphics and meteorological web sites, trying to capture some of the most interesting weather nuggets, the stories behind the forecast. I'll link to stories and share some of the web sites I use. I'm still passionate about the weather, have been ever since Tropical Storm Agnes flooded my home in Lancaster, PA in 1972. I've started 5 weather-related companies. "EarthWatch" created the world's first 3-D weather graphics for TV stations – Steven Spielberg used our software in "Jurassic Park" and "Twister". My last company, "Digital Cyclone", personalized weather for cell phones. "My-Cast" was launched in 2001 and is still going strong on iPhone, Android and Blackberry. I sold DCI to Garmin in 2007 so I could focus on my latest venture: WeatherNation. I also write a daily weather column for The Star Tribune startribune.com/weather And if you're on Twitter, you'll find me @pdouglasweather.