Summer's Extra Innings (more "heat days" for Midwest – tsunami risk West Coast – tracking "Gabrielle")
Summer's Extra Innings

I like having real seasons – the green/gray/white/muddy scenes outside our windows help us mark the passage of time. Increasingly, summers are expanding; significant heat spilling into early and mid autumn.
I try to reason with blushing brides, encouraging them to choose September over June for their outdoor weddings. Why? June is the wettest month of the year; the highest odds of encountering a foul, gulley-gushing T-storm.
By September the atmosphere is more stable, warm aloft but cooling near the ground. This results in fewer T-storms capable of sparking a screaming stampede to safety. It's still warm enough for a dip in the lake, but Canadian air leaking south means cooler nights & less than HALF as much water in the air.
Our most perfect month? Subjective, yes, but you could make a pretty strong case if you enjoy lukewarm sun (without the hail & high water).
The approach of another hot front may spark a stray T-storm Friday morning. Highs surge to near 90 Friday PM & Saturday; the best odds of a free lawn & field watering from storms on Monday.
No frosty fronts in sight, in fact long-range models show another brush with 90F the weekend of September 14-15.
Summer won't let go. Looks like Aug-tember to me.
Saturday Highs. The 12km NAM model shows highs near 90F Saturday, probably the hotter day of the weekend, statewide. Mid-90s are predicted from Omaha into much of Nebraska, where the drought will build in coming weeks. Map: Ham Weather.
Fickle Summer Rainfall Pattern. Data from the Minnesota DNR and The Minnesota State Climate Office shows only 2″ of rain since June 26 over portions of central and southwestern Minnesota, and along the Mississippi River from Winona to Lake City. That's less than 1/4 the amount of rain that should have fallen during that period. MSP metro rainfall ranged from 5″ north metro to 6-7″ south metro; over 10″ of rain has soaked the Boundary Waters since late June. Great news for farmers up there huh?
Maps Look Like August – Keeping An Eye On "Gabrielle". The 84-hour NAM model shows Tropical Storm Gabrielle coming into view, possibly brushing the Bahamas before (probably) turning north/northeast into the open Atlantic. That track is not a slam-dunk, we need to keep monitoring this storm and people living along the Southeast Coast should keep a respectful eye on this tropical storm. Meanwhile heat expands east – again, temperatures some 15-20F warmer than average by Friday and Saturday from the Twin Cities to Des Moines and Kansas City. At the same time residents of New England are reaching for light jackets – but temperatures moderate a bit by the weekend.
"Heat Days" In Schools Becoming More Common. A combination of earlier school starts and heat spilling over into more of September is creating unpleasant, and at times dangerous conditions for students, teachers and staff. Here's a clip from an AP story at Huffington Post: "…This year's late August heat exposed a tug-of-war in school districts that are under pressure to start school earlier than ever but are unable to pay to equip aging buildings with air conditioning. Parents who worry hot classrooms are a disadvantage for their kids are issuing an ultimatum: Make classes cooler or start the year later. "Thinking about air conditioning – we can't even afford new textbooks," said Bement Community Unit School District Superintendent Sheila Greenwood, who oversees a tiny district of 380 students about 20 miles southwest of Champaign, Ill. Many people can recall school days spent inside ancient, brick-construction buildings that on sweltering days seemed as hot as pizza ovens. But hot classrooms are becoming a bigger problem for schools than in years past, and increasingly, getting a "heat day" is as common for students as a "snow day." As temperatures soared past 90 last week, some Midwest schools gave students extra water and bathroom breaks or canceled after-school activities. Districts from St. Joseph, Mo., and Frankfort, Ind., sent kids home early. In Fargo, N.D., five schools got the week off, and schools in Minneapolis closed down, too…"
Photo credit above: "Students leave school Tuesday, Aug. 27, 2013, after school let out at Patrick Henry High." David Joles – Star Tribune.
Region Is Back In A Drought After Two Months Short Of Rain. Here are more details on the drought now overspreading much of Wisconsin from The Wisconsin State Journal: "Abnormally dry conditions over the past two months have put parts of Wisconsin back in a drought and ruined some state farmers' expectations of a bountiful harvest this fall. The western part of the state, where more than 80 percent of the topsoil has either short or very short moisture levels, already is in a drought, according to data from the National Weather Service. The NWS is expected to classify southern parts of the state, including Dane and counties to its west and southwest, as experiencing moderate drought conditions perhaps as soon as this week.
Record Warmth In Southern Hemisphere. It was the warmest winter season on record across New England, the warmest 12 month period on record for Australia, with record warmth at the South Pole. Everything is relative – it's still paint-peeling cold at the bottom of the world, but a record is a record. Here's today's edition of Climate Matters: "WeatherNationTV Chief Meteorologist Paul Douglas goes over some of the record warmth in the Southern Hemisphere including the warmest temps at the South Pole and Australia."
Tracking "Gabrielle" Here's an excerpt of an Alerts Broadcaster briefing issued Wednesday night on a developing tropical storm near Puerto Rico: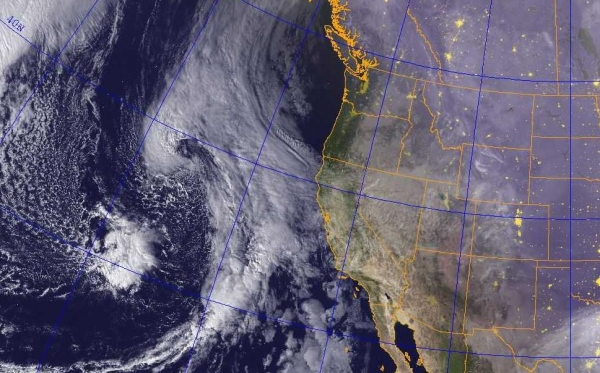 * Tropical Depression Seven formed south of Puerto Rico & has strengthened into Tropical Storm Gabrielle.
* 3-5″ rains expected across Puerto Rico – flash flooding likely in metro San Juan.
* The most reliable computer models take Gabrielle to the north into the open Atlantic Ocean, with a 1 in 3 chance the storm will reach the Bahamas by Saturday.
* Gabrielle becomes a strong tropical storm, possibly a weak Category 1 hurricane.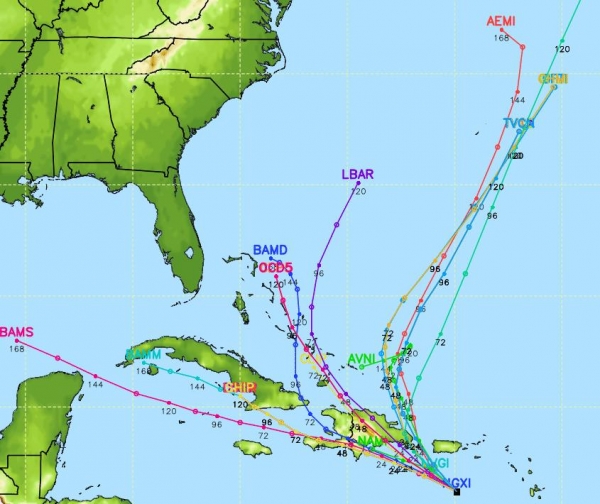 Projected Track. There's still a significant variance with predicted tracks of Gabrielle, so overall confidence is fairly low, but the most reliable weather models, including HWRF, take the storm to the north/northeast, well away from The Bahamas, Florida and the U.S. East Coast. It's important for me to emphasize that, based on the best available information tonight, Gabrielle should steer clear of the USA.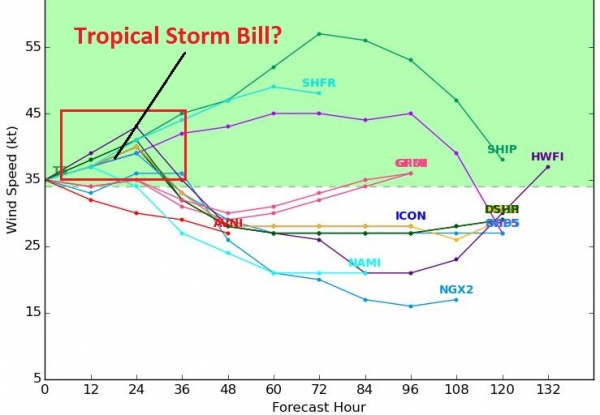 Intensity Forecast. Conditions aren't favorable for rapid intensification of Gabrielle – tropical storm force is likely the next 3-4 days, with a slight chance of the storm becoming a Category 1 hurricane within 3 days.
Summary: For the first time in 11 years we went through the entire month of August without a named hurricane in the Atlantic basin. The peak of the hurricane season is September 10, and there have been years where a very quiet first half of the season was followed by a series of major hurricanes from late September into October. Although odds now favor fewer hurricanes than average it's too early to let our guard down. Activity is finally picking up in the tropics – I suspect a series of tropical storms and several hurricanes over the next 3-4 weeks. We'll keep you posted on all threats.
Temporary Coating May Help To Protect Homes From Wildfires. Phys.org has a very interesting story about steps homeowners may be able to soon take to lower the risk from wildfire; here's an excerpt: "When a forest or brushland wildfire threatens to engulf nearby neighborhoods, some homeowners might opt to quickly spray the entire exterior of their house with a temporary fire-retardant coating. Now, a team of Agricultural Research Service scientists in California – one of America's most wildfire-prone states – has shown that an experimental fire-retardant gel made of sodium bentonite clate, cornstarch, and water may offer better, more affordable protection than gels made from other compounds…"
Photo credit above: "At the Western Regional Research Center in Albany, California, food technologist Artur Klamczynski (left) and plant physiologist Greg Glenn prepare to use an infrared heater, located behind them, to conduct burn tests of siding coated with experimental fire-retardant gel." Credit: Delilah Wood.
Experts Team Up On Tsunami Resilience In California. Here's a press release from USGS, which is spending considerable time and resources modeling the potential for a damaging tsunami impacting the West Coast; here's an excerpt: "…A hypothetical yet plausible scenario was developed where a tsunami is created by an earthquake offshore from the Alaskan peninsula and extends to the California coast. This is detailed in a new report titled, the U.S. Geological Survey's Science Application for Risk Reduction (SAFRR) Tsunami Scenario. Some of the issues highlighted in the scenario include public safety and economic loss. In this scenario approximately 750,000 people would need to be evacuated, with 90,000 of those being tourists and visitors. Additionally, one-third of the boats in California's marinas could be damaged or completely sunk, resulting in $700 million in losses. It was concluded that neither of California's nuclear power plants would likely be damaged by this particular event..."
Study: Tsunami Could Slam San Diego. Here's a slightly different perspective on the news out of USGS, from U-T San Diego: "Boats, buildings and marinas in San Diego Bay could suffer upwards of $300 million in damage if a huge earthquake erupts off Alaska and sends a tsunami to Southern California, scientists say in a new study that models a shaker similar to the one that struck Japan in 2011. Federal and state researchers came up with a hypothetical magnitude 9.1 earthquake that produces a tsunami severe enough to force the evacuation of 750,000 people along the California coast while sinking or damaging one-third of all boats in the state's marinas. Such a tsunami could cause $1.2 billion in damages and down time at the Ports of Los Angeles and Long Beach, but it would not affect the nuclear reactors at San Onofre or Diablo Canyon, the report says…"
Photo credit above: "San Diego Bay is the third largest natural bay on the California coast and is home to thousands of pleasure craft and more than 60 Navy warships and submarines." — K.C. Alfred
At the Western Regional Research Center in Albany, California, food technologist Artur Klamczynski (left) and plant physiologist Greg Glenn prepare to use an infrared heater, located behind them, to conduct burn tests of siding coated with experimental fire-retardant gel. Credit: Delilah Wood
Read more at: http://phys.org/news/2013-09-temporary-coating-homes-wildfires.html#jCp
When a forest or brushland wildfire threatens to engulf nearby neighborhoods, some homeowners might opt to quickly spray the entire exterior of their house with a temporary fire-retardant coating. Now, a team of Agricultural Research Service scientists in California—one of America's most wildfire-prone states—has shown that an experimental fire-retardant gel made of sodium bentonite clay, cornstarch, and water may offer better, more affordable protection than gels made from other compounds.
Read more at: http://phys.org/news/2013-09-temporary-coating-homes-wildfires.html#jCp
Flood Insurance Rates Panic Homeowners In Tampa Bay. This story reinforces my opinion/prediction that before long, only the uber-wealthy will be able to afford to live right on the coast, people who can either afford the (outrageous) insurance premiums or use their own cash to rebuild, and not rely on the federal government. Here's an excerpt from Bay News 9: "Flood insurance rates are about to go up for thousands of people in the Tampa Bay area, and it's causing some people to panic. Eric and Mary Anderson live in their dream home, but they're trying to sell it so they can buy something a little bigger for their grandkids. The problem is, no one wants it. "We're currently paying a premium of $1,706 a year, we're looking at the potential for it to go up to in the neighborhood of $11,000 to $12,000 a year," said Eric Anderson, Treasure Island homeowner.…"
Image credit above: "
When you think of the Xbox, you probably picture things like Halo, Fable, and Call of Duty. But with the upcoming Xbox One, Microsoft is trying to expand beyond just gaming, and become your go-to living room companion. And what's a bigger mainstay of weekend couch-surfing than sports? Gizmag recently sat down with Microsoft to chat about some deals the company inked to help bring your home sports entertainment into the 21st century…"
Google's 15th Birthday: 15 Things You Didn't Know. I had no idea – The Guardian Technology has a walk down memory lane; here's a clip: "Google is 15 years old today. To celebrate, here are 15 facts you probably didn't know about them.
1. Google was originally called BackRub. The homepage read: "BackRub is a 'web crawler' which is designed to traverse the web."
2. Google has acquired an average of one company every week since 2010.
3. The first Google doodle was a Burning Man symbol. Founders Larry Page and Sergey Brin went to the Burning Man festival in 1998 and added the doodle to let users know they were away from the office that weekend…"
From OM To OMG: Science, Your Brain, And The Productive Powers Of Meditation. Here's an excerpt of a fascinating story about meditation from Fast Company: "…Because meditation is a practice involving focusing our attention and being aware of when it drifts, this actually improves our focus when we're not meditating, as well. It's a lasting effect that comes from regular periods of meditation. "Focused attention is very much like a muscle, one that needs to be strengthened through exercise. Less anxiety: This point is pretty technical, but it's really interesting. The more we meditate, the less anxiety we have, and it turns out this is because we're actually loosening the connections of particular neural pathways. This sounds bad, but it's not…"
London Skyscraper Reportedly "Melts" Parked Jaguar. Yes, architecture (and materials) matter – I wonder if this would have happened to a Ford? Details via Gizmag: "Here's a side of modern architecture we don't see every day. According to a report by the BBC, light reflected from an 37-story skyscraper under-construction in London could be responsible for melting parts of a Jaguar parked nearby. The case of the melting Jaguar took place in London last week when Mr Martin Lindsay discovered minor damage to his car, which had been parked for two hours in the vicinity of the curved glass facade of 20 Fenchurch Street (aka the "Walkie-Talkie" skyscraper) in the City of London…"
Help Save Lily. I love dogs, and this urgent plea caught my eye yesterday – sent to me by a friend. If you can make a donation please consider helping this adorable puppy. Details via gofundme.com: "Lily was only out of the hospital for 4 days and she is now back in again. She was acting very tired and had no energy to bounce around and play with her ball and wouldn't eat. She was very traumatized from her first stay in the hospital and would not let her owner out of her sight without whimpering. Now she has to endure more tests and x-rays and they think her pneumonia was never fully cured. Of course there are now several hundred dollars of more vet bills. We really want her to get better for good but she is so small and weak. I feel really bad for my sis who is over moon with this pup but was not prepared for these enormous bills. Please help if you can…"
Amish Doppler. All the technology in the world can't replace a good, freshly-cleaned, west-facing window. Many times the old methods still work best.
Swimming Upstream: Freshwater Fish In A Warming World. Here's an excerpt of a report released Wednesday by the National Wildlife Federation: "…Whether fly fishing for wild trout in the legendary waters of Yellowstone National Park or ice fishing on Michigan's famed Black Lake, fishing traditions hold a special place for Americans of all ages. Generations have enjoyed our nation's clean waters in pursuit of the fish that give life to rivers, streams, and lakes across the country. Today, angling is big business, generating $26 billion annually in expenditures by some 27 million adults. Changing climate poses new risks for our treasured freshwater fish resources. Warming waters mean lost habitat for cold-water species, the likely encroachment of species typically found in warmer areas, and exacerbation of existing stressors such as habitat loss, pollution, invasive species, and disease. More extreme weather events—especially longer and more intense droughts, heat waves, wildfires, and floods  mean increased likelihood of fish mortality. Shorter winters with less snow and ice cover mean shifts in stream flow and water availability through the spring and summer months, as well as lost opportunities for ice fishing…"
* the 40 page full report released by the NWF is here (pdf).
Imperfect Storms: A Controversy In Climate Science. Here's a clip from Minnesota climate scientist Greg Laden: "I love it when controversy develops in climate science. It demonstrates that climate science is a science, not dogma. Also, it is interesting. And, ultimately, it is important because we need to reduce uncertainty and addressing controversy eventually does so. There is a new controversy in climate science about a vitally important issue. Last year, Hurricane Sandy (aka Superstorm Sandy aka Frankenstorm Sandy) devastated coastal New Jersey and flooded the Battery in Manhattan. This was a highly unlikely event. Estimates of how likely it is for a major hurricane to follow the path Sandy followed – a nearly perfect east to west trajectory from the ocean onto the land – range from once in 400 years to once in 800 years. But there was an explanation. A set of unusual large scale moving masses of air related to the jet stream had formed in such a way to shape Sandy's storm track into a configuration never before seen for any hurricane for which we have accurate storm tracks. This configuration of air masses is best explained as the outcome of two unusual large scale weather phenomena, changes to the jet stream owing to Arctic Amplification and a negative North Atlantic oscillation. These configurations, in turn, are thought to have been made more likely by the effects of anthropogenic global warming…"
Graphic credit above: "NOAA's collection of over a century and a half of Atlantic Hurricane tracks. Note that big storms go from east to west while in the tropics, then if they make it far enough north, go west to east. Storms that affect the Atlantic Coast of the US tend to move north along the coast, grazing the continent and thus weakening. A storm that goes up the Atlantic staying over warm waters such as the Gulf Stream, then moves east to west against the coast in non-weakened form, is a monster."
Wildfire, Coastal Flooding Expected To Increase Due To Global Warming. Here's a clip from Canadian Underwriter: "Coastal flooding, wildfire and drought are all risks of concern due to global warming though the incidence of severe convective storms is not expected to change, a new report from Guy Carpenter & Company LLC suggests. In the report — titled Global Warming: The Evolving Risk Landscape — Guy Carpenter warns the "most significant threat for coastal areas" is a rise in sea levels caused by melting glaciers and thermal expansion of ocean waters. "Apart from this threat, changing weather patterns will impose drought and inland flood threats for many areas," according to the report. "As a general principle of climate change, some modification to the mean of meteorological extreme value distributions can be expected, but with a more concerning increase in tail thickness (or variability)…"
We Can't Blame Everything On Climate Change: Soot Melts Glaciers Too. Here's an excerpt of a good reality check from Grist: "The world's glaciers are wasting away at a cracking pace — but it's not just because the climate is warming. Soot and other black carbon is settling on ice and snow, absorbing the sun's rays and causing frozen water molecules to melt. It can be hard to tell how much of the melt to attribute to warming and how much to soot. But researchers have pinpointed a period shortly after the Industrial Revolution when black carbon alone appears to have caused glaciers to melt in the European Alps…."
Photo credit above: Frank Paul, University of Zurich. "The Aletsch Glacier in Switzerland."
Greenland "Mega-Canyon" Sends Water To The Sea. Keep an eye on Greenland, and the West Antarctic Ice Sheet. Here's an excerpt from Climate Central: "Researchers have found a "mega canyon" in Greenland tucked under a mile and a half of ice that could rival the size and depth of Arizona's Grand Canyon. While the discovery won't become a major tourist attraction, it does provide insight into how meltwater courses its way underneath the world's second-largest ice sheet, and how that might affect ice shelves and glaciers at its periphery. Melting ice from Greenland and Antarctica is now the dominant contributor to global sea level rise, which is expected to accelerate in coming decades. The bedrock that Greenland's ice sheet sits on has generally been thought to be flat. However, the new discovery, laid out in the latest issue of the journal Science, shows it may be far more complex than previously thought. "There was a hint something was there but this gives us rich imagery," said Robin Bell, who heads the polar geophysics group at Columbia's Lamont-Doherty Earth Observatory, and was not associated with the study…"
Graphic credit above: "A three dimensional view of the subglacial canyon looking northeast. Researchers used NASA IceBridge data to visualize the canyon buried under a mile and a half of ice." Credit: Jonathan Bamber/Bristol University.
To Change Environmental Behavior, Should We Really Tell People The World Is Ending? For the record, I don't know of any climate scientists who have so far as to predict the imminent end of the world, but the climate is changing, and there's concern about whether we, as a species, will be able to adapt to these changes in time to prevent various calamities. End of the world? No. But the combination of over-population and increased climate volatility and rising seas may create some unpleasantness in the decades ahead. Here's an excerpt from a story at Huffington Post: "…What does this have to do with climate change? Environmental decisions fundamentally rely on making tradeoffs. People must choose whether to sacrifice in the present (e.g., driving less) for potential benefits that might not be felt until much later. If people perceive their country or planet's remaining time to be very short, then they rationally shouldn't place too much importance on making these present-day sacrifices. But if a long future is seen, sacrifices today for a brighter tomorrow for ourselves and our offspring make more sense. Not that people go about their daily lives consciously thinking about the amount of time that their country (and the world) has left, but a longer past implicitly suggests a longer, and less uncertain future. Using Gott's Principle, we reasoned that citizens of countries with a longer past will also look further into the future and, as a result, be more willing to invest in the environment.…"
Image credit: Apollo 8 photograph courtesy of NASA.

In a speech to the Institute for Public Policy Research, Chris Bryant warned that millions of people around the world could be forced to leave their homes over the next few decades and move to countries less affected by environmental problems. "If we get climate change wrong there is a very real danger we shall see levels of mass migration as yet unparalleled," he said. "The United Nations (UN) estimates that in 2008 20 million people were displaced by climate change." In the longer term, he said, "you can imagine that the UN estimates of 200 million such refugees, more than the total number of worldwide migrants today, may be about right…" (Photo credit: AFP).
__________________________________________________________________________
ABOUT ME
Welcome to the WeatherNation blog. Every day I sift through hundreds of stories, maps, graphics and meteorological web sites, trying to capture some of the most interesting weather nuggets, the stories behind the forecast. I'll link to stories and share some of the web sites I use. I'm still passionate about the weather, have been ever since Tropical Storm Agnes flooded my home in Lancaster, PA in 1972. I've started 5 weather-related companies. "EarthWatch" created the world's first 3-D weather graphics for TV stations – Steven Spielberg used our software in "Jurassic Park" and "Twister". My last company, "Digital Cyclone", personalized weather for cell phones. "My-Cast" was launched in 2001 and is still going strong on iPhone, Android and Blackberry. I sold DCI to Garmin in 2007 so I could focus on my latest venture: WeatherNation. I also write a daily weather column for The Star Tribune startribune.com/weather And if you're on Twitter, you'll find me @pdouglasweather