Thursday Severe Risk & Blizzard Potential In The Upper Midwest
Alerts Broadcaster Briefing: Issued Tuesday night, February 18, 2014.
* First significant severe thunderstorm risk Thursday from the Ohio Valley into the Mid South and Tennessee River Valley. Slight risk from SPC, meaning probable squall line with damaging straight-line winds, 1-2″ diameter hail, and a few (isolated) tornadoes.
* Blizzard potential late Thursday into early Friday from Iowa into eastern Minnesota and western Wisconsin as a powerful storm winds up, producing blowing and drifting problems from near Des Moines and Waterloo, Iowa to Rochester, the Twin Cities, Duluth, La Crosse andEau Claire, Wisconsin.
---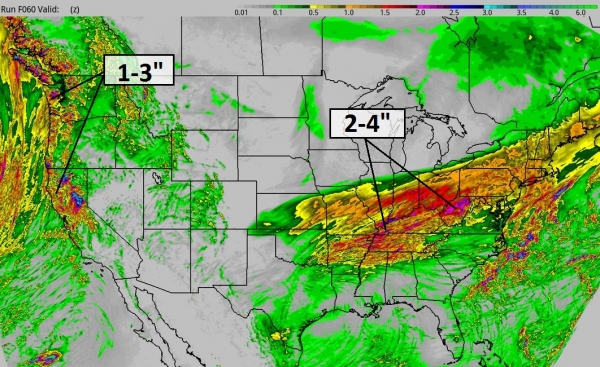 Blizzard Watch. The concern is not only falling snow, but 20-40 mph sustained winds whipping up the considerable snow already on the ground, especially northeast Iowa, eastern Minnesota (including the Twin Cities and Duluth) and much of Wisconsin. The worst travel conditions and potential for airline delays will come Thursday afternoon into Friday morning for this region.
---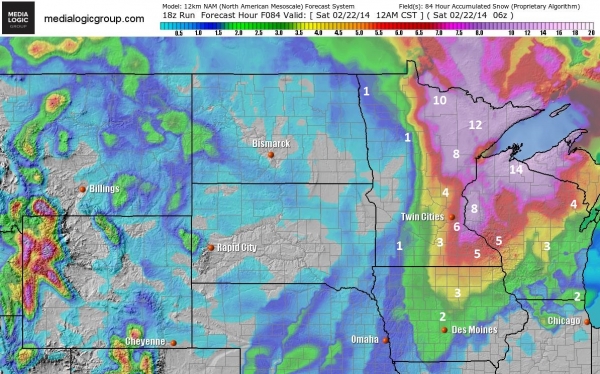 Snowfall Potential. These numbers will change as new model data arrives and the final track crystallizes. There is certainly a potential for (very) plowable amounts of snow, especially eastern and northern Minnesota and far western and northern Wisconsin, where visibilities may fall close to zero at times in falling/blowing snow Thursday night into early Friday. Conditions improve PM hours Friday.
---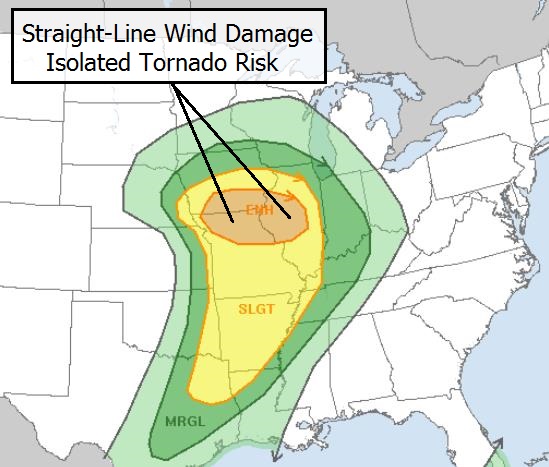 Thursday Severe Thunderstorm Risk. SPC has issued a slight risk – right now I do not expect a widespread tornado outbreak, but we can't rule out a few smaller, EF-0 to EF-1 tornadoes, especially south of the Ohio River. Storms may exceed severe storm criteria from near Chicago to Indianapolis and Columbus, with 1-2″ diameter hail and locally heavy rain capable of flash flooding. With frost still in the ground there is a heightened risk of stream and river flooding, especially across the Ohio Valley by late week.
---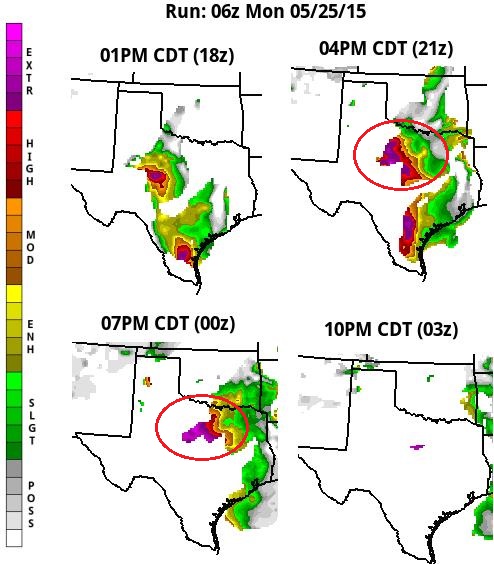 TPI: Tornado Potential Index. Our in-house models show a heightened risk of supercell T-storms capable of (isolated) tornadoes, especially Bowling Green and Louisville southward to Nashville and Huntsville by Thursday evening. I expect mainly linear T-storms capable of 50-70 mph wind gusts and sporadic tree damage and power outages; hail may reach 1-2″ in diameter. A couple of EF-2 tornadoes can't be entirely ruled out.
---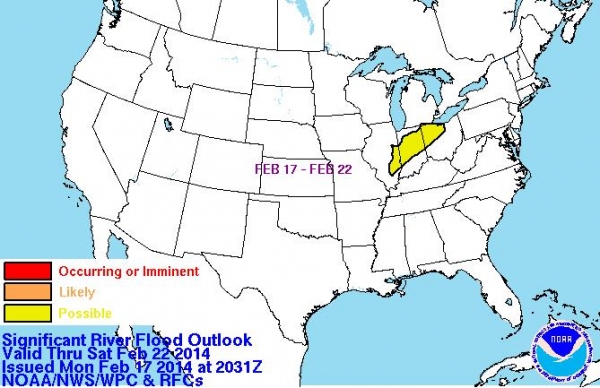 River Flooding Potential. Although rainfall amounts probably won't be heavy enough for widespread river flooding, the combination of melting snow, lingering frost in the ground and .5 to 1.5″ amounts may create minor to moderate flooding of urban areas and small streams and rivers, especially Champaign-Urbana to Indianapolis, South Bend and Toledo, according to NOAA guidance.
Summary: Tornadoes are possible, climatologically, much of the winter along the Gulf Coast. By late February the risk shifts northward as temperatures warm and 60-degree dew points begin to surge north. We'll have many of the ingredients for severe storms Thursday; more linear (squall line) than supercellular, but a few isolated tornadoes are possible with this outbreak. The greater risk is straight-line wind damage and large hail.
Farther north, deeper in the cold air, a rapidly intensifying storm will drop heavy snow over the Upper Midwest with blizzard potential by Thursday night from near Des Moines to Rochester, the Twin Cities and Duluth, along with much of western Wisconsin. We'll keep you posted.
---
The Official Forecast Of The U.S. Government Never Saw This Winter Coming.
Did I mention that weather forecasting, especially long-range weather forecasting, is a humbling endeavor? Bloomberg Businessweek has the story; here's the introduction: "Surprised by how tough this winter has been? You're in good company: Last fall the Climate Prediction Center of the National Oceanic and Atmospheric Administration predicted that temperatures would be above normal from November through January across much of the Lower 48 states. This graphic shows just how wrong the official forecast of the U.S. government was.The big red blotch in the top map represents parts of the country in which the Climate Prediction Center forecast above-average temperatures. The frigid-looking blue blotch in the bottom "verification" map shows areas where temperatures turned out to be below average…"
---
Winter Weather Update. Thanks to Climate Nexus; here's an excerpt of a recent press release: "The Eastern United States is one of the only parts of the globe that was colder than average this winter. This is because cold Arctic air is normally confined by the jet stream, but the anomalous waves and shifts in its position (which also influenced other events on this list) allowed pockets to escape and move south. Warm air moved into its vacated position, causing the crazy situation on Jan 26: Homer, Alaska was warmer at 54ºF than any part of the country except southern Florida and southern California. The South was completely unprepared for the unusual snowstorms, resulting in logistical fiascos like the traffic jam in Georgia that left some stranded for over 12 hours."
---
Are Crime And Clime Linked? A Potential Upside To A Lousy Winter. Grasping at straws? Perhaps, but this story at The San Jose Mercury News includes research that has been substantiated elsewhere. It turns out criminals aren't fond of the wind chill either. Here's an excerpt: "…Researchers have long studied the correlation between weather and crime. Anecdotally, it appears as though there's some truth to the old idea that violence calms during cold weather and spikes when it's warm. "There is some evidence that hot weather, particularly hot, humid weather is related to upticks in violent crime," said Jay Corzine, a sociology professor at the University of Central Florida. "If the weather gets really cold, if anything there is a decrease in street crime, because there aren't as many people in the streets . . . potential offenders don't like to be outside much, either…"
Photo credit above: "A Georgia Department of Transportation sign warns drivers of winter weather as they travel a bleak section of Highway 141 on Wednesday, Feb. 12, 2014, in Norcross, Ga." (John Amis/AP).
---
Arthritis Pain May Be Affected By Weather, Study Says. I've seen numerous papers linking a possible uptick in arthritis with rapidly changing weather conditions, including sudden swings in barometric pressure. Fox News has the story; here's the introduction: "For people with osteoarthritis of the hip, pain levels tracked with the weather over the course of a small two-year study, Dutch researchers say. They looked at reported pain levels in a previous study of arthritis, then went back to weather records to document the conditions each day. It turns out the participants' aches were just a little worse and joints just a little stiffer when humidity and barometric pressure levels rose..."
---
Is The Harsh Weather Affecting The Housing Market? Here's a clip from a story at The Houston Chronicle: "As the housing market has slowed down in the winter months, many people assume the weather is a major factor. It is safe to say that there are fewer home shoppers during this time of year, as CF Funding mentioned previously. With the snow and cold that the Midwest has been experiencing, this winter is even more difficult than usual to buy or sell a home. However, some economists are worried that the weather may have very little to do with the slowdown, suggesting that the market could be performing poorly for other reasons, such as low inventories and rising interest rates…"
---
Third Coldest U.S. Winter On Record For USA? Here's an excerpt from Steven Goddard: "If February ended today, this would be the third coldest winter on record in the US, after 1979 and 1899."
---
Warming Arctic May Be Causing Jet Stream To Lose Its Way.
Echoing trends I've been seeing since roughly 2010-2011, NPR reports on how changes in far northern latitudes may be showing up in the skies floating above your house; here's an excerpt: "…The temperature difference between the Arctic and lower latitudes is one of the main sources of fuel for the jet stream; it's what drives the winds. And because the Arctic is warming so fast, that temperature difference is getting smaller, and so the fuel for the jet stream is getting weaker," Francis says. "When it gets into this pattern, those big waves tend to stay in the same place for some time. The pattern we've seen in December and January has been one of these very wavy patterns..."
Image credit above: "The jet stream that circles Earth's north pole travels west to east. But when the jet stream interacts with a Rossby wave, as shown here, the winds can wander far north and south, bringing frigid air to normally mild southern states."NASA/GSFC.
---
---
Factors That Go Into Flood Forecasting. As temperature continue to thaw, and rain storms track farther north, the potential for river flooding will increase. That growing risk, and another whopping case of weather-whiplash, are the subjects of today's edition ofClimate Matters: "WeatherNationTV Chief Meteorologist Paul Douglas goes over yet another case of weather whiplash across the United States. Some areas with a decent covering of snow could see strong to severe storms move through the area on Thursday. What does ground frost have to do with flooding concerns?"
---
At Sochi Olympics, Finding Risk Is Snow Problem. No shortage of lukewarm slush on the slopes of Sochi. In the city of Sochi itself there are days when I ask myself "Winter or Summer Olympics?" Here's an excerpt from The Washington Post: "The snow around here looks like soup, a creamy bisque that seems harmless enough until the athletes plunge into it and find the hard crags of the Caucasus beneath, which is when the medics race out. The sounds of the Sochi Games are a whack and the clatter of boards and skis, followed by wails — or worse, a terrible stillness. The mounting crash toll includes a broken back, a broken jaw and an assortment of head injuries. The logo for this Olympics ought to be a stretcher..."
Photo credit above: "Rain drops hang on a railing at the 2014 Winter Olympics, Monday, Feb. 17, 2014, in Krasnaya Polyana, Russia. After days of warm weather at the Sochi Olympics, fog up in the mountains is causing an even bigger disturbance.Thick fog rolled in over the mountains in Krasnaya Polyana on Sunday night and was still lingering on Monday, and the limited visibility forced organizers to delay a biathlon race and cancel the seeding runs in a snowboard event." (AP Photo/Kirsty Wigglesworth).
---
A Mad Dash For Salt Rescues Olympic Slopes. This sounds like the plot for a (bad) made-for-TV-movie of the week, but it's true. Here's an excerpt from The New York Times: "…Homeowners use salt to melt ice on the sidewalk, but Alpine experts cleverly use it to overcome soft snow conditions when a hard, icy surface is preferable. The salt melts the soft snow, and when the temperature drops — usually overnight — a layer of ice forms. Large-grain salt, about five millimeters in size, is best for soft, deep snow, because it drops farther into the snow and lasts for days, not hours…"
Photo credit above: "A referee throws salt on the track prior to the men's biathlon 20k individual race, at the 2014 Winter Olympics, Thursday, Feb. 13, 2014, in Krasnaya Polyana, Russia." (AP Photo/Lee Jin-man).
---
The Terrible Effect Of One Year Of California's Drought Seen From Space.
Gizmodo has the year-to-year contrast from space; here's a clip: "Here's the effect of one entire year of drought in California, going from February 15, 2013, to February 16, 2014, as seen from NASA's Terra satellite. It's really scary to see the land die like this—especially after you read what NASA has to say about it..."
---
Can Anybody Save California? Politico has the article; here's an excerpt: "…The mega-drought is pitting farmers against fishermen, north against south and, of course, Democrats against Republicans. But that's frequently the case in California, which has battled for more than a century over how to allocate too little water for too many people. The dry landscape adds another layer of rancor, and with the planet heating up and fueling bigger, longer and more severe droughts, that's likely to be a permanent fixture. How state and federal lawmakers respond to the crisis could offer a window into how the United States writ large will react to climate events in real time—and so far, the politics appear too small for the task…"
---
Water In America: Is It Safe To Drink? Minnesota has been blessed with clean lakes, streams and acquifers – something none of us should take for granted. In light of the recent contamination of drinking water supplies in West Virginia here's an excerpt of a story at National Geographic Daily News: "…We often don't think about where our water comes from," said Steve Fleischli, director and senior attorney for the Natural Resources Defense Council (NRDC) Water Program in Los Angeles. "Does it come from a nearby river or a lake, intermittent streams, isolated wetlands, or an aquifer? Yes, you may have a water treatment plant, but if your water source is not protected, people face a real risk..."
Photo credit above: "A chemical plant sits along a branch of the Kanawha River in South Charleston, West Virginia, site of a recent coal slurry spill." Photograph by Steve Helber, AP.
---
Why Do People Get Drunk? Because they can. But let's built a (fake) bar and find out, turn it into a "research project". Uh huh. A university in Britain is doing just that, as reported by The London Evening Standard; here's an excerpt: "A University has spent £20,000 building a mock pub for students to investigate why people get drunk.Researchers at London South Bank University are looking into how much people choose to drink  and how willing drinkers are to take risks as their alcohol consumption increases. Hidden cameras and microphones will be used to monitor behaviour as volunteers are given free drinks,  some of which will smell of ethanol but be alcohol-free…"
---
4 Sales Strategy Lessons From House Of Cards. Yeah, I'm hooked, up to Episode 12 of Season 2. Thank you Netflix. Here's an excerpt of a well-timed article from LinkedIn that made me do a double-take: "…Underwood is known for his particularly ruthless political tactics, but he ultimately gets his way through sheer determination. While we don't endorse any under-the-table dealings, sales professionals can still take a few lessons from Underwood when looking to advance their goals. Keep these 4 thoughts in mind when structuring your sales strategy:
1). Know (and grow) your network
In season one, Underwood served as the Democratic House Majority Whip under a new White House administration.…"
---
Loneliness Is Killing Us – We Must Start Treating This Disease. Here's an excerpt of a story at The Guardian that made me do a double-take: "That loneliness is a health issue would not have been a surprise to Mother Teresa who once said: "The biggest disease today is not leprosy or cancer or tuberculosis, but rather the feeling of being unwanted, uncared for and deserted by everybody." But now doctors have quantified the effects of the loneliness disease, warning that lonely people are nearly twice as likely to die prematurely as those who do not suffer feelings of isolation. Being lonely it seems, is a lot more worrying for your health than obesity…"
---
1 in 4 Americans Don't Know That Earth Orbits The Sun. Yes, Really. Good grief – nice to see those high school diplomas and college degrees are paying off. Discovery News has the details; here's a clip: "…And then, today, the National Science Foundation (NSF) delivered news of a pretty shocking poll result: around one in four Americans (yes, that's 25 percent) are unaware that the Earth orbits the sun. Let's repeat that: One in four Americans — that represents one quarter of the population — when asked probably the most basic question in science (except, perhaps, "Is the Earth flat?" Hint: No.), got the answer incorrect..." (Graphic above: scienceblogs.com).
---
Here's How To Predict The Weather Using Your Cat. Who needs Doppler or the ECMWF when you have Tabby wandering around (sulking most of the time). Hey, I'm up for anything – that works. Here's a clip from Time Magazine: "…In his book Weather Proverbs, unearthed by NPR, Dunwoody documents a long list of widely-held folk beliefs about weather predictions, including signals from bears, foxes, and goats, but he particularly focuses on cats. Here's what you should look for.
When cats sneeze it is a sign of rain.
The cardinal point to which a cat turns and washes her face after rain shows the directing from which the wind will blow.
When cats are snoring foul weather follows..."
Photo credit: "This cat is predicting a storm." Photographer: brokinhrt2/Flickr.
______________________________________________
About Me:
Welcome to the WeatherNation blog. Every day I sift through hundreds of stories, maps, graphics and meteorological web sites, trying to capture some of the most interesting weather nuggets, the stories behind the forecast. I'll link to stories and share some of the web sites I use. I'm still passionate about the weather, have been ever since Tropical Storm Agnes flooded my home in Lancaster, PA in 1972. I've started 5 weather-related companies. "EarthWatch" created the world's first 3-D weather graphics for TV stations – Steven Spielberg used our software in "Jurassic Park" and "Twister". My last company, "Digital Cyclone", personalized weather for cell phones. "My-Cast" was launched in 2001 and is still going strong on iPhone, Android and Blackberry. I sold DCI to Garmin in 2007 so I could focus on my latest venture: WeatherNation. I also write a daily weather column for The Star Tribune startribune.com/weather And if you're on Twitter, you'll find me @pdouglasweather.