Tracking a Tornado Tragedy (best apps for getting essential weather information during life-threatening weather)
Tornado Nation. We've turned tornado spotting and tornado chasing into something of a sport in this country. Who will get the "money shot" and maybe make a few thousand dollars selling his iPhone video to the local TV station or national weather channel? Last night the reality of tornadoes came into full view. Nature's deadliest wind swept into Moore, Oklahoma, 200 mph winds for 3-6 minutes, and the results were devastating. This EF-4 or EF-5 tornado will probably go down into the record books as the costliest tornado in U.S. history. The loss of life was horrific. As meteorologists we're trained to be clinical as we track and predict all kinds of life-threatening weather. But as a father and human being, you couldn't watch last night's coverage without your heart breaking.
Classic Hook Echo. If you see something like THIS on Doppler you know you have a large, potentially violent tornado. This NWS Doppler (reflectivity) image was taken 10 minutes before Moore suffered a direct hit. The Chief Meteorologist at KFOR-TV in Oklahoma City actually told his viewers "if you don't have a basement you will not survive a direct strike from this tornado – better to get into your vehicle and try to drive away". You don't hear that very often.
* fewer than 1 in 10 Oklahomans have a basement. The reason? Bedrock. It's cost-prohibitive to put in a basement across most of the Sooner State.
* last year I wrote an article for 
Huffington Post
, highlighting a prolific, well-respected structural engineer/meteorologist who predicts that, within our lifetime, America will be struck by a single urban tornado that claims over 1,000 lives. My jaw dropped when I heard him say this, but after yesterday I'm starting to think he was right.
Velocity Field. Here is the radial velocity Doppler field 10-15 minutes before Moore was struck, a "couplet" showing violently divering winds. Doppler has revolutionized the tracking of tornadoes, but 15-30 minutes before a direct strike it's still impossible to determine the severity of a brewing tornado.


Beyond Words. Usually a tornado is too small to show up on Doppler. Usually. Yesterday's Moore, Oklahoma EF-4+ was 1-2 miles wide, kicking up unprecedented levels of debris as it mowed down neighborhood after neighborhood. The resulting "debris ball", the actual tornado itself, was hard to miss on Doppler. A Tornado Watch was issued for OKC at least 2 hours before the tornado struck, a 30 minute Tornado Warning before the actual funnel struck.
Best Smartphone Weather Warning Apps? Subjective? You bet. Could one of these apps save your life? Absolutely. I've tested a couple hundred weather apps so you don't have to waste your money. Below I have a list of what I consider to be the 3 best, must-have apps for your smartphone. These apps are revolutionizing the way consumers get time-sensitive, potentially life-saving weather warnings. Check below for more details.
Lessons From Moore. There's nothing we can do to stop these terrifying storms, but you can take steps to better prepare. For years I've been talking about "multiple safety nets"; the more sources of tornado information, the better. That means media, social media, e-mail alerts, sirens, NOAA Weather Radio and apps for your smartphone. Details:
1). Take a portable NOAA Weather Radio. The First Alert portable NOAA Weather Radio above costs a whopping $31, and it could save your life .With a little digging you can find portable, hand-held NOAA Weather Radios that should work in rural areas, even the North Woods. Here's a good list of other portable options, thanks to Google. It's true that signal reception can be a problem, but I always camp with a portable NOAA Weather Radio. I may be a weather geek, but I want to live to tell my grandkids about my camping adventures!
2). Situational Awareness. Any good camper can read the sky and (on some level) know if a severe storm is brewing. High humidity, a southeast breeze, building clouds are all tip-offs that storms may be brewing. Wherever you are, hiking, camping, enjoying the outdoors, always have an "escape route" in the back of your mind. Where could you seek shelter if skies turn threatening? Under a rocky overhang, a nearby store or lodge? With a little planning and a Boy Scout "be prepared" mindset you can lower the risk of disaster by thinking and planning ahead.
3). Smartphone apps. This is where the real revolution is taking place in warning technology. There are some terrific apps out there for getting the time-sensitive information you need to stay ahead of the storm. They cost a few bucks, but think of it as another form of life insurance. My company, WeatherNation, offers warning solutions for major corporations, but there are some great options (that aren't in any way related to my business) that can be personalized for the locations you care about, even your real-time GPS location. They're worth every penny:
RadarScope
. In my humble opinion this is still the best pure-play radar app. It works anywhere in the USA (you can get a data signal – which can be problematic for parts of the western USA away from cell towers). Click on any NWS Doppler site and see high resolution Doppler radar, an animated loop, hail detection, velocity fields (to see if a storm is rotating and capable of generating a tornado), even storm rainfall estimates – great for determining the risk of flash flooding, which can be VERY important if you've just pitched a tent next to a babbling brook, which might be tranformed into a raging, muddy torrent if 6″ of rain falls 20 miles up the road. More details from
RadarScope
:
"
RadarScope is a specialized display utility for weather enthusiasts and meteorologists that allows you view NEXRAD Level 3 radar data along with our most requested new feature, Tornado, Severe Thunderstorm, and Flash Flood Warnings issued by the National Weather Service. It can display the latest reflectivity, velocity, and other products from any NEXRAD radar site in the United States, Guam and Puerto Rico. These aren't smoothed PNG or GIF images, this is real Level 3 radar data rendered in its original radial format for a high level of detail.
This version *now includes* support for Hawaii, Alaska, and Guam!Whether you are scanning reflectivity for a mesocyclone's tell-tale hook echo, trying to pinpoint the landfall of a hurricane's eye wall, or looking for small features like velocity couplets in the storm relative radial velocity product, only RadarScope gives you the power to view true radial NEXRAD weather radar on your iPhone or iPod touch.
When there are any Tornado Warnings (outlined in RED), Severe Thunderstorm Warnings (YELLOW polygons), or Flash Flood Warnings (GREEN polygons) in effect throughout the US, tap the warning button in the top right corner to browse the list of current warnings, view the details, and even zoom to the selected warning on the map
".
PYKL3 For Android
. Much of the same functionality of RadarScope can be found in the (new)
PYKL3 app
 for Android phones. Functionality includes:
* NEXRAD Level 3
* Local Storm Reports (LSR)
* SPC Day 1 Outlooks
* SPC Thunderstorm and Tornado Watches
* Summarized Lightning
* NWS Storm Tracks
My-Cast
. (no, I don't get a commission). My last company (Digital Cyclone) was sold to Garmin, and they have what I still consider to be the best warning app on the planet. I'm a little biased, yes, but I've tested scores of weather apps and I still think 
My-Cast Weather Radar
, created by Digital Cyclone, is the best overall app for getting storm warnings. You can even set it up to give you "lightning alerts" (if lightning strikes within 20 miles of your location you get an SMS alert, telling you precisely how far away it was, and what direction the strike was). More details:
"The award-winning My-Cast app delivers comprehensive yet intuitive weather information specifically for the iPhone and iPod Touch. Un-cluttered base maps display animated radar, clouds and StormWatch severe weather alerts allowing effortless interpretation of how the weather affects your day. As you check out the current weather, you may see drifting clouds or falling rain as My-Cast's distinctive weather themes come to life. Whether you are interested in weather for today, tomorrow or next week, My-Cast has you covered. When severe weather strikes, My-Cast transmits the latest alerts direct from the National Weather Service.• Real-time, animated radar
• Weather Map with conditions, temperatures, dew points, wind direction and wind speed overlays
• Animated Visible and Infrared Clouds
• Interactive StormWatch map with National Weather Service alerts
• Complete severe weather warnings, watches, and advisory alert text
• 7-day forecast with high/low temperatures and chance of precipitation
• Hourly forecast with temps, wind speed/direction and chance of precipitation
• Forecast graph including past, present and forecast wind, dew point, temperature, and sky conditions
• Save your favorite and recently viewed locations for anywhere in the U.S.
• Shake for live data refresh
• One-button push for GPS positioning
• No ads!"
Weather Radio
. This is another app that sends out real-time warnings, only this one follows the SMS warning with a real-time stream from the local NWS office, so you can hear the latest warnings in audio form, providing another welcome level of detail. More details on 
Weather Radio
:
"Listen to over 170 scanner radio stations providing access to NOAA Weather Radio All Hazards (NWR) broadcasts. NWR is a nationwide network of radio stations broadcasting continuous weather information. NWR broadcasts official Weather Service warnings, watches, forecasts and other hazard information 24 hours a day, 7 days a week. Weather Radio comes with Twitter & Facebook support: tell your friends what station you're listening to, "live", without stopping your audio to invoke an external Twitter or Facebook client! Weather Radio allows users to select from NWR audio streams by State-City, or add your favorite stream."
* all 3 apps are available on iTunes. Some of these may be available for Android and Blackberry as well. It's well worth your time to look into this and download these onto your phone, set up your favorite locations (home, work, cabin, beach, etc) and see how they can give you the information you need to make smarter decisions, and keep your family out of storm-related trouble.
WeatherNation TV. Full disclosure: one of my companies is participating in this new, national weather channel. The mobile app is powerful; in addition to watching the live stream you can personalize and localize your weather, including severe storm updates: 
Severe Alerts – Keep up to date with the latest severe weather for your current location as well as all of your saved favorites.

View – With view feature, you can watch WeatherNation on demand with advanced adaptive bit rate streaming to provide you with the best viewing experience. With WeatherNation's view feature, you can watch WeatherNation's 24/7 service LIVE around the clock.

Sync Calendar – With our sync calendar feature, you can automatically and effortlessly look up weather information associated to events on your iPhone's calendar. It's a simple way to keep up with the weather wherever you are or may go.

Maps/Radars – WeatherNation provides the latest in storm tracking with our interactive weather maps/radars. You decide the overlays you want to see from radar, satellite, visible satellite, global satellite, advisories, snow depth, current temperatures, current winds, current dewpoint, current humidity, current wind chill, and current heat index. Select specific point data as well like storm cells, storm reports, climate records, or even wildfires. You can also select the type of map you prefer from a standard base map, satellite image base map, or even a hybrid.
Via Alerts Broadcaster:
Volatile, Violent Pattern. Updated last night: Dynamics are favorable for more tornadic storms again today over the nation's midsection. As many as 17 tornadoes touched down Sunday from Texas to Missouri, including the possible EF-4 or EF-5 tornado that ravaged Moore, Oklahoma. More details on Monday touchdowns from SPC.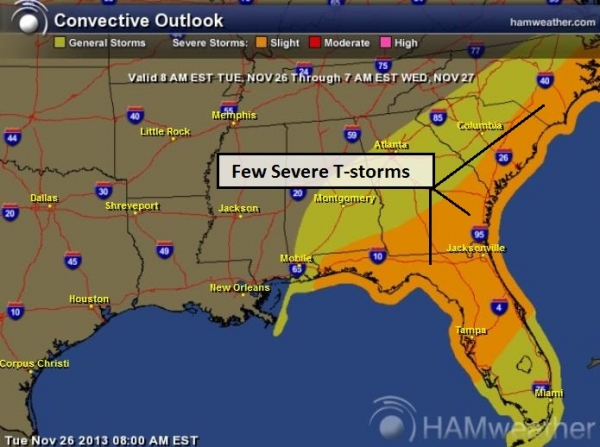 Another Moderate Threat Today. It's worth repeating that when NOAA SPC upgrades the severe risk from "slight" to "moderate" it's a pretty good tip-off of larger, long-track tornadoes, the ones that produce most of the damage and injuries. The highest risk area today is from Tulsa to Joplin, Columbia and the suburbs of Kansas City, but an isolated tornado can be expected across Iowa, western Illinois, even southwest Wisconsin.

* It's worth pointing out that SPC did have much of Oklahoma in a moderate risk; not the immediate Moore area, but when the moderate risk is that close you know it could be a very busy day with an enhanced risk of large, violent, long-track tornadoes.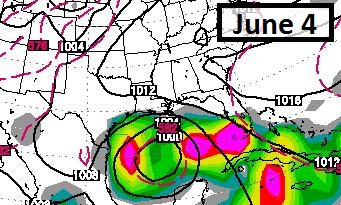 Andrea? We're going out on a limb here, but in the spirit of trying to give you as much of a heads-up as possible, long-range models continue to suggest tropical development in the Caribbean, with a possible tropical storm entering the Gulf of Mexico the first few days of June. Confidence levels are low, but facilities from Texas to Florida should remain alert. I have a hunch hurricane season may come early this year.
___________________________________________________
ABOUT ME
Welcome to the WeatherNation blog. Every day I sift through hundreds of stories, maps, graphics and meteorological web sites, trying to capture some of the most interesting weather nuggets, the stories behind the forecast. I'll link to stories and share some of the web sites I use. I'm still passionate about the weather, have been ever since Tropical Storm Agnes flooded my home in Lancaster, PA in 1972. I've started 5 weather-related companies. "EarthWatch" created the world's first 3-D weather graphics for TV stations – Steven Spielberg used our software in "Jurassic Park" and "Twister". My last company, "Digital Cyclone", personalized weather for cell phones. "My-Cast" was launched in 2001 and is still going strong on iPhone, Android and Blackberry. I sold DCI to Garmin in 2007 so I could focus on my latest venture: WeatherNation. I also write a daily weather column for The Star Tribune startribune.com/weather And if you're on Twitter, you'll find me @pdouglasweather