Tracking "Karen", Midwest Tornado Risk, And Critical Fire Risk Southern California
* Photo above: Jim Calaway, taken near Green Bay, Wisconsin Tuesday night.
---
Increasingly Vulnerable: the number of incidents caused by extreme weather has increased 10-fold since 1992. Weather-related events are more severe, with an average of 180,000 customers affected per event.
Source: Energy Information Administration, U.S. Global Change Research Program.
---
Moderate Severe Storm Risk. SPC has southern Minnesota and much of Iowa in a "moderate" risk, which is often a trip-wire for storm chasers, a way of saying "watch for large, violent tornadoes". I expect a few supercell T-storms to bubble up along a vigorous warm frontal boundary near the Iowa border by afternoon. Stay alert for watches and warnings across the Plains today. Map: NOAA and Ham Weather.
---
Crippling Snowfall? Our internal models are printing out some 10-20″ of snow for the Black Hills of South Dakota, west of Rapid City into much of Wyoming and the Panhandle of Nebraska. Yeah – this is sort of sudden, considering highs were close to 90F over much of South Dakota Monday.
---
Blizzard Potential Index. The BPI is another internal model we look at when calculating the odds of low visibility from falling/blowing snow. You can see a significant risk of blizzard conditions spreading out of Wyoming into the western half of South Dakota later today into early Saturday. Loop: Ham Weather.
---
Tracking Two Major Storms. You can see how small Karen is (sorry Karen) compared to the cyclone impacting the Rockies, Plains and Midwest, which will see more rain and strong/severe T-storms today. The blue smear is snow, heavy at times from the northern Rockies into the western Dakotas. Map: Ham Weather.
---
GFS Simulation. The animation above shows sustained wind speeds (10 meters) and surface pressures looking out into early next week. A powerful pressure gradient whips up 40-50 mph winds over the western Dakotas, increasing the risk of blizzard conditions near Rapid City. Meanwhile Karen comes ashore by Saturday night (farther east than other models – closer to Panama City). A strong contrast in pressure also whips up 40-60 mph (Santa Ana) winds over southern California, enhancing the risk of fast-moving wildfires. Animation: Ham Weather.
---
Alerts Broadcaster Update: Here's an excerpt of an Alerts Broadcaster Briefing issued to our corporate clients late Thursday night: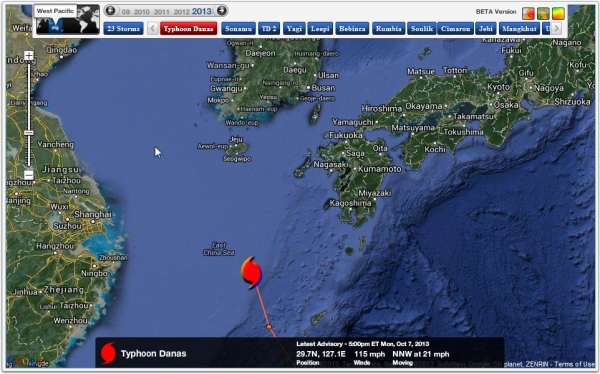 * Overnight sustained winds at 60 mph with Tropical Storm Karen; holding fairly steady since Thursday afternoon.
* Evidence of wind shear impacting Karen's circulation – will probably limit how intense this storm will become before landfall.
* Karen may still strengthen into a Category 1 hurricane later today; but some weakening is likely before Karen comes ashore late Saturday.
* Moderate storm surge and inland flooding and minor wind damage is expected within a 100-150 mile cone, straddling where Karen comes ashore. Full readiness is called for, but this will not be a Sandy or Katrina-scale storm.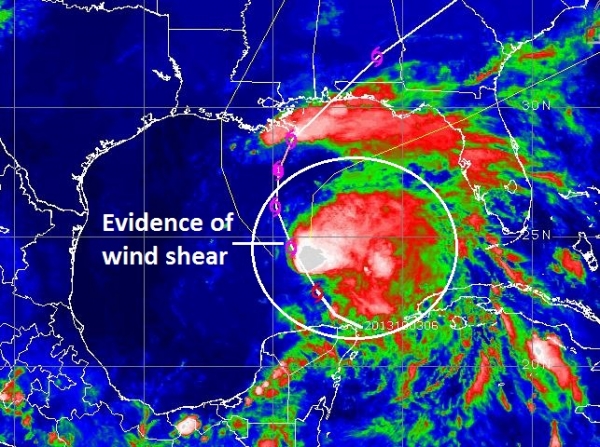 Winds Aloft Putting A Brake On Karen's Strengthening. As predicted Thursday, Karen is moving into a more sheared environment, with stronger winds aloft shredding the storm's circulation, pushing most of the convection into the east and northeast quadrant of the storm. Although some strengthening is possible later today, the farther north and northeast Karen travels the greater the expected wind shear, and I agree with NOAA NHC's assessment that Karen will impact the Gulf Coast as a strong tropical storm or weak Category 1 hurricane:
KAREN CONTINUES TO BE A SHEARED CYCLONE WITH A VIGOROUS
CIRCULATION...AND WITH MOST OF THE THUNDERSTORM ACTIVITY TO THE
NORTH AND EAST OF THE CENTER. THERE HAS BEEN AN EXCELLENT COVERAGE
BY BOTH AIR FORCE AND NOAA HURRICANE HUNTER PLANES DURING THE PAST
SEVERAL HOURS. BASED ON THAT RECONNAISSANCE DATA...THE INITIAL
INTENSITY IS KEPT AT 55 KNOTS IN THIS ADVISORY. THE SHEAR AFFECTING
KAREN IS FORECAST TO INCREASE AND THIS WOULD SUGGEST WEAKENING. IT
IS BECOMING LESS REALISTIC THAT KAREN WILL BECOME A HURRICANE IN A
DAY OR TWO...BUT GIVING CREDIT TO SOME DYNAMICAL MODELS...LIKE THE
HWRF...WHICH DO SO...THE NHC FORECAST CALLS FOR A SLIGHT
STRENGTHENING. IT IS ANTICIPATED THAT KAREN WILL BE ON A WEAKENING
TREND BEYOND 48 HOURS...AND BECOME EXTRATROPICAL BY DAY 4.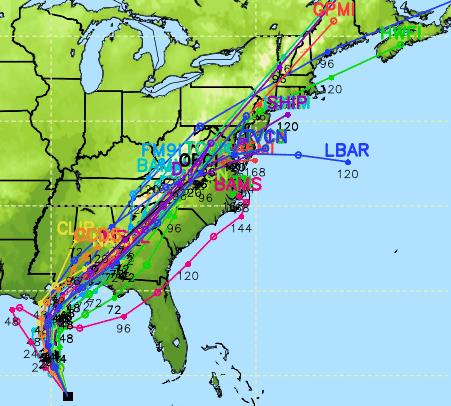 Track Ensemble. There's an increasingly tight grouping of model solutions, showing probable landfall late Saturday night between Mobile and Fort Walton Beach, with Pensacola close to the centerpoint of the risk-fan. The soggy dregs of Karen will accelerate to the northeast after landfall Sunday, enhancing rains from the Appalachians into the Mid Atlantic region, where flash flooding can't be ruled out. The storm will be progressive (ie moving at a strong clip), reducing the risk of extreme rainfall amounts and historic flooding.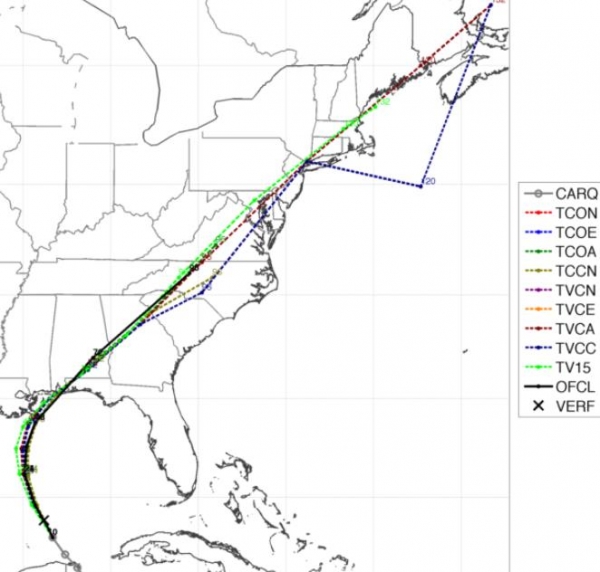 Consensus Model Track. Right now it would appear that Karen will clip the mouth of the Mississippi (producing a potentially significant storm surge just east of New Orleans, in Chandeleur Sound and Lake Borgne. If this track verifies the barrier islands of Pensacola Beach and Fort Walton Beach/Destin will see a significant surge, which is always worse to the east (right) of the projected storm track.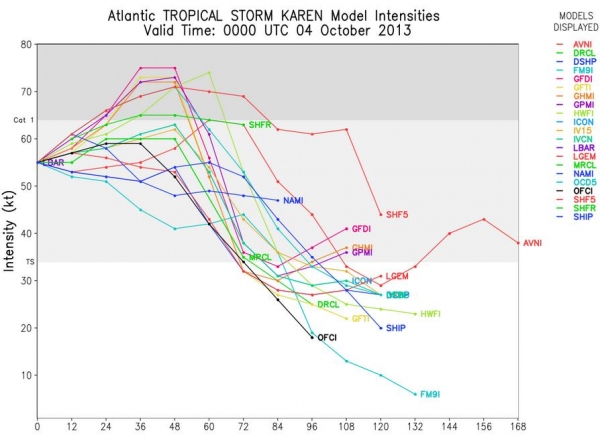 Intensity Predictions. A number of models, including NOAA's HWRF simulation, strengthen Karen to Category 1 hurricane force later today into Friday night, but all models show rapid weakening by Saturday afternoon/evening as the storm approaches land, interacting with increasing wind shear. I still believe Karen will hit the Gulf Coast as a strong tropical storm or weak Category 1 hurricane within 48 hours.
Landfall Prediction. Our in-house models show a preliminary landfall at 12:30 AM EDT Sunday morning between Mobile and Pensacola, with sustained winds of 63 mph and gusts to hurricane force. I'm most concerned about barrier islands, including Gulf Shore, Gulf Breeze, Navarre and Fort Walton Beach/Destin. Areas within 2-4 feet of sea level may experience significant storm surge flooding, coinciding with high tide around midnight Saturday night.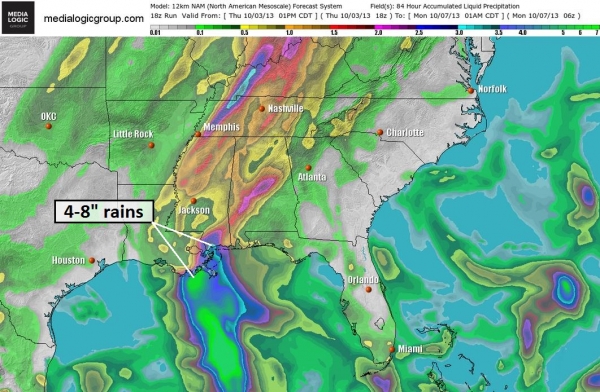 Excessive Rains. Models still suggest some 4-8″ rains from near New Orleans to Pensacola; the worst of the storm comes from midday Saturday into Sunday morning, with rapid improvement by Monday. Urban areas and small streams that normally flood will probably see flood-related problems over the weekend.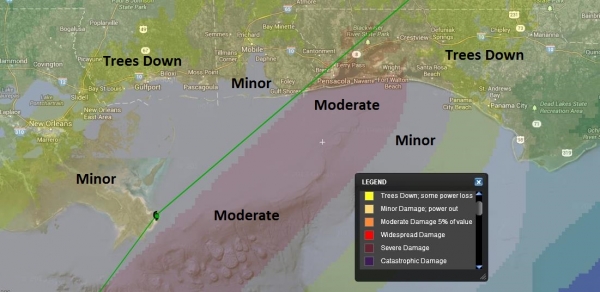 Karen's Predicted Damage Swath. Right now we don't expect severe or catastrophic (wind) damage from Karen, but moderate wind damage (downed trees and powerlines, some damage to roof tiles and windows) is expected near Pensacola late Saturday and Saturday night.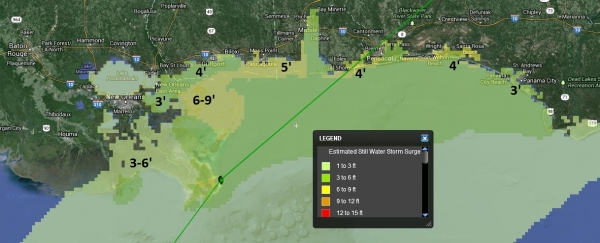 Storm Surge. A combination of sustained winds, low pressure and the slope of offshore terrain will create a dome of water that comes ashore just ahead of the storm center late Saturday and Saturday night, magnified by astronomical forcing (high tide). Chandeleur Sound east of New Orleans may see a surge in excess of 5-6′, with a 3′ surge pushing into Lake Borgne. A 3-4′ storm surge is anticipated from Biloxi and Pascagoula to the barrier islands just south of Pensacola, on east to Destin, Seaside, and Santa Rosa. Mobile Bay may experience a 2-3 foot storm surge, with the peak of the rising tides coming Saturday night.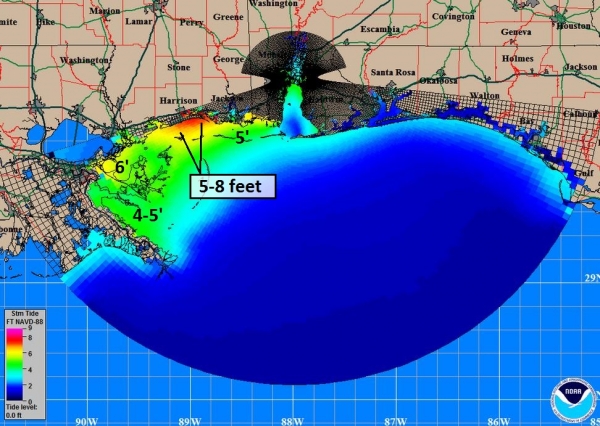 Slosh Model. Although not operational, we have access to NOAA's slosh models for individual metro areas, confirming a significant surge potential east of New Orleans into coastal Harrison and Jackson counties. A 2-4′ surge is possible in Mobile Bay, a lesser surge farther east into the Panhandle of Florida. These numbers will change as the forecast track/intensity crystalizes before landfall late Saturday night.
Sample Surge Report. Peak storm surge at the aptly named Waveland, Mississippi is forecast for midnight Saturday night, roughly 3 feet above mean sea level.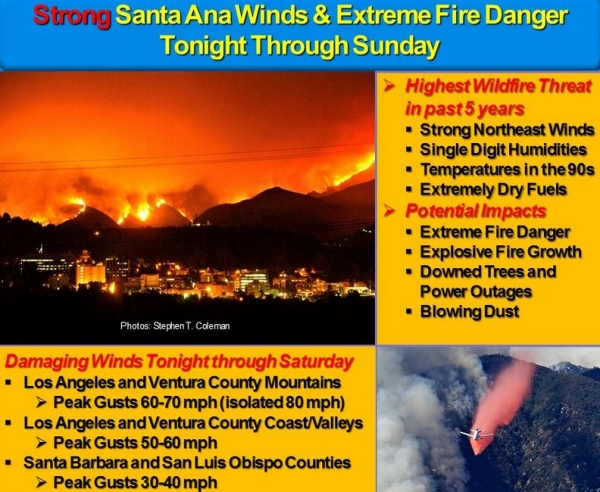 Critical Fire Risk Southern California. High Wind Warnings and Red Flag Warnings are posted for southern California, where Santa Ana winds may blow as high as 50-60 mph today and Saturday. The risk: if any wildfires get started they will spread very quickly and erratically. In addition, high winds may bring down tree limbs, sparking sporadic power outages. Blowing dust may temporarily obscure visibilities, impacting travel on land and in the air. We'll be watching for significant fires breaking out in the coming days near Los Angeles and San Diego.
Summary: Tropical Storm Karen needs to be monitored carefully. It's the first real storm of a very quiet hurricane season in the Atlantic, so expectations (and fears) are high. Karen is a relatively small storm, and wind shear will be a factor over the next 48 hours as the storm pushes north, then northeast across the Gulf of Mexico, ultimately limiting how strong this storm will be at landfall Saturday night. We have to assume Karen will become a weak Category 1 storm, smaller in scope and intensity than Sandy last October, but still capable of a significant punch as it comes ashore. Staff and facilities along the Gulf Coast from New Orleans to Panama City should remain on a heightened state of alert. The risks include elevated (2-5 foot) storm surges, moderate wind damage and power outages, and 4-8″ rains capable of significant flash flooding. Downplaying T.S. Karen would be a mistake, but this storm isn't in the same league as Katrina in 2005.
In addition, we're monitoring an elevated tornado risk for Iowa and southern Minnesota, near-blizzard conditions pushing into western Nebraska and South Dakota, and a high fire risk for southern California. That's quite enough for one briefing. We'll keep you posted.
---
Tracking Karen – How Storm Surges Form. In today's edition of Climate Matters we examine wind shear and less than favorable conditions over the Gulf of Mexico for "Karen" to strengthen considerably. This storm may still become a minimal Category 1 hurricane, but as it moves into a more sheared environment some weakening is expected before landfall Saturday night. How do storm surges form and why are they still a hurricane's biggest killer? Details in today's 2:30 video segment.
---
What If NOAA Were Completely Shut Down? I shudder to consider that possibility. NOAA provides the fuel, the data, the model guidance we need as meteorologists to interpret the weather and look out into the future with any level of confidence. Without NOAA we would all be using Amish Doppler (ie: staring out the nearest window). Matt Daniel makes some very good points in a post at earthsky.org; here's an excerpt: "…So you think a government shutdown – even a more thorough shutdown that included all of NOAA – could not affect you? Think again. A United States without NOAA would be devastating to the U.S. economy. Jobs would be lost until the government shutdown was lifted. Lives and property would be extremely vulnerable, especially along the eastern U.S. coast as hurricane season continues. Bottom line: The U.S. government shutdown has halted all NASA activities. What if it halted all of NOAA, too, instead of only about 55% of it, as now? The effects would be tremendous and very negative for all of us. We need NOAA."
---

National Hurricane Center (NHC) Spokesman On Furlough. Meteorologist Dennis Feltgen is a friend of mine, and he's temporarily out of work due to the government shut-down. Great timing, huh? Details from NBC Miami.
---
Deadly Lake Turns Animals Into Statues. In News of the Weird, check out this excerpt of an eye-opening article at New Scientist. Remind me to keep my distance from this otherwise inviting body of water – good grief: "…The lake takes its name from natron, a naturally occurring compound made mainly of sodium carbonate, with a bit of baking soda (sodium bicarbonate) thrown in. Here, this has come from volcanic ash, accumulated from the Great Rift valley. Animals that become immersed in the water die and are calcified…"
Photo credit: Nick Brandt
---
Man Kayaks In Drainage Ditch Going 34 mph. Don't try this at home. Here's what they do for fun in British Columbia, Canada – courtesy of kxan.com: "LIONS BAY, British Columbia (KXAN) – One man speeds things up substantially by rocketing down a drainage ditch going 34 mph — in a kayak."
---
---
Climate Stories….
"Men argue; nature acts." Voltaire, 1769.
Preparing Minnesota for Climate Change: A Conference on Climate Adaptation. This daylong event is being held Thursday, November 7, 2013 9 am – 5:30 pm, followed by a reception at The Science Museum of Minnesota in St. Paul. This is the first annual gathering of local and state experts covering a diverse range of topics related to climate mitigation and adaptation in Minnesota, and some tickets are still available. I'll be there; if you're personally interested in this topic, or have an interest in possible impacts on your business or public sector duties in the years ahead you should plan on attending. Here's a good overview from the organizer of the event, Dr. Mark Seeley: "The first ever statewide conference on climate change adaptation practices will take place at the Science Museum in downtown St Paul on November 7, 2013 from 9:00 am to 5:30 pm.  The cost for the conference is modest at $60 and includes lunch, breaks, parking, and a free pass to the Science Museum. This conference which is titled "Preparing Minnesota for Climate Change: A Conference on Climate Adaptation" has been designed by those who have been measuring and documenting the changing climate attributes in the state and their associated consequences.  Professionals who have worked in transportation, agriculture, energy, health care, city planning, watershed and forest management, and the insurance industry will share their stories and experiences relative to adapting to our changing climate. The educational sessions will be followed by an evening reception in the Science Museum cafeteria at 5:30 pm so that informal socializing and networking among citizens and groups can occur."  If interested in attending you can visit the web site for the conference at www.wrc.umn.edu
Photo credit above: "June 2012's torrential rains devastated landscapes and wiped out the Highway 210 approach to the Thomson Bridge in Jay Cooke State Park, ten miles southwest of Duluth."
---
Oceans Face "Deadly Trio" Of Threats, Study Says. Reuters has the story – here's the introduction: "The world's oceans are under greater threat than previously believed from a "deadly trio" of global warming, declining oxygen levels and acidification, an international study said on Thursday. The oceans have continued to warm, pushing many commercial fish stocks towards the poles and raising the risk of extinction for some marine species, despite a slower pace of temperature rises in the atmosphere this century, it said..."
---
Ocean Acidification Due To Carbon Emissions Is At Highest Level In 300 Million Years. The Guardian has the story – here's a clip: "The oceans are more acidic now than they have been for at least 300m years, due to carbon dioxide emissions from burning fossil fuels, and a mass extinction of key species may already be almost inevitable as a result, leading marine scientists warned on Thursday. An international audit of the health of the oceans has found that overfishing and pollution are also contributing to the crisis, in a deadly combination of destructive forces that are imperilling marine life, on which billions of people depend for their nutrition and livelihood. In the starkest warning yet of the threat to ocean health, the International Programme on the State of the Ocean (IPSO) said: "This [acidification] is unprecedented in the Earth's known history..."
Photo credit above: "Coral is particularly at risk from acidification and rising sea temperatures." Photograph: Paul Jarrett/PA.
---
Global Warming And Heat Waves – Our Bodies Working To Stay Cool. Here's an excerpt from a story by St. Thomas climate scientist (and good friend) John Abraham writing for The Guardian: "…Suffice it to say, increases in extreme heat, which includes both daytime and nighttime temperature levels, will pose challenges to our cities and infrastructure. Our bodies can usually handle short durations of high temperatures but with extended heat that lasts days or weeks with no nighttime relief, it can become too much to bear. For persons exposed to elevated temperatures, reactions can range from the mild (such as heat cramps which is often effectively treated by rehydration) to more serious conditions such as heat exhaustion which lead to reductions of blood flow to the body's extremities and may be accompanied with symptoms of dizziness, nausea, and low blood pressure, among others. People who exhibit these symptoms should be moved to a cool location and provided electrolyte rehydration…"
---
September Hottest On Record
. Australia is on track to experience the warmest calendar year on record. Here's an excerpt from
sbs.com
: "
If the first month of spring had you sweating like it was summer, you probably weren't alone. September was the hottest spring opener on record, with the national average temperature a sizzling 2.75 C above usual. Not only that but the gap between the normal temperature in September and that recorded by the Bureau of Meteorology (BoM) was the biggest ever observed for any month. The sweltering September was yet another climate record to tumble this year, with Australians this year already enduring the hottest January, hottest summer and hottest single day ever
…"
________________________________________________________________
ABOUT ME
Welcome to the WeatherNation blog. Every day I sift through hundreds of stories, maps, graphics and meteorological web sites, trying to capture some of the most interesting weather nuggets, the stories behind the forecast. I'll link to stories and share some of the web sites I use. I'm still passionate about the weather, have been ever since Tropical Storm Agnes flooded my home in Lancaster, PA in 1972. I've started 5 weather-related companies. "EarthWatch" created the world's first 3-D weather graphics for TV stations – Steven Spielberg used our software in "Jurassic Park" and "Twister". My last company, "Digital Cyclone", personalized weather for cell phones. "My-Cast" was launched in 2001 and is still going strong on iPhone, Android and Blackberry. I sold DCI to Garmin in 2007 so I could focus on my latest venture: WeatherNation. I also write a daily weather column for The Star Tribune startribune.com/weather And if you're on Twitter, you'll find me @pdouglasweather.