Tropical Soaking Florida to New England by Late Week (severe storm risk Oklahoma City; more fallout from Friday's El Reno tornado-chasing tragedy)
Cool and Crispy
Yesterday a colleague at my company moaned and groaned, complaining of the painful sunburn he got while staining a deck. "No sunscreen?" I asked. "It was so cool I totally forgot." It's a common oversight: many people think you only get fried on hot days.
Of course the potential for sunburn has nothing to do with air temperature and everything to do with the date and subsequent sun angle. The June sun is as high in the sky and direct as it ever gets, sunburn potential off the scale.
SPF 50 sunscreen will be optional the next couple of days as the next front sloshes overhead, wringing out showers, even some heavier rain tonight. Over an inch of water will delight flowers in your yard and leave your lawn greener than you thought possible.
Hey, I'm trying a positive spin, but it's not working, is it?
The soggy remains of Pacific Tropical Storm Barbara will soak Florida and much of the East Coast by late week. Meanwhile Oklahoma is under another tornado threat.
This pattern is a bit surreal.
Today's Severe Storm Risk
. A few T-storms are expected to exceed severe limits again today over the Central Plains, even an isolated tornado from Oklahoma City and Tulsa to Kansas City. Source: 
NOAA SPC
.

An Active Pattern. NOAA's latest 84-hour NAM model shows a disturbance pushing out of the Gulf of Mexico, spreading heavy rain into Florida and possibly coastal Alabama by late tomorrow. The next trough of low pressure whips up showery rains over the Upper Midwest, a few severe storms over the Central Plains. The west remains hot and dry, increasingly vulnerable to wildfires.



"…If anything, the events of Friday evening demonstrate storm chasers need to back off. For too long, too many chasers – both professional and amateur – have been crossing the line…" – excerpt of a post from Washington Post meteorologist Jason Samenow. Story below. Tweet above from a chronology from Digital Meteorologist, which has more on Friday evening's tornado tragedy.

File photo of the late Tim Samaras, during a tornado intercept in New Manchester, South Dakota. Photo by Carsten Peter/National Geographic Image Collection.



Lessons From The El Reno Tragedy: The Chasing Conundrum. Life is rarely black or white. I do try to see the gray in every scenario, and there's plenty of gray when it comes to tornado chasers. Do they serve a purpose? Absolutely, but too many chasers in one location at any given time can make it exponentially more dangerous for everyone. Friday evening's tragedy, which resulted in at least 9 deaths, including tornado researcher Tim Samaras, was a reminder that there is inherent danger in the pursuit and intercept of nature's most violent wind. In yesterday's version of Climate Matters I take a look at the pro's and cons of "chasing tornadoes": "Chief Meteorologist Paul Douglas reflects on the the Friday night tornado tragedy that killed 9 people including 3 professional tornado researchers. Paul says we need to be careful in the media that we don't incentivize and reward bad behavior. But there must be a balance because by broadcasting professionally shot tornado videos it can help show the public the danger and propel them to take cover or not get in their cars and drive."
Recipe For Disaster. Image upper left from RadarScope app shows location of storm chasers in relation to El Reno tornado. Image upper right shows traffic jam on I-35 south of Oklahoma City, courtesy of KWTV.


Phased Array Doppler Loop of El Reno Tornado. This loop is from NSSL, showing Friday evening's EF-3 in the western suburbs of OKC occluding, veering suddenly northeast, trapping many tornado chasers and researchers in the process, a deadly chain of events. Thanks to WeatherNation TV meteorologist Susie Martin for passing this along.
A Few Thoughts About Tornado Chasing. Things have really gotten out of control. This has been an accident waiting to happen for the better part of 20 years now. On some level I blame the movie "Twister", which glamorized tornado research and inspired countless hundreds (thousands) of amateurs to try their hand at a tornado intercept, with visions of great video and local or national TV weather-glory. Ironic, since I helped with special effects with "Twister" and even had a line in the movie. I don't want to be a hypocrite. I was in Oklahoma on 3 separate occasions, intercepting tornadic storms with NSSL, the National Severe Storms Lab. Every time I went down to Oklahoma I was struck by the number of people tagging along. Often scores, even hundreds of chasers would converge on the same cell by late afternoon. It's a free country – you're obviously free to drive when and where you want, and I certainly don't want that to change, but something has to be done to avoid another tragedy like the one that killed 9 motorists Friday evening, including 3 professional tornado researchers Tim Samaras, his son, and intercept partner.


They weren't out there to videotape the tornado and try to sell it to KFOR-TV or The Weather Channel. They were conducting research, and yet the sheer number of chasers converging on the El Reno supercell (apparently) made it impossible to get away from an EF-3 erratic tornado in time. I honestly don't know what the solution is here, but one would hope common sense would apply. With the May 20 EF-5 which leveled much of Moore, one of the local TV meteorologists warned local residents that, without a basement or storm shelter, the tornado was "unsurvivable" – he told them to get into their vehicle and try to drive away before the tornado struck. That only makes sense if you have HOURS of lead time, which just isn't realistic with the state of tornado detection and warning, when the average lead-time is closer to 13-15 minutes.
If you had 10 minutes and you were the ONLY one trying to get out of Dodge, maybe. Just maybe. But the problem is this: tens of thousands of local residents heard the same admonition, and if everyone is trying to get onto the interstate to drive away from a tornadic supercell, the result will most likely be gridlock, making you and your family sitting ducks. A bad idea. If you're home, stay home. Get into your tub (with bike or football helmets, if you have them) and try to ride out the tornado on the ground floor, away from outer walls and windows. Statistically that's still safer than getting into a car or truck and trying to zip down the highway out ahead of a tornado. Friday evening's multiple fatalities proved it.
Call By Responsible Storm Chasers To Ban Reed Timmer Chasing Antics
. Here is an excerpt of a 
Google-cached version
 of a Warren Faidley post from Monday: "
It must be hell or heaven for Reed Timmer right now. After promotion "getting to close" to violent tornadoes for the past seven years, he's now facing a new kind of storm. Not only has the subject of "getting too close for no real purpose" become big news, he just lost several friends. Let's hope to God he uses this heartbreaking moment to retire from inspiring others to follow his footsteps. But judging by his past ego-maniac, money making behavior, I'll bet he finds a way to capitalize off this horrific event. Sick, but you mark my words. There is a growing number of storm chasers who are asking for public and media retaliation against storm chaser Reed Timmer following the tragic events in El Reno, Oklahoma on June 1, 2013. Blog sites and discussion groups have come alive with complaints and in some instances harsh accusations regarding Timmer and the way he chases, in which many find to be reckless and deceptively reasoned
…."
How 3 Storm Chasers Died, And What To Do About It. Here's an excerpt of a thoughtful post from Greg Laden at scienceblogs.com: "…I have no idea how many of the people in the viewing area of this station saw or heard this report and responded by driving into the path of the tornado. Of those who did I don't know how many of them were primed to use "drive away" as a strategy by earlier chatter in major media outlets, and elsewhere such as twitter and other social media. I'm not sure how many people actually got in their cars and "drove south." We do know, however, that the highways in the area became jammed with cars, and the vicinity around the intersection of I35 and I40 was described as a "parking lot." One thing we do know is that many people who "drove south" to get away from the tornado in fact drove directly into its path, created a traffic jam, and most of the deaths associated with this tornado were among those people in those cars. Three experienced tornado "chasers" … actual meteorological scientists … were killed when their truck (one of the vehicles depicted above, probably) was destroyed by the tornado. Other professional meteorologists, from The Weather Channel, were injured. As of this writing, the death toll stands at 13 with another 6 (though I've also heard 7) people still missing…"
A Conversation Starter On Chasing 2.0
. Here's an excerpt from 
J. Marsh
 of the American Meteorological Society, although these opinions are his own, and don't reflect the official position of the AMS: "…
Good chaser, Bad Chaser?: It will be tempting to latch onto the deaths of Tim Samaras and colleagues and label them in a "unified" batch with all storm chasers. However, a review of Tim's biography confirms that he was engaged in research to advance our knowledge of tornadic storms (
http://www.nationalgeographic.com/explorers/bios/tim-samaras/
) and was a key element of TWISTEX.  There are numerous colleagues and research programs (e.g., VORTEX2 (
http://www.nssl.noaa.gov/projects/vortex2/
) that involve storm chasing and field work. Our knowledge of tornadic storms and how to respond to them have undoubtedly been helped by these activities. However, I am on record as being concerned about some aspects of the contemporary chasing culture and the "trivialization" of the tornado threat. Just last week, I tweeted that "some are trivializing the tornado threat." That tweet was inspired 2 photos seen on social media. One photo was of chasers doing silly poses with a tornado in the immediate background, and the other was a photo of a line of roughly 10 drivers pulled over taking pictures of a tornado with their camera phones.  My first-order fears have centered around (1) the emergence of a generation of inexperienced, thrill seekers; (2) ratings "hype" and desire for the most dramatic image or video for use in local or national media ("are we getting too close" and does "informative journalism" require a storm chasing vehicle in 2013"); and (3) chaser convergence hampering emergency response and rescue
. …"
Photo credit above: "A vehicle lies upside-down at the Canadian Valley Technology Center in El Reno Okla. on Saturday June 1, 2013 after tornadoes swept through central Oklahoma on Friday." (AP Photo/Nick Oxford)
Not Again. Our in-house EHI algorithm (Energy Helicity Index) shows another significant risk of tornadoes for Oklahoma this afternoon and evening. I hope it's wrong.
Minnesota: One Of The Safer States In The USA For Billion Dollar Weather Disasters. Yes, our weather can be annoying, at times damaging, even deadly, but everything is relative. I can't remember the last time we were a "green state", as in relative safety. The Washington Post has more details here.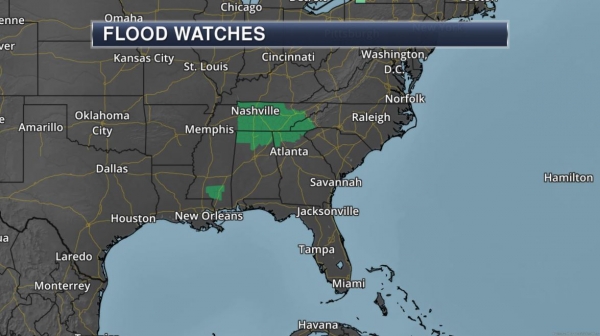 More Flooding. The soaking rains of recent weeks (some 20″+ amounts in a few counties) have left streams and rivers out of their banks from eastern Iowa into western Illinois, with moderate to major flooding in the St. Louis area on the Mississippi (the city's protective levees should hold). An interactive map of flooding details is here.
* severe flooding has temporarily closed Mississippi River shipping in St. Louis. Details from Reuters.
NWS St. Louis: "There has been a levee breach on the Mississippi River, affecting West Alton, MO in St. Charles county. If you are in or near the West Alton area, please seek higher ground immediately!"Missouri residents told to evacuate after levee breach:Hundreds of people were being evacuated from their homes in Missouri after a levee was breached Monday night.Earlier Monday, a bridge connecting West Alton, Missouri, and Alton, Illinois, was shutdown after a temporary flood barricade gave way.Forecasters say there could be major flooding Tuesday.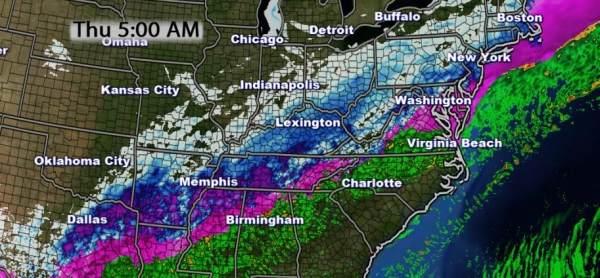 Whispers Of Hurricane Season To Come. Hurricane season in the Atlantic basin offically began on Saturday, and Mother Nature is wasting little time. The soggy remains of Tropical Storm Barbara, which hit the west coast of southern Mexico last week, will regenerate into a tropical depression, an additional surge of tropical moisture fueling a nor'easter-type storm. NHC predicts only a 20% risk of this system becoming Tropical Storm Andrea, but the storm may drop 5-8″ rains from Florida to the Outer Banks of the Carolinas Thursday into Saturday with a potential for urban and river/stream flooding.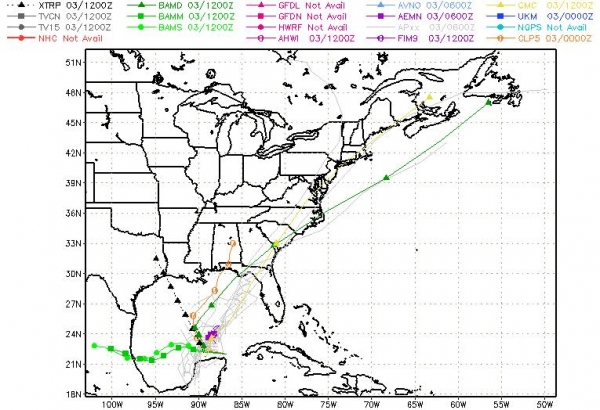 Model Solutions. Most of the computer simulations whisk this tropical disturbance quickly northeastward across the Gulf of Mexico, a fairly rapid forward motion preventing severe flooding from coastal Delaware and New Jersey into metro New York by Friday and early Saturday. There's a better chance of minor flooding problems across coastal New England by Saturday, based on latest guidance.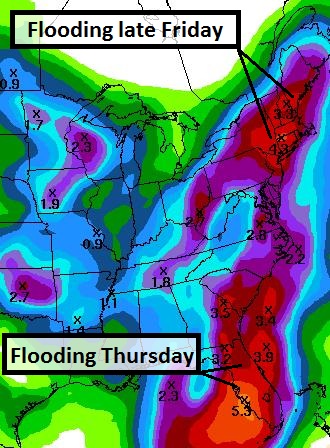 Soaking Rains. Here's the 5-Day Rainfall Outlook, showing as much as 5-6″ rain for central and southern Florida, where the best chance of flooding will come Thursday of this week. By Friday heavy rain and a 1-3 foot storm surge spreads quickly up the east coast.
___________________________________________________
ABOUT ME
Welcome to the WeatherNation blog. Every day I sift through hundreds of stories, maps, graphics and meteorological web sites, trying to capture some of the most interesting weather nuggets, the stories behind the forecast. I'll link to stories and share some of the web sites I use. I'm still passionate about the weather, have been ever since Tropical Storm Agnes flooded my home in Lancaster, PA in 1972. I've started 5 weather-related companies. "EarthWatch" created the world's first 3-D weather graphics for TV stations – Steven Spielberg used our software in "Jurassic Park" and "Twister". My last company, "Digital Cyclone", personalized weather for cell phones. "My-Cast" was launched in 2001 and is still going strong on iPhone, Android and Blackberry. I sold DCI to Garmin in 2007 so I could focus on my latest venture: WeatherNation. I also write a daily weather column for The Star Tribune startribune.com/weather And if you're on Twitter, you'll find me @pdouglasweather