Tropical Storm Chantal Pushes Across Caribbean (will Southeast USA be impacted by the weekend?)
Tuesday Severe Threat.NOAA SPC expects enough low-level moisture, instability and wind shear for a few strong to severe storms later today. The biggest risk: large hail and straight-line wind damage, but a few isolated tornadoes can't be ruled out. The slight risk area includes the Twin Cities, Omaha, Kansas City, Des Moines, Chicago and Detroit.
"Hey Paul – it was interesting to read your explanation of the phrase "Dog Days" being derived from the ancient Greeks belief that Sirius, the Dog Star added to the heat from the sun during the summer. I would venture to guess that most folks are unaware of that and simply think that it refers to the weather being so hot and humid some days that the family dog seeks shelter in the shade and just lays around panting rapidly with its tongue hanging out. That's the only explanation I ever heard growing up in the wilds of North Dakota during those swelting August "Dog Days"! I think most folks would relate to that explanation, don't you?"
– Clay Hagen, Plymouth
Clay, I can definitely relate to your explanation. My dog (Leo) is trying to find a few cool spots, and he relates as well. But if you're looking for the origin of the expression I stand by my explanation. To be honest, I was surprised too – I honestly thought the phrase came from watching pets grapple with the heat. Those ancient Greeks knew how to have a good time, huh? Thanks for the note and the chuckle.
Hurricane Forecasting Remains A Challenge
. Especially predicting storm intensity. Track outlooks continue to slowly improve, but our worst fear, as meteorologists, is going to bed with a Category 1 hurricane, only to wake up the next morning to a Category 4. Here's an excerpt of a story at 
The Sun Herald
 in Mobile, Alabama: "
We're due for a big one, some say. Every year now since 2004 and 2005 — the years of Hurricanes Ivan, Dennis and Katrina — the Gulf Coast has been "due" for a storm season worse than the year before. Now, one month into the official hurricane season, forecasters expect a double-digit number of storms to develop. As many as 13 to 20 named systems — storms with 39 mph winds or higher — are estimated for the coast by the National Oceanic Atmospheric Administration this year. Three to six of those may be major hurricanes, categories three or higher. If those numbers sound familiar, that's because weather experts have been predicting more active weather patterns since the mid-1990s, says Bill Williams, director of the Coastal Research Center at the University of South Alabama
…"
Tropical Storm Chantal: Comparing Model Projections. It's still early, but in today's edition of Climate Matters we take a look at Chantal and ask the question many residents of the Gulf and East coast are wondering – will it impact the USA? "Chantal is the 3rd named storm of the Atlantic season to date. WeatherNation Chief Meteorologist Paul Douglas says the models are in fairly good alignment and Chantal could impact Barbados and Martinique over the next 48 hours. The big question mark comes for later in the week and into the weekend. Will there be an impact to the Southeast U.S?"
Read more here: http://www.sunherald.com/2013/07/07/4781460/hurricane-forecasting-remains.html#storylink=cpy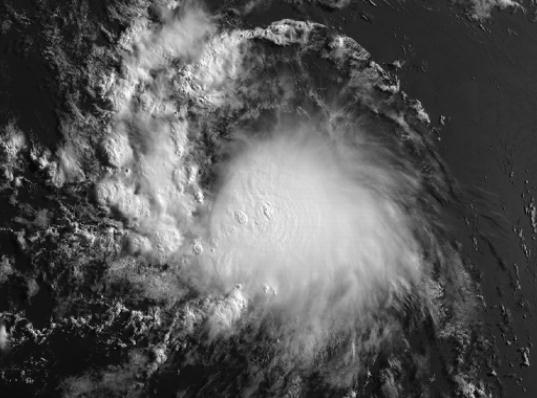 * Tropical Storm Chantal was packing 40-45 mph winds as of late Monday, racing to the west-northwest at 26 mph, slowly strengthening over time. The projected track takes Chantal across the Caribbean this week as a strong tropical storm; intensification into a significant hurricane is unlikely into Friday.* Long-range models suggest a heightened risk for the Bahamas and Florida by the end of this week and weekend, with potentially heavy rains and a moderate storm surge. It's too early to say with any certainty whether Chantal will track into the Gulf of Mexico or turn up the East Coast.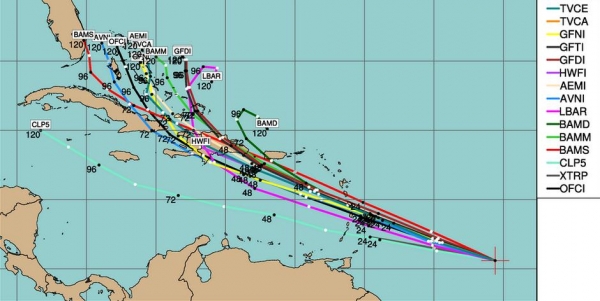 Early Path Projections. The models are all fairly well aligned and in agreement as to the west/northwest track of Chantal; tropical storm force (40-65 mph) winds impacting Puerto Rico, Haiti and eastern Cuba by late week. A track partially over mountainous terrain, especially latter half of the week, will limit how strong Chantal can become, but there is still at least a 1 in 3 risk of a Category 1 hurricane over the Bahamas by late Friday or Saturday of this week.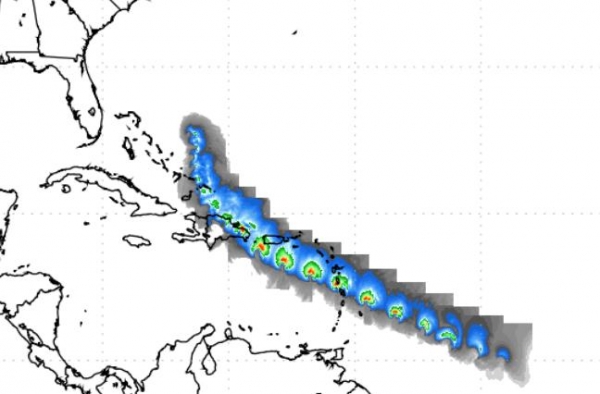 Another Perspective. Here is NOAA's high-res GFDL projected path for Chantal, showing a potential track just south of the U.S. Virgin Islands, pushing into Puerto Rico and the Dominican Republic later this week as a strong tropical storm.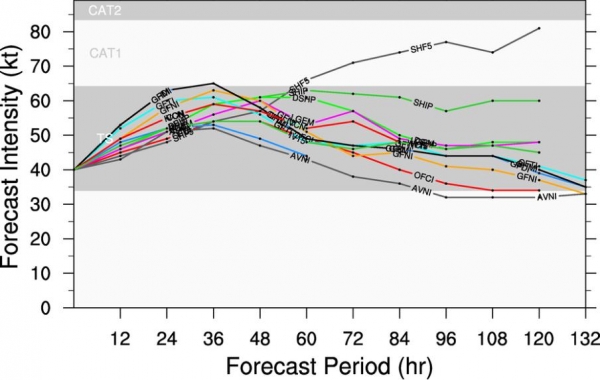 Intensity Predictions. Most of the models keep Chantal at tropical-storm-force; sustained winds generally under 70 mph. Only one of the "Ships" models intensifies the storm into a Category 1 hurricane 72 hours from now. In all probability Chantal will remain a tropical storm most of this week.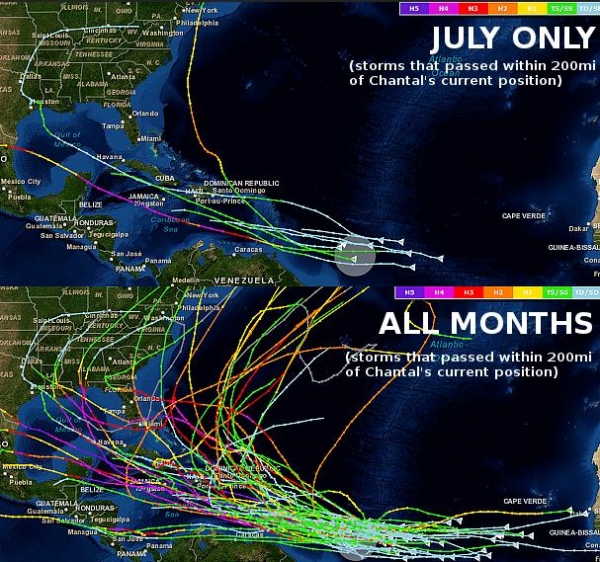 What Comes Next? The maps above show climatology; previous storms and where they tracked. The trop graphic shows all July storms within 200 miles of Chantal's current location – a bias into the Gulf of Mexico. The bottom graphic shows all storms that have formed within 200 miles (in any month), showing more solutions that turn up the East Coast. Confidence levels beyond 5-6 days are still very low with this system. A strong Bermuda High will prevent Chantal from veering quickly into the Atlantic, and some of the long-range models do bring the soggy remains of Chantal up the East Coast by the weekend or early next week. (images courtesy of NOAA and Capital City Weather Gang).
Summary: Chantal is a Cape Verde class tropical storm sweeping off the coast of Africa, coming about a month earlier than usual. Conditions are ripe for slow strengthening, with at least a 30-35% risk of a Category 1 hurricane pushing into the Bahamas by Friday of this week. Impacts to Florida, the East Coast or Gulf Coast are still highly speculative. With this briefing we're sending up an early flare – we just want to make sure this is on your personal radar; we'll update you as conditions warrant and the threat level to Caribbean and U.S. interests rises or falls.
Europe Floods To Cost Insurers Up To $4.5 Billion: Swiss Re. Reuters has the details: "Floods in central Europe last month may cost insurance companies $3.5-4.5 billion, only half of one previous estimate but more than was paid out for the last major washout in 2002, the world's second biggest reinsurer said on Monday. The forecast from Swiss Re compares to an earlier warning from a damage modeling agency that losses could top $8 billion. That, and its estimate of a $300 million hit for its own results, saw shares in Swiss Re and some other sector firms rise. The flooding in early June forced Czech soldiers to erect metal barriers and pile up sandbags to protect Prague's historic centre after days of heavy rains swelled rivers and forced evacuations from low-laying areas. Emergency workers, soldiers and volunteers worked desperately to shore up flood defenses in towns along the Danube and Elbe rivers as the high water moved downstream in the following days, with Germany among the worst-hit…"
Why So Many Flood Maps Are Still Out Of Date. Here's an excerpt of an interesting read from Propublica: "The Federal Emergency Management Agency's flood insurance maps are critically important for millions of Americans who live in flood-prone areas. The maps determine the annual premiums for flood insurance, which is required by law for homeowners with federally backed mortgages who live in high-risk areas. But many of the nation's flood maps are woefully out of date. ProPublica talked with David R. Maidment, a professor at the University of Texas at Austin who has advised FEMA on flood mapping, about why the data behind modern maps is 10 times as accurate as the older data and why half of Texas still doesn't have up-to-date maps…"
San Francisco's Boing 777 Crash: Why It Was Survivable. Here's a clip of a fascinating article at Time: "…While more than 100 people were injured in Saturday's crash, some seriously, these relatively good outcomes typically happen after what are called "low-impact survivable" incidents when the plane has slowed to 140 or 150 m.p.h. (225 to 240 km/h), are due in part to changes in airplane construction to include better safety doors, seat technology, exit chutes, fireproofing and incident protocols. "Thirty years of design improvements have made a huge difference in the ability to get everyone off the plane in less than two minutes," explains Larry Rooney, a veteran pilot, National Transportation Safety Board–trained accident investigator and executive vice president of the Coalition of Airline Pilots Associations. In addition to plane modifications, emergency-response crews are equipped with ever better technology. The first task of responders at a fiery crash site is to secure escape paths for victims using foam and water. "You establish where the fire is and attack from a downwind position," explains Tom Kinton, an aviation consultant, who has had many roles running Boston's Logan Airport over his 35-year career, including director of aviation and CEO. "You want to push the fuel away from the victims coming down the chute and buffer the route with foam," he says…"
Photo credit above: "The wreckage of Asiana Airlines Flight 214 that crashed upon landing Saturday at San Francisco International Airport sits on the tarmac Monday, July 8, 2013 in San Francisco. Investigators said the Boeing 777 was traveling "significantly below" the target speed during its approach and that the crew tried to abort the landing just before it smashed onto the runway on Saturday, July 6. Two of the 307 passengers aboard were killed." (AP Photo/Jeff Chiu)
How The Brain Creates "The Buzz" That Helps Ideas Spread. Here's an excerpt fromThe UCLA Newsroom: "How do ideas spread? What messages will go viral on social media, and can this be predicted? UCLA psychologists have taken a significant step toward answering these questions, identifying for the first time the brain regions associated with the successful spread of ideas, often called "buzz." The research has a broad range of implications, the study authors say, and could lead to more effective public health campaigns, more persuasive advertisements and better ways for teachers to communicate with students. "Our study suggests that people are regularly attuned to how the things they're seeing will be useful and interesting, not just to themselves but to other people," said the study's senior author, Matthew Lieberman, a UCLA professor of psychology and of psychiatry and biobehavioral sciences and author of the forthcoming book "Social: Why Our Brains Are Wired to Connect…"
A Brief History Of Sliced Bread. Prepared as only Mental Floss can; here's a clip: "Every new and clever innovation seems to win the praise of being "the greatest thing since sliced bread." Have you ever wondered, how long has it actually been since sliced bread was first sliced? The answer: sliced bread is turning 85 this year! The concept of sliced bread first came about thanks to Otto Rohwedder, an American inventor from Iowa. Rohwedder constructed the first loaf-at-a-time bread-slicing machine for commercial use, but initially had some trouble selling it, or even the idea of it; many bakers expressed concerns about the bread becoming stale too quickly or simply falling apart if sliced…"
Climate Stories….
Hurricanes Likely To Get Stronger And More Frequent: Study. Meteorologist Andrew Freedman has the story at Climate Central; here's an excerpt: "…With the population of coastal areas growing daily and sea level on the rise, how these monster storms may change as the climate continues to warm is an increasingly urgent question facing climate scientists, insurance companies, and public officials.  A new study by Kerry Emanuel, a prominent hurricane researcher at MIT, found that contrary to previous findings, tropical cyclones are likely to become both stronger and more frequent in the years to come, especially in the western North Pacific, where storms can devastate the heavily populated coastlines of Asian nations. Emanuel's research showed the same holds true for the North Atlantic, where about 12 percent of the world's tropical cyclones spin each year. Emanuel's study casts doubt on what had been the consensus view of most climate scientists — that in most ocean basins, tropical cyclones are likely to become less frequent as the world warms, but that the storms that do occur are likely to contain stronger winds and heavier rains…"
Climate Change: How Do We Know? Here's an explanation of the graph above, from aNASA web site focused on the overwhelming amount of evidence surrounding climate change: "This graph, based on the comparison of atmospheric samples contained in ice cores and more recent direct measurements, provides evidence that atmospheric CO2 has increased since the Industrial Revolution." (Source: NOAA)
Arctic Sea Ice Melt Speeds Up. Here's the intro to a story from Minnesota climate scientist Greg Laden at scienceblogs.com: "Earlier in the northern summer, it looked like the rapid melt of Arctic Sea ice we've been seeing over the last several years was happening again, but rather than being a record year, it was merely tracking along the lower side of the distribution of the long term average. Last year, in contrast, the amount of sea ice hit an all time low early in the year and then broke previous records into tiny icy pieces. One of the reasons last year's ice melt was so dramatic is that an early storm churned up the ice and got melting going a bit early. This year, there was no early churning up event, but over the last several days of June and beginning of July, the rate of sea ice melt has suddenly increased dramatically and this year's track is looking like it may come close to catching up to the previous year's unprecedented extreme…"
State Department Admits It Doesn't Know Keystone XL's Exact Route. Say what? DeSmogBlog has the details; here's the intro: "The State Department's decision to hand over control to the oil industry to evaluate its own environmental performance on the proposed Keystone XL tar sands pipeline has led to a colossal oversight. Neither Secretary of State John Kerry nor President Barack Obama could tell you the exact route that the pipeline would travel through countless neighborhoods, farms, waterways and scenic areas between Alberta's tar sands and oil refineries…."
How To Talk To Your Parents About Climate Change. It's been interesting seeing the evolution in thought with my father, an uber-conservative. Lately he's been taking a closer look at the data, and peer-reviewed research, and he's pretty much reached the same conclusion that most reach when they actually dig into the science: somethat has, in fact, changed, and our release of greenhouse gases is probably impacting climate (and weather events). Here's an excerpt from Huffington Post: "Maybe it will turn out thathuman intelligence won't be favored by selection, and we'll soon grow ourselves into oblivion. But no matter what our eventual fate, I think it would do our souls good to at least try to slow down our self-destruction. After all, just because a penchant for murder and Kardashians seem to be inherent human flaws doesn't mean we shouldn't do our best to minimize them. I don't expect public opinion on climate change will be swayed by columnists and pundits preaching to their choirs. Those who want to ignore the vast scientific evidence on the subject have likely already skipped to the comment section below to try to convince you that since I'm not shouting these things naked from a wooden hut in the middle of a bog, I'm a hypocrite and deserve to be ignored. For those still reading, I have a suggestion. Most of us don't have millions of dollars to go toe-to-toe with the disinformation campaign being waged by the oil and gas industry. But most of us do have living parents. So let's talk to them about climate change. Because if we can't convince the people who love us more than anything in the world to take action on climate, who can we convince?…"
Global Warming And Economists – SuperFreakonomics Is SuperFreakingWrong.The Guardian has the story – here's a clip: "…Dr. Levitt writes that "agnostics grumble that human activity accounts for just 2% of the global carbon dioxide emissions" but never tells the reader that these are gross emissions, not net emissions. In fact, humans are responsible for the entire net increase in carbon dioxide – 40% of the carbon dioxide in the atmosphere at this time has come from human-caused emissions. How could a professor of business not understand the difference between net and gross emissions? A significant part of his chapter on global warming involves a description of the entrepreneurs attempting to find a geo-engineering solution to the problem of global warming. While discussing these techniques, Dr. Levitt writes that carbon dioxide is not poisonous – in fact, acceptable levels of carbon dioxide in modern buildings can be notably higher than the level in the atmosphere yet still be safe for humans to breathe. While this is true, Dr. Levitt fails to recognize that concerns about CO2 levels in the atmosphere have nothing at all to do with breathing CO2 but rather with the fact that it causes the atmosphere to warm…"
Photo credit above: "Steven Levitt, author of SuperFreakonomics, in Chicago, 2005." Photograph: Tom Maday for the Guardian.
___________________________________________________
ABOUT ME
Welcome to the WeatherNation blog. Every day I sift through hundreds of stories, maps, graphics and meteorological web sites, trying to capture some of the most interesting weather nuggets, the stories behind the forecast. I'll link to stories and share some of the web sites I use. I'm still passionate about the weather, have been ever since Tropical Storm Agnes flooded my home in Lancaster, PA in 1972. I've started 5 weather-related companies. "EarthWatch" created the world's first 3-D weather graphics for TV stations – Steven Spielberg used our software in "Jurassic Park" and "Twister". My last company, "Digital Cyclone", personalized weather for cell phones. "My-Cast" was launched in 2001 and is still going strong on iPhone, Android and Blackberry. I sold DCI to Garmin in 2007 so I could focus on my latest venture: WeatherNation. I also write a daily weather column for The Star Tribune startribune.com/weather And if you're on Twitter, you'll find me @pdouglasweather