Upside Down Weather Map – Latest on Drought and Fire Threat Southeastern USA
Typical for North Texas – 222 Day Growing Season at MSP?
I'm an old Eagle Scout; if it wasn't for weather merit badge and a tropical storm named Agnes I might have a real job right now. Why weather? The intellectual challenge of predicting the future and a secondary challenge of communicating weather; framing the story differently for each unique audience and need.
Increasingly, the expression "average weather" is losing its meaning. 30-year climate numbers are being nudged by a warmer, wetter, more volatile climate system. Here's an example of how statistics have been turned on their head. Much of Minnesota has experienced a first frost, but not the downtowns of Minneapolis and  St. Paul, close-in suburbs or MSP International Airport, where official temperature records are kept.
This year the first sub-freezing low will probably come next Sunday morning, November 20. That implies a 222-day growing season in 2016. That's average…. for the northern suburbs of Dallas, Texas. On paper the Twin Cities have an average frost-free growing season of 154 days. Right.
We still see a full latitude trough spinning up a big storm over the Plains by late next week, a storm strong enough to yank the first real cold front south of the border for much of  the USA east of  the Rockies. Not January-cold,  but it'll get your attention.
We're hoping for a shift in the pattern by Thanksgiving,  one that favors more significant storms and rain opportunities for the southeastern USA, struggling through a rapidly deepening drought and brushfires. Some of the images you'll see below remind me of blazes in southern California. It's odd and a bit troubling to be tracking walls of flame and smoke from Alabama to North Carolina. We're hoping for some relief, but a lingering La Nina may continue to favor abnormally warm, dry weather for much of the south in the coming months.
---
Unseasonable Warmth Lingers Over Northern Hemisphere
At some point a weak to moderate La Nina phase of ENSO may cool things down, but I'm still struck by how much warm air there is, especially across Canada and the Arctic, where temperatures today are forecast to be 6-8F warmer than average.
Temperature anomaly valid midday today courtesy of Climate Reanalyzer.
---
Shift In Jet Stream Pattern
Powerful "zonal" (west to east) winds have dammed the coldest air well to our north in recent weeks, just a few tentative blips of cold, Canadian air. NOAA's GFS model shows a buckling of steering winds, allowing much colder air to pour south of the border by next weekend.
Animation: Climate Reanalyzer.
---
Weather Models Looking More Like Winter
Winter is late this year, but it's still coming. It may be shorter than usual, but I wouldn't write off snow and cold just yet. NOAA's GFS 10-day snowfall product hints at plowable amounts of snow from the mountains of Wyoming to  the Dakotas and Minnesota's Red River Valley. I wouldn't get too excited yet – it pays to be skeptical (when it comes to snow).
Source: WeatherBell
---
Aeris Weather Briefings
Issued Saturday morning, November 12, 2016
* Dozens of large, uncontained wildfires continue to blaze in the Southeast
* Mandatory evacuations in Chimney Rock and Lake Lure communities in North Carolina
* State of Emergency declared in Tennessee
* Poor air quality will continue this weekend
* Exceptionally dry conditions are expected to continue
Graphic credit above: "The Rough Ridge fire in north Georgia has spread over 10,000 acres. Here are some photos taken of this incredible wildfire, courtesy of InciWeb. Please continue to take fire danger very seriously, especially given the worsening drought conditions." Atlanta office of the National Weather Service.
---

Tracking Fires From Space
An extended period of dry weather post Hurricane Matthew has resulted in extreme drought conditions across the Southeast. The exceptionally dry conditions along with stronger winds in recent weeks have allowed for explosive fire conditions–dozens of large wildfires (Incident 1 & 2) continue to burn in the Appalachians. The map below shows the # of active, large wildfires currently in progress.
Credit: NASA
---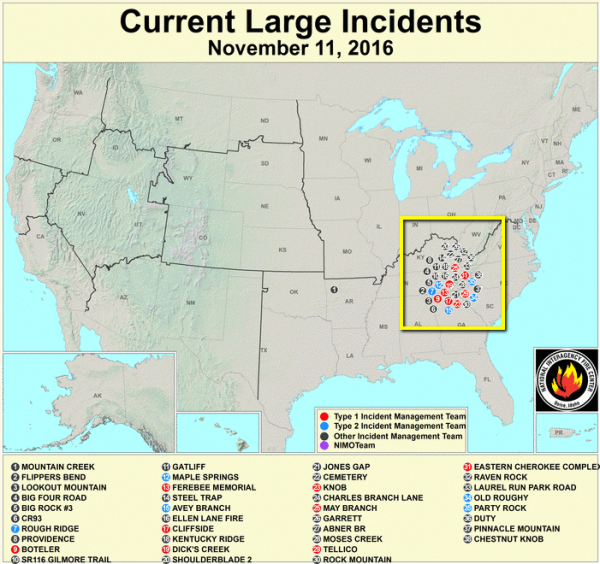 Largest Wildfires
North Carolina remains one of the hardest hit states with thousands of acres charred by wildfires. The Chimney Rock and Lake Lure communities are now under evacuation orders due to the Party Rock Fire. The largest wildfire in the state is the Tellico Fire, which has burned over 8,000 acres and was roughly 23% contained Friday night. The Rough Ridge fire in northern Georgia has charred over 10,000 acres and remained 20% contained as of Friday night. Hundreds of firefighters from across the country are currently battling the blazes.
---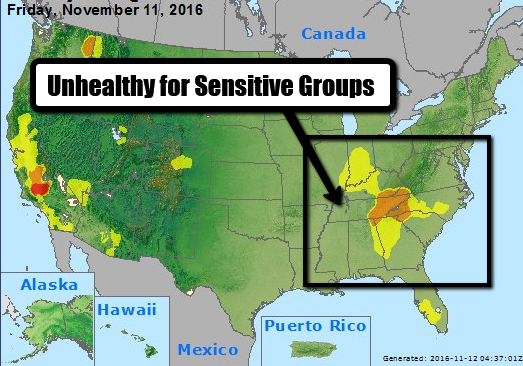 Smoke Worsening Air Quality
Air quality remains low for the Southeast. Smoke will continue to reduce air quality over the weekend. In Kentucky, a state that has also been hit hard recently with wildfires, the state Department for Public Health this week issued a smoke inhalation advisory.
---
Drought Worsening
The lack of precipitation has worsened in recent months, which has resulted in extreme to exceptional drought conditions developing across the Southeast. Rainfall remains painfull below average. Many areas are seeing deficits of well over 12″ for the year as seen in the map below.
---
Little to No Relief in Sight
Unfortunately, little improvement is expected in the long-term forecast regarding precipitation. The 6 – 10 day precipitation outlook is highlighting a moderate to high chance of drier than average conditions for many of the impacted areas (shown below).
---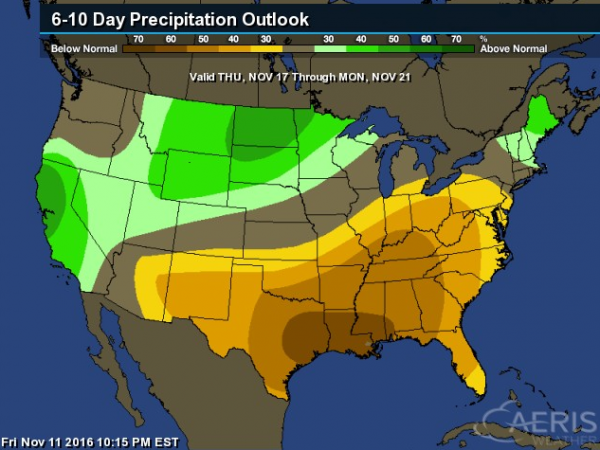 Summary
Exceptionally dry conditions have resulted in incredibly volatile conditions for wildfires. Extreme/Exceptional drought conditions are in progress. Dozens of wildfires have erupted across the Southeast in recent weeks. Type 1 and Type 2 firefighters continue to battle the largest blazes–many of which remain uncontained. Little relief is in sight as the forecast looks to stay generally dry thanks to high pressure overhead. This will result in a continued stretch of arid weather. Not much look in the long-range forecast either as models are trending towards drier than average conditions.
Susie Martin, Meteorologist, AerisWeather
---
La Nina Arrives, Likely to Exacerbate Southern Drought
Most (but not all) La Nina cooling phases in the Pacific result in drier winters for the southern USA. Here's an excerpt from Climate Central: "La Niña is here. But unlike the El Niño that preceded it, this climate event is expected to be weak and short-lived, the National Oceanic and Atmospheric Administration said Thursday. But that doesn't mean the U.S. won't see some of the typical impacts of a La Niña; forecasters expect it to tilt the odds in favor of warmer, drier conditions across the already drought-stricken southern portions of the country and wetter, cooler conditions across some of the northern regions. "The weak La Niña is likely to contribute to persisting or developing drought across much of the southern U.S. this winter," Mike Halpert, deputy director of NOAA's Climate Prediction Center, said in a statement..."
Map credit: U.S. Drought Monitor.
---
Very Poor Air Quality
EPA's AQI (Air Quality Index) shows unhealthy air resulting from wildfire smoke across much of the southeast, a pall of haze spreading across Alabama and Georgia into the Carolinas.
---
Tornado-Free November
Here's an interesting nugget from CNN and
ourquadcities.com
: "
Severe weather is often associated with spring, but fall is a second deadly season for tornadoes, especially for Gulf Coast states. There hasn't been a single tornado to date this month in the country. Last year 99 tornadoes occurred in November. On average, the month sees 58 tornadoes, most occurring in Texas, which averages nine in November
…"
---
North America is Flooded in Warmth and There Is No Sign of Real Winter
Here's an excerpt of a summary from Jason Samenow at Capital Weather Gang: "…Vancouver set a record high just two days before CBC News reported, and said much of British Columbia had been "extraordinarily warm" in November. Many areas of Canada which normally have snow at this time of year have bare ground. As Canada is the source region for cold air over the Lower 48, it's no surprise snow is lacking there as well. Snow covers a mere 0.4 percent of the Lower 48 states — the smallest area on record for Nov. 10 (dating to 2003).  On average, about 10 percent of the nation has snow on the ground as of this date…"
Map credit:
---
This year, the U.S. has had 12 billion-dollar disaster events — floods, wildfires, hurricanes, severe storms, and droughts that each caused more than $1 billion worth of damage. Adjusted for inflation, there were on average only about two such events a year in the 1980s, five a year in the 1990s and 2000s, and almost 11 a year between 2010 and 2015. The flooding in Louisiana in August was the country's eighth "once-in-every-500-years" weather event in a little over 12 months. Wildfires in California and other parts of the West grew at a rate of 90,000 acres a year between 1984 and 2011; in Alaska, four of the 10 worst fire seasons on record have occurred since 2004. The U.N. has calculated that the number of severe storms, floods, and heat waves worldwide is five times greater than it was in 1970; the World Bank estimates that extreme weather today affects 170 million people a year, up from 60 million three decades ago…"
---
Weather Photo of the Week
Check out this haboob, triggered by thunderstorm downdrafts kicking up a wall of windblown sand and dust. More details via Capital Weather Gang.
Photo credit:
---
Trump Insider: New Administration Won't Attack Renewable Energy
I hope this isn't just wishful thinking. Here's a clip from a story at Utility Dive: "…Energy is not one of the top five agenda items" on Trump's to-do list when he takes office in January, according to a major Trump financial contributor who said he is a member of the transition team and spoke on the condition of anonymity. The top issues on that agenda are tax reform, immigration, reforming health care (Obamacare), infrastructure, and trade. "Everything with renewables continues; the credits will remain in place," he said..."
---
Best Places To Watch 2017 Eclipse
 If you're an astronomy buff it's not too early to plan ahead for next August. Here's an excerpt from
EarthSky
: "
The foremost criterion for selecting a site is the weather. Any location along the path of totality from Oregon to South Carolina can enjoy good weather on eclipse day, but the western half of the United States, especially from the Willamette Valley of Oregon to the Nebraska Sandhills, will enjoy the very best weather odds. You can watch the weather forecasts starting a week before eclipse day to judge whether you can strike for a spot close to home or drive further afield. Wherever you go, every eclipse viewer should have a plan for mobility. Even in the sunniest locations, you don't want to be caught under a cloud during the precious two minutes of totality
…."
---
The Tiny Kentucky Town That Eclipse Fans Are Obsessing Over
Interested in hearing more about the total eclipse of the sun next summer? Check out this story at Atlas Obscura: "Go ahead. Try to book a hotel room online in Hopkinsville, Kentucky, for the third weekend in August next summer. You can't. The rooms appear to be booked solid from August 19th through August 22th. And the same goes for hotels and motels in nearby Cadiz, Hardin, Oak Grove, or any other interchange along Interstate 24. Demand is so high that you have to personally call to make a reservation, and be willing to pay between $400 to $800 a night. You could say the stars have aligned for Hopkinsville. Or, more precisely, the Earth, sun and moon will be perfected aligned. Next summer will be the first time a total solar eclipse—when the moon completely blocks out the sun—can be witnessed in the continental United States since 1979..."
File image: NASA
---
Climate Stories
---
This Year The Antarctic Has Suddenly Started to Disappear
Co.Exist has the story; here's the intro: "The Arctic is melting. We know that already. But now we're in worse trouble, because the Antarctic is disappearing too. By studying 36 years of satellite images, researchers have spotted the worrying trend. Until now, they thought that the Antarctic ice sheet was actually growing, but that has changed. The Arctic consists of a sea surrounded by land, and this stops its ice from drifting away every summer. The Antarctic is the opposite—land surrounded by water—so most of it melts every year. But every winter it refreezes, covering almost 7 million square miles with sea ice…" File image: NASA
---
Climate Change Risk is "Serious", Exxon Mobil Executive Says
Here's an excerpt from The Houston Chronicle: "Two days after Donald Trump won the White House, Exxon Mobil official Suzanne McCarron made clear the oil giant's position on climate change. In a tweet Thursday, she wrote, "The Paris agreement is an important step forward by governments in addressing the serious risks of #ClimateChange." Trump made waves on the campaign trail vowing to "cancel" U.S. involvement in the pact, which was agreed to by close to 200 world leaders in Paris almost 12 months ago. And since Trump's victory in Tuesday's election, Republicans have cheered a quick end for President Barack Obama's efforts to reduce greenhouse gas emissions. But it doesn't look like Exxon Mobil, a steady GOP donor, is on board…"
---
What Trump Can – And Can't – Do All By Himself on Climate
Here's an excerpt from an analysis at Science Magazine: "…Despite the vulnerability of many of his own properties to sea level rise, on the campaign trail President-elect Donald Trump stuck with Republican orthodoxy in questioning human-driven climate change, and criticizing the steps the Obama administration has taken to combat it. Trump has promised to "cancel" the Paris agreement, the recently adopted global deal to curb global warming, and to curb climate regulations from the Environmental Protection Agency (EPA), including the Clean Power Plan to cut emissions from coal-fired power plants, during his first 100 days in office…"
---
Record Hot Years Could Be The "New Normal" by 2025
So reports Huffington Post: "Following in the blistering footsteps of 2014 and 2015, this year is on track to be the warmest on record. And we probably need to get accustomed to this sweltering heat. If carbon emissions continue to rise at their current rate, these record hot years will be the "new normal" by 2025, new research shows. Even if we take action to curb emissions, the damage has already been done, warns the study, published Friday in the Bulletin of American Meteorological Society. Human activities have already ensured that the global annual average temperature of 2015 will be the norm "no later than 2040," the researchers said…"
---
Michael Bloomberg Has a Plan To Shift The Conversation on Climate Change
Business Insider reports: "…Bloomberg and Pope firmly believe that fixing those flaws will allow the entire global economy to grow. When they researched current technologies and initiatives that could address some of the biggest environmental problems, Pope says they "found that each one had a pretty attractive set of solutions and that collectively, solving climate will make a lot of money for the world." That wasn't true 20 years ago, when solar and wind power were vastly more expensive, electric cars were not yet a reality, it was difficult to monitor and track illegal deforestation, and far less was known about how to make agriculture more sustainable. The world's approach, according to Bloomberg and Pope, is still stuck in that era..."
---
For WeatherNation: Meteorologist Paul Douglas