What Is Going On? (why so cool and wet – Tropical Storm Andrea approaching Florida)
What Is Going On?
"Waiting for summer? I'm still waiting for spring!" my wife mumbled. A lot of mumbling & grumbling lately. In fact I can't hear you right now because I've gotten a non-stop earful.
I honestly can't remember a faux-spring so depressing.
It's green, the drought is history, there's water in the lakes!
"Shut it Paul".
Why? Proving cause and effect is tricky, but I still think this tortured weather pattern may be linked to record melting in the Arctic last fall – which seems to have thrown the jet stream out of alignment. A 2012 research paper by Francis & Vavrus shows a 14 percent drop in the speed of upper level winds since 1979 as far northern latitudes warm up the fastest. is this sparking "amplification", big north/south swings, with weather systems moving much slower, magnifying the potential for flood drought? It's a theory, but it underscores my sense that we're in uncharted waters.
Climate change is flavoring all weather now.
Clouds and sprinkles linger today, lukewarm sun Friday and the first half of Saturday. Showers and T-storms arrive late Saturday and spill over into Sunday. I find that shocking.
Long-range models still hint at a real warm front (90+ F hot front?) in about 7-9 days.
The First Tropical Storm Of The Season, And "Hurricane Apathy".
 The last major hurricane to strike the USA? Wilma, back in 2005. We are long overdue for a major strike, and I have a hunch this is going to be a very busy year for hurricanes in the Atlantic basin. Details in 
Climate Matters
: "
WeatherNationTV Chief Meteorologist looks at Andrea the first storm of the 2013 Atlantic Hurricane Season. More details on hurricane apathy and the storm that got him interested in meteorology
."
* First Tropical Storm of the 2013 season (Andrea). 60 mph sustained winds this morning, and could strengthen before landfall over Florida's Big Bend Thursday afternoon.
* Tropical Storm Warning Gulf Coast of Florida, Tropical Storm Watch coastal Georgia and Carolinas.
* Greatest risk from Andrea is inland flooding; greatest potential for urban/river flooding Tampa to Panama City and Destin, then inland over Georgia and Appalachian communities from Chattanooga to Asheville, Roanoke, Hagerstown, Altoona and State College, where some 4-6″ rainfall amounts are possible by Friday night.
* 3-4 foot storm surge predicted for Clearwater Beach by late morning Thursday, capable of minor to moderate coastal flooding and beach erosion.
* 3 foot storm surge in Lower Manhattan (Battery) by Friday evening as a weakened Andrea accelerates right up the coast.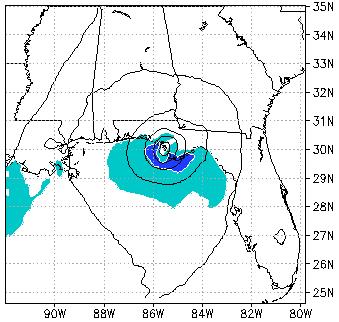 Landfall. Andrea may strengthen further before reaching the lightly populated Big Bend coast of Florida, well north of Tampa. Tropical storm force (40-50 mph) winds will extend inland to Ocala, Gainesville and Tallahassee tomorrow, capable of minor damage. Map above: Ham Weather.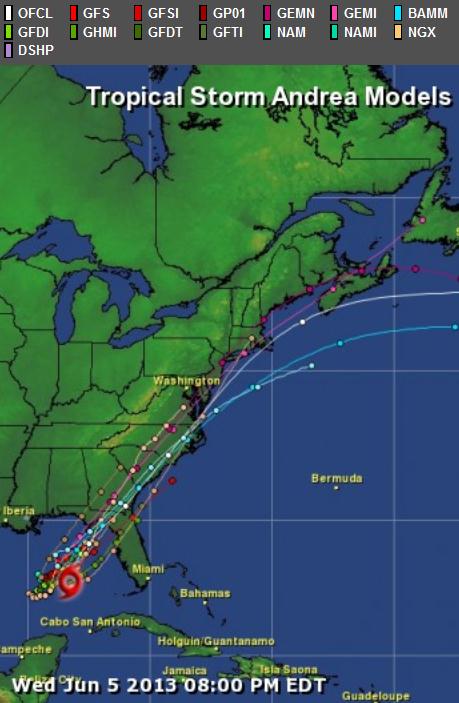 Model Agreement. All the models we examine at Alerts Broadcaster show strong continuity, with landfall near Crystal River or Cedar Key. Andrea is meandering along at 3-5 mph, but prevailing steering winds will pick up the storm and accelerate it up the East Coast, which will help to avoid a worst-case rainfall scenario for the Mid Atlantic Region and New England. Model guidance: NHC and Ham Weather.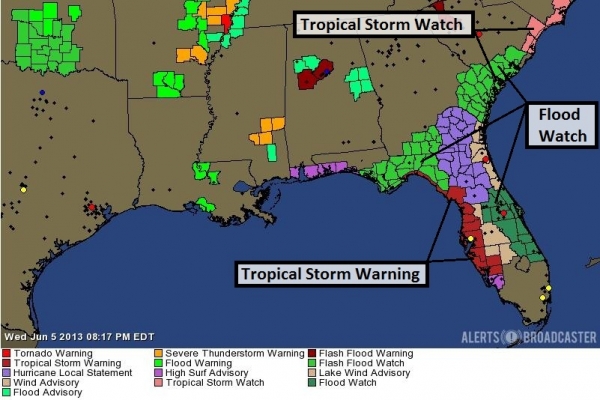 Current Watches/Warnings. NOAA has issued Flash Flood Watches for central and northern Florida, as well as southern/eastern Georgia and coastal South Carolina. I expect Flash Flood Watches and Flood Warnings to be issued farther inland, across much of the Southeast, tomorrow. Map: Alerts Broadcaster.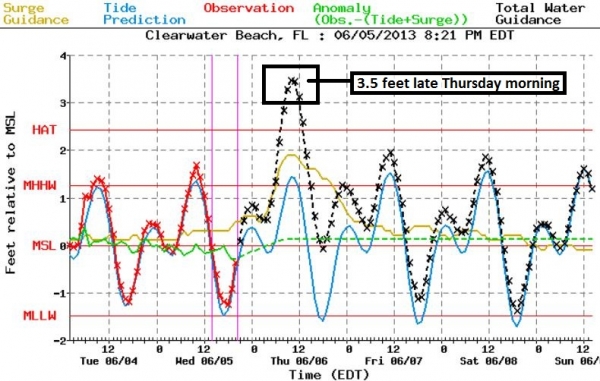 Storm Surge Outlook At Clearwater Beach, Florida. A peak surge of 3.5 to 4 feet at Clearwater Beach late morning Thursday, coinciding with high tide, will create minor to moderate coastal flooding and some lowland inundation.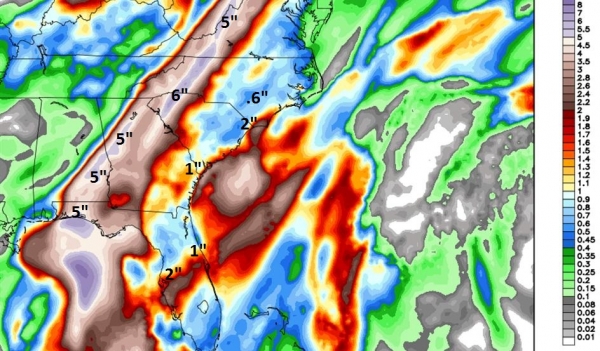 Latest Rainfall Predictions. It appears the greatest potential for inland flooding (urban and river) is from Florida's Panhandle into much of western and northern Georgia (including metro Atlanta) to Chattanooga, Asheville and the Shenandoah Valley of Virginia (including Roanoke and Lynchburg). Some 5″ rainfall amounts falling in less than 24-30 hours will lead to flooding of poor drainage areas, and some smaller rivers will spill out of their banks. Tropical moisture interacting with the Appalachians will create locally heavier amounts, and I can't rule out mudslides and power outages at the height of the storm Thursday night and Friday. Map above: Weather Bell.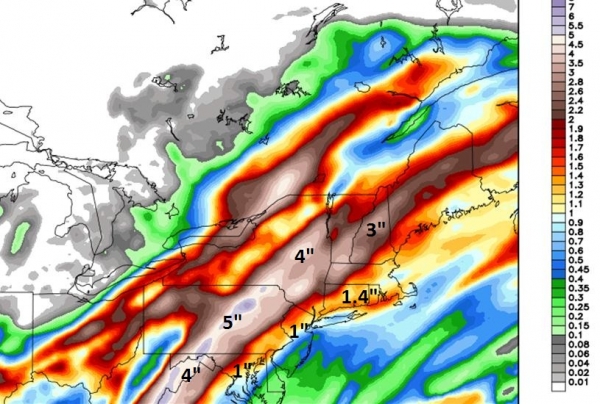 Northeast: Biggest Soakings Inland. Models show continuity keeping the plume of heaviest rain inland, with lesser amounts near the heavily populated urban core from D.C. to Philadelphia, New York and Boston. Some 4-5″+ amounts from Hagerstown and Altoona to State College and Wilkes-Barre will result in flash flooding. Facilities that often experience flood-related problems should be on high alert; heaviest rains coming Friday midday into early Saturday. This will be a short-duration "burst" of very heavy rain as Andrea accelerates northeastward. Map: Weather Bell.


Timing Andrea. The ECMWF solution above shows landfall by Thursday evening over Florida's Big Bend, the center of a weakening tropical storm near Wilmington, North Carolina by midday Friday. The center of the storm passes closer to New York City by Friday evening (heaviest rains late afternoon into the overnight hours Friday), and then the remains of Andrea push rapidly northeast, already off the coast of Portland, Maine by midday Saturday. Maps above: WSI.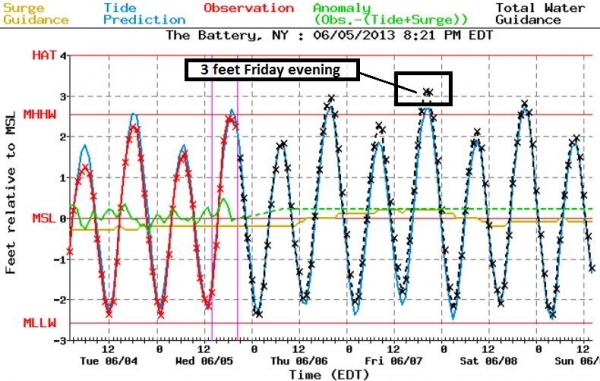 Minor Flooding For Metro New York. SLOSH models show a 3 to 3.5 foot surge at Manhattan's Battery Friday evening, at the height of the storm. Winds in New York City may reach 30-35 mph with very heavy rain falling over a 6-12 hour period late Friday and Friday night.

Let me say this again: warm sea surface temperatures, a lack of El Nino shearing winds over the tropics, and a persistently negative NAO (North Atlantic Oscillation) all point to a much busier than average hurricane season. With a negative NAO the Bermuda High tends to set up much closer to Florida, nudging Atlantic storms closer to the USA. The fact that we're seeing a tropical storm in early June may be a strong signal of an active 2013 hurricane season to come. The last major hurricane to strike the USA was Wilma in 2005. We are long overdue for a Category 3+ landfall. The Boy Scouts have it right: "be prepared".

Summary: Andrea continues to strengthen (slowly) and reaches Florida's Gulf Coast as a moderate tropical storm Thursday afternoon or evening. As we've been saying for a week now inland flooding poses the greatest risk from this storm, especially over the hilly terrain of the southeast from northern Georgia to Asheville. Minor to moderate coastal flooding is expected in the Tampa/Clearwater/St. Petersburg market Thursday, a minor storm surge from Savannah and Hilton Head to Charleston and the Outer Banks. New York Harbor and Long Island Sound will experience minor flooding with a 3 foot storm surge by Friday evening.

Some people minimize tropical depressions and tropical storms, but this can be a dangerous oversight. Some of our worst inland floods have been sparked by dying, slow-moving tropical storms interacting with mountainous terrain, which accelerates rainfall amounts and the potential for serious flooding. Andrea should move quickly enough to avoid severe or historic flooding, but I anticipate widespread flash flooding from the Panhandle of Florida across Georgia and the western Carolinas, with swollen rivers and urban flooding possible into Maryland and interior Pennsylvania by Friday afternoon. Minor flooding from 1″+ rains may slow traffic (land and air) from D.C. to New York and Boston Friday PM into Saturday, with conditions rapidly improving along the eastern seaboard by Sunday.
Serious Weather Whiplash. Oh to be a barge operator on the Mississippi. As recently as February barge traffic was slowed and re-routed, due to record low water levels on the Mississippi River. Now we've swung 180 degrees to severe flooding, most recently shutting down barge traffic around St. Louis. Details from Climate Central:
Tracking Andrea. The NAM model shows landfall over the Florida Panhandle later today, the storm accelerating northeastward, soaking a wide swath of the East Coast from tonight into Saturday night. Loop: NOAA.
___________________________________________________
ABOUT ME
Welcome to the WeatherNation blog. Every day I sift through hundreds of stories, maps, graphics and meteorological web sites, trying to capture some of the most interesting weather nuggets, the stories behind the forecast. I'll link to stories and share some of the web sites I use. I'm still passionate about the weather, have been ever since Tropical Storm Agnes flooded my home in Lancaster, PA in 1972. I've started 5 weather-related companies. "EarthWatch" created the world's first 3-D weather graphics for TV stations – Steven Spielberg used our software in "Jurassic Park" and "Twister". My last company, "Digital Cyclone", personalized weather for cell phones. "My-Cast" was launched in 2001 and is still going strong on iPhone, Android and Blackberry. I sold DCI to Garmin in 2007 so I could focus on my latest venture: WeatherNation. I also write a daily weather column for The Star Tribune startribune.com/weather And if you're on Twitter, you'll find me @pdouglasweather