Wild Weather Map (tracking "Karen", mile-wide tornadoes, blizzards, Santa Ana fire risk)
Partly-Soggy Weekend
. You can watch as an area of heavy snow shrinks and tapers from Wyoming into the Black Hills and Nebraska Panhandle. The same system that spawned an early-season blizzard over South Dakota and major tornadoes over Iowa will push a surge of drier air north today (the dreaded "dry tongue") and skies may try to brighten by afternoon. But conditions will be ripe for more showers later, lingering into a portion of Sunday. It gets nice and mild again next week. NAM Future Radar loop: NOAA and Ham Weather.
---

Something For Everyone. The GFS model shows the major, full latitude cyclone that sparked 1-2 foot snows over the Black Hills and mile-wide tornadoes near Sioux City, tracking northeastward into the weekend. Strong and gusty (60 mph) Santa Ana winds may fan wildfires across southern California, while Karen meanders in the Gulf, strafing the coast from Louisiana to Florida with torrential rains. 192 hour loop: NOAA and Ham Weather.
---
Drought-Denting Rains? Here's a clip from the always-informative weekly WeatherTalk Newsletter from Dr. Mark Seeley: "…The rains were very welcome, especially in areas of the state where drought had taken hold. In fact, the overall areas of the state landscape designated to be in moderate to severe drought shrunk by over six percent over the past week. Yet more rainfall is expected around the state through Sunday of this weekend, and further out the National Weather Service expects a wetter than normal weather pattern over the state through October 17th…"
---
Shutdown Stopping Flow Of Information As Dangerous Storms Threaten Nation. Here's an excerpt of a Jason Samenow article at The Washington Post's Capital Weather Gang: "…In addition to the social media stoppages, several Federal websites that historically have provided information and updates about hazardous weather are also down or not being updated:
* The NOAA.gov portal, which often serves as a hub for life-threatening storm information and resources; it is redirecting to weather.gov, which is fully functional
* NOAA's Environmental Visualization Laboratory, which provides storm imagery on a daily basis
* NASA's Hurricane Web site, which provides news and visuals about tropical weather systems
* NASA Goddard Space Flight Center's weather imagery..."
---
Subtle Yet Blunt. Here's a technical explanation of weather in Anchorage, but look carefully and you can see it: a cry for help. PLEASE PAY US. I don't blame them for being upset.
---
Major Storms Are Forming, And America's Meteorologists Are Stuck At Home
. Well, some of them. Here's a clip from a story at
Quartz
: "…
As potential natural disasters loom, the American government is shut down because of a budget dispute. As part of the National Oceanic and Atmospheric Administration's mission to "protect life and property," critical civil servants such as weather forecasters must remain at work—without pay —while support staff and other "non-essential" personnel are being sent home.
Although essential personnel are still on the job (and others have been recalled in face of the impending weather disruptions), it's impossible to think that the fragmentation of bureaucracy won't have an impact in the context of a rapidly changing natural disaster.
.." (Map above:
Ham Weather
).
---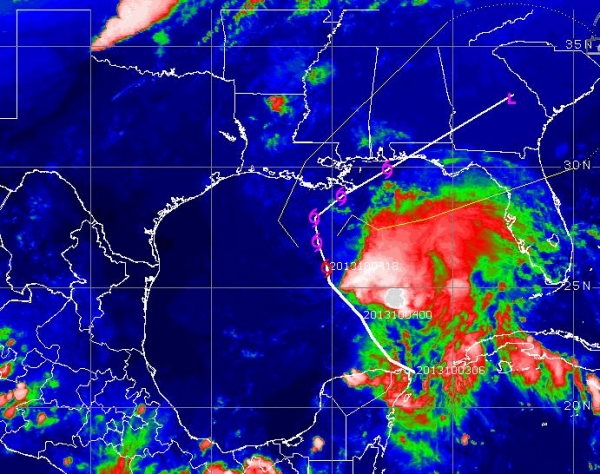 Here is what has changed since yesterday afternoon:
* As of 10 PM Friday Night Tropical Storm Karen is losing some of its tropical characteristics, being "decapitated" by wind shear, in the words of NHC. Steering winds should nudge the storm north, and then sharply northeast over the next 36 hours.
* Intensity has dropped from 50 to 45 mph this evening.
* Hurricane Watches have been discontinued. A Tropical Storm Warning is posted from Morgan City, LA to the mouth of the Pearl River.
* New Orleans is in a Tropical Storm Watch.
* Karen is still showing the effect of considerable wind shear. Very slight strengthening is possible as Karen approaches the Gulf Coast Saturday night and Sunday.
* Doppler data from NOAA P-3 aircraft initializing HWRF model with more accurate data – strong trend toward weakening storm, and possible eastward drift toward central/northern Florida by Monday.
* Odds of a Category 1 hurricane in the Gulf of Mexico have diminished, less than a 20% risk. But Karen is still capable of torrential rains, flash flooding and minor to moderate storm surge flooding, especially late Saturday into Sunday night.
---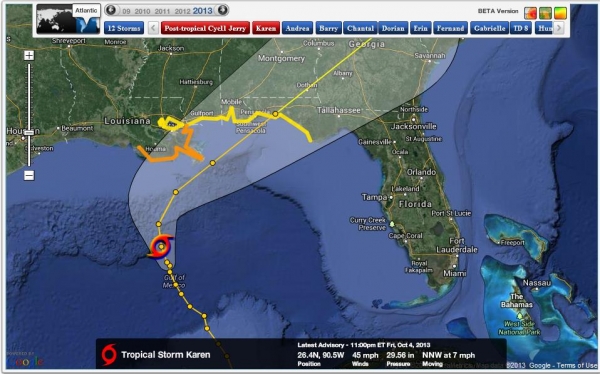 Latest Fix. Tropical Storm Karen is 230 miles south of Morgan City, Louisiana, or 205 miles south/southwest of the mouth of the Mississippi River. Sustained winds are 45 mph, but Karen is a sloppy, highly-sheared storm with identity issues. It is losing some of its warm-core, tropical storm-like characteristics. Upper level conditions ahead of an approaching frontal boundary may favor slight strengthening closer to land Saturday; NHC guidance has Karen brushing southeast Louisiana with 45-50 mph sustained winds within 36 hours. As I mentioned this afternoon, Karen may wind up being more of a messy inconvenience than a facility-threatening storm.
---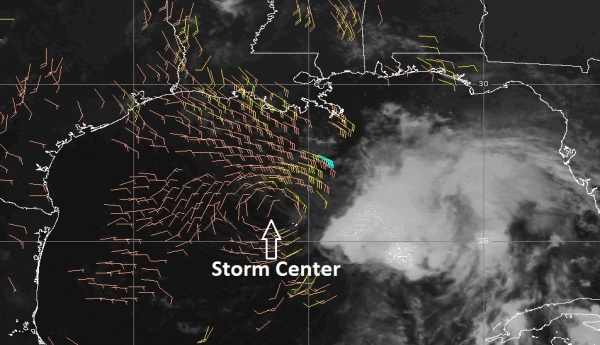 Tropical Distress. The center of Karen's circulation is obvious from the wind field, but all the convection (intense T-storms) has been shoved east by persistent westerly winds aloft. If Karen were a car she'd be firing on 2 cylinders. Once tropical systems become sheared they rarely recover, and I'm becoming less and less impressed with Karen's potential over time. I'm not discounting the storm altogether – that would be premature and potentially dangerous. Even if Karen weakens into a tropical wave or extra-tropical low pressure system it will produce some 3-6″ rains wherever it comes ashore later in the weekend.
---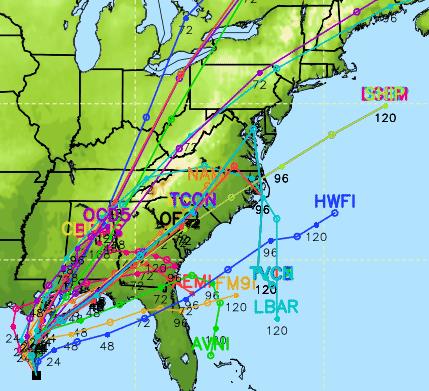 Growing Track Confidence. The models are a bit more tightly aligned, more continuity and consistency from model to model, which increases our overall confidence level. After being nearly stationary earlier today Karen has resumed motion toward the north/northwest at 7 mph. A sharp northeast turn is still expected by tonight as Karen interacts with an approaching cool front.
---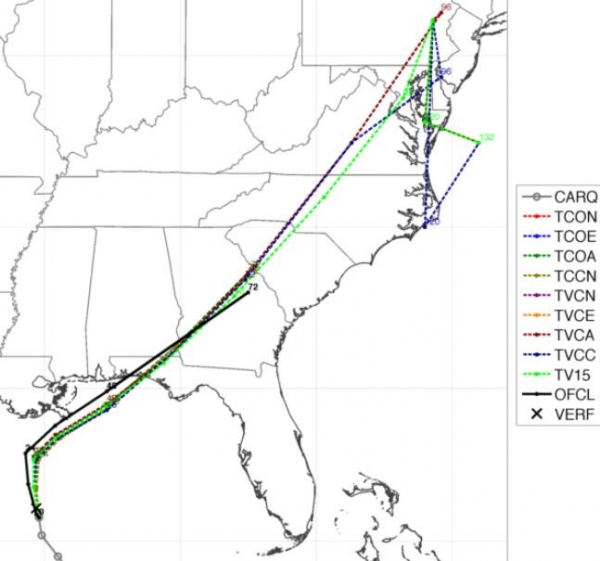 Consensus Solution. Tropical meteorology is a little like Congress – always searching for consensus and agreement. When models agree on track and intensity, when solutions align, we can track a tropical system with higher overall confidence. Since most of the T-storms are east of Karen's center I expect coastal Alabama and the Florida Panhandle to see the heaviest rains and highest flood risk. We can't rule out (minor) flash flooding in metro New Orleans, but I don't expect a storm surge capable of threatening the newly reinforced levee system protecting The Big Easy.
---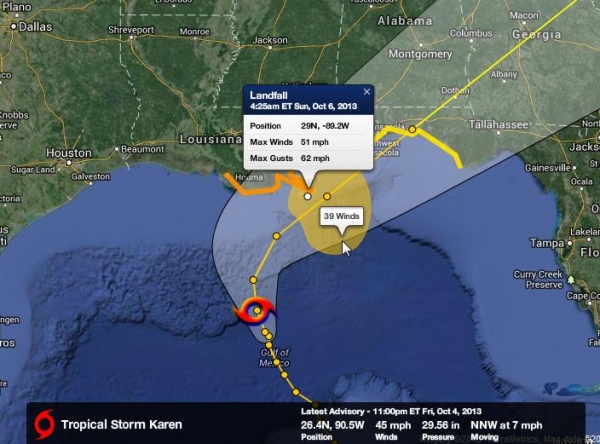 First Landfall. The predicted wind speeds above are roughly 10 mph lower (and slightly slower) than the afternoon update. On it's current trajectory Karen may reach the mouth of the Mississippi by 4:30 AM ET Sunday with sustained winds of 51 mph, gusts to 62. There's a growing chance that winds will be even lower than these numbers at the rate we're going with continued gradual weakening.
---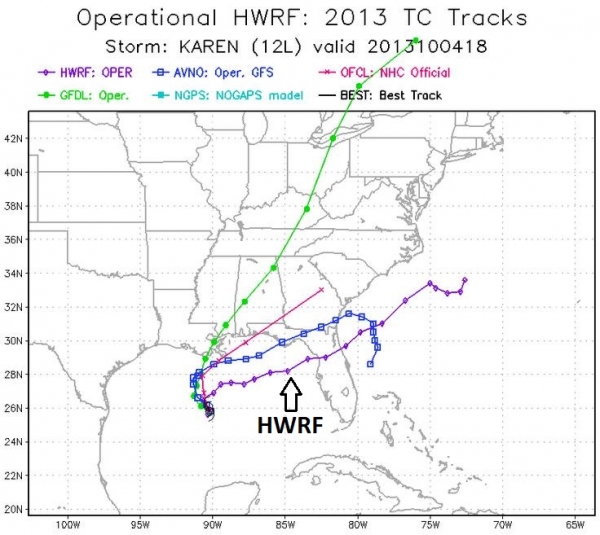 HWRF Wildcard. NOAA's HWRF model, the same model that is using the improved Doppler radar data from a P-3 aircraft, shows a track almost due east, deviating considerably from other models. Normally I would discount this solution, but with enhanced initialization, and the fact that this new data stream enabled the HWRF to weaken the storm (mirroring reality) I'm paying closer attention. Worst case: a weak or moderate tropical storm approaches the west coast of Florida, with a risk of flash flooding and (mostly minor) storm surge flooding as far south as Tampa/Clearwater and Sarasota late Sunday or early Monday.
---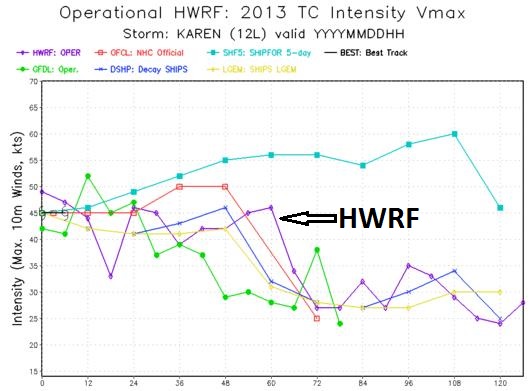 HWRF: Modest Tropical Storm. The same high-resolution NOAA model referenced above shows landfall (northern or central Florida) within 60 hours, late Sunday night or early Monday. I'm still not buying into this solution, but I would make sure that staff in Tampa keep a close eye on Karen't ultimate track.
---
Meanwhile, things are heating up again in the western Pacific with two typhoon risks: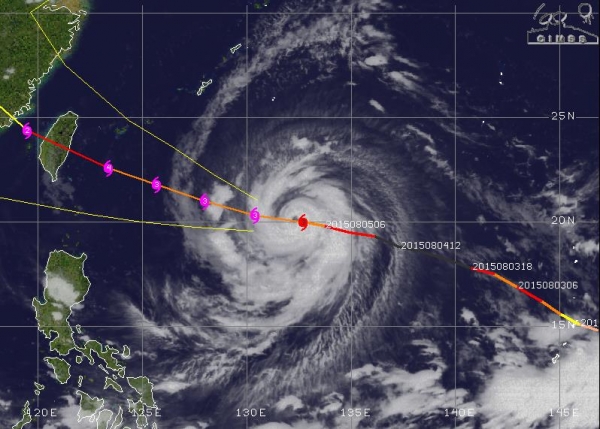 Wutip And Danas. It sounds like a bad reality show on Bravo, but it's really two tropical systems capable of significant damage in the coming days for China and southern Japan. Wutip is a significant typhoon (105 to 115 mph winds), expected to weaken slightly before striking near Wenzhou, China within 48 hours as a Category 1 hurricane/typhoon (Monday local China time). Right now the track should take Witow north of Taipei (where heavy rains and rough seas are likely) and south of Shanghail, but Wenzhou may see significant storm surge inundation and inland flooding. Meanwhile Danas is a tropical storm with 60 mph winds, expected to become a Category 1-2 typhoon before weakening as it approaches Japan, possibly impacting cities including Nagasaki and Kagoshima within 84-96 hours. We'll keep an eye on both systems.
---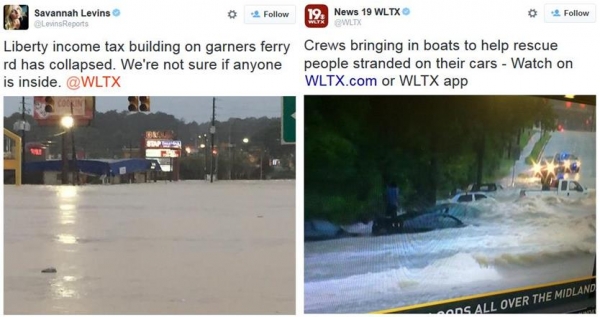 Major October Tornado Outbreak. We received reports of several 1-mile-wide multi-vortex tornadoes on the ground, simultaneously, near Sioux City, Iowa earlier this evening. That's rare for any month, especially in early October. There have been at least 14 injuries in eastern Nebraska and western Iowa; we won't know the full extent of damage until first light. We issued briefings on a possible tornado outbreak today; this area was in the "moderate" risk as defined by NOAA SPC.
Photo credits: upper left: Jeff Pietrowski, upper right: Nathan Jurgensen.
---
17 And Counting. As of 11:25 PM ET there have been 17 tornado reports, a few of them major (possibly EF-3-4) tornadoes with 14 injuries. SPC has more details on where the tornadoes touched down here.
Summary: Mother Nature is in a foul mood, between 1-2 foot snows, blizzard conditions and power outages near Rapid City, South Dakota, 60-70 mph Santa Ana winds increasing the risk of fast-moving wildfires in southern California, and potentially historic tornadoes over the Midwest. And then there's Karen. The storm doesn't look impressive, and although we are maintaining tropical storm strength in our outlook I wouldn't be surprised to see further weakening before landfall Sunday. Minor storm surge flooding is still anticipated impacting coastal areas below 2 feet in elevation. Heavy rains are expected, especially Florida, sparking flash flooding late in the weekend.
Asia interests will want to closely monitor Wutip and Danas, with impacts likely over southern Japan and near Wenzhou, China. After a quiet spell I'm almost afraid to see what comes next. We'll keep you up to date on multiple weather-threats in the coming days.
---
Water Official: Drought Is Worst Central Texas Has Experienced. Statesman.com has the article – here's the introduction: "Austin water officials said this afternoon that the drought is the worst Central Texas has experienced — worse already than the epic drought of the 1950s — and that as early as next spring the city may need to pursue options such as banning all but hand-held outdoor watering, higher drought rates and even curtailing the use of indoor water. "This is not your father's drought, this is not even your grandfather's drought," Austin Water Utility Director Greg Meszaros told the City Council. "This is, in my opinion, the worst drought we've faced in Central Texas, ever…"
---
The Most Detailed Visuals Of Hurricane Sandy, Revealed. Meteorologist Andrew Freedman at Climate Central has a great article about new visualization tools being used to shed more light on Superstorm Sandy; here's a clip: "Scientists have recently developed awe-inspiring visualizations of Hurricane Sandy, which devastated the Northeast and Mid-Atlantic states a year ago. The visualizations, created using state-of-the-art computer models, provide some of most detailed looks at any hurricane to date. Scientists based at the National Center for Atmospheric Research (NCAR) in Boulder, Colo., used an advanced hurricane computer model to create mesmerizing images and animations that almost succeed in making the destructive and deadly storm appear to be a beautiful work of art…"
Graphic credit above: "In this 3-D map of potential temperature, relatively cool air wraps around Sandy's core near the surface (purple and blue colors), while air parcels gain heat from moisture condensing into clouds and precipitation as they ascend through the storm's core." Credit: UCAR.
---
Climate Stories…
Five Things You Must Know About The IPCC Report (Op-Ed). Here's an excerpt from an Op-Ed at Live Science: "…First, the scientific work reported by the IPCC in the AR5 is the gold standard for getting a big-picture understanding of what's happening to the climate. The report itself has 259 authors from 36 countries. They are scrupulous about quantifying the certainty of both findings and projections. This report is the best tool society has for making informed, rational decisions on how to deal with climate disruption. Second, there is a lot of bad news: Several effects of climate disruption have accelerated during the past decade, such as the loss of Arctic sea ice, the melting of big glaciers and the rise of sea levels..."
Photo credit above: "An ephemeral lake in California's Yosemite National Park where Pacific tree frogs breed." Credit: USGS.
---
Let It Burn. Changing Firefighting Techniques For A Warming World. Time Magazine takes a look at how going from defense to offense (in reducing ongoing fire risk) brings a whole new set of issues and challenges; here's a clip: "…Wildfires have always been a natural part of forest ecology, especially in the dry American West. The occasional small fire prevents forests from becoming overgrown, clearing old vegetation out for new growth. But if you try to smother every wildfire that breaks out—which is what the U.S. Forest Service does now—that vegetation keeps growing and growing, adding more potential fuel to the next fire. And that raises the chances of a megafire, one of the devouring infernos—like the wildfire that threatened Yosemite National Park in California earlier this summer—that truly can kill…" (Image: U.S. Forest Service).
Earth, 2100 AD. Four Futures Of Environment And Society. How quickly will we wean ourselves off fossil fuels will determine the Extended Outlook – for the planet. Here's an excerpt from New Scientist: "…Here, New Scientist explores four hypothetical futures for human society in 2100, using criteria set out by climate modellers – though we cannot reproduce the huge amount of data in their scenarios (see graph). We have selected some key points and sketched out an image of society in each scenario. To do this, we drew on descriptions published by the IPCC in 2000 and, in consultation with climate modellers, chose the ones that correspond to the concentrations of greenhouse gases published in last week's IPCC report (see "Climate report: Lull in warming doesn't mean we're safe")… (Image: NASA).
---
Let's Be Honest. The Global Warming Debate Isn't About Science. Here's a clip from a story at The Guardian: "…The IPCC warns that if we want to avoid very dangerous climate change, we're on track to blow through our allowed carbon budget in as little as two to three decades if we continue on our current path of relying on fossil fuels. If we're lucky and the low sensitivity scenario is accurate, perhaps we'll have an extra decade or two, but even in this best case scenario, we're on an unsustainable climate path.
Politically biased media climate coverage is not a coincidence
The scientific evidence is what it is, and it has no political bias. The same is not true of the media outlets that cover the topic. It's not a coincidence that politically conservative tabloids and newspapers like the Daily Mail, Telegraph, Australian, and Wall Street Journal spend a disproportionate amount of time amplifying the voices of the less than 3 percent of climate contrarian scientists, as well as many non-scientist contrarians…"
Image above: Clean Technica.
________________________________________________________________
ABOUT ME
Welcome to the WeatherNation blog. Every day I sift through hundreds of stories, maps, graphics and meteorological web sites, trying to capture some of the most interesting weather nuggets, the stories behind the forecast. I'll link to stories and share some of the web sites I use. I'm still passionate about the weather, have been ever since Tropical Storm Agnes flooded my home in Lancaster, PA in 1972. I've started 5 weather-related companies. "EarthWatch" created the world's first 3-D weather graphics for TV stations – Steven Spielberg used our software in "Jurassic Park" and "Twister". My last company, "Digital Cyclone", personalized weather for cell phones. "My-Cast" was launched in 2001 and is still going strong on iPhone, Android and Blackberry. I sold DCI to Garmin in 2007 so I could focus on my latest venture: WeatherNation. I also write a daily weather column for The Star Tribune startribune.com/weather And if you're on Twitter, you'll find me @pdouglasweather.