Above - The Horsehead Nebula also known as Barnard 33 and part of the constellation Orion. In Euclid's new observation of this stellar nursery, scientists hope to find many dim and previously unseen Jupiter-mass planets in their celestial infancy, as well as young brown dwarfs and baby stars. Credit: ESA
The European Space Agency (ESA) has released the first images from the Euclid telescope revealing "razor-sharp" images of distance galaxies. This is part of Euclid's 6 year mission to create a "3D-map of the Universe (with time as the third dimension) by observing billions of galaxies out to 10 billion light-years, across more than a third of the sky."
According to the European Space Agency, "Euclid will take images in optical and near-infrared light; these images will eventually cover more than one-third of the extragalactic sky outside the Milky Way, and depict billions of cosmic targets out to a distance where light has taken up to 10 billion years to reach us." This mission will help scientists to understand dark matter, dark energy and gravity along with how the universe has expanded overtime.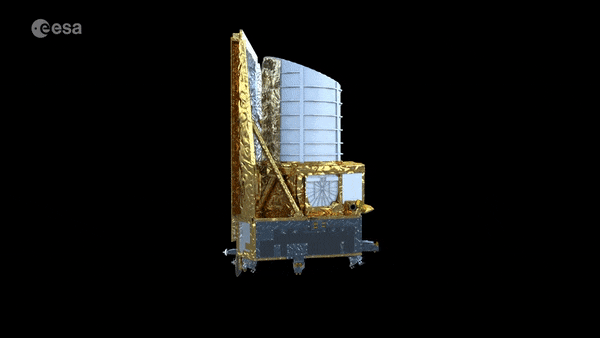 Animation of Euclid Telescope. Credit: ESA
Euclid launched on a SpaceX Falcon 9 rocket from Cape Canaveral, FL on July 1, 2023. It quickly got into its orbit 932k miles from Earth orbiting at the same pace as Earth around the sun. The Webb space telescope (launched by NASA in 2022) is also in this orbit. The telescope takes images in 4x more details compared to Earth based telescopes!
The first five images of Euclid reveal stunning full color images of the universe - the telescope is designed to see light up to 10 billion light-years away!