Storm after storm over the last month produced record snowfall across the Upper Midwest. In Minneapolis, it was the snowiest month since 1991 and now is the 4th snowiest month on record. The February record was shattered with 39.0" (previous record was 26.5" from 1962).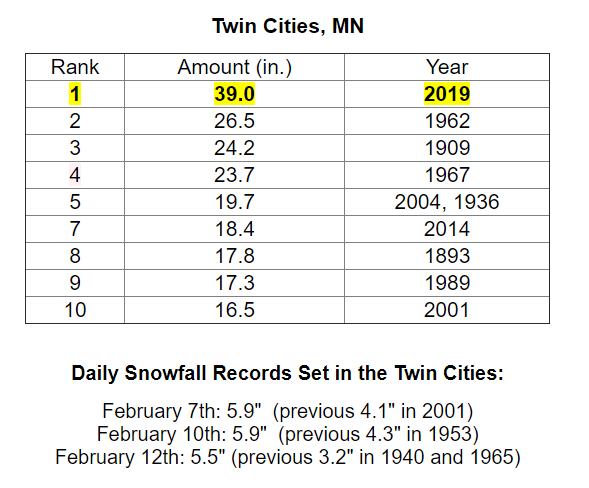 https://twitter.com/svensundgaard/status/1100780032019046402 In Eau Claire, Wisconsin, multiple records were broken. A new February record was set at 53.7", blowing away the old record by nearly 30"! The month was also the snowiest month ever & the snowiest meteorological winter (covering December to February) with 73.0"!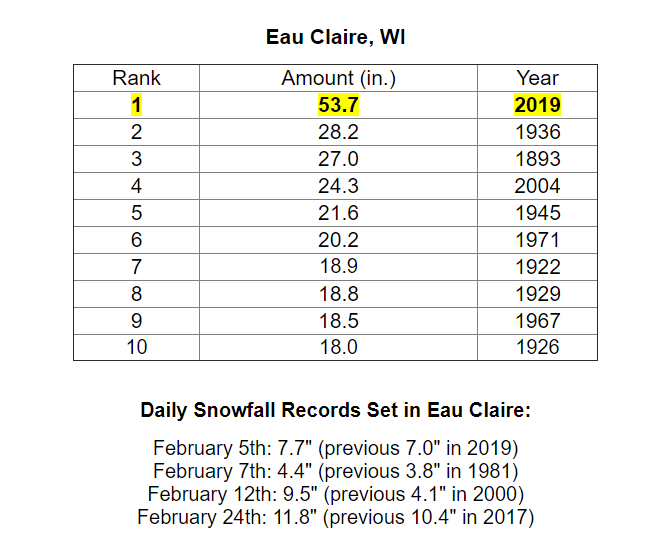 Rochester, Minnesota saw 40" of snow accumulate in February, making it the snowiest February and the second highest snowfall accumulation on record for a month. Record February snowfall was also seen in La Crosse, Wisconsin at 31.1". https://twitter.com/NWSLaCrosse/status/1101467121811365894 https://twitter.com/NWSLaCrosse/status/1100751897978388481 St. Cloud, Minnesota also set a February snowfall record at 27.6".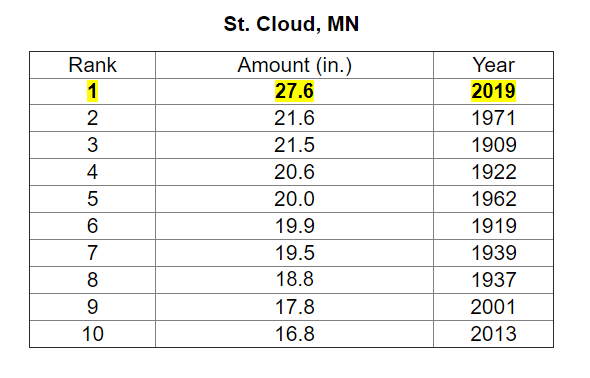 Record February snowfall was also recorded in Duluth at 36.4" (updated from the tweet below). https://twitter.com/NWSduluth/status/1100133660135694337 In North Dakota, snowfall records for February were also set. Grand Forks airport measured 23.2", the Grand Forks NWS office saw 27.0" and Fargo recorded 21.4" (updated amounts from the tweet below). https://twitter.com/NWSGrandForks/status/1099894872591478784 March (and possibly April) will add additional snow. Some full season records may be in jeopardy before the last snowflakes fly. For WeatherNation:
Meteorologist Mace Michaels