Ever wonder what it is like to be in a hurricane? Last month the "saildrone" got a unique perspective inside Hurricane Idalia in the Gulf of Mexico in August of 2023. The camera on the Saildrone captured wave heights of 31 feet according to NOAA. "On August 29, Saildrone 1083 passed right through the north side of the eye wall, into the eye of Idalia, then through the southern eye wall, all while multiple dropsondes were deployed over the saildrone from the P-3 aircraft. This particular uncrewed surface vehicle withstood sustained tropical storm force winds for more than nine hours"
Saildrones also navigated through Franklin, while it was a Tropical Storm before Hurricane status in the Atlantic. According to NOAA "Three saildrones were impacted by Franklin, including one that spent 12 hours and 40 minutes within tropical storm conditions. It measured a maximum sustained wind speed of 54.31 knots, confirming the NOAA National Hurricane Center's maximum intensity at that time"
The Saildrone is an unscrewed surface vehicle, or USV, developed privately, and partnering with NOAA to improve hurricane forecasting technology by measuring temperature, dew point, sea temperatures and salinity. The Saildrones have been used across other parts of the world's oceans to collect various data an assist scientists.
Saildrones are part of NOAA's fleet of scientific equipment used to collect data before during and after a hurricane. Saildrones have the unique perspective of being on the ocean's surface and can provide both air and ocean temperatures and conditions.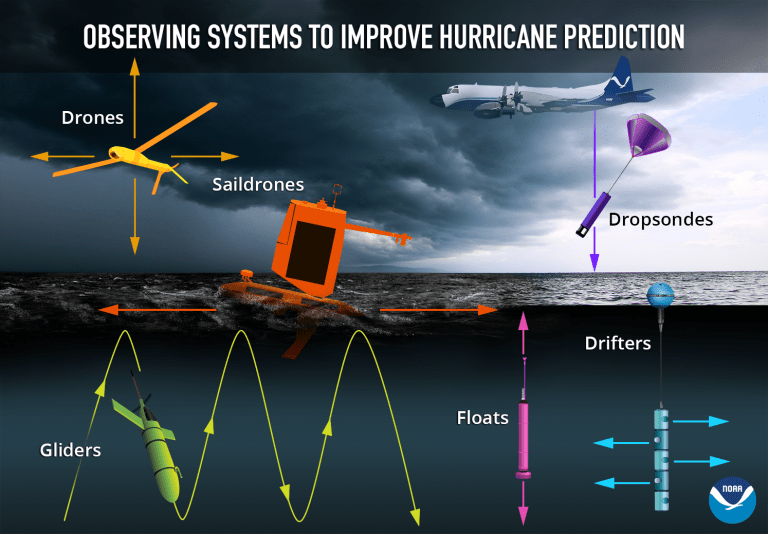 In 2021 a saildrone was caught in the eye of Hurricane Sam, measuring 50'+ waves! 2023 is now the third season of the partnership of NOAA and Saildrone.