The strong upper low pressure system delivering the weekend snowstorm in the Rockies will eject into the upper Midwest and bring heavy snow late Sunday into Monday.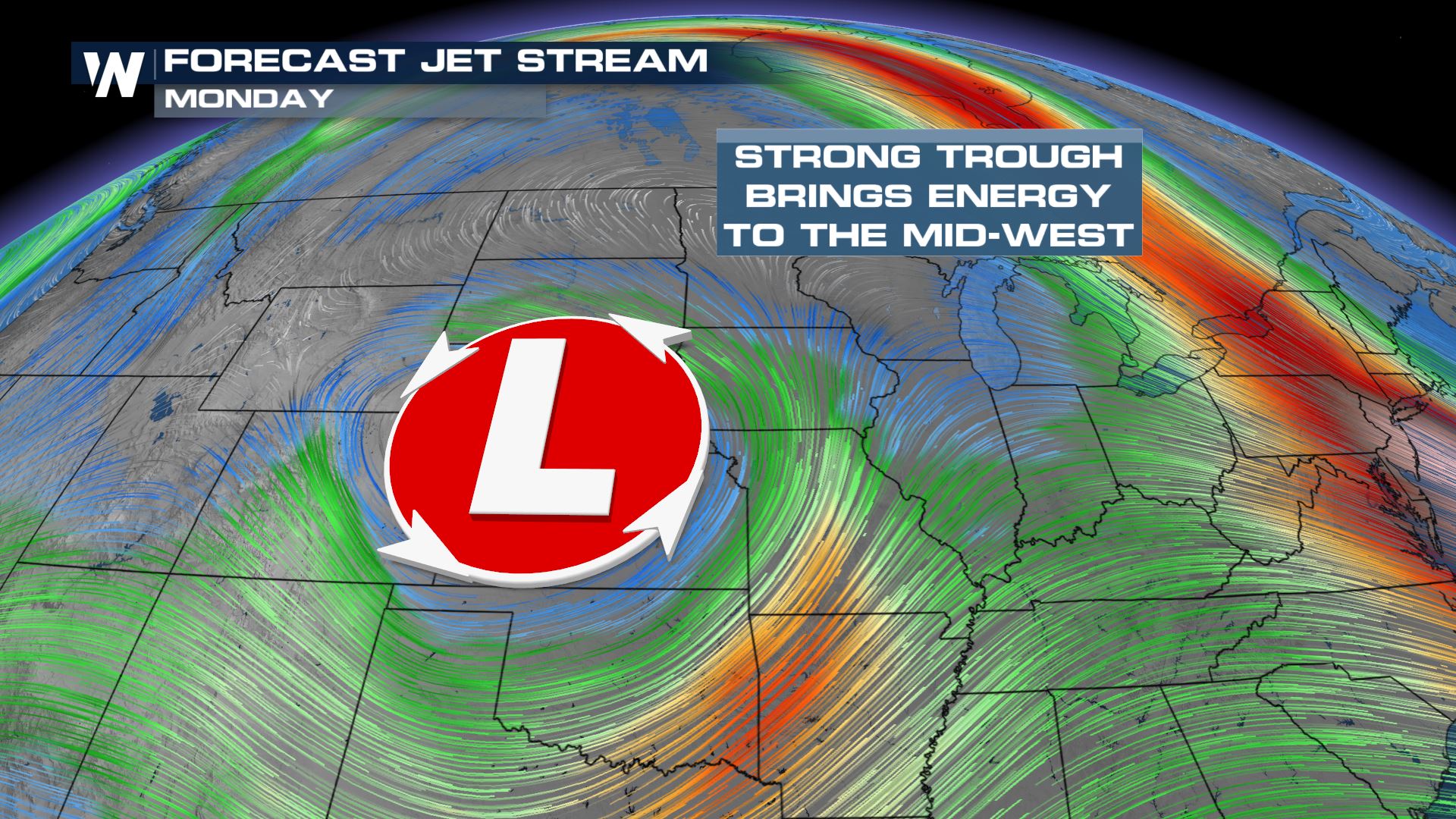 A Winter Storm Warnings and Winter Weather Advisories are in place in advance of the heavy snow, gusty winds and ice accumulation for parts of Iowa, Minnesota and South Dakota. Snow amounts are likely to be anywhere from 4-8" with higher totals possible. Blowing snow and reduced visibility will also be a concern as winds gust to 35 mph.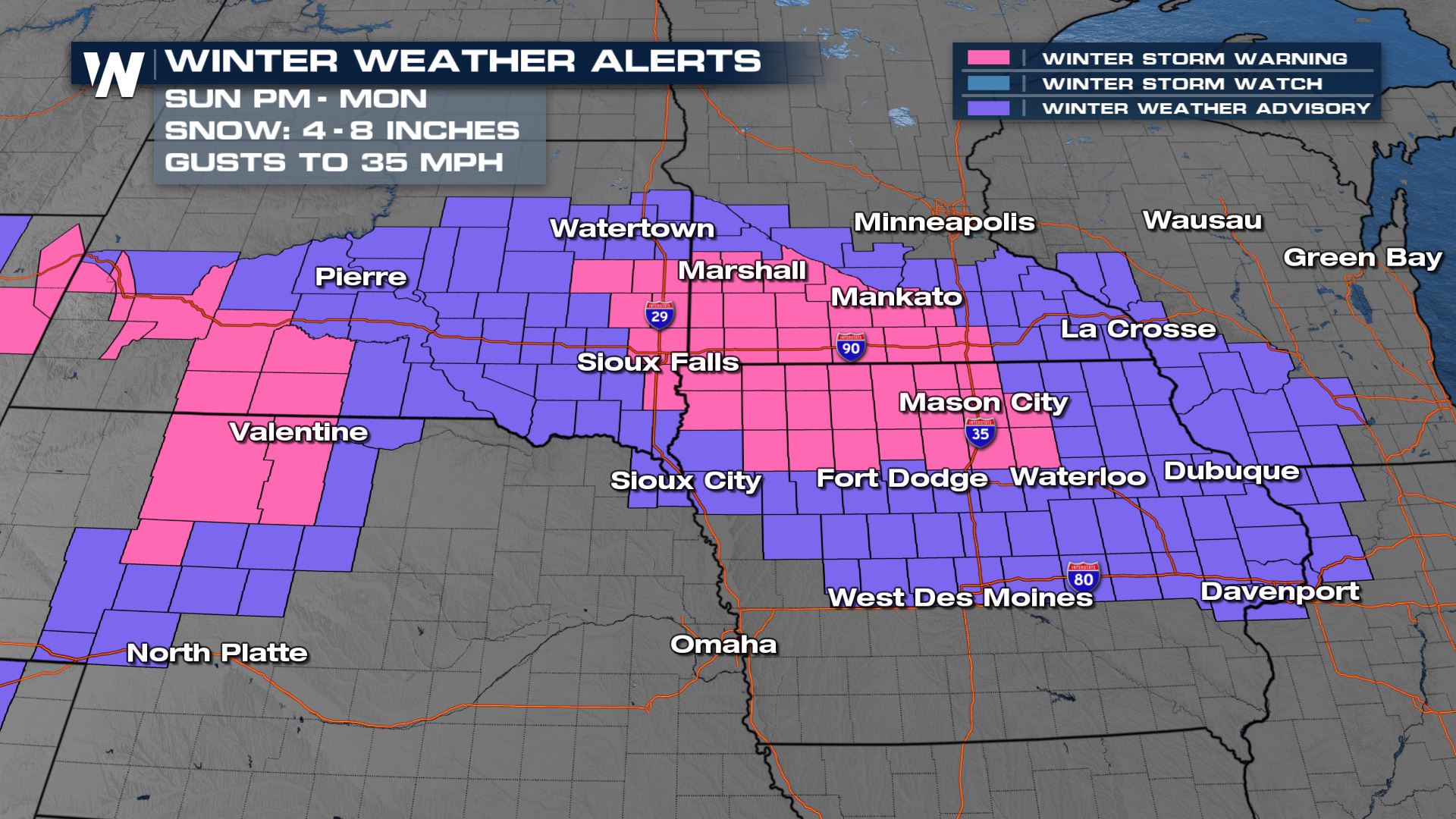 Sunday the precipitation type will be rain as temperatures in much of the central Plains and Upper Midwest are well above freezing. Below freezing temperatures are only found in the Arrowhead of Minnesota, Michigan and far northeast Wisconsin.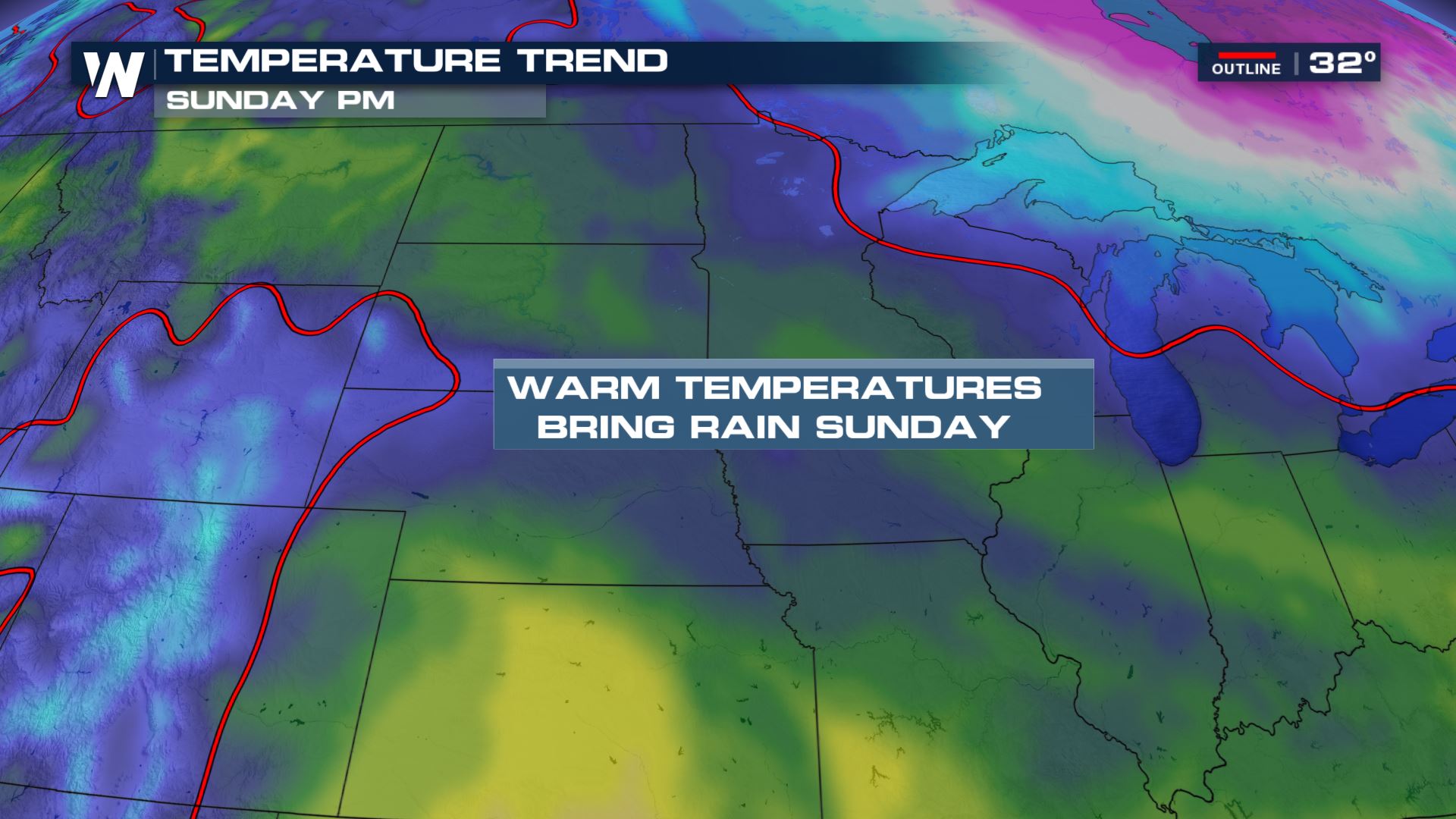 Heavy rain will be possible in northern Iowa and southern Minnesota ahead of the changeover to snow and ice.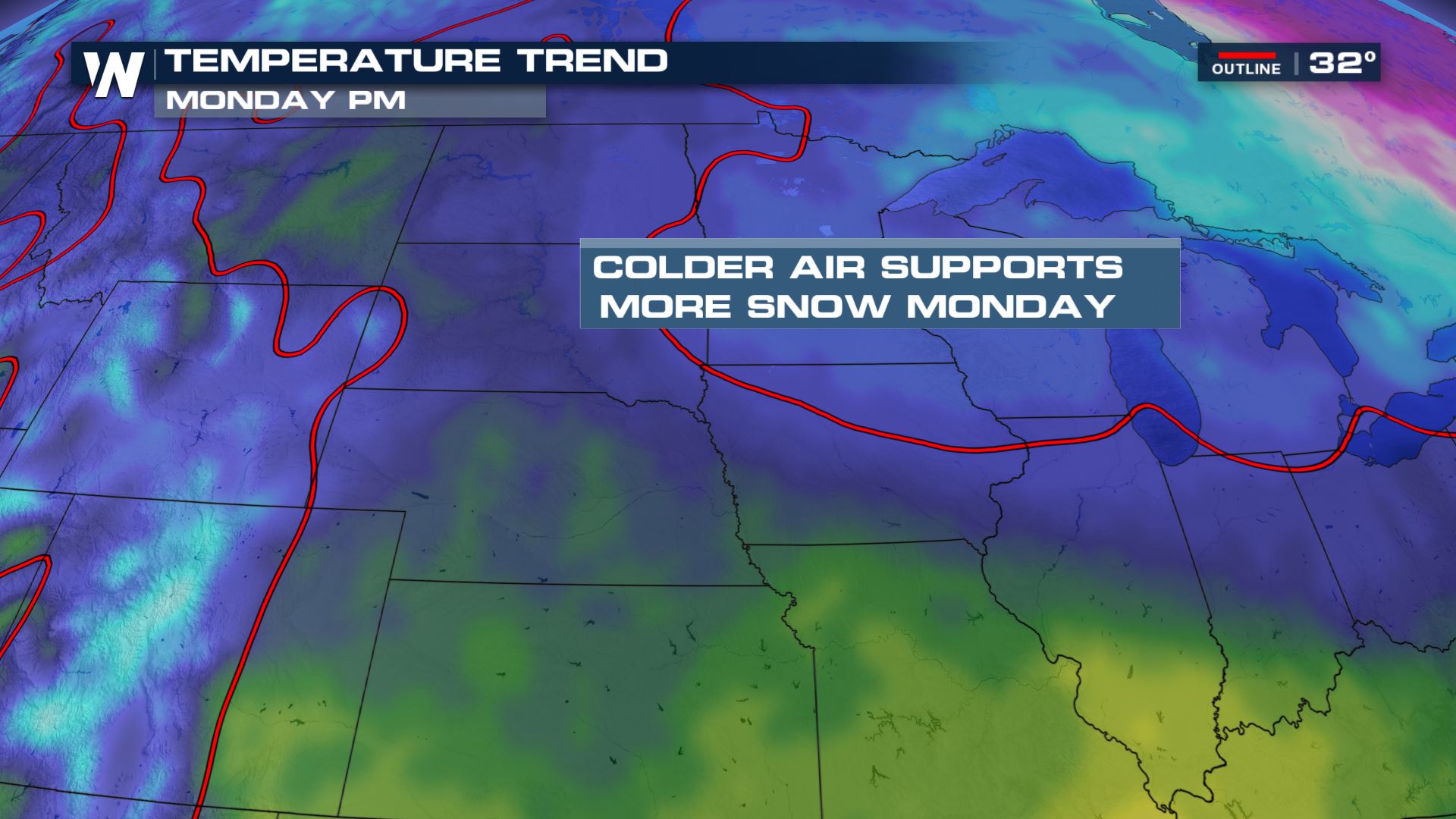 As cold air flows in late Sunday into Monday and temperatures fall below freezing, snow will start to accumulate. Heavy rain will start to change over to a wintry mix by Sunday evening, with heavier snow starting to move into Iowa and Minnesota by midnight.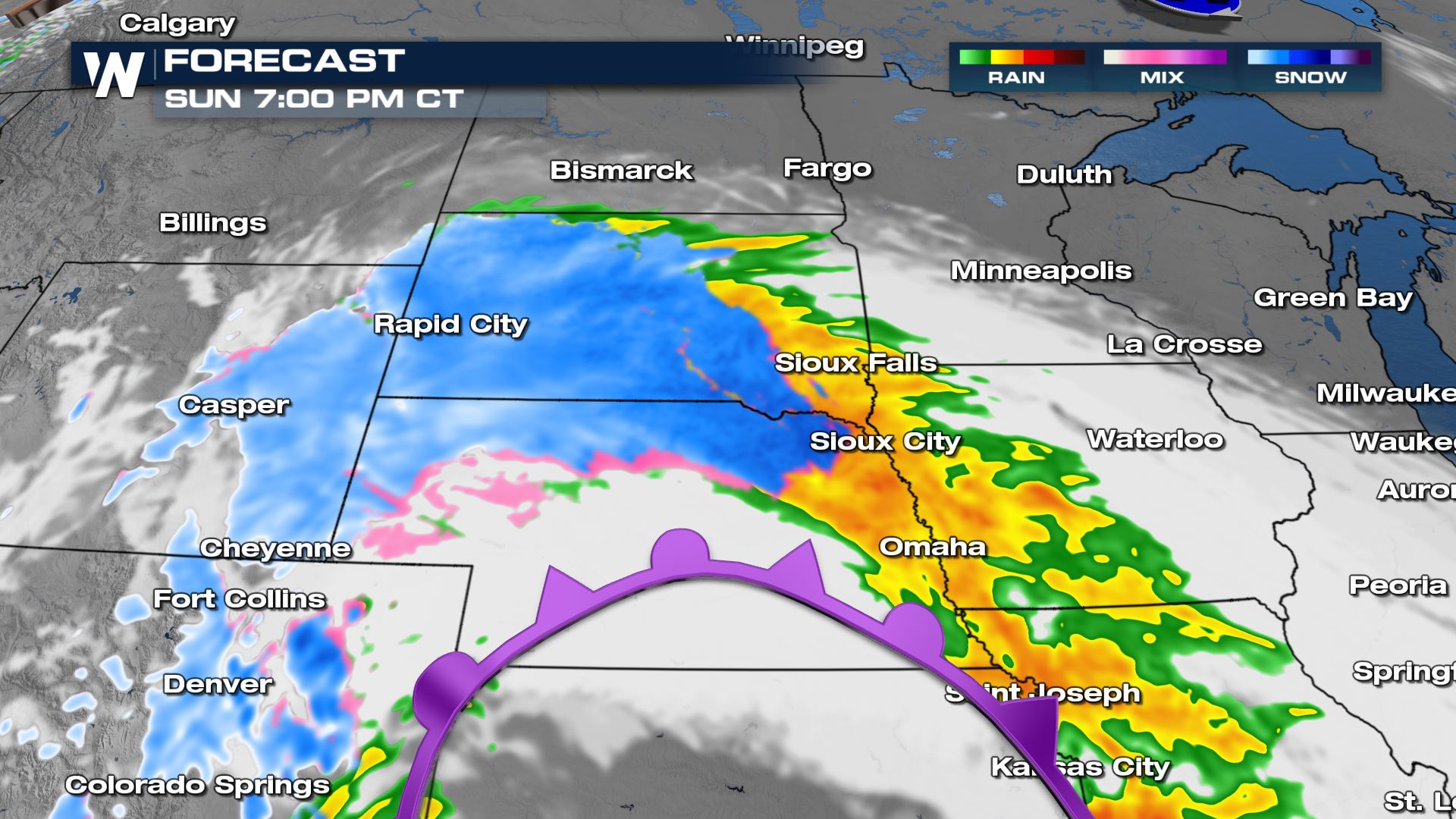 Snow will continue to fall overnight Sunday into Monday and could be very heavy at times. Additionally, heavy ice accumulation will be possible outside the winter storm watch area in eastern Iowa, northern Illinois, southwest Wisconsin and central Indiana as temperatures hover near freezing.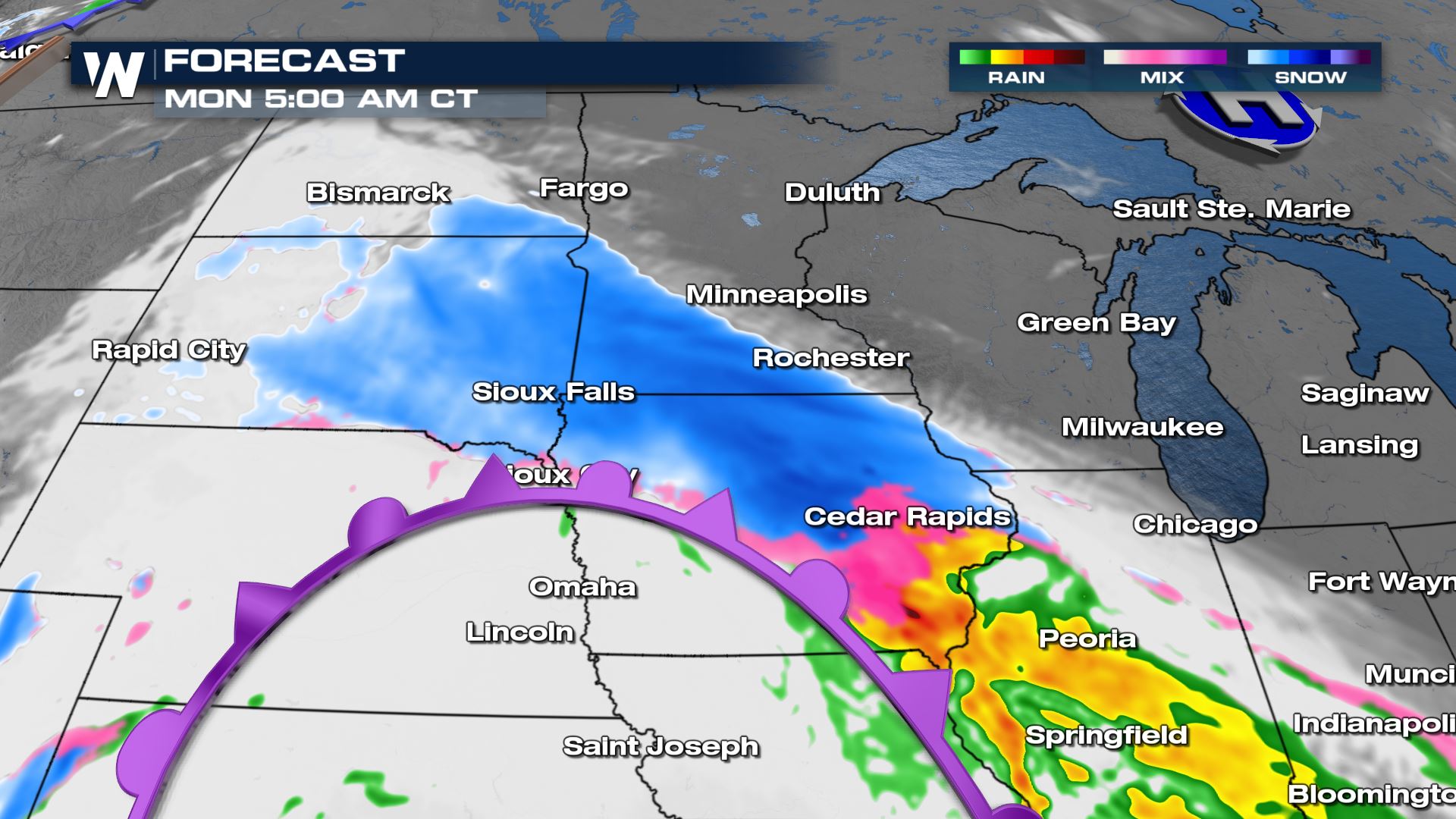 By Monday afternoon the snow will be into southern Minnesota and begging to end from west to east. Wisconsin, Michigan and Ohio will also get snow and some ice from this system accumulations will be much lower as ground temperatures are warm. This means there will be a lot of melting before the accumulations start.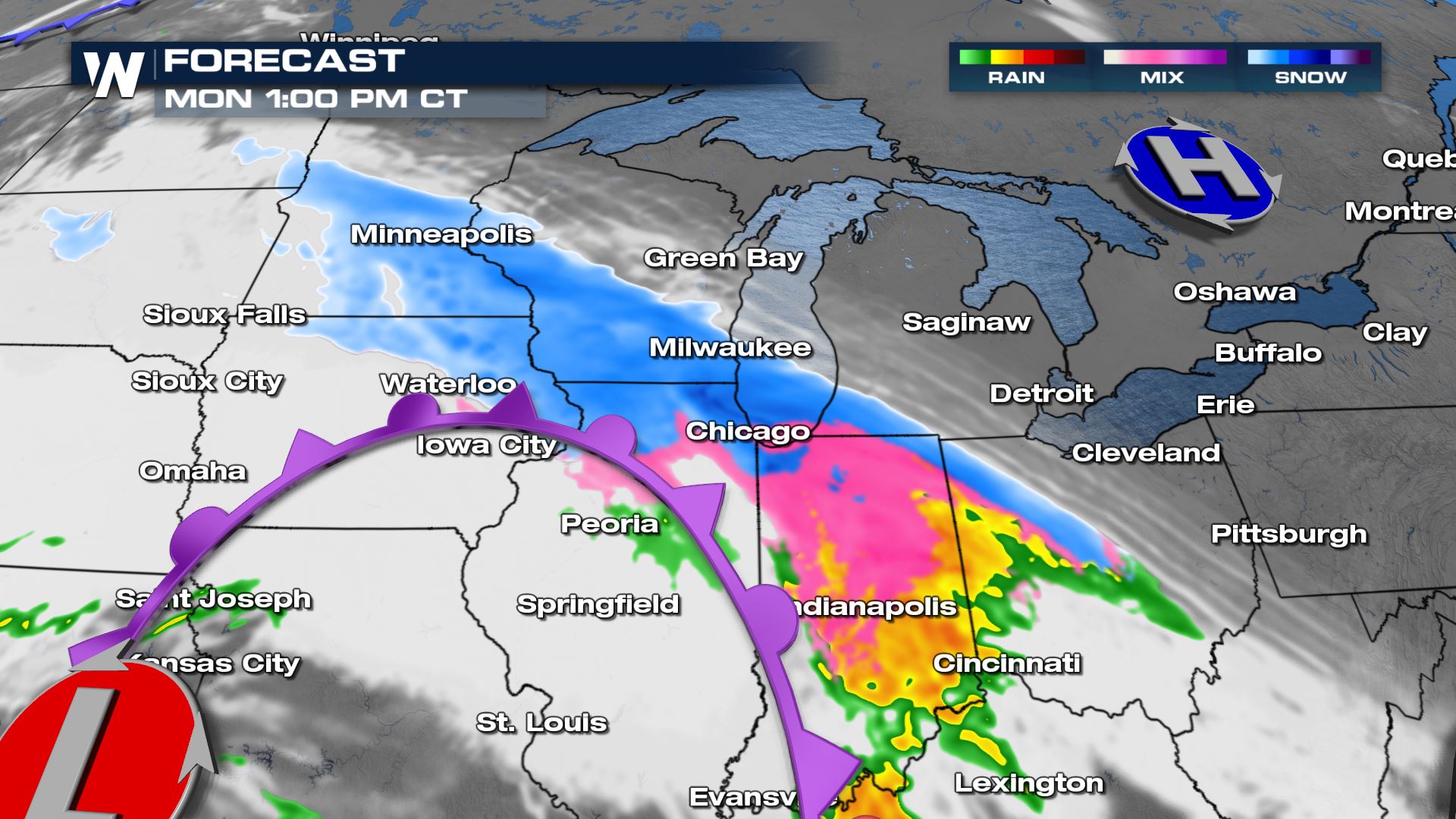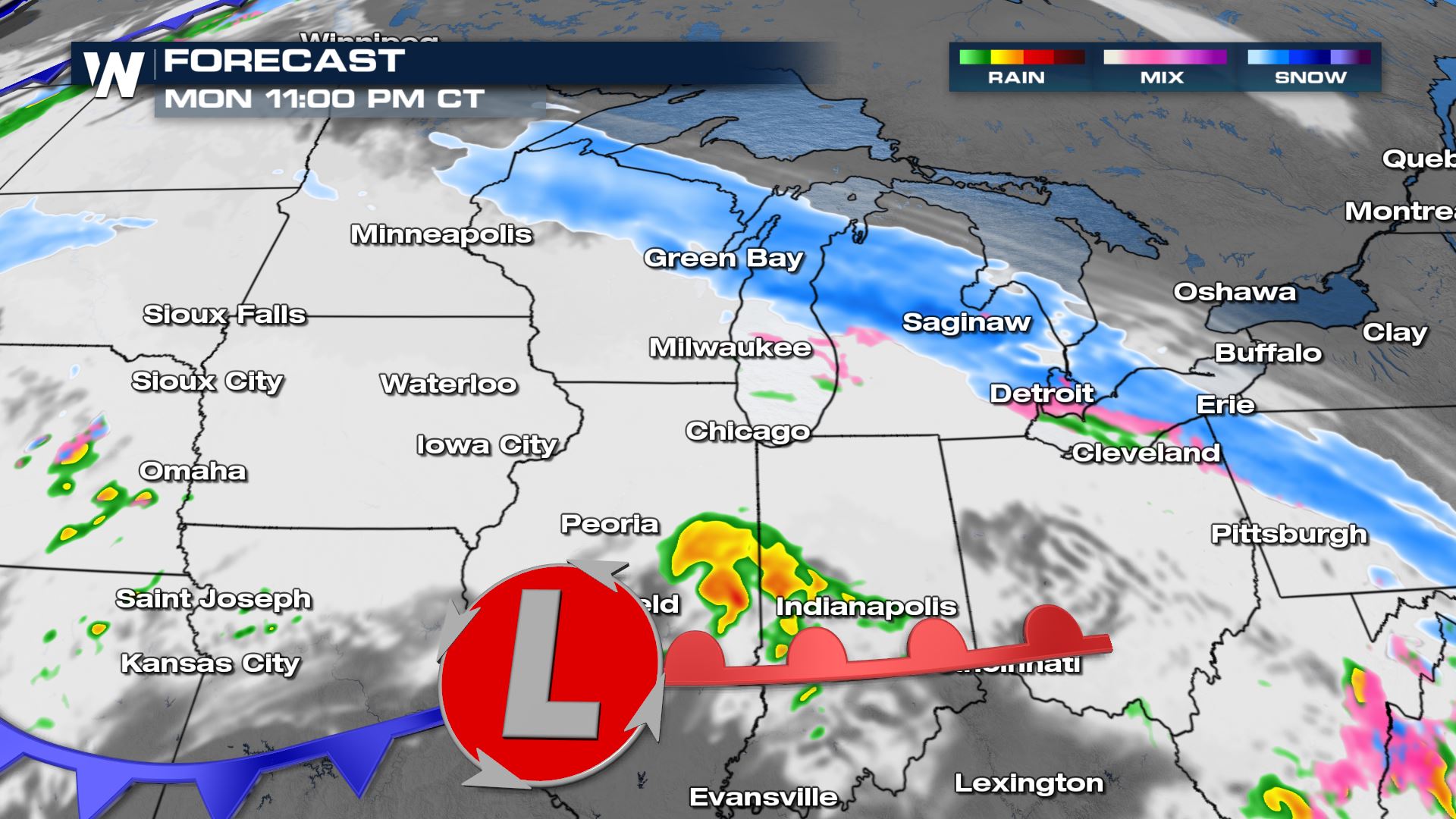 Heavy snow accumulations of 6-9" are possible in southwest Minnesota, south of the I-94 corridor and northern Iowa. Some spots may get around a foot of snow in far southeastern South Dakota. Most of Iowa and Wisconsin will get anywhere from 3-6" with even lighter accumulations across Michigan.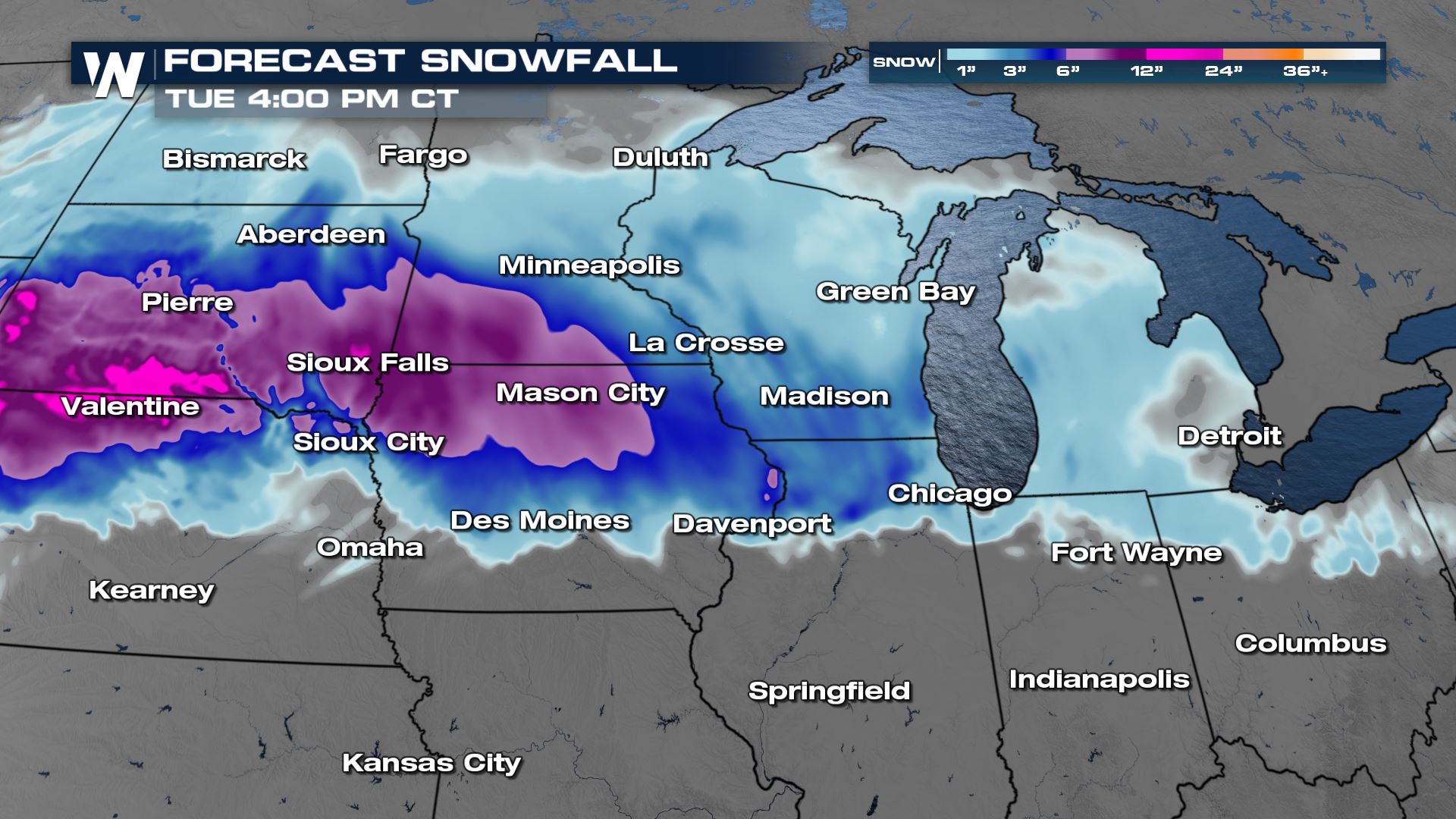 Rain totals could be more than 3-4" in parts of Iowa and Nebraska before the rain changes over to snow.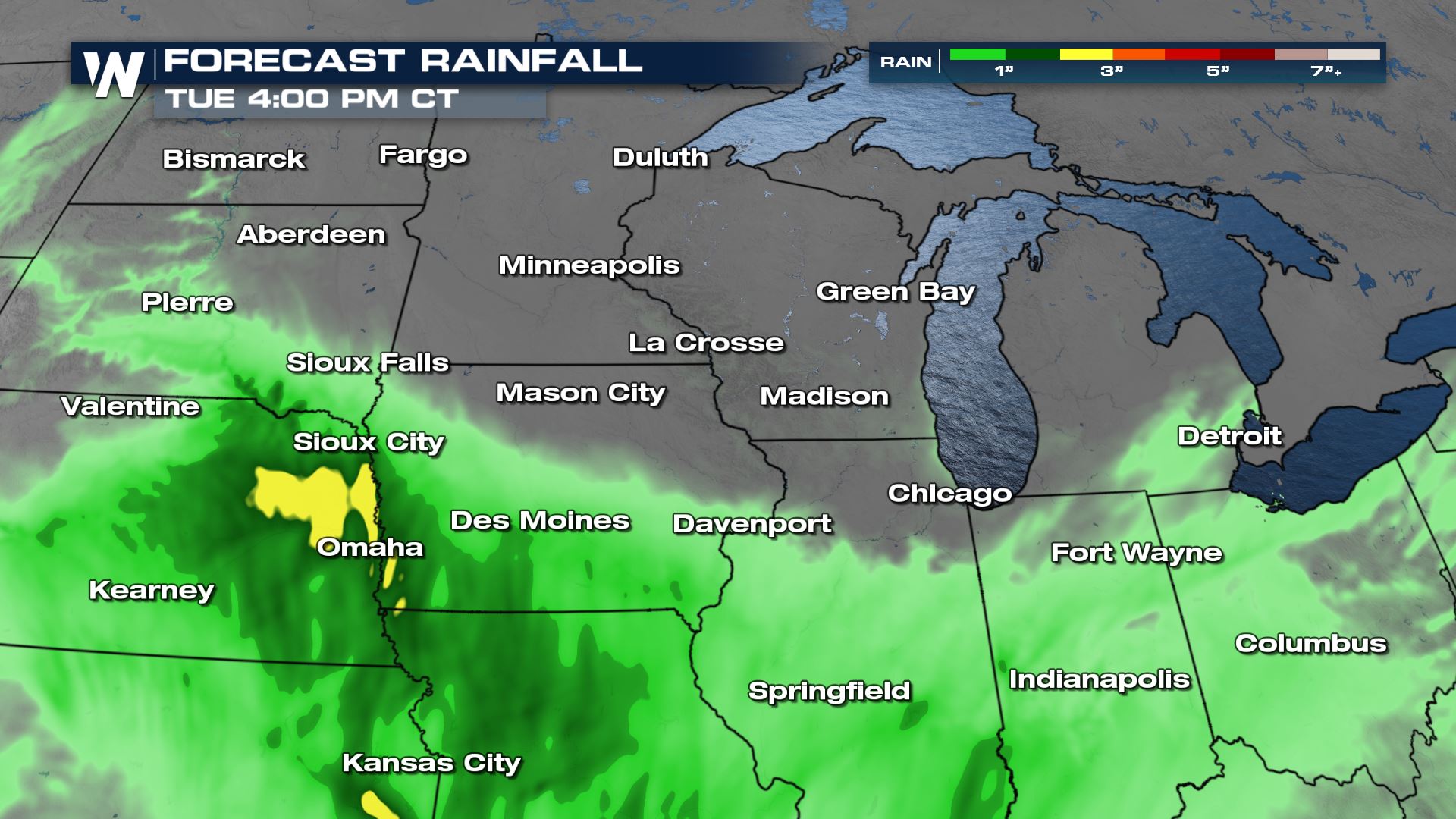 The ice accumulations are going to be trick with the warmer temperatures in place. As the cold air advances on the moisture, ice is likely to mix in with the snow and rain. Temperatures have been very mild the last several days so the current ground temperatures are all above freezing. Forecast models are suggesting heavy ice - it is more likely to melt before we see any ice accumulations. Totals for ice accretion are likely to be around 0.10" to 0.25". Slick and dangerous travel is expected with any ice in the forecast.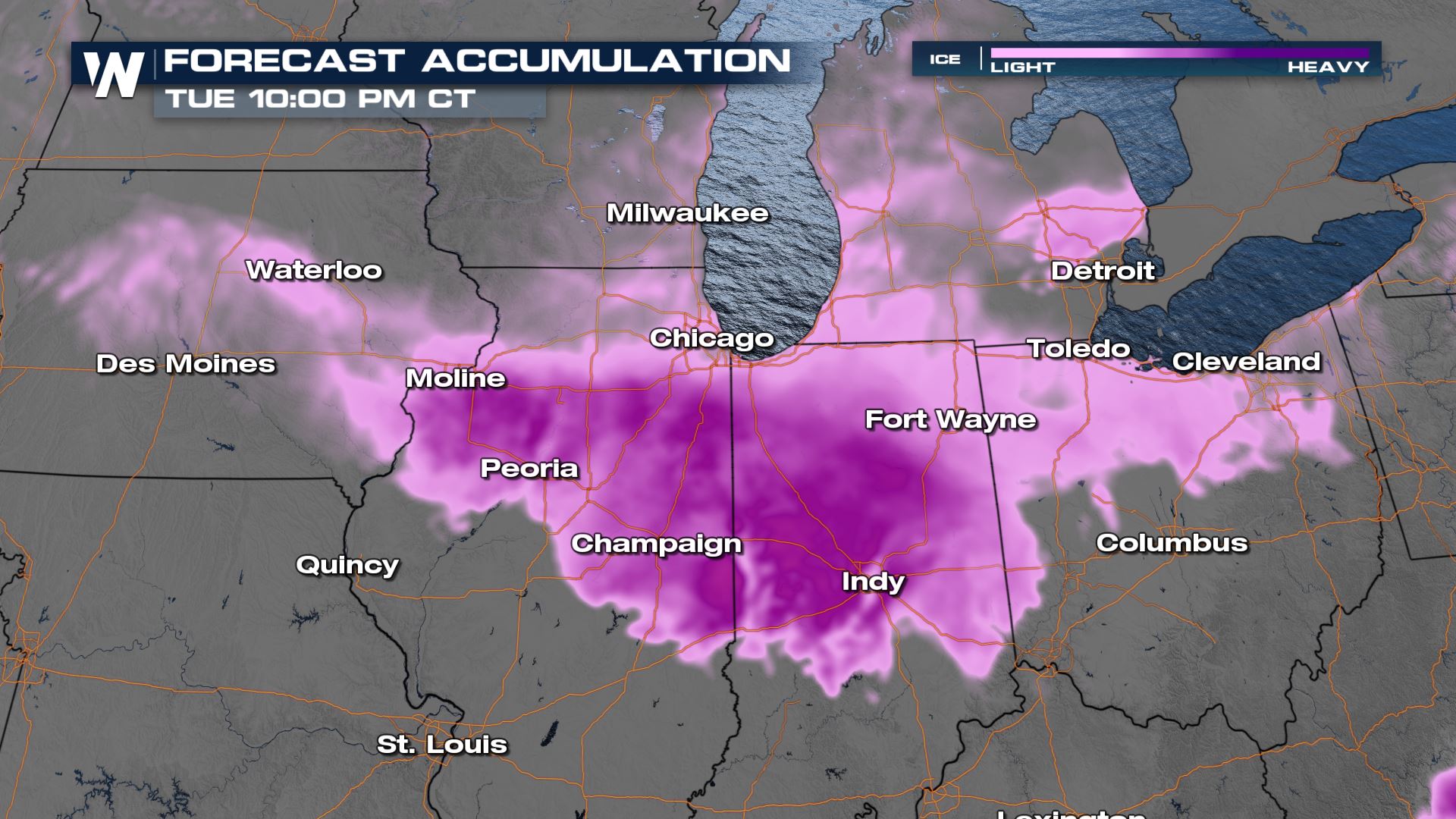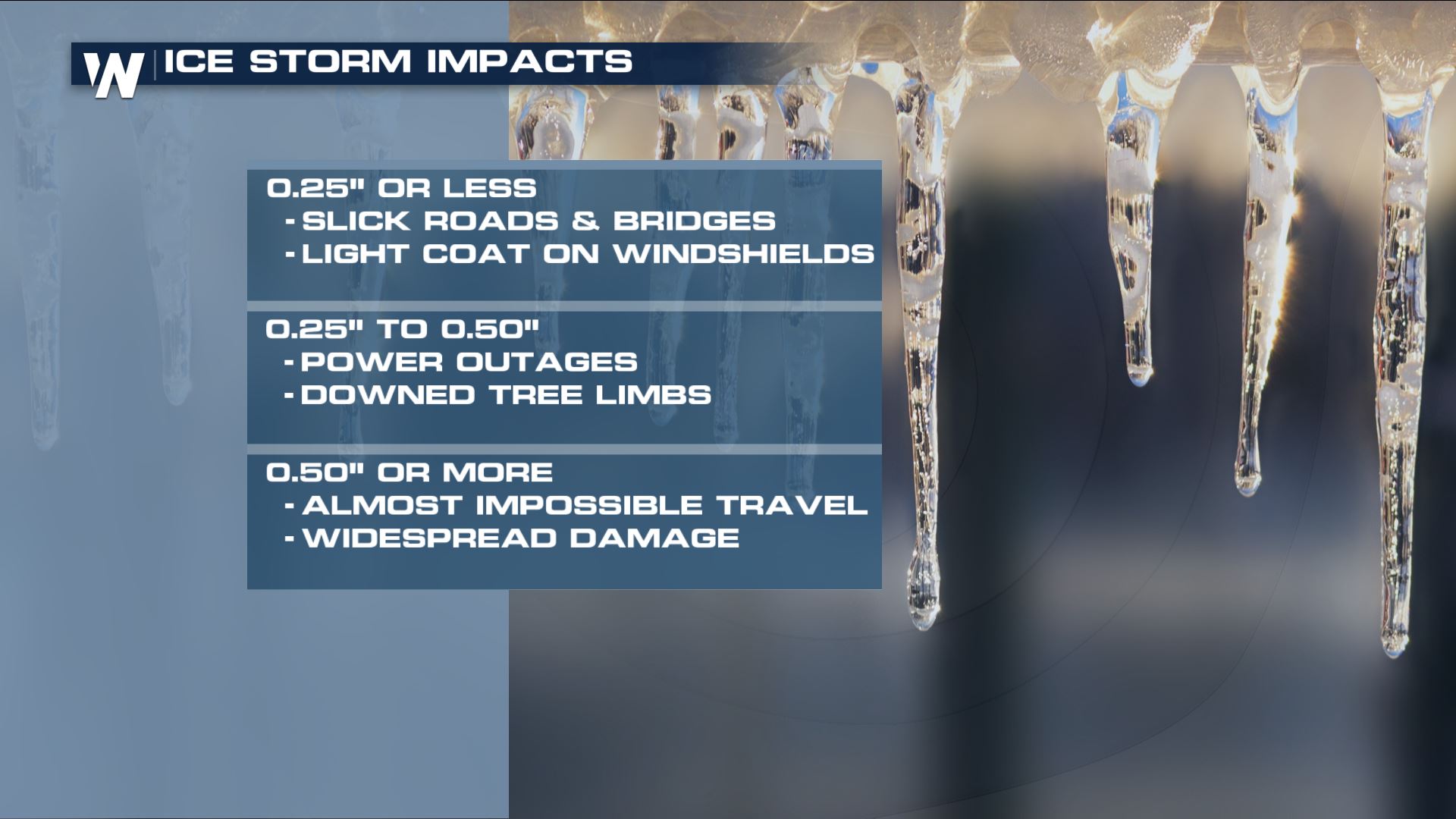 This is an evolving forecast. Stay with WeatherNation and check back frequently for updates on this system.