For the past two days, the weather has been very active in the mid-south, Ohio Valley, and the northeast.  The latest winter storm has impacted millions of people with rain, sleet, snow, freezing rain, ice jams, and flooding.  Now, bitter cold air is settling in behind the system.  Some of that arctic air is reaching the deepest parts of the southeast.  Check out the low temperatures for Saturday night.  In Jackson, Mississippi, temperatures will drop to 20 degrees.  Memphis and Nashville will be even colder, in the teens!  New Orleans will be in the upper 20's.  And even Florida will not be excluded.  Mid to upper 30's are expected from Jacksonville to Tampa.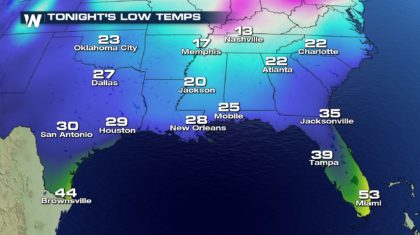 Freeze Warnings have been issued by the National Weather Service for parts of the southeast.  The freeze warnings are in effect Saturday night through mid-morning Sunday.  All precautions should be taken to protect against freeze and hard freeze conditions tonight through Sunday mid-morning.  Remember the 4 P's in the warning areas... people, pets, plants, and pipes.  Similar conditions are possible again Sunday night into Monday morning in some of the same areas.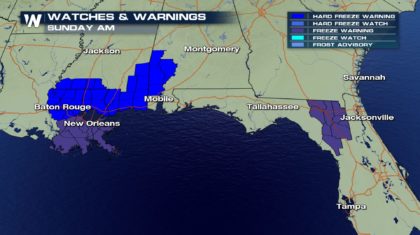 High temps will remain well below average on Sunday.  Average highs in Memphis should be 49 degrees this time of year.  Tomorrow's high in Memphis will be much cooler at 32.  Atlanta should be near 52 degrees.  On Sunday, Atlanta will struggle to reach the 40 degree mark.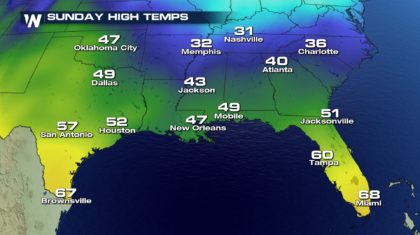 A front arriving on Tuesday will bring in another round of cold air, keeping temps below normal for most towns right through the upcoming week.  Here are the extended forecasts for Charlotte, Atlanta, New Orleans, and Jacksonville: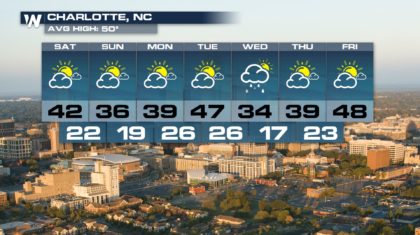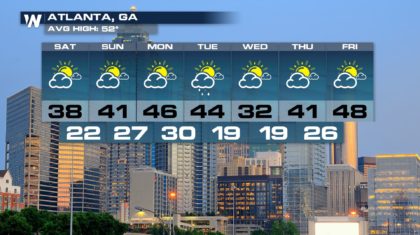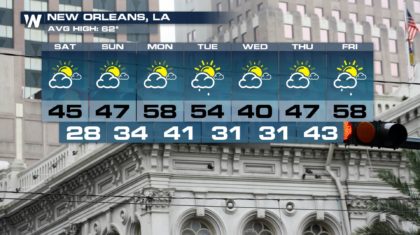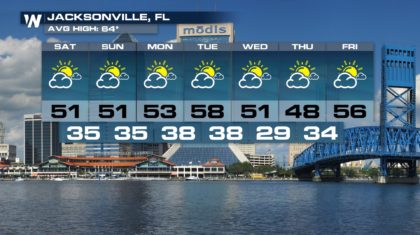 For WeatherNation:  Meteorologist Matt Monroe