https://youtu.be/rN5VRUAudJE After a successful mission in November of 2020, this spring another team of astronauts will head to the International Space Station aboard the
NASA (National Aeronautics and Space Administration)
SpaceX
Crew-2 mission! "This is the Dragon that's going to fly for Crew-2...the same Dragon that flew the Demo-2 mission that carried Bob and Doug," said Benji Reed, the Senior Director for
SpaceX Human Spaceflight Programs
.  "The refurbishment of this vehicle is going very well, it will be our first flight crew in Dragon!"  It is the same Crew Dragon capsule, nicknamed "Endeavour," that astronauts Douglas Hurley and Robert Behnken flew to the space station for their historic
Demo-2 mission
.
READ: Liftoff! 2nd Attempt At Historic Launch Successful
This is the second trip in what will now be regular missions to the Space Station, launching American rockets from American soil.  The rocket will be carrying astronauts from three difference space agencies -- NASA astronauts
Shane Kimbrough
 and 
Megan McArthur
will serve as spacecraft commander and pilot, respectively, for the mission, JAXA (
Japan Aerospace Exploration Agency
) astronaut
Akihiko Hoshide
 and ESA (
European Space Agency
) astronaut 
Thomas Pesquet
 will join as mission specialists.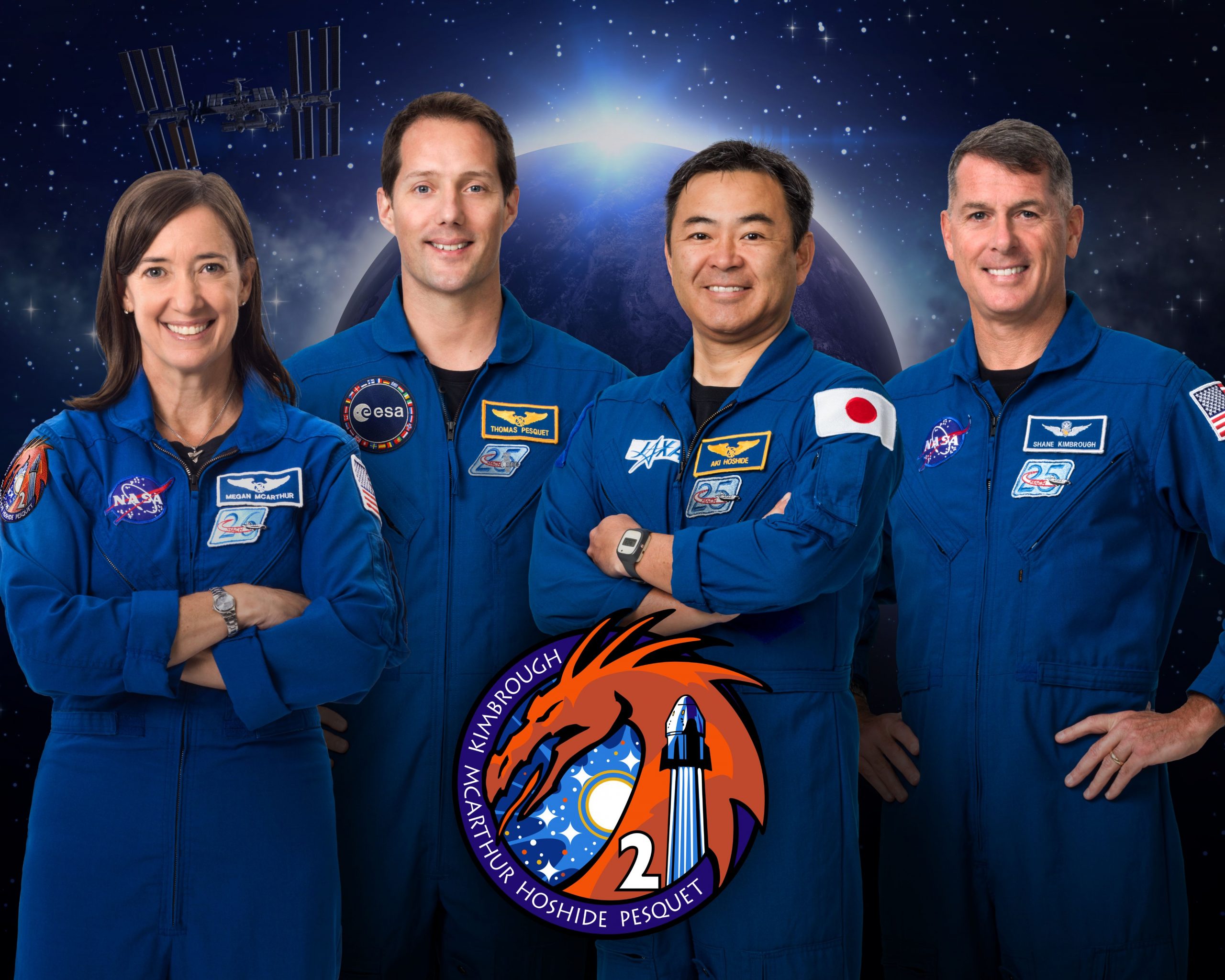 The members of the SpaceX Crew-2 mission to the International Space Station. Pictured from left are NASA astronaut Megan McArthur, JAXA (Japan Aerospace Exploration Agency) astronaut Akihiko Hoshide, ESA (European Space Agency) astronaut Thomas Pesquet. and NASA astronaut Shane Kimbrough.  Credit: NASA
"It's been the first time in over 20 years that a crew from NASA, ESA, and JAXA has flown together so that's pretty cool too," said NASA astronaut Shane Kimbrough.  "We're looking forward to spending several months on the International Space Station."
READ: NASA Announces Astronauts to Fly on SpaceX Crew-2 Mission to Space Station
Once aboard, the Crew-2 astronauts will call this orbiting laboratory "home" for about six months, conducting groundbreaking science research and maintenance on the space station before heading home in the fall.  Some of the experiments conducted will focus on medical technology, human health, and materials to benefit life on Earth. "We've also got more people now," said Daniel Forrestel, Launch Rescue Director for NASA's Commercial Crew Program.  "By flying up on the U.S. vehicles we're sending up four U.S. and international partner astronauts in addition to the astronauts and cosmonauts...and so more hands means more science!"  This team will be joining the
Expedition 65 crew
, including the
Crew-1 astronauts
 still onboard.
MORE: Regular Missions to the Space Station Have Begun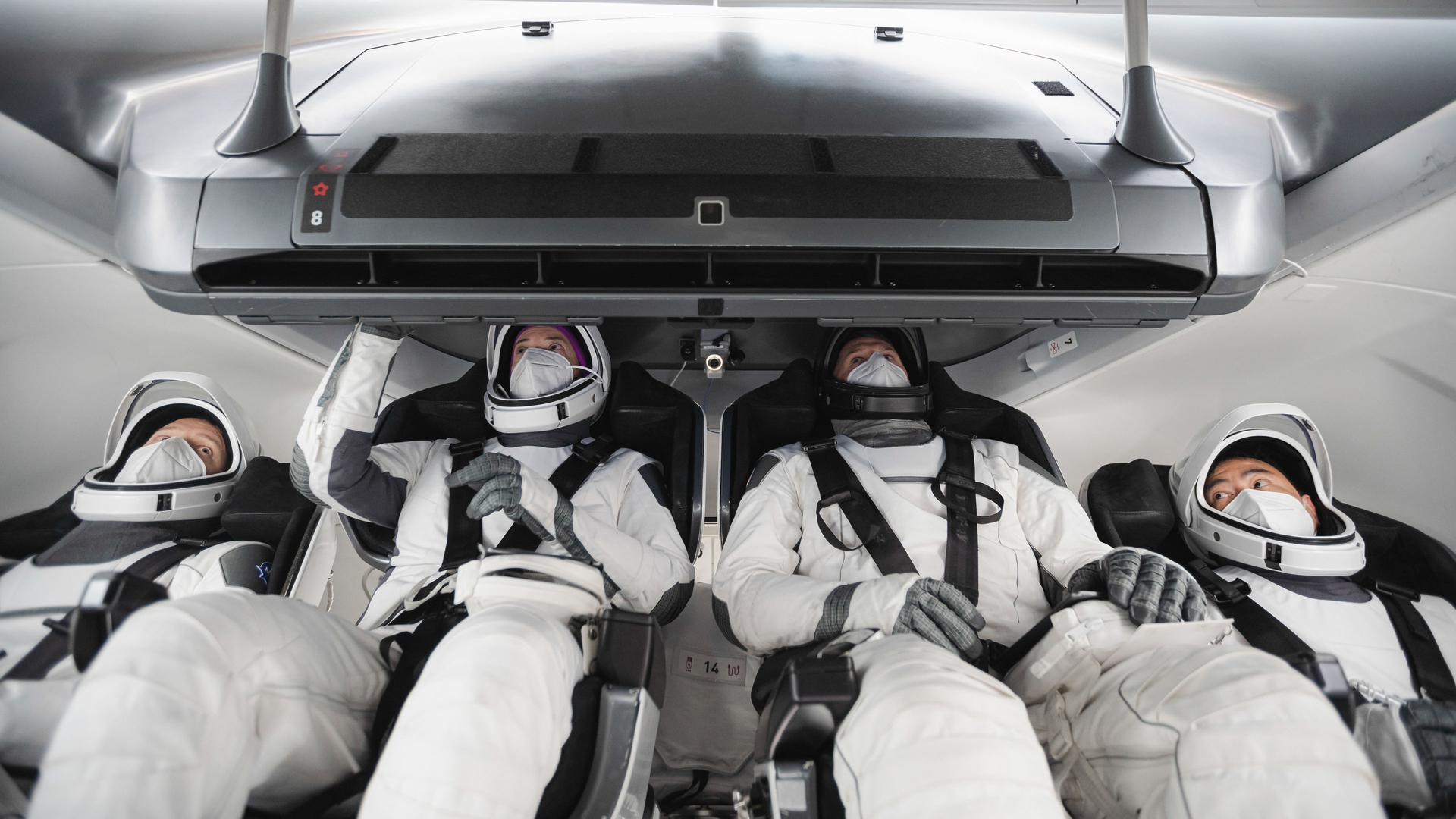 The crew for the second operational SpaceX Crew Dragon mission, SpaceX Crew-2, trains inside a mockup of the vehicle at the SpaceX training facility in Hawthorne, California. From left are, Mission Specialist Thomas Pesquet of the European Space Agency (ESA); Pilot Megan McArthur of NASA; Commander Shane Kimbrough of NASA; and Mission Specialist Akihiko Hoshide of JAXA (Japan Aerospace Exploration Agency).  Credits: SpaceX
The missions with
NASA's Commercial Crew Program
will continue experiments that will benefit us here on Earth, as well as to help pave the way for future exploration of the moon and Mars with the
Artemis program
in years to come. "Everything you know right now is eyes to the moon, we want to get Artemis up and running," Forrestel said.  "The platform that ISS provides is a phenomenal way to help us get back going." According to NASA, the mission is scheduled to lift off no earlier than April 20, 2021, from Launch Complex 39A at
NASA's Kennedy Space Center
in Florida.