[A springtime scene at Anza-Borrego Desert State Park in Southern California, taken in March 2017. (Photo by Minimackdik/flickr Creative Commons license)]
NOAA's Climate Prediction Center issued their 90 day forecast covering the months of April, May, and June today. Over those months, odds favor above average temperatures for the southern two-thirds of the U.S., extending from California across the central Plains and into the Northeast. The greatest likelihood of warmer than normal temperatures extends from the Southwest across Texas and the Gulf Coast. The Northern Rockies is the only region leaning towards below-average temperatures during the April through June season.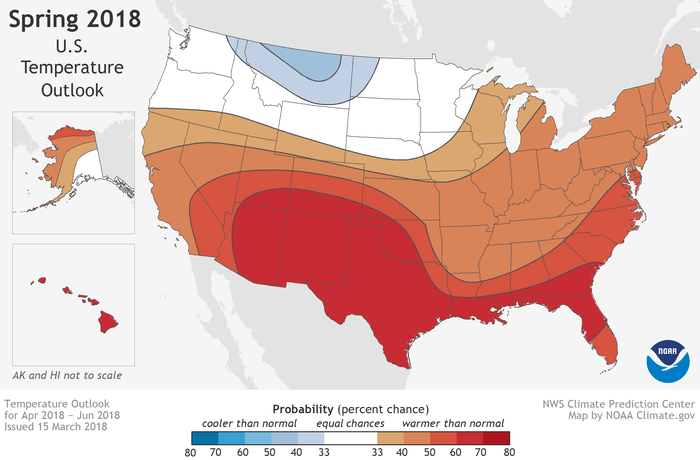 Below-average precipitation is anticipated across much of the West and South, extending from California to the south-central Plains, including Texas and parts of Oklahoma where drought is currently affecting the region. It is most likely to be wetter-than-average for much of the northern U.S., extending from the northern High Plains, across to the Great Lakes and Ohio Valley, eastward to include the mid-Atlantic and Northeast as well as for northern Alaska and Hawaii.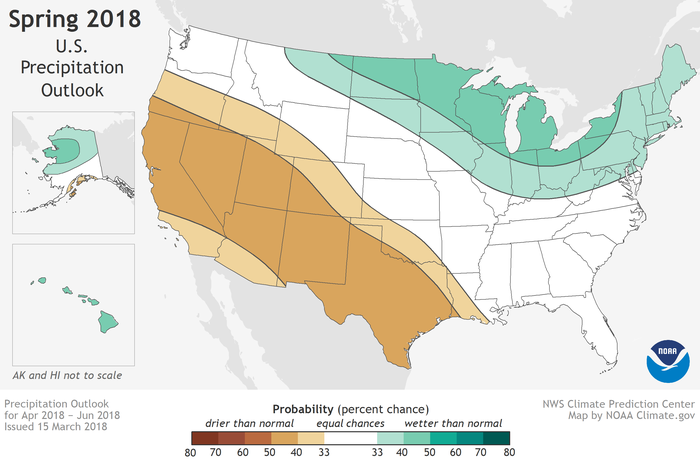 The Climate Prediction Center states that "a La Nina Advisory remains in effect as of early March, reflecting that conditions in the ocean and atmosphere remain consistent with La Nina, however, these conditions decayed considerably in the last month." Neutral Pacific Ocean temperature conditions are forecast to rapidly develop and are likely to continue into the second half of the year. Along with the La Nina forecast, soil moisture and snowpack were influenced the forecast.
https://www.youtube.com/watch?v=B27D6jH4Udg Info taken from
NOAA Climate
and
NOAA Media
For WeatherNation: Meteorologist Mace Michaels