[From 
NOAA
]  You've probably had it happen before: Three loud beeps followed by a long, high-pitched sound delivered to your mobile phone to alert you to severe weather or another emergency near you. These jolting alarms coupled with vibration and text-like messages are 
Wireless Emergency Alerts
 (WEAs) — and they're 
saving lives
. WEAs have also been a frustration to many who have been awakened in the middle of the night. Frequent complaints — largely about flash flood warning alerts — led NOAA's National Weather Service to change the criteria that trigger a WEA warning about an imminent flash flood.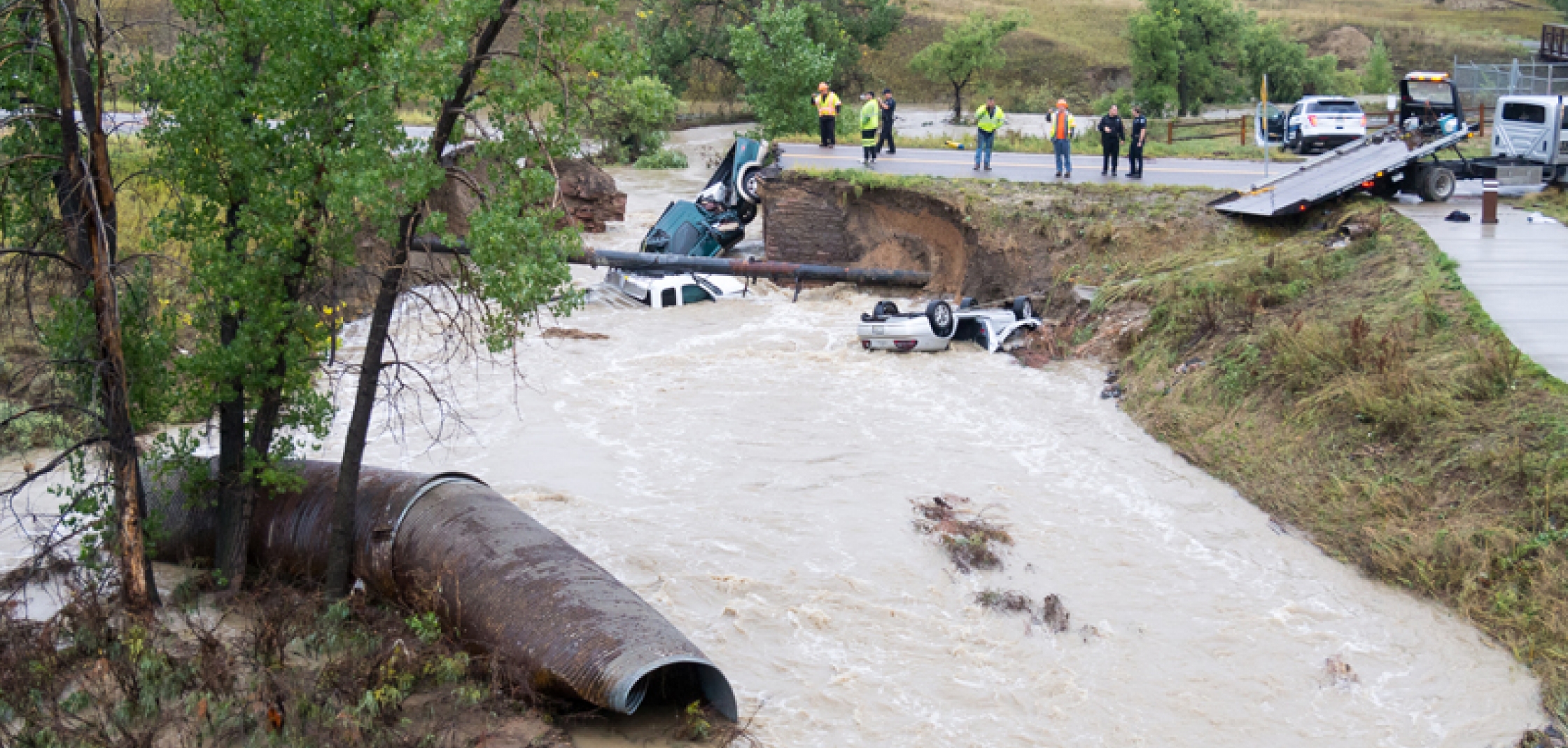 [
The massive amount of rain that fell on the Colorado Front Range in September 2016 was devastating, with nine lives lost and property damage estimated at more than $2 billion. Please don't let this happen to you: If you receive a Wireless Emergency Alert on your mobile device, please take action immediately. (NOAA)
]
What's new
Flash flood warnings now have damage threat tags, so WEAs will be issued for only the most life-threatening flood events — with a damage threat tag of "considerable" or "catastrophic." This change will significantly reduce the number of WEAs for flash flooding.
All flash flood warnings will still be issued and distributed via NOAA Weather Radio, the Emergency Alert System, radio and TV broadcasts, online at weather.gov and through dissemination systems to our emergency managers and partners. Changes like this are part of a larger reformatting and simplification process ongoing at the National Weather Service.
So: Starting February 19, if you receive a flash flood Wireless Emergency Alert, heed the warning and take swift action. Don't wait to get out of harm's way.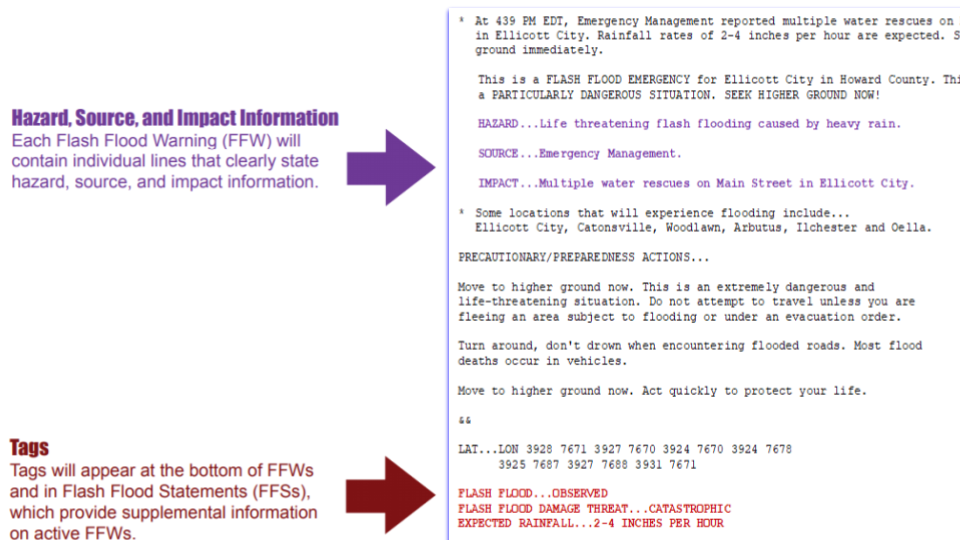 Other WEA improvements
The WEA system has also been enhanced with the following new features*:
Alerts will soon expand from 90 to up to 360 characters. Now you'll have more information to act on.

WEAs will also soon support both English and Spanish language messaging in a single alert.

Geotargeting to specific locations delivers alerts to those who need it. This feature will allow wireless service providers to broadcast an alert to all phones in a targeted area, with no more than 1/10th of a mile (or 528 feet) of overshoot. The goal is to reduce the number of alerts reaching people safely outside of the affected warning area. (Note: The system doesn't locate individual cell phones. If you are traveling and enter an area with an active warning, you will receive a WEA warning.)
*Please note: Not all cell phones have these new capabilities. To find out if your phone does, check with your wireless provider or phone manufacturer.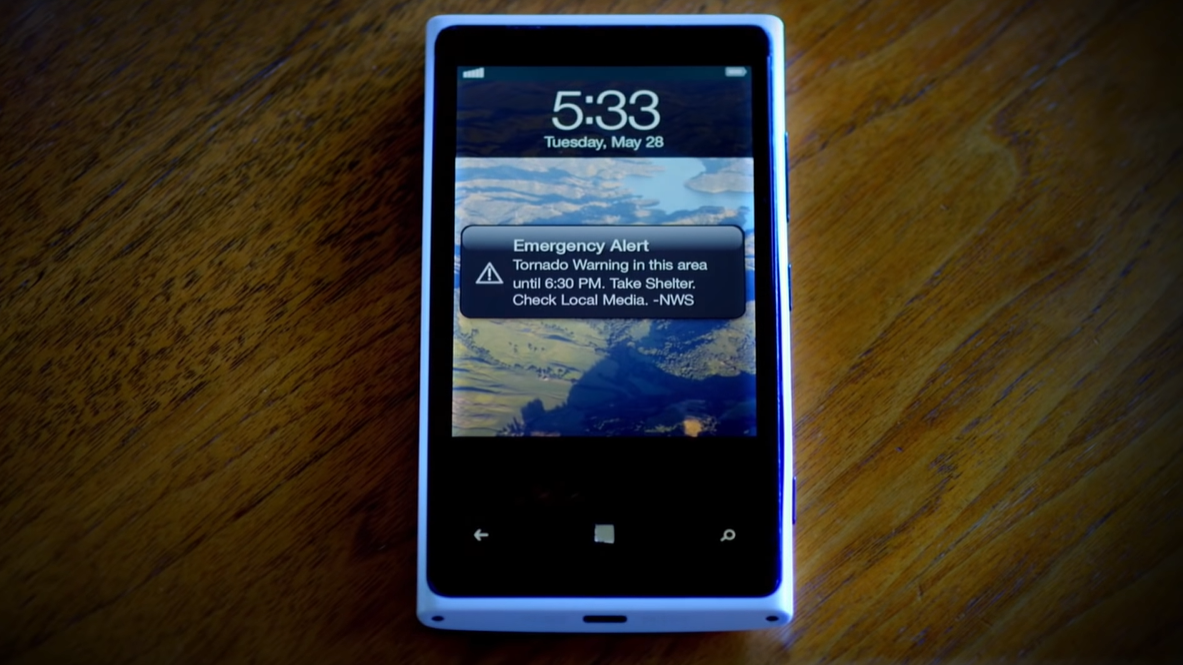 About the WEA System
The Wireless Emergency Alert system is a joint effort between the Federal Communications Commission, the Federal Emergency Management Agency and the wireless industry that allows emergency alerting authorities to geographically target emergency messages to capable mobile devices. Alerts include severe weather, child-abduction Amber Alerts, and presidential announcements of national emergencies.