Diagramming is just the beginning
Based on information and outcomes from the VCAPS process, the town established a Coastal Resiliency and Sea Level Rise Committee in 2016. This committee reviewed the VCAPS diagrams and worked to consolidate and prioritize over 160 possible adaptation actions suggested by the public into a report. The adaptation actions related to sea level rise and other coastal hazards were broken into four main categories: ocean management, estuarine shoreline management, stormwater management, and water (ground/surface) management. These adaptation actions developed through community involvement formed the foundation for policy in the town's comprehensive plan.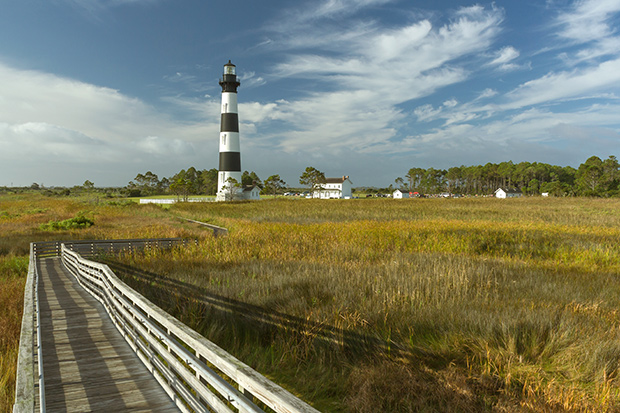 [Bodie Island Lighthouse and wetlands, south of the town of Nags Head, North Carolina, on the Outer Banks. Photo by Dirtman's Images on flickr via NOAA. used under a Creative Commons license.] "Participating in the VCAPS diagramming is just the beginning for the town in planning for sea level rise. While there has been a great deal of work on other coastal hazards, this is the starting point for learning how sea level rise will impact the town and determining possible adaptation actions," said Holly White, Principal Planner with the Town of Nags Head. Adaptation to coastal hazards, including sea level rise, is an important step to becoming resilient. A resilient Nags Head means the town and its residents:
Withstand, respond to, and recover from disruptions without long-term damage to the economy or environment
Require less government funding to recover, rebuild, and redevelop its communities
Sustain the natural systems that provide ecosystem services, or benefits, directly and/or indirectly to support human survival and a high quality of life.
[A view of ponds tucked between dunes in Jockey's Ridge State Park in 2009. Photo by Razvan Orendovici on flickr via NOAA. Used under a Creative Commons license.]
Implementing resilience in the town's comprehensive plan
Through the use of the VCAPS process during the Comprehensive Planning efforts, the town is ensuring preservation of its culture, history, vast natural resources, and way of life. In addition to a section on coastal resiliency and sea level rise in the recently adopted comprehensive plan, the town is continuing to work with North Carolina Sea Grant and other partners to implement adaptive actions. One of the first actions the town will undertake, in coordination with the University of Georgia and Stetson University, is to map potential damage from storms and sea level rise to understand and visualize consequences and investigate legal and policy barriers to adaptation. "We understand and have been planning for a range of coastal hazards that the town is vulnerable to over the past fifty years. The VCAPS process has helped the town gauge the community's understanding of sea level rise and engage them in thinking through how we take action to adapt. Their perspective and support is extremely important as we plan for the provision of infrastructure and services over the next twenty years. We are committed to doing what is needed to protect our community, way of life, and the natural systems that help provide protection against these hazards," said Cliff Ogburn, Nags Head Town Manager. To review the Nags Head Comprehensive Plan, visit www.focusnagshead.com. To learn about tools that Nags Head used during its planning exercise, read this story at the US Climate Resilience Toolkit website.